These addictive spiced candied pumpkin seeds made with cinnamon, ginger and other spices only take 5 minutes to make!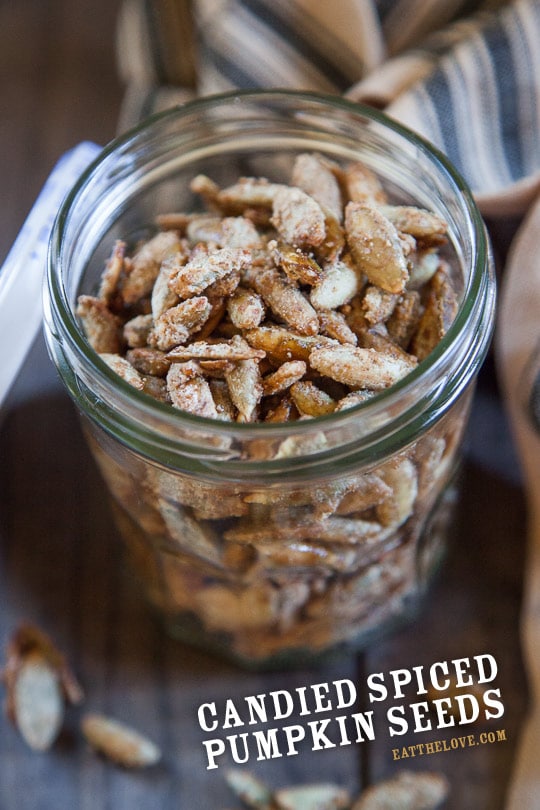 The long thick green vines started to grown along the side of my childhood home in the late summer heading into Autumn. As a kid I didn't really know what it was. My parents had certainly experimented with gardening before and the first house that I lived in had a lovely green gage plum tree in the backyard that we all enjoyed until I moved away at the age of five. But this vine growing next to the house was something different, clearly an accidentally. We had a pumpkin vine growing there, tangling its way down the small grassy green strip adjacent to our house, nestled between the next door neighbor's driveway and our suburban house's powdery pale yellow painted aluminum siding. It was the result of my dad deciding the best way to get rid of a rotten pumpkin that we had carved the year before was to just toss against the side of our house, hoping it would decompose into the earth. (Jump directly to the recipe.)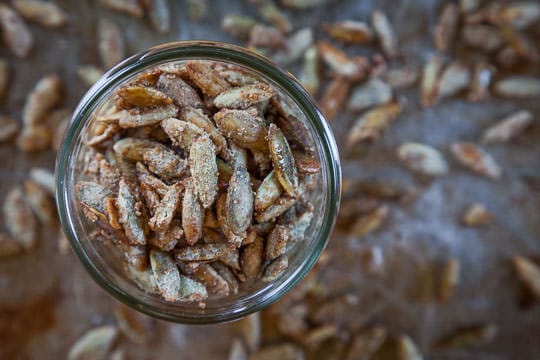 It was the fall of my third grade when I gleefully carved out my pumpkin using whatever dull knife my mom had in the house. In my memory it was enormous, clearly the largest pumpkin in existence, though I'm sure in reality it was medium, maybe even dainty small, in size. But I remember sawing through the top of the pumpkin, around the green brown hard stem, then struggling to pull it up from the round orange behemoth of a gourd. Plunging my hand into the middle of the pumpkin, I pulled out stringy orange gooey and clusters of white seeds. It seemed no matter how much I pulled out, there was still more and I gave up as soon as I had cleared enough out for a candle. I put aside my pumpkin seeds to toast in the oven, just as my grade school teacher told me to do and proceeded to give the pumpkin two triangles for eyes and a jagged grinning smile. My jack-o-lantern was done.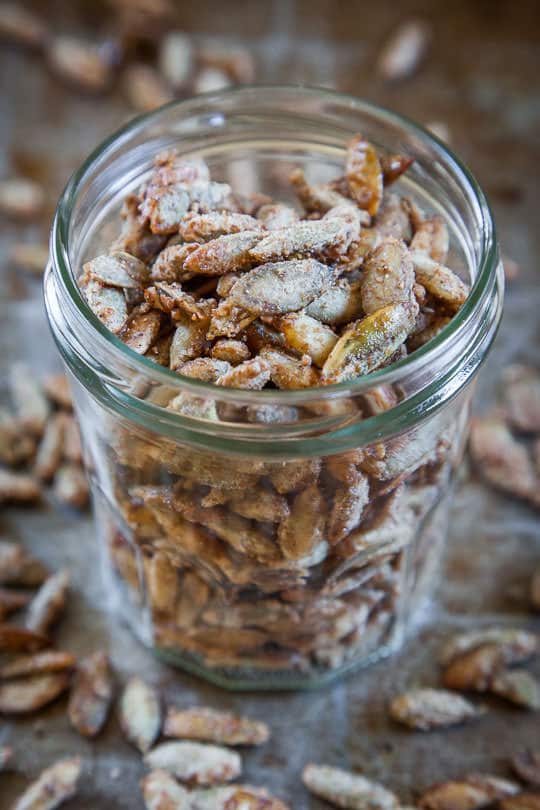 [click to continue…]
{ 10 comments }