These chocolate hot cross buns are stuffed with dried cherries and chopped dark chocolate – a fun chocolate twist on the classic treat eaten on Good Friday! (Jump directly to the recipe.)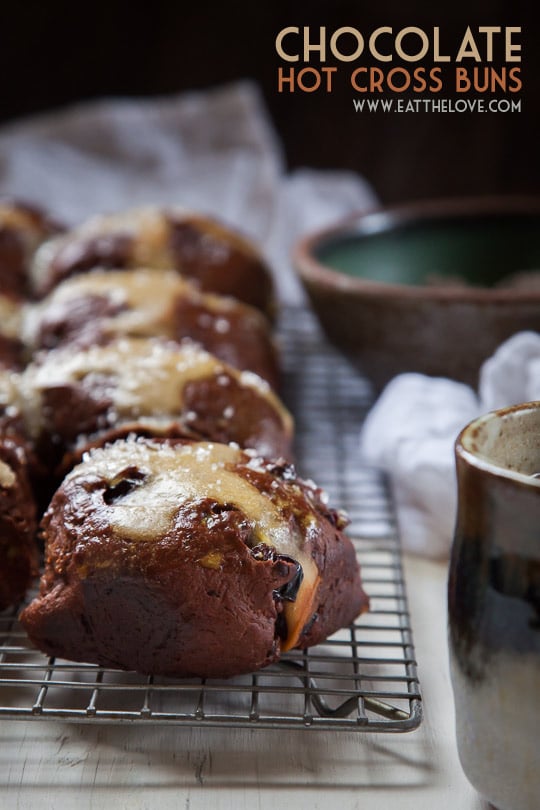 I've been tinkering with a hot cross bun recipe for some time now. It's a strange little baking project for me, a Taiwanese-American boy who was born and raised in St. Louis, Missouri. Hot cross buns seemed like something only British (or Australian) folks ate though I'm sure other folks ate them as well. But because of the symbolism behind the cross and the spices in the bread, I figure if you were America and ate hot cross buns, you were probably Catholic.
Now Protestant folks aren't really big on all the symbolism and ritual that the buns seem to represent. At least not the Presbyterian church that I went to growing up. The hot cross bun's spices were suppose to represent the spices used to embalm Jesus and the cross on top, well that seems self-explanatory. All of that symbolism wrapped up in a tasty yeasty sweet bread. I guess it makes much more sense than a rabbit running around giving out chocolate and laying multi-colored eggs.
Of course because I associate chocolate with Easter, I decided the world needed a chocolate hot cross bun. Apparently this is not an original idea (though I swear I thought it up first) with chocolate hot cross buns being quite popular over in Australia and New Zealand. Or at least that is what Wikipedia said when I decided to look up the origin of the hot cross bun. And if it's on the internet, it must be true right?
[click to continue…]
{ 3 comments }