This savory sauce is one of my go to recipes for when I am craving pasta. Just don't call it Bolognese sauce. Everyone will get upset with you!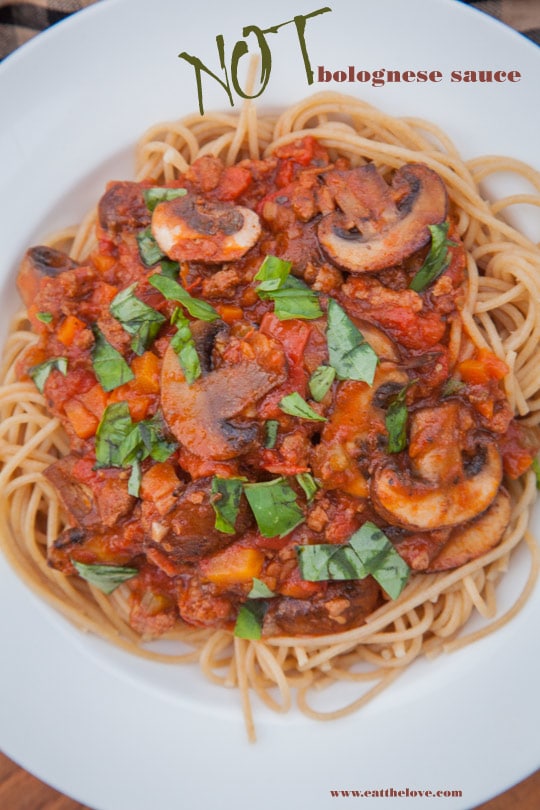 There are something things I try not to talk about on the internet. Abortion. Religion. Politics (definitely no politics, especially in a presidential election year…though if you know me at all, you probably know how I feel about the candidates). Mostly it's because I live in a bubble where most of the people I am friends with have similar viewpoints to me. Or maybe that's a falsity created by the algorithms of Twitter and Facebook. They funnel and "curate" my feed so that I only see things that I agree with more and more. Suddenly any sense of diversity is utterly lost. I miss the days of just being able to see whatever my friends (of all backgrounds) would just post whatever they want; even those posts that I don't agree with. (Jump directly to the recipe.)
Of course, this also means I (mostly) avoid seeing people posting really offensive and disrespectful things as well. Sure I may have a token racist or xenophobic person floating in my follows or friends on one of my various networks, but I rarely see those posts from them. But all this got me thinking about the blessings and the curses of social media. Before the big wide world of social media we actually had face-to-face or phone-to-phone conversations with people, allowing us to discuss other various differences. Of course, I know that the world has changed immensely since I was in college, I can't help miss that sort of interaction.
Right now the one social media platform that I'm enjoying the most is Snapchat. Those who are on it and use it regularly understand why, but those who aren't, view it suspiciously with serious side eyes. For them, it's the social media platform for 15 year olds to send sext messages back and forth. But for me, it's the only platform that allows me not only to interact with people through video (making tone SO MUCH more easy to distinguish, something incredibly hard to do with status updates and 140 characters tweets) but it's not highly curated like other platforms. Instagram has become a firehose of beautiful images of unattainable lives and their Snapchat knock off IG Stories sounds good in theory but usually are incredibly boring. Facebook is where you occasionally chat with that 7th grade friend that you haven't seen since she moved away. But Snapchat, because of its ephemeral nature, allows people to casual post stuff without worrying about it becoming a permanent part of their internet history. Why would anyone want to communicate without archiving it? Because not everything and every thought is worth archiving.
The best way I try to explain Snapchat to people who aren't on it, is to compare it to talking on the phone when we were kids. When we were kids and teenagers, we spent hours on the phone, chatting and talking about pretty much anything and everything and nothing at all. There's no record of it and there's no reason to have that record. We talked to each other because it was fun and that's it. And Snapchat is basically the same thing. Because there's no way to tell how popular someone is on their feed (there's no like button, there's no way to see how many followers a person has) basically there's no social pressure to be awesome, amazing and utterly pinteresting, 24-7. Instead, you get to be who you are, with bad hair day and the occasional bad lighting. Snapchat feels more real to me. It feels like Instagram when it FIRST started and everyone was just posting bad photos taken with their phone. It feels like Twitter circa 2010 when people were on there chatting away and having fun. It feels more real.
[click to continue…]
{ 3 comments }