This homemade blueberry muffins recipe is easy to make and uses a blood orange to give a nice subtle citrus flavor to each bite!
It's been ongoing for the past two weeks but I've been craving blueberry muffins like no one's business. And yes, I know blueberries are completely out of season right now (unless you live in Chile). But that doesn't mean I don't crave those tasty little muffins…enough to sneak out of the apartment and head over to a bakery, an upscale grocery store or even the sad coffee shop across the street that I really don't like because they serve really bad coffee. All for my blueberry muffin fix. Finally I just broke down and realized that I needed to bake me up a batch at home. So the end result was a homemade blueberry muffins recipe with blood orange. These were going to be trouble for me. (Jump directly to the recipe.)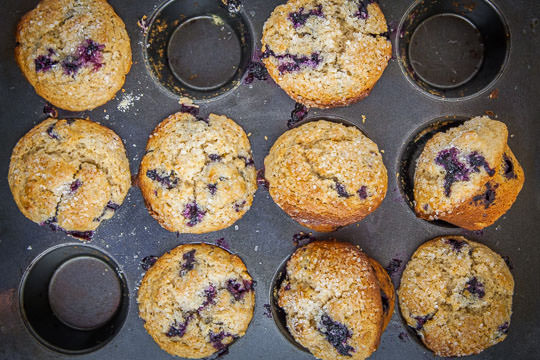 The main issue with making a batch of homemade blueberry muffins, and the reason I don't make them that often, is that I will eat the heck out of them. In fact, I utterly devour them, which is something I don't usually do with my baked goods. In fact, it's a running joke with my partner AJ and my friends that I love to bake but I don't really love to eat my baked goods. Sure I'll nibble a bit or take a bite to see how the baked goods turns out (after all, I have to make sure it lives up to my standards). But I usuall let others eat my baked goods, taking pleasure in just making it for them.
[click to continue…]
{ 8 comments }