It's time for the bialy, the cousin to the bagel, to rise and get some of the glory. This easy bialy recipe will impress even your jaded New York friends!
True confession time, I've never had a bialy before making this recipe. The underappreciated sibling to the ubiquitious bagel, I was unaware of it's existence until I came across an article on Bon Appetit's site praising it as the new King of Carbs in their article on Restaurant trends of 2014. I'm not one to jump on trends but once I started digging into what they were, I was sold. I needed to get ahold of one, or better yet make one myself. Turns out they're easier to make than bagels because you don't need to boil them ahead of time, and when filled with onions and seeds, just as good (if not slightly better, depending on your point of view). So it look like my bialy recipe is no going to be in regular rotation here in our home now! (Jump directly to the recipe.)
If you never had a bialy, or aren't familiar with them, most bialys look and are described as a bagel but without the familiar hole in the middle, instead a depression filled with onions. Of course hardcore bialy fans will disagree and say they are nothing like the bagel, which are boiled and have a shiny crust and dense crumb. My friend Pat claims that as a purist the bialy only has onions and nothing else, but all the recipes I found online, also had poppy seeds and a few sesame seeds as well. I'm a maximalist when it comes to food so I made sure to load mine up with lots of onions, sesame seeds and poppy seeds as well as a generous sprinkling of salt. I may or may not have added a dash of ground black pepper – but don't tell anyone, as that's OBVIOUSLY stepping over the line there.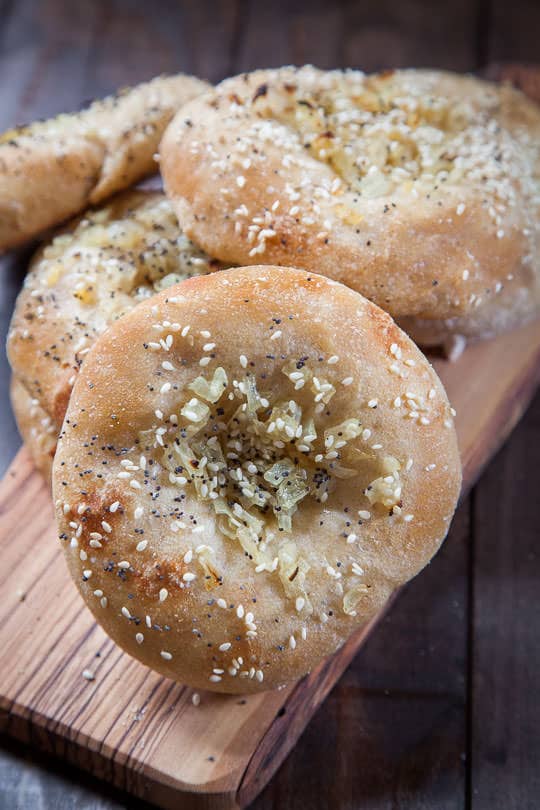 [click to continue…]
{ 20 comments }