This beautiful, yeasted coffee cake is similar to a cinnamon roll, but less sweet and perfect for breakfast or with coffee or tea.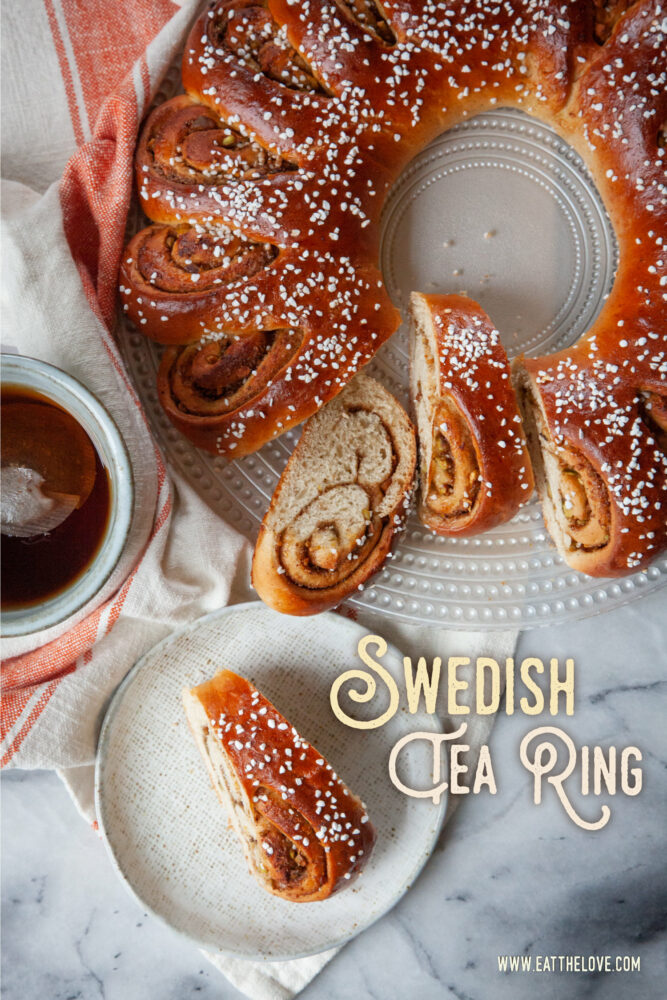 Lately I've had this vague obsession with the Nordic culture and cuisine even though I've never visited any of the countries over in that region of the world. And yes, I have been planning (for some time) to road trip all over that area when my husband and I get back to international travel. But in the meantime, I've been doing culinary travel but making dishes from that area. This includes making semlas, Swedish blueberry tosca cake, and cardamom buns, as well as making my Swedish meatballs stroganoff for dinner. And though I shared a cranberry spiral bread that was inspired by the Swedish tea ring a few years ago, I thought I'd share a more traditional Swedish Tea Ring! It is something that is made during the holiday season, but I think it's a lovely yeasted coffee cake that is wonderful all year round, or at the very least, all fall and winter long.
What is a Swedish tea ring?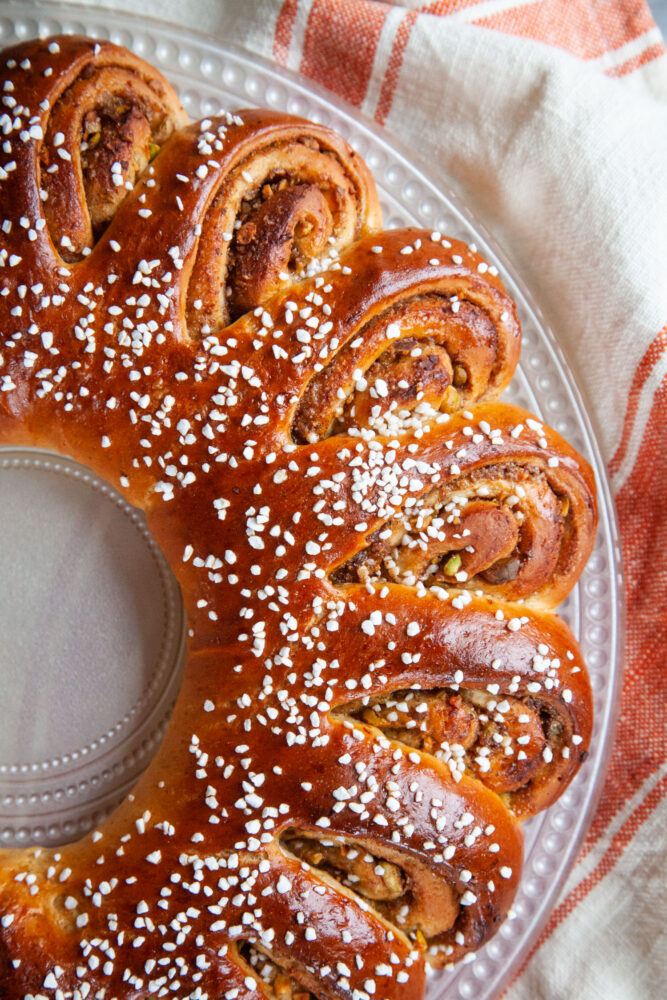 A Swedish tea ring is a yeasted coffee cake that is made in the shape of a ring. Think of it like a pull apart cinnamon roll shaped in a wreath like ring.
Traditionally a Swedish tea ring is filled with cardamom or other wintery spices like cinnamon, nutmeg or cloves. But, like a cinnamon roll, it can often be fill it with whatever you wish. I use a combination of brown sugar, cardamom, cinnamon, pistachios and lemon zest in my filling. But I've listed a few options below for variations of a tea ring fillings. You want to use roughly 3/4 to 1 cup of filling in the ring.
How do you make a Swedish tea ring?
A tea ring starts off with an enriched yeasted dough, similar to a cinnamon roll dough. Enriched doughs have fat in them, with the addition of egg and butter in the dough itself, creating a richer and softer bread.
Once the dough is made and risen, it is rolled out, again like a cinnamon roll, and then the filling is spread on the dough. Roll the dough up into a cylinder but instead of cutting the dough into slices, like you would for cinnamon rolls, you wrap the log around into a circle shape. Let circle rise, then cut the cylinder partially with a sharp knife or kitchen scissors and twist the pieces to spread them a bit and showcase the spiral inside.
Let the ring rise, brush with an egg wash, sprinkle with Swedish pearl sugar and bake. You can also bake it without the sugar and use a drizzle of glaze like I do with my cranberry spiral bread.
What is Swedish Pearl Sugar?
Swedish pearl sugar is an opaque white sugar that is often sprinkled on top of baked goods. It doesn't dissolve in liquid easily, making it an ideal decoration for baked goods. It lends a sweet crunch to the baked good and because it doesn't dissolve, looks pretty as well. You can find Swedish pearl sugar online or at specialty stores.
If you don't have access to Swedish pearl sugar, or don't feel like ordering a specialty item, you can substitute another coarse turbinado sugar, sparkling sugar, or crushed sugar cubes. Even regular granulated sugar will work, though it will partially melt and dissolve creating a different look and texture when you sprinkle it over the wet egg wash glaze.
Or skip the sugar topping and just make a simple glaze like the one I use in the cranberry spiral bread. I have instructions on how to make the glaze in my notes below the recipe for the Swedish tea ring.
Don't confuse Belgian pearl sugar with Swedish pearl sugar. Belgian pearl sugar is much larger in size and I often used in Liege waffles. If you do have Belgian pearl sugar, you'll have to crush them into smaller pieces to use on top of the Swedish tea ring.
What fillings can you put in it?
I used a combination of brown sugar, cardamom, cinnamon, crushed pistachios and lemon zest in my cinnamon rolls. But you can adapt and make the Swedish tea ring however you want! Just use roughly 3/4 to 1 cup of filling. Here are a few suggestions on making the tea ring your own.
Brown sugar with cinnamon
Cream cheese and a berry jam like raspberry or blueberry
Light brown sugar with orange zest and dried cranberries
Chopped or crushed nuts
Chopped dried fruit
Cocoa powder, sugar, and chopped chocolate
Almond paste or marzipan with sliced almonds and raisins
Nutella or a hazelnut spread
Chocolate chips, cinnamon chips or butterscotch chips with pumpkin spice
Chopped and cooked apples with sugar, cinnamon and vanilla
Frequently Asked Questions
Can you use instant yeast or rapid rise yeast?
Yes. Use the same amount of either yeast but keep an eye on the rise of the dough. This recipe is designed using regular active dry yeast. Both instant and rapid rise yeast work faster. Just check the dough (roughly halfway through the recommended time) and roll the dough out when it is double in size. Bake the bread when it is puffy and double in size as well.
Can you knead this by hand?
If you don't have a stand mixer you can still make this bread! Just follow the instructions, proofing the yeast, then combining the dry ingredients with the yeasty liquid. Mix with a wooden spoon until a shaggy dough forms. Then dump the ingredients onto a clean surface and knead the dough together until it is smooth and elastic, about 6 to 7 minutes. Proceed with the recipes as instructed.
How do you store it?
The tea ring is best eaten the day it is baked. But store leftovers under a cake dome or in an airtight container at room temperature. You can refresh the cake in a toaster oven or regular oven at 300°F for 10 minutes though the heating up of the cake will melt the glaze if you use it.

The tea ring will last about 2 days, though each day it sits out, it will progressively get more stale.
Can you freeze this tea ring?
Yes. If you have glazed the tea ring, keep in mind the icing will melt in the freezer. So I recommend use pearl sugar or glazing the bread after thaw it, and before serving. 

To freeze the tea ring, just wrap the bread in plastic wrap, then slip it an extra large 2 gallon resealable freezer bag. The frozen bread will keep for up to 2 months. Thaw it at room temperature for a few hours before serving.
If you like this Swedish Tea Ring, check out some of these other yeasted sweet breads
Swedish Tea Ring
This decorative ring is a beautiful, yeasted coffee cake, perfect for breakfast or with coffee or tea. It does require two rises, so keep that in mind if you plan on making it. If you want, you can make and form the ring the night before, and let it rest overnight in the fridge for a slow rise. Just bring the ring to room temperature (roughly 90 minutes on the countertop, depending on how warm or cold your kitchen is) before baking it.
Ingredients
Dough
1/2

cup

milk

whole preferred but any percentage will work

6

tablespoons

water

1/3

cup

packed dark brown sugar

75 g, divided

2 1/4

teaspoon

active dry yeast

7 g or 1 package

3 1/2

cups

all-purpose flour

490 g

2

tablespoon

unsalted butter

melted

1

large egg

1/2

teaspoon

kosher salt

1 1/2

teaspoon

ground cardamom
Filling
2

tablespoons

unsalted butter

melted

1/4

cup

packed brown sugar

65 g

1/2

cup

chopped or crushed pistachios

80 g

1

tablespoon

lemon zest

1

tablespoons

ground cardamom

1

teaspoon

ground cinnamon
To finish
1

large egg yolk

1

tablespoon

water

2

tablespoons

Swedish pearl sugar

or sparkling sugar
Instructions
Make the dough by first warming the milk and water in a small saucepan until lukewarm, about 100°F. Stir in 1/2 teaspoon of the brown sugar. Sprinkle the yeast over the liquid stir to dissolve. Set aside for about 5 minutes or so, until you see the top of the liquid start to bubble.

Place the flour, remaining brown sugar, melted butter, egg, salt, and cardamom in the bowl of a stand mixer fitted with a paddle attachment. Mix on slow speed to combine.

Drizzle the yeasty liquid into the bowl with the mixer still turned on to slow. Continue adding the liquid until completely added. Mix until a dough forms. Change from the paddle attachment to the dough hook attachment. Knead with the dough hook for 5 minutes, or until the dough is smooth and uniform.

Spray a bowl with cooking oil, then take the dough and stretch it out so it is a smooth ball. Place the rough side of the ball of dough into the bottom of the bowl. Cover with plastic wrap and put in a warm area to rise. Let the dough rise until double in size, about 60 to 90 minutes.

While the dough is rising, make the filling. Mix the melted butter with the brown sugar, the combine with the pistachios, lemon zest, cardamom and cinnamon. Set aside while the dough rises.

Once the dough has risen, assemble the bread ring by dumping the dough onto a clean surface and rolling it out into a 12 x 15 inch rectangle.

Brush the melted butter over the dough. Then sprinkle the filling over the dough, leaving an inch of plain dough on one of the long sides of the rectangle. Roll out the dough into a log from the long side, creating a 15-inch long log.

Place a silicon baking mat or a piece of parchment paper on a rimmed baking sheet. If using parchment paper, lightly spray it with cooking oil. Move the dough onto the baking sheet and form a circle with the log. Brush the ends of the log with water and then pinch the ends of the log together to form a full circle.

Using a pair of kitchen scissors, make a cut in the ring about 2/3 through, leaving 1/3 of the center part of the ring untouched. Make another cut about 1 inch apart, repeating all the way around the ring. Twist and turn each cut out piece slightly so it lays flat on the baking sheet to reveal some of the spiral. Cover with plastic wrap and let rise again for about 30 to 45 minutes or until double in size and puffy.

While the dough is rising, preheat the oven to 350°F. One the dough has risen, remove the plastic wrap. Beat the egg yolk with the water and brush over the top of the bread. Sprinkle the Swedish pearl sugar over the top of the bread. Bake in the oven for 25 to 30 minutes or until the top of the bread is a deep golden brown. If you have an instant read thermometer, the dough internal temperature should read 190°F.

Let the dough rest on the baking sheet for 5 minutes, then slide it onto a wire cooling rack to cool. Serve warm or at room temperature.
Notes
You can skip the Swedish pearl sugar topping and make a glaze instead like I do on my Cranberry spiral bread. Just combine 2 cups of sifted confectioner's sugar (powdered sugar) with 2 teaspoons of vanilla extract and 3 to 5 tablespoons of milk until a thick glaze forms. Drizzle it over the baked tea ring.
Nutrition
Calories:
239
kcal
|
Carbohydrates:
40
g
|
Protein:
5.8
g
|
Fat:
6.5
g
|
Saturated Fat:
3
g
|
Cholesterol:
44
mg
|
Sodium:
152
mg
|
Potassium:
115
mg
|
Fiber:
1.7
g
|
Sugar:
10.6
g
|
Calcium:
38
mg
|
Iron:
2
mg