This unusual combination of Mexican Chocolate and Corn works incredibly well for a flavorful coffee cake that will have your loved ones clamoring for more! (Jump directly to the recipe.)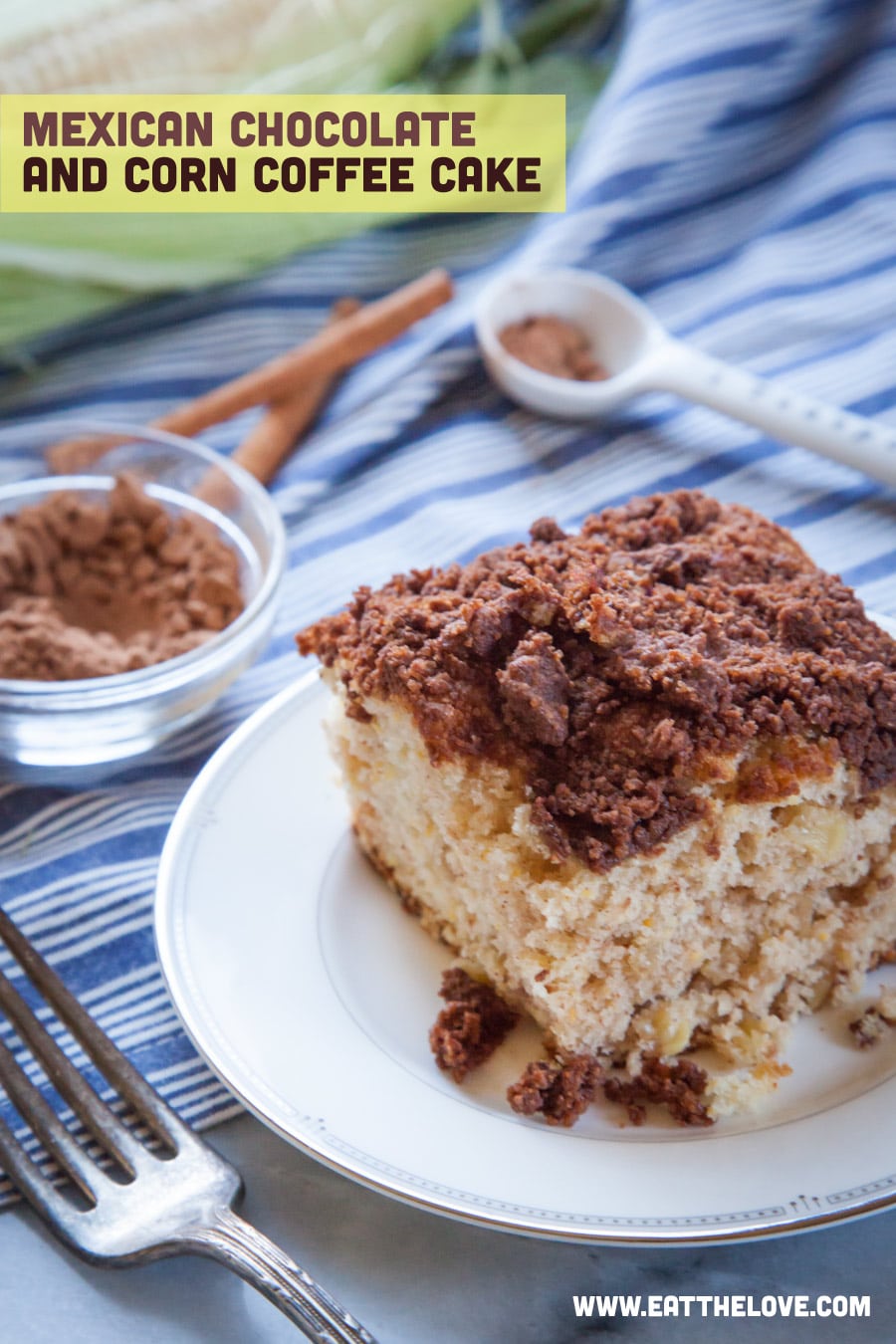 "We have to go to a National Park!" said AJ back in January. I was just finishing up my cookbook tour, doing events around the San Francisco Bay Area as well as traveling back to the Midwest to do events in Chicago and St. Louis. We had visited AJ's family in Indiana and because we had traveled earlier than we usual do for my signings, we had more time than normal in early January before AJ's school started back in session. AJ and I have a running joke that National Parks are "our thing" as if no one else in the world goes to National Parks. We hope to hit all 59 National Parks in the United States in our lifetime and so far we're at 26. So I wasn't the least bit suspicious about his enthusiasm.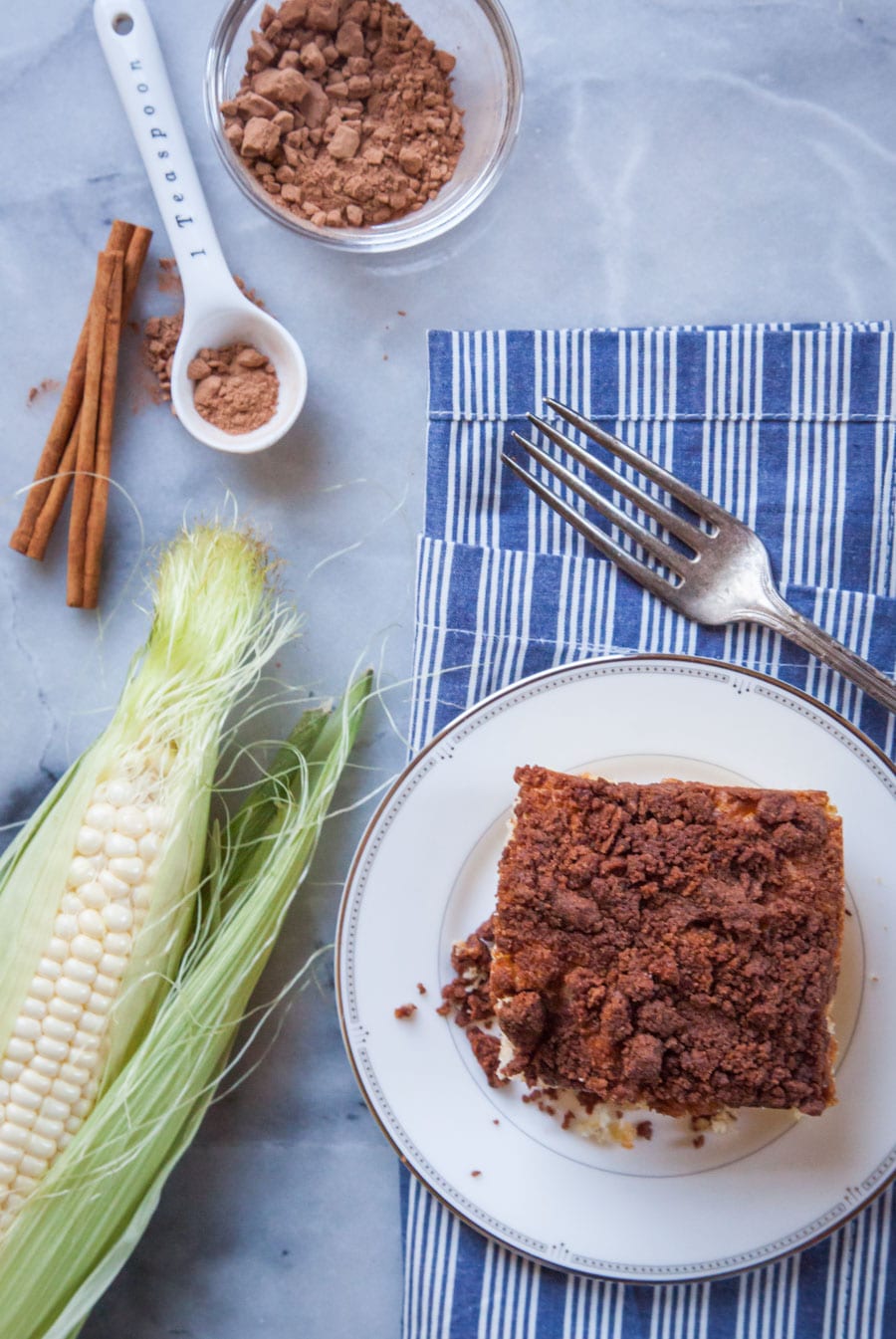 Originally we discussed heading up to Lassen Volcanic National Park, north of San Francisco. AJ's been before but I haven't, but as we looked into it in the middle of winter, we realized most of Lassen was buried in snow and would require us to snow mobile in. We're not that hardcore. Yosemite was out as well, as it was flooding from all the rain. So we decided to head south, where it was warmer, for a trip to Palm Springs, a day trip to Joshua Tree National Park and a quick trip over to Los Angeles to visit friends.
Palm Springs is one of my favorite get away cities, all retired gay men and Los Angeles folks trying to escape from the city of angels for a weekend away from the hustle and bustle. Joshua Tree was only about an hour drive from Palm Springs, and we got up early to drive over the first full day to maximize our time there. I never thought of myself as a hiking/outdoorsy person but ever since our 2013 road trip across the country, I discovered that I actually love hiking and the great outdoors. It's so nice to disconnect and unplug from the world, and often National Parks have very little cell signal, an added bonus to this world where we all seem to be living as if we're our own star of a (relatively dull) Reality TV show™.
AJ seemed particularly excited to get out to Joshua Tree, and the first hike we went on was one we've done previously. We took photos of kooky Joshua Trees (they really do look like something Dr. Seuss would draw) and drove around the park listening to U2 (we like our soundtrack to be thematic to where we travel). Then we found another hike, one we haven't hiked, called Split Rock. We drove down the narrowing winding gravel road to the trailhead and AJ's excitement seemed to increase. We got out, ate lunch, then ventured out on the trail.
The hike was gorgeous in that sort of arid desert landscape that you see in movies. The Mojave Desert laid out in front of us as we hiked up and down the trail. We mostly had the entire trail to ourselves, which is always amazing. Then, as we came to a rock formation that was slightly elevated with a gorgeous view, AJ suggested we sit for a bit and take in the view. As we looked around, I leaned over rested myself on AJ for a bit, shoulder to shoulder. I love hiking with that man.
Then AJ stood up and said "Actually, I have a present for you." That's when my stomach gave a lurch and I immediately got suspicious. AJ is not one to spring surprises on me and he's pretty terrible with keeping secrets. As I tried to puzzle out what he was doing, he pulled out a wrapped packaged that looked suspicious like a picture book. He handed to me and I feign shaking it, as if I could figure out what it was by the sound it made in my hands (spoiler alert: it made no sound. I was pretty sure it was a book).
I unwrapped the present and in my hands were a book with the cover that said Our National Parks. I opened the book and found myself looking at a picture of a National Park. One of the National Parks that we had visited in 2013, a photo that one of us had taken. AJ had made and designed an entire book of all 26 National Parks we had visited! From our very first National Park visit (in Hawaii at Volcanic National Park) to our most recent National Park visits (the Washington parks of North Cascades, Mt Rainier, and Olympic National Park) AJ had combed through our photo archives and created a photo book of the history of our park visits, while consulting with my list of National Parks that we have visited, to make sure he didn't miss any.
Then, as I turned the last page, I saw that AJ had written a letter to me. He told me how much he loved me, and how much the time we've had together has meant to him. And then, in the very last sentence, he asked me to marry him.
AJ and I had talked numerous times about getting married. We were on the same page about doing it but neither of us had official asked each other. We always just said we would eventually, in some distant vague future. But now it looks like AJ and I will be getting married sometime in the not as distant future. I looked up at AJ, with tears in my eyes, and told him "Of course!" And then I kissed and hugged him with all my soul and heart.
AJ smiled the biggest smile I have ever seen him and then reached into his bag again and said "Then I have another gift to give you." Out came a wrapped box that looked big enough for a ring. Two rings in fact. AJ had gotten us matching engagement rings, simple bands to wear for now, knowing that we would want to go ring shopping together to find something permanent.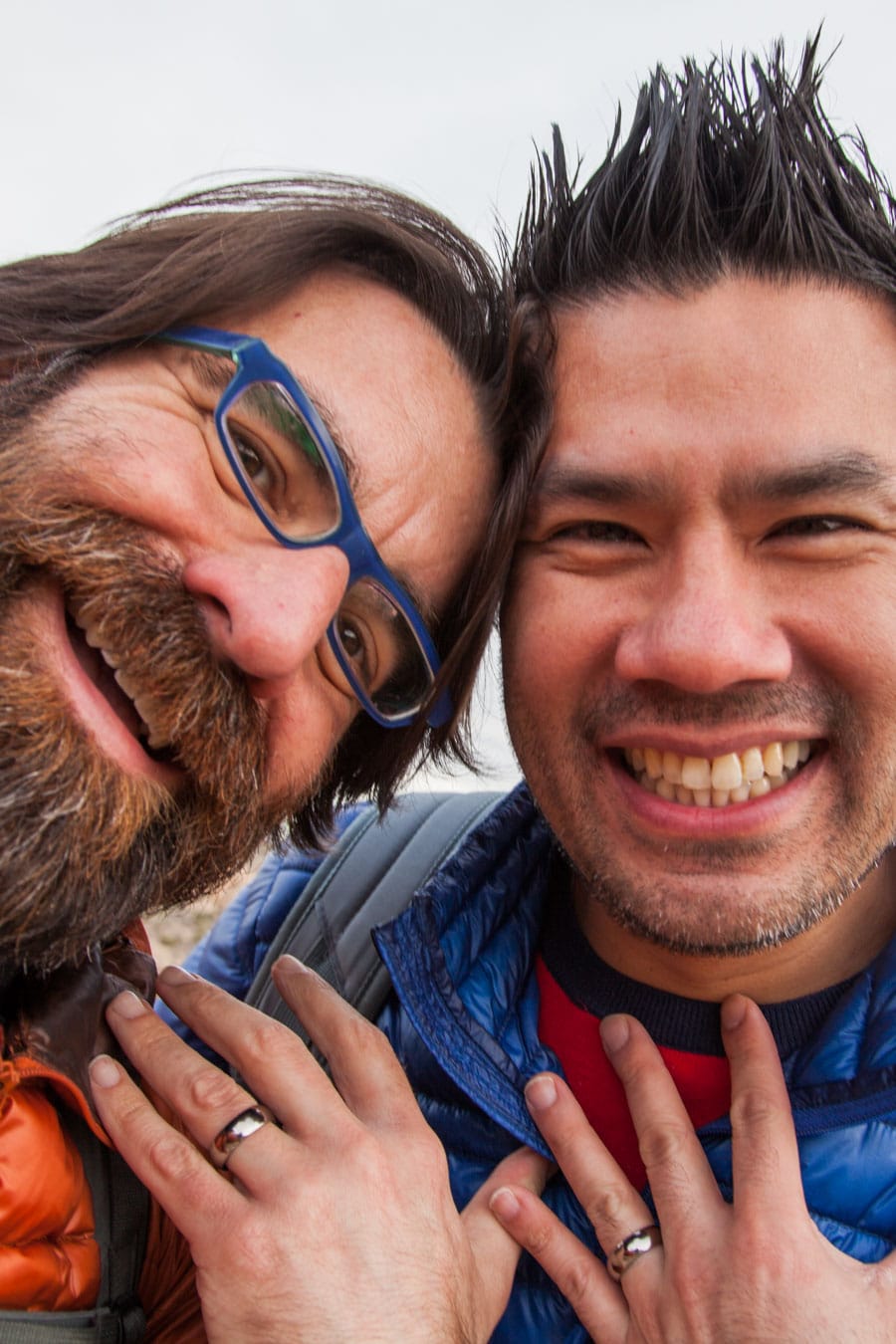 For a few days I didn't want to tell anyone that we were engaged. There was something incredibly special about knowing that he and I were the only people in the world that held this secret bond. But that day, after dinner, we went and got ice cream at a local shop. I pointed out to AJ that they had champagne sorbet and said something like "we ARE celebrating!" The workers asked what we were celebrating, and we told them, completely strangers, that we got engaged that day. They congratulated us.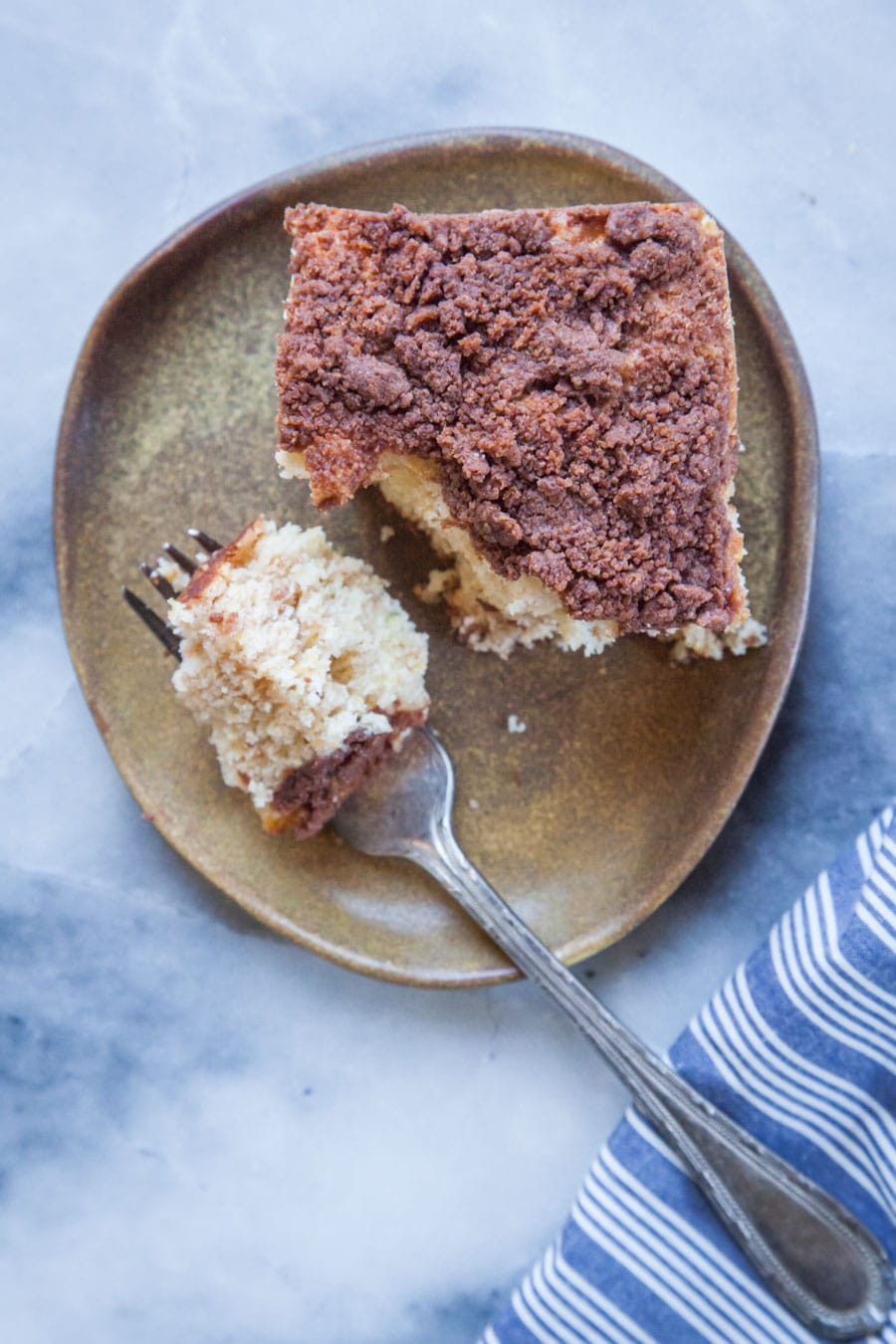 In the end, AJ opted not to get the champagne sorbet. Instead he got a scoop of Mexican chocolate and a scoop of sweet corn ice cream, an odd combination that worked surprisingly well together. I vowed that the next time I saw corn at the grocery store I would make something with that flavor combination. And with the summer months starting to wane, I remembered that I still hadn't made that Mexican chocolate and corn coffee cake that I wanted to. And once I took a bite, it took me back to that day in Palm Springs, where AJ surprised me with a picture book and made me happier than I think I could ever be with just a simple question of "Will you marry you?"
Mexican Chocolate and Corn Coffee Cake
By Irvin Lin
The combination of cinnamon, chocolate and corn seems random and odd, especially in a baked good like coffee cake. But the sweetness of the corn kernels is offset with the spicy cinnamon and the earthy chocolate. One bite of the coffee cake and you'll understand and fall in love with it as much as I did.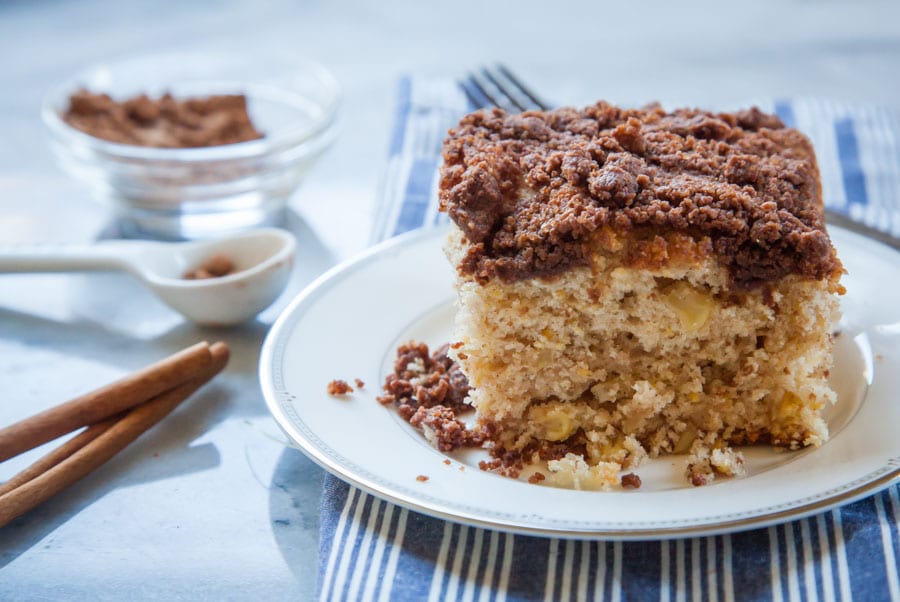 Ingredients
Corn Mix In
1 medium ear of corn on the cob
1/2 cup (100 g) granulated white sugar
2 tablespoon cornstarch
2 teaspoon cinnamon
1/2 teaspoon salt
Coffee Cake Batter
1 1/2 cups half and half
3 cups (420 g) all-purpose flour
1/2 cup (95 g) corn meal
4 teaspoon baking powder
1 teaspoon kosher salt
1 1/2 cup (300 g) granulated white sugar
1/2 cup (115 g or 1 stick) unsalted butter
2 teaspoon vanilla
2 large eggs
Crumb Topping
1 cup (140 g) all-purpose flour
2/3 cup (145 g) dark brown sugar
1/4 cup cocoa powder, natural not Dutch-process
2 teaspoon cinnamon
1/4 teaspoon cayenne pepper
1/2 teaspoon kosher salt
1/2 cup (115 g or 1 stick) unsalted butter, cold
Directions
1. Preheat the oven to 350ºF. Spray a 9 x 13 inch baking pan with cooking oil. Set aside.
2. Place the corn and the half and half in a large pot and bring to a boil. Reduce heat to a bare simmer and cover and let simmer for 8 minutes to cook the corn.
3. While the corn is cooking, make the crumb topping by placing the flour, sugar, cocoa, cinnamon, cayenne and salt in a medium bowl. Cut the cold butter into 1/2-inch chunks and add to the bowl. Using your fingers toss the butter with the dry ingredients then squeeze the butter into small flat pieces, breaking the butter into small pea-sized bits. Once the butter has been broken down and the dry ingredients are mixed together, place in the refrigerator to chill while you make the rest of the bake.
4 Once the corn has cooked, remove from hot liquid, let cool to the touch, then cut the kernels off. Place the cob back into the pot with the liquid and cover again to let steep. Place the kernels in a medium-sized bowl and add the remaining corn mix in ingredients. Toss to coat and set aside.
5. Make the coffee cake batter by placing the flour, corn meal, baking powder and salt in a large bowl and stirring vigorously with a whisk. Place the sugar, butter and vanilla in the bowl of a stand mixer fitted with a paddle attachment. Cream until fluffy and light in color, about 3 minutes. Add the eggs, one at a time, waiting until the first one incorporates into the batter before adding the second one. Scrape down the sides of the bowl with a spatula before additions.
6. Measure out 1 1/4 cups of the corn infused half-and half (if there isn't enough, add a little more plain half and half until you have the full amount). Add half the dry ingredients to the cake batter and mix to incorporated. Add half the liquid and repeat. Then repeat with the remaining dry ingredients and liquid, alternating with each and scraping down the side of the bowl between additions.
7. Add the corn mix in and fold into the batter. Then pour into the baking pan, spreading out until you have an even layer of batter. Take the crumb topping out and sprinkle over the cake topping. Bake in the oven for 40 to 50 minutes or until a toothpick inserted in the middle of the cake comes out clean.
Makes 1 coffee cake, serves 12 people.