This is the best monster cookies recipe out there, completely packed with hearty rolled oats, peanut butter, M&Ms, Reese's pieces, and chocolate chips!
Jump to Recipe | Jump to Recipe Notes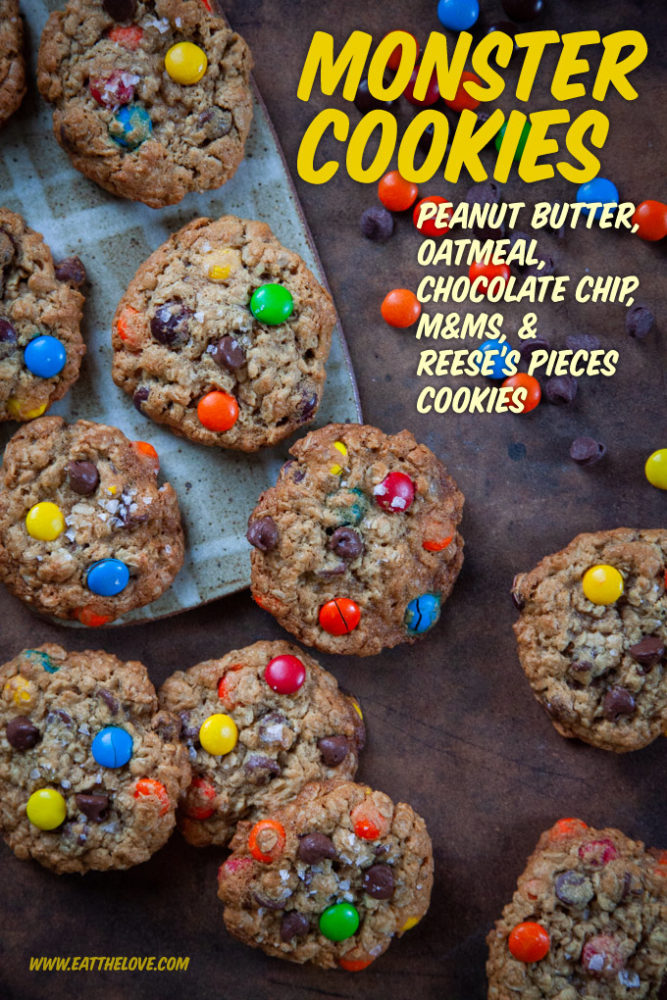 I would like to take this moment to just shine a light on my friend Shauna Sever who I absolutely adore. She used to live here in San Francisco but somehow she convinced herself that the cold blustering Midwest was beckoning for her, and now SF is just a little bit less warm because she is not here. But from her move, came her latest cookbook Midwest Made (<-affiliate link), which I just adore. And from that book, I came across monster cookies which are kind sort of like my oatmeal chocolate chip cookies, or my skillet cookie with M&Ms or my bakery-style chocolate chip cookies. But not really, because these cookies are a thing ALL. THEIR. OWN. And what's even more strange, having grown up in the Midwest (St. Louis – don't @ me, it's really the Midwest) I had never heard of them!
But once I flipped to that recipe, and put a post-it note bookmark on it, earmarking it as a "recipe to try," I paged back through the book and looked at all the other 20 million post-its I had liberally bookmarked throughout it. And though I first wanted to try her Gooey Butter Cake (a classic St. Louis recipe <- see all you haters, even Shauna who has confessed to me that she doubts that St. Louis is the Midwest finally caved and decided it was), I ended up making her monster cookies instead. Because 1. I love the combo of oatmeal and peanut butter, 2. they have chocolate in them and chocolate trumps pretty much anything, and 3. THEY'RE CALLED MONSTER COOKIES FOLKS. How could I not?
And, because my lovely friend Shauna, who is basically the equivalent of this cookie, both salty and sweet (you should see the text messages we send each other…so salty!) developed this recipe I knew it would be good. But oh boy. It's a winner! I've streamlined the method a bit and shifted a few ingredients around (added a little more salt, swapped out some Reese's pieces candies for dark chocolate m&ms) but otherwise it's pretty much all her. These are the real deal. Go get the book. And make these cookies now!
What's a monster cookie?
Monster cookies are a peanut butter oatmeal cookie with loads of chocolate chips and M&M candies. The name came from the man who developed them, Dick Wesley – a University of Michigan photographer and Cub Scout Leader. Shauna talks about how he was the ultimate dad, who created the monster cookie and its legend grew so much that he ended up having to outfit an electric mixer to make enough dough that used 12 eggs and 18 cups of oatmeal. Yikes!
Shauna's version uses Reese's Pieces candies to up the peanut butter ratio but I swapped some of the Reese's Pieces back to dark chocolate M&Ms because I'm a dark chocolate fan. You can go all in on the Reese's Pieces, go half-sies with the Reese's Pieces and the classic milk chocolate M&M or follow the instructions and do what I did, use part Reese's Pieces and part dark chocolate M&Ms. The dark chocolate M&Ms are easy to find in well-stock grocery stores, just look for them in a purple bag.
How do you make monster cookies?
I make these monster cookies by first softening and partially melting the butter in the microwave. Then I mix the butter with the sugar, corn syrup, vanilla, baking soda and salt. Once blended into a paste, I add in the eggs, then the peanut butter, oats and flour.
Then, once the dough is made, I hand mix in the Reese's Pieces, M&Ms and chocolate chips. Then chill the dough in the fridge. Once chilled I form the cookies and bake away with an extra pinch of salt on top!
Can I swap out the corn syrup in the recipe?
Folks often don't want to use corn syrup and I get that. You can definitely swap out the corn syrup for honey. Just keep in mind the flavor will shift a little bit (honey has a distinct flavor, and corn syrup is fairly neutral in flavor). More important though, is bake time. Honey tends to brown faster, so keep an eye on the cookies. You may need to bake them a minute or two less if you use honey. But they'll still turn out great!
Can I swap out the peanut butter for another nut butter?
If you're allergic to peanut butter or don't like peanut butter, you can swap it out for an equal amount of another nut butter or sunbutter. You'll also want to swap out an equal amounts of Reese's pieces for chocolate M&Ms or more chocolate chips.
Are monster cookies gluten-free?
This particular recipe for monster cookies is not gluten-free. There is a minimal amount of flour in the dough. But you can easily swap out the all-purpose flour for the gluten-free flour mix of your choice! My friend Alanna recommends Bob's Red Mill gluten-free 1-to-1 flour mix (<- affiliate link) as a great all-purpose gluten-free flour mix.
What sort of peanut butter should I use for these monster cookies?
I tested this recipe with regular grocery store creamy peanut butter (Jif, Peter Pan, Skippy). If you like more texture, you can use chunky peanut butter instead of the creamy. I don't recommend natural peanut butter as it tends to separate and leads to a drier cookie. But if natural peanut butter is all you have, make sure to stir the peanut butter thoroughly to make sure all the oil is incorporated in, before measuring out the peanut butter.
How do you store Monster Cookies?
You can store monster cookies in a ziplock resealable back or airtight container at room temperature for 3 to 5 days. After that, they start to get stale.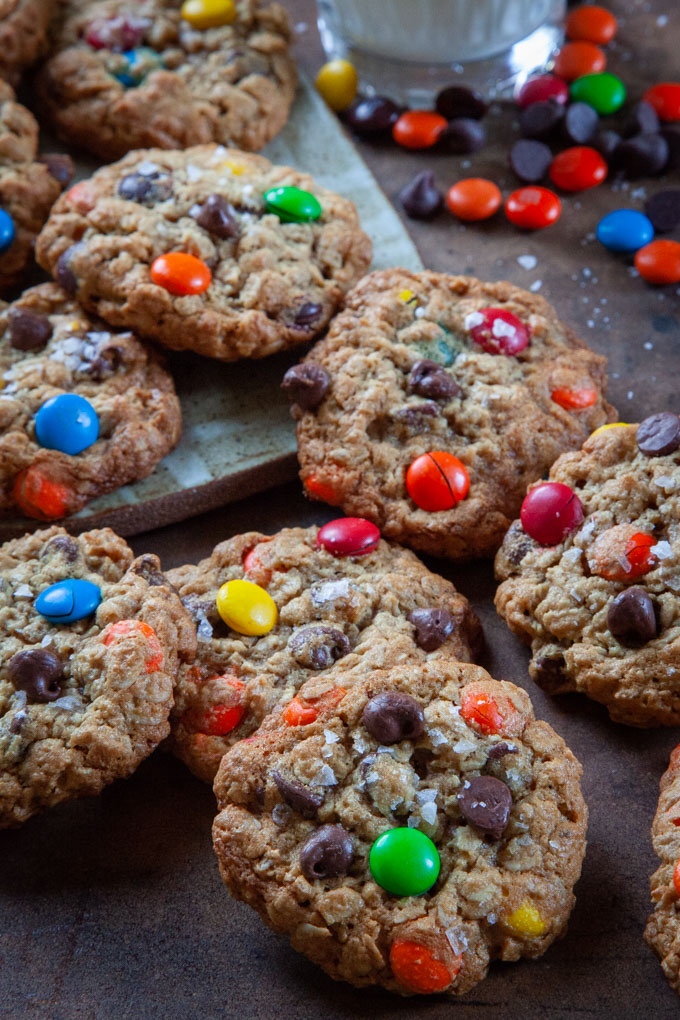 Can you freeze Monster Cookies?
Yes! You can totally freeze monster cookies. Store them in a freezer ziplock resealable bag or airtight container. In the freezer they keep for up to 3 months. Just thaw them out on the counter top for about 30 to 45 minutes (depending on how warm your kitchen counter is).
Can you make the cookie dough ahead of time?
Yes! In fact you have to chill the dough ahead of time, as the dough is pretty loose and hard to work with if you don't. Just make the entire cookie dough ahead of time, cover it with plastic wrap, and leave it overnight in the fridge.
You can even make the dough ahead of time, portion out the dough into balls, flatten them into thick discs, and freeze it! Freeze the discs on a baking sheet in the freezer until frozen through, then place the dough discs in a plastic bag to store. You can even bake the cookies directly from the freezer. Just increase the baking time by two minutes.
If you like these monster cookies, check out some of my other cookie recipes packed full of chocolate!
This cookies recipe is also part of a virtual cookie swap! Check out some of these other awesome cookies that my friends and fellow bloggers have made. You can also follow along on Instagram and social media by following the hashtag #JustACookieParty.
Monster Cookies
These monster cookies are oatmeal peanut butter cookies packed with chocolate chips, M&Ms and Reese's pieces. They're easy to make but keep in mind they need time to chill in the fridge, otherwise they spread too much in the baking. So make sure to allot some time for the chill or make the dough the night before so you can bake right away the next day!
Ingredients
Cookie dough
10

tablespoons

unsalted butter

straight from the fridge, 140 g

1

cup

packed brown sugar 220 g

1

cup

white sugar

200 g

2

teaspoon

vanilla extract

2 1/4

teaspoons

baking soda

1/4

teaspoon

kosher salt

4

large eggs

1 1/3

cups

creamy peanut butter, not natural

340 g

4 1/2

cups

thick rolled oats

450 g

6

tablespoons

all-purpose flour 53 g

3/4

cup

Reese's pieces

160 g

3/4

cup

M&Ms

(dark chocolate or whatever you prefer) 170g

1

cup

chocolate chips

190 g
To finish
Flaky salt

like Maldon, Sel de Gris or kosher
Instructions
Place the butter in a microwave safe bowl. Cook in the microwave on high for 30 seconds. The butter will only be partially melted, that's OK.

Scrape the butter into the bowl of a stand mixer fitted with a paddle attachment. Add the brown sugar, white sugar, corn syrup, vanilla extract, baking soda, and salt. Mix the ingredients together until they are well blended and uniform in color.

Add the eggs, one at a time, mixing and scraping down the sides between additions. The mixture will increasingly look wet and "broken" but don't worry.

Add the peanut butter and mix in. Add the oats and the flour. Mix until the dry ingredients are absorbed.

Remove the bowl from the stand mixer. Add the Reese's pieces, m&ms and chocolate chips, then mix the candy and chocolate into the cookie dough using a wooden spoon or stiff silicon spatula. Mixing the candy and chocolate in by hand keeps the candy shell intact and not broken, and also ensures that the candy is evenly distributed in the dough.

Cover the entire bowl with plastic wrap and place in the fridge. Refrigerate 4 hours or overnight.

Once the batter has chilled, preheat the oven to 350°F. Place a silicon baking mat or piece of parchment paper on a baking sheet. Pinch or spoon off about a heaping tablespoon of dough and roll it into 1 1/2-inch wide balls. Place on baking sheet and slightly press down with the palm of your hand on the ball to form a thick disk. Sprinkle a little bit of flaky salt on top and then repeat with more dough. Place dough about 2 inches apart for each other.

Bake in the oven 10 to 12 minutes, or until the cookie edges are just golden brown. You don't want to overbake these! Let cool on the baking sheet for 10 minutes to firm up and then move to a wire rack to cool completely.
Nutrition