This Marble Rum Cake is easy to make and packed full of rum flavor because it uses 3 types of rum in it making sure it every bite is moist and tender. (Jump directly to the recipe.)
Every year I think about what sort of dessert I can make for AJ's birthday and every year I end up circling back to either a cheesecake or a chocolate layer cake. So this year, instead of doing one of the old standby desserts (which he admittedly adores) I opted to do a riff on a rum cake. When AJ was a child, he always begged his mom to make him a rum cake for his birthday. And though I've made rum cakes before for him, this time I want to figure out something a little bit different. In celebration of his birthday and my first cookbook, Marbled, Swirled, and Layered, I opted to make a marble rum cake to celebrate!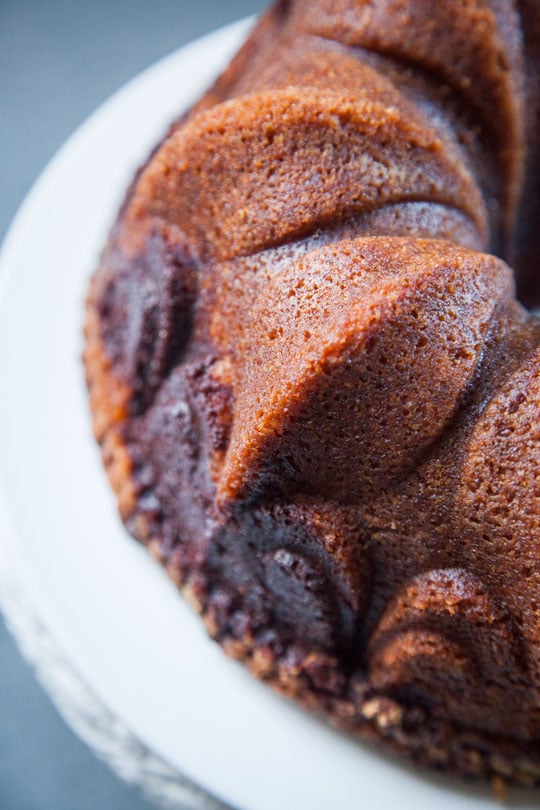 AJ is firmly in his mid-40s now. I am too actually, as my birthday was earlier this month. We've been together for over 16 years which means we spent all of our 30s together, a formative period of our adult life. As we move into the next phase of our lives together, I marvel at how my life has shifted and changed over the years. From a broken 20-something manchild who moved to San Francisco, temping in offices and working at independent bookstores, to a graphic designer that worked with major brands to quitting my day job to become a food photographer, food writer and cookbook author, AJ has been my constant through all of it. He's been my rock and I can't imagine how I would have survived through all of it without him.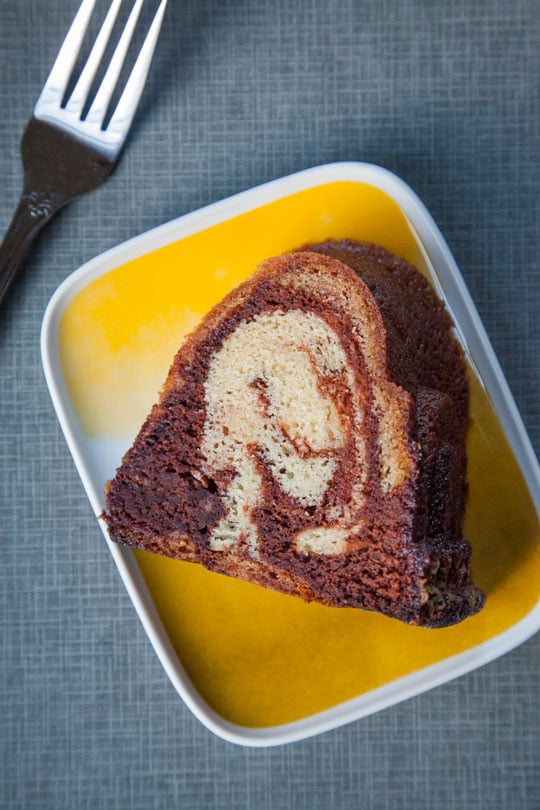 AJ has always been my biggest cheerleader throughout every phase of my career and life change. When I worked up the courage to tell him how I finally was quitting my day job to go freelance, his response was exactly what I needed. "Thank God! You've been miserable at that job! I can't wait to see what you do next!" I couldn't ask for a better partner in life. And every day, just seeing him makes me the happiest person in the world.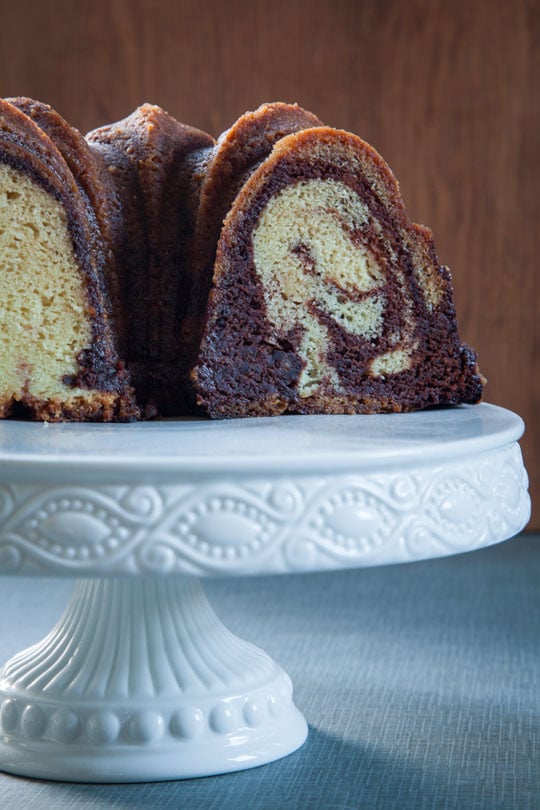 I was recently interviewed for a local gay newspaper about my book and my new found career as a creative food content provider. The journalist mentioned how great it was that I dedicated my cookbook Marbled, Swirled, and Layered to AJ. "I love that you are out and open about your relationship with him." I couldn't imagine NOT being open and out about being with someone who has been such an integral part of my life. There's no way I could have written my cookbook without him!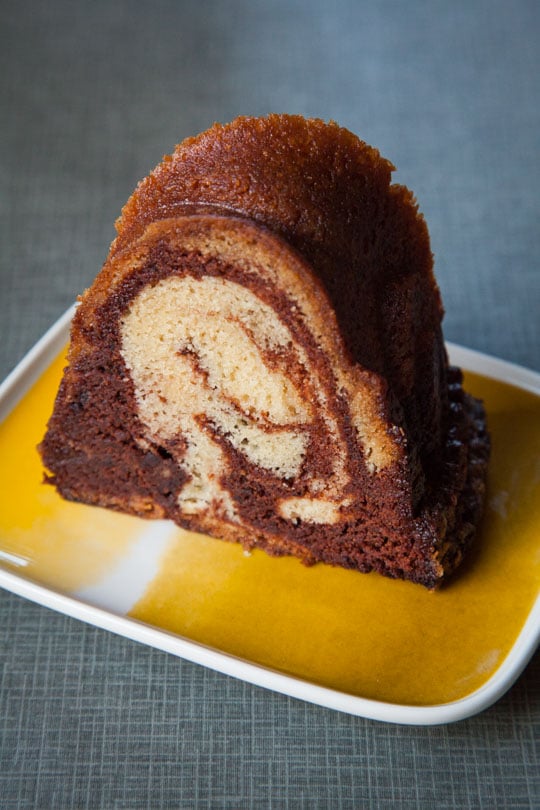 AJ's birthday cake recipe, a marble rum cake, is not in the cookbook. I developed it WAY after I turned my manuscript in. But it is loosely adapted on a marbled bundt cake recipe that is in the book. And yes, AJ absolutely loved this cake. In fact, I may have created a new favorite birthday cake for him. I don't think I've ever seen him eat a cake faster than he ate this one. And that's saying a lot since I make a lot of cakes…

Marble Rum Cake
By Irvin Lin
This Marble Rum Cake uses three types of rum flavoring to give it an extra boozy rum flavor. Kahlua is a coffee flavored rum liqueur that helps boost the chocolate swirl in the cake, while rum extract gives a concentrated rum flavor to the cake. Finally a rum glaze, with dark rum, brushed over the warm cake makes sure that every forkful of the cake is not only filled with rum flavor but also moist and tender.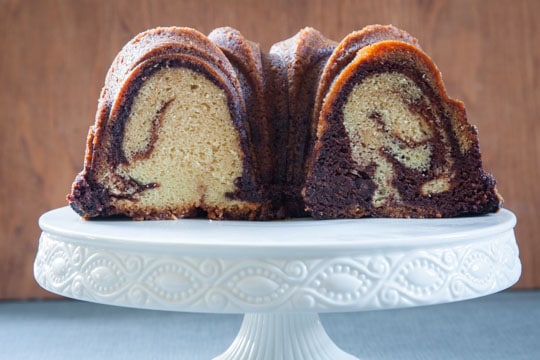 Ingredients
To Grease Pan
1 tablespoon unsalted butter, at room temperature
2 tablespoons all-purpose flour
Chocolate syrup
1/2 cup (100 g) granulated sugar
1/2 cup (50 g) natural cocoa powder (not Dutch-process)
1/4 cup (75 g) corn syrup
1/2 cup Kahlua
Cake batter
1 cup (225 g or 2 sticks) unsalted butter, at room temperature
2 cup (400 g) granulated white sugar
2 tablespoons rum extract
1 teaspoon vanilla extract
4 large eggs, at room temperature
1 teaspoon baking powder
1 teaspoon baking soda
1/2 teaspoon kosher salt
1/2 cup whole milk
2/3 cup sour cream (full fat)
2 3/4 cups (385 g) all-purpose flour
Rum glaze
1/2 cup (115 g or 1 stick) unsalted butter
1/4 cup water
1 cup (200 g) granulated white sugar
6 tablespoons dark rum
Directions
1. Preheat the oven to 350ºF. Place the butter in a 12-cup Bundt pan and grease the pan with your fingers, making sure to grease all the nooks and crannies. Sprinkle the flour all over the pan and knock out the excess.
2. Make the chocolate syrup by combining the sugar, cocoa powder, corn syrup, and Kahlua in a small saucepan and cook over medium heat until the sugar has dissolved and the syrup starts to boil. Bring to a simmer, whisking to make sure there are no lumps. Remove from the heat and set aside.
3. Make the cake batter by placing the butter and sugar in the bowl of a stand mixer fitted with the paddle attachment. Beat on medium speed until the butter looks light in color and fluffy, about 2 minutes. Add the rum extract and mix until incorporated. Add the eggs one at a time, beating until completely incorporated and scraping down the sides and bottom of the bowl between each addition. Add the baking powder, baking soda, and salt and beat until the dry ingredients are absorbed.
4. Stir the milk and sour cream together. Add the flour in three additions and the dairy liquid in two, alternating between the flour and dairy, ending with the flour. Beat until incorporated and scrape down the sides and bottom of the bowl between each addition.
5. Spoon one-third of the batter into a medium bowl and add the chocolate syrup. Stir to incorporate completely and set aside. Spoon half of the remaining plain rum batter into the prepared Bundt pan. Scrape the chocolate batter on top. Spread the remaining plain rum batter on top of the chocolate batter. Insert a butter knife or chopstick into the batter and make "figure eight" motions throughout the entire cake to marble the batter. You may want to sometimes dig deep to the bottom and sometimes lift up to make sure the batter really moves around. Just don't overmix the batters, or else they will blend together instead of marbling.
6. Place the pan on a rimmed baking sheet. Bake until a toothpick inserted in the center comes out clean and the cake springs back when pressed down lightly, 50 to 60 minutes.
7. While the cake is cooling, make the glaze by placing the butter, water and sugar in a medium saucepan and bring to boil. Reduce heat to a simmer, then let cook for about 5 minutes, stirring constantly. Remove from heat and carefully stir in rum. Using a toothpick or a skewer, poke holes all over the bottom of the cake while it is still warm and in the pan. Brush half the glaze over the bottom of cake then cover the saucepan with the glaze and set aside.
8. Let the cake cool in the pan on a wire rack for another 20 to 30 minutes and then invert onto a serving plate or cake stand while still warm. If the cake doesn't unmold, gently slip a very thin knife between the cake and the pan all the way around to loosen it and then try again. Brush the remaining glaze over the top of the cake, making sure the glaze absorbs into the cake, before you brushing more over the top. Let cool completely before serving.
Makes 1 Bundt cake that serves 10 to 12.