These made-from-scratch, cloverleaf rolls have a soft crumb and are easier to make than they look. They are a great addition to any meal!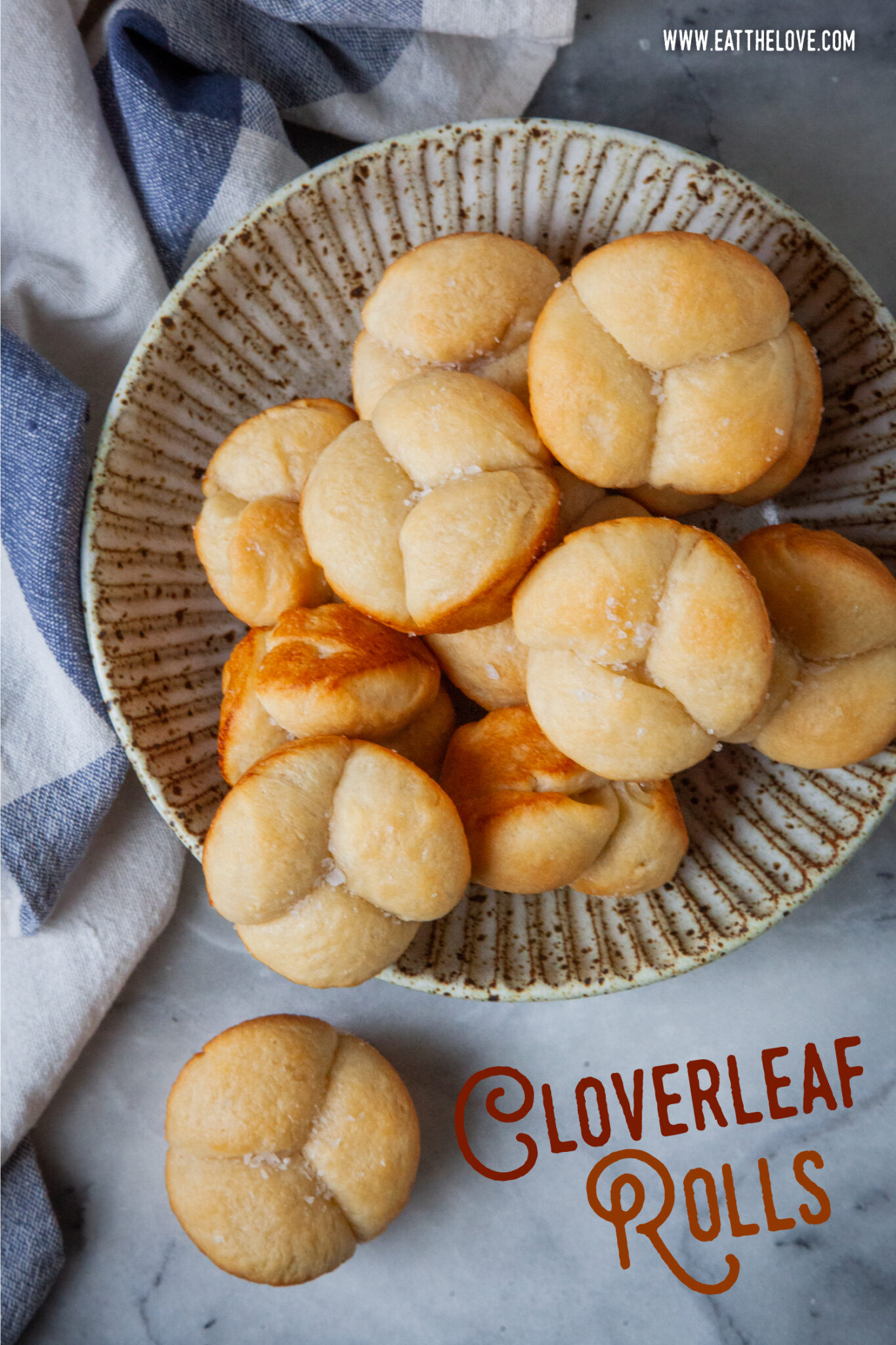 Sadly, I did NOT grow up with dinner rolls. In fact, I didn't discover dinner rolls until I had dinner at my elementary school friend's Jamie Gentry's house. His mom made cloverleaf rolls like these and they possibly were life change. And though I have plenty of recipes for dinner rolls here on the blog, like Parker House rolls, Ukrainian Pampushky, potato rolls, garlic knots, and herb Parmesan wool roll bread, I decided I need to add these clover rolls to the blog because of the nostalgia and soft spot I have for them. They're tender, rich, soft, and a delightful addition to any meal!
How to make these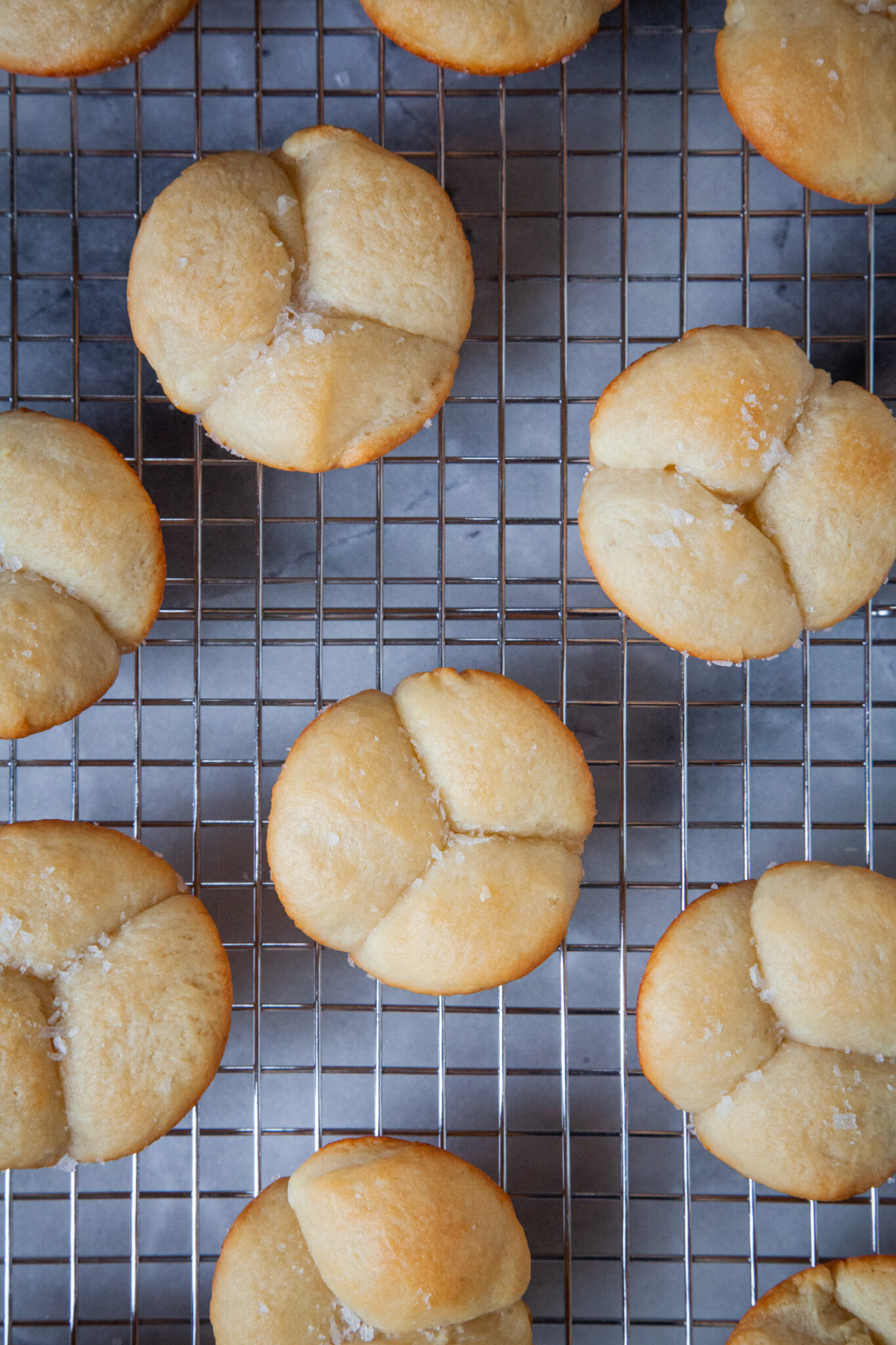 A lot of cloverleaf rolls use store-bought bread dough, which is a super easy shortcut. I explain how to do that in a section below. But this recipe uses an enriched dough made from scratch. Enriched just means there is the addition of butter and egg in the dough, which yields a richer and more tender roll. But don't worry, it's still an easy bread dough to make!
Start by warming up a small amount of milk in a small saucepan. You want to bring the milk to about 100°F, which is warm to the touch. It should only take 15 to 30 seconds to do this, so don't overheat the milk. Once it's warmed, add in a little sugar (which helps the yeast rise) and the active dry yeast. Stir and let sit to proof.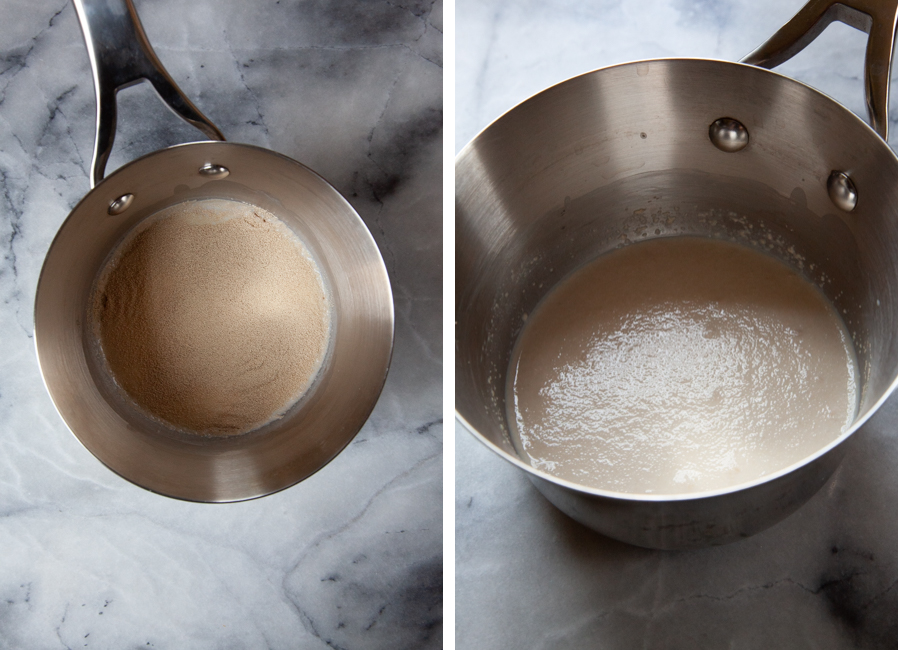 Once proofed, beat in melted butter and an egg to the warm milk liquid. Then place the flour and salt in the bowl of a stand mixer. Add all the liquid to the bowl and knead with a dough hook for 7 to 12 minutes, until the dough is shiny, smooth and elastic.
Let the dough rise until double (about 1 to 2 hours depending on where you place it). While it rises, brush the inside of each cup in a standard muffin pan with butter. Then divide the dough into 12 pieces. Take a piece, divide it into 3 parts, roll each part into a small ball, and place all the balls inside a muffin cup. Repeat with the remaining dough.
Cover and let rise again, then brush with butter and bake until golden brown. Brush with more butter and sprinkle with salt and serve.
How to use store-bought bread dough
If you want to skip the making of the dough, just buy 1 pound of bread dough or pizza dough, then divide the dough into 12 pieces. Take a single piece and divide it into 3 parts, rolling each small piece into a small ball, Place the 3 small balls inside a buttered muffin cup, and then repeat with the remaining dough. Cover and let rise until double, gently brush with 2 tablespoons of butter, and bake for 12 to 14 minutes or until golden brown.
What sort of yeast to use
If you've never used yeast before, it can be a little confusing when you're at the store as there are so many options. I use active dry yeast in this recipe, which is a common style of yeast that you can find pretty much anywhere.
You can also use instant dry yeast or rapid rise yeast in place of the active dry yeast. With instant dry yeast, just add the yeast into the flour and salt, there's no need to dissolve in the milk first. If you're using rapid rise yeast, add it to the milk but keep in mind that it works more rapidly (thus the name) so check the dough earlier as it rises. Once it's doubled, which can be as short as 30 minutes with rapid rise yeast, start dividing and forming the bread roll. Continue the recipe as directed. 
Make them overnight rolls
If you want to simplify your life, you can turn these into overnight rolls! Just make the dough, let it rise, then divide and form the cloverleaf rolls in the muffin pan. Once the rolls are formed, cover the dough with plastic wrap and place the dough in the fridge overnight. The next day, take the dough out of the fridge, let it come to room temperature (which could be up to 2 hours, depending on how warm your kitchen is) and let the dough rise until it's double. Bake as directed.
Variations
Herb Butter Rolls: Make these herb butter rolls by chopping 2 teaspoons of fresh herbs, like parsley, oregano, sage, thyme, or rosemary leaves (always use fresh herbs, not dried ones for this recipe) along with 1 teaspoon of kosher salt. Then mix them into the melted butter and brush them on top after the rolls are baked.
Parmesan Garlic Rolls: Make these Parmesan garlic rolls by mincing 2 medium-sized cloves and placing them in a small saucepan. Add 3 tablespoons of butter and heat the saucepan until the butter is melted and you can smell the garlic. Remove from heat, add 1 tablespoons of grated parmesan and 1 tablespoon of chopped parsley. Brush over just baked rolls.
Salted Honey Rolls: Make these salted honey rolls by mixing in 1 tablespoon of honey into the melted butter. Brush over the top of the rolls and then sprinkle with flaky salt.
How to store
These rolls are best eaten the day they are baked. But you can store leftovers in an airtight container or in a Ziploc bag at room temperature. They will keep for 2 days. Refresh them in a 300°F oven or toaster oven for 5 to 10 minutes before serving.
More yeasted bread recipes
Made-from-Scratch Cloverleaf Rolls
These fun clover shaped dinner rolls are made from scratch but are easier than they look! Once you've pulled them out of the oven, be sure to brush them with extra melted butter and salt. It makes all the difference!
Ingredients
Dough
1/2

cup

milk

115 g

1

teaspoon

white sugar

2 1/4

teaspoons

active dry yeast

7 g or 1 package

4

tablespoons

unsalted butter

melted

1

large egg

1

teaspoon

kosher salt

2

cups

all-purpose flour

280 g
For pan
1

tablespoon

melted butter
Before baking
2

tablespoon

unsalted butter

melted
After baking
2

tablespoons

unsalted butter

melted

1

teaspoon

flaky or kosher salt

like Maldon or Diamond Crystal
Instructions
Warm the milk to about 105°F in a small saucepan on the stove (warm to the touch). Stir in the sugar, then the active dry yeast, making sure the yeast has dissolved. Set aside for 5 minutes to proof. The yeast won't foam and bubble like it would with water after the 5 minutes, but the surface of the liquid should be slightly textured.

Whisk in the melted butter and egg into the yeasty milk.

Place the flour in the bowl of a stand mixer fitted with a dough hook. Pour the liquid into the bowl and turn the mixer on low speed. Continue to mix until the liquid is absorbed, and a rough dough has formed. Increase the speed to medium low speed and knead the dough until it is shiny, smooth, and elastic which should take about 7 to 10 minutes.

Grease a bowl with cooking oil. Then take the dough and pull the dough until there is a smooth ball that formed, then place it in the bowl, with the rough side of the ball facing down. Cover with plastic wrap and put in a warm place (like the oven with the light turned on) and let rise until double in size, about 1 to 2 hours.

Once doubled, brush butter inside the cups of a standard muffin pan.

Divide the dough into 12 equal parts. Take one lump of dough and divide each it into 3 parts, rolling each part into a ball. Place the balls into one muffin pan. Repeat with the remaining dough.

Lightly spray some plastic wrap with cooking oil, then cover the muffin pan with it, letting the dough rise for another 45 minutes to 1 hour, or until it has doubled.

Preheat the oven to 375°F. If you are using the oven as a place to proof your dough, make sure to remove the pan from the oven before you preheat! Gently brush the top of the risen dough with melted butter. Then bake in the oven for 12 to 14 minutes, or until the rolls are golden brown on top.

Finish the rolls by brushing them with more butter, then sprinkling salt on them before serving.
Nutrition
Calories:
168
kcal
|
Carbohydrates:
17
g
|
Protein:
3.4
g
|
Fat:
9.6
g
|
Saturated Fat:
5.8
g
|
Cholesterol:
39
mg
|
Sodium:
460
mg
|
Potassium:
60
mg
|
Fiber:
0.7
g
|
Sugar:
1
g
|
Calcium:
20
mg
|
Iron:
1
mg