The classic chocolate crackle cookies that everyone loves for the holidays. A simple and easy recipe for everyone! (Jump directly to the recipe.)
I'm going to be honest with about these here chocolate crackle cookies. They should probably be called chocolate crack cookies. In fact, they are so good I wasn't sure I'd be able to photograph any of them for this blog because AJ kept on going in and eating one after another. At one point he asked me if he could eat yet One. More. Cookie. and I looked at him and said, "Well only if you can find an ugly one because I need to photograph them." He looked at them carefully, than poked his finger into one of them and said "This one has a big dent in it…" and proceeded to pop it in his mouth. #Sigh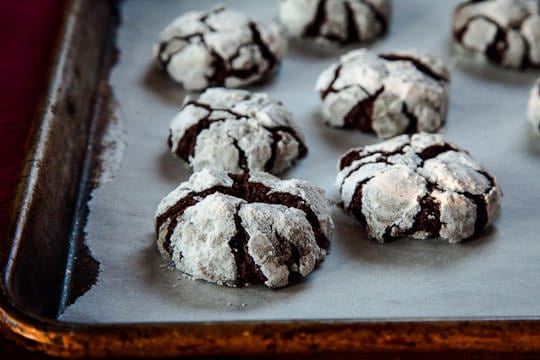 So here's the deal with these chocolate crackles, the ones that always show up around the holiday season and are just as cute as they are addictive. And, as much as I love changing them up, and turning them into black forest crackle cookies or reversing them into a white chocolate oreo cocoa powdered cookie, there's just something to be said about the basic classic chocolate crackle cookie. It's timeless, it's simple and it's a holiday crowd pleaser.
So I tried real hard this time to stick to the basics, which, if you know me, is a tough call. I like to mix things up, make them different, use wacky ingredients, throwing in unexpected flavors. But this time, this time I reigned it in. Because sometimes a classic is a classic for a reason. Make these and you'll understand what I mean. And don't be surprised if these crackle cookies disappear faster than…well faster than an illicit drug.

CHOCOLATE CRACKLE COOKIES
Sure there are variations of these cookies all over the web: peppermint, cinnamon, Mexican chocolate with chipotle spice, orange, the list goes on and one (and I list a few alternatives after the recipe, as well as a way to alter these to your own taste in the recipe). Some people even call them by a different name, the chocolate crinkle cookies! But whatever you call them, the basic, simple chocolate crackle cookie is timeless. One of the biggest secrets to making sure the outside of the cookie gets that snowy white dust of powdered sugar is to double sugar coat the cookie dough. First roll the cookie dough in granulated sugar then roll it in the powdered sugar afterwards. The granulated sugar protects the moist cookie dough from absorbing the powdered sugar too much AND adds a nice little crunch to the cookie when you bite into it. Keep in mind that the cookie dough needs to rest in the fridge for at least an hour or overnight before you make them so allow time for that. By the way, if you really do want to mess with a classic, feel free to add a teaspoon of peppermint, orange or almond extract to make the recipe your own. Or throw caution to the wind and add a teaspoon of CHOCOLATE extract to give the cookies an extra boost of chocolate. Because you can't go wrong with even MORE chocolate in your life. Right?
Ingredients
Cookie dough
8

oz

dark chocolate

225 g, preferably between 65-75% cacao

1/2

cup

unsalted butter

115 g or 1 stick, at room temperature

1 1/2

cups

dark brown sugar

330 g

2

teaspoon

baking powder

1/2

teaspoon

kosher salt

2

large eggs

1 1/2

teaspoon

vanilla extract

1

teaspoon

flavored extract

optional, see headnote above

1/2

cup

Dutch-processed cocoa powder

70 g

1/4

cup

whole milk

1 1/4

cup

all-purpose flour

175 g
for coating
1

cup

granulated white sugar

200 g

1

cup

confectioners' (powdered) sugar

120 g
Instructions
Chop the chocolate into small 1/2 inch chunks and place in a microwave safe bowl. Cook in the microwave for 30 seconds and stir. Repeat another 2-4 times, microwaving in 30 second intervals and stirring between times, until melted and smooth. Place aside to cool.

Place the butter, sugar, baking powder and salt in the bowl of a stand mixer fitted with a paddle attachment. Beat together until the butter forms a paste with the brown sugar, baking powder and salt. Add the egg, one at a time, beating until the first one is incorporated before adding the second one. Add the vanilla and flavored extract (if using) and beat to incorporate. Add the melted chocolate to the batter and beat to incorporate.

Add the cocoa powder to the dough and beat to incorporate. Add the milk and beat to incorporate. Add the flour and beat to incorporate and a sticky dough forms. Divide the dough into 4 parts (about 250 g each if you have scale), flatten and wrap with plastic wrap. Chill in the fridge for at least one hour or overnight.

Once they have chilled, preheat an oven to 350˚F and line a baking sheet with a piece of parchment paper or silpat. Divide one of the dough sections into 16 pieces (cut the dough into quarters than each quarter into quarters again). Roll each piece into a ball (your hands are going to get messy and chocolatey so be prepared and if the dough gets too soft, stick it in the fridge or freezer for a little bit to firm it up). Roll the ball in the granulated white sugar than in the confectioners' sugar afterwards. Repeat with the remaining dough, placing each cookie about 2 inches apart from each other on the baking sheet. Bake for about 10-12 minutes, or until they are just barely set (don't overbake). Let cool on the baking sheet for 10 minutes before moving them to a cooling rack to cool completely.
Nutrition
If you like these chocolate crackle cookies, check out some of my other crackle cookies:
Reverse Crackle Cookies (white chocolate cookie with an dark chocolate outer dusting)
Gluten Free Black Forest Chocolate Crinkle Cookies
And while you're at it, check out these awesome crackle cookies from around the web!
Simply Scratch's Dark Chocolate Mint Crackle Cookies
The View from Great Island's Bourbon Pecan Crackle Cookies
Recipe Girl's Chocolate Mint Crinkles
Two Peas and Their Pod's Red Velvet Crinkle Cookies
Pineapple and Coconut's Gluten Free Chocolate Crinkle Cookies