These grilled strawberry and chocolate sandwiches on crusty sourdough are a quick and impressive dessert for dinner dates or casual weeknight meals! (Jump directly to the recipe.)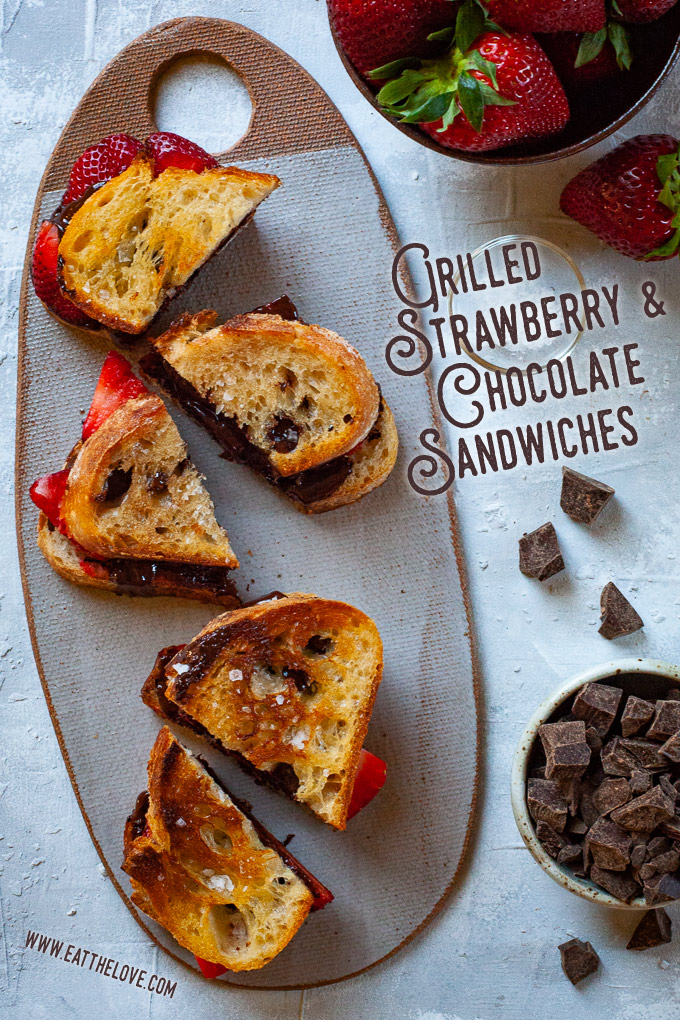 Valentine's day is around the corner and though I try to not take my relationship with my partner AJ for granted, we're often times don't do anything special for it. We've been together for nearly 20 years and at this point in our relationship we still celebrate our birthdays, our anniversary and Christmas. But other holidays tend to be footnotes in our everyday life, the sort of thing that we kind of forget about, and then notice when we sign on to Facebook. Oh wait, it's Valentine's day today? Huh. Maybe I should run out and grab some flowers or something.
This year though, I have a plan. I'm making AJ these grilled chocolate and strawberry sandwiches. They're a special little genius dessert that I adapted from the brilliant Alice Medrich's book Sinfully Easy Delicious Desserts. It's the sort of cookbook that I reach for when I want to whip up something fast and easy. Which is a bit off-brand for me, because I'm known for my complicated multi-component dishes. It's a blessing and a curse.
But I bookmarked her grilled chocolate sandwiches ages ago because they're the best sort of back-of-your-pocket dessert that anyone can whip up super-fast and taste utterly divine. The trick is to use quality ingredients. And though strawberries really aren't in season, when they're covered in gooey melted dark chocolate and a sprinkling of crunchy sea salt, no one will care. Valentine's day, I've got you this year!
Grilled Chocolate and Strawberry Sandwiches
These grilled sandwiches are a super easy, super indulgent dessert that can be made in a flash. You can make them for yourself or impress your loved ones or a dinner party by just whipping them up in the late evening, early afternoon, or basically anytime you want. Make sure to use quality ingredients (crusty sourdough bread, dark bittersweet chocolate, strawberries and quality butter) as there as only a few ingredients and you want them all to shine! I like to add a sprinkling of flaky sea salt for sophistication but that's strictly optional.
Ingredients
6

small thick slices of crusty sourdough bread

or 4 big pieces

2

tablespoons

salted butter

2

ounces

chopped bittersweet chocolate

or semi-sweet chocolate chips

8

ounces

sliced strawberries

ripe but firm

Flaky salt for garnish

optional but recommended
Instructions
Take the slices of bread and butter one side generously. Place half the bread, butter side down, on a large heavy skillet (cast iron preferred). Turn the heat to medium.

Let the bread brown a bit. Then sprinkle half the chocolate over the bread and lower the heat to make sure the chocolate has time to melt without scorching the bread. Once the chocolate has started to melt, cover the chocolate with strawberries.

Using a spatula, move the toasted bread to a plate. Place the remaining bread, butter side down, on the still hot skillet and toast, repeating by adding the remaining chocolate onto the bread once warm.

Once the chocolate has started to melt, pick up each bread slice with tongs and quickly flip over onto the strawberries, creating the sandwich. Cut in half and sprinkle generously with flaky salt. Cut in half and serve.
Nutrition