These Swedish-style Cardamom buns are a fun, less cloyingly sweet twist on the classic American-style cinnamon roll.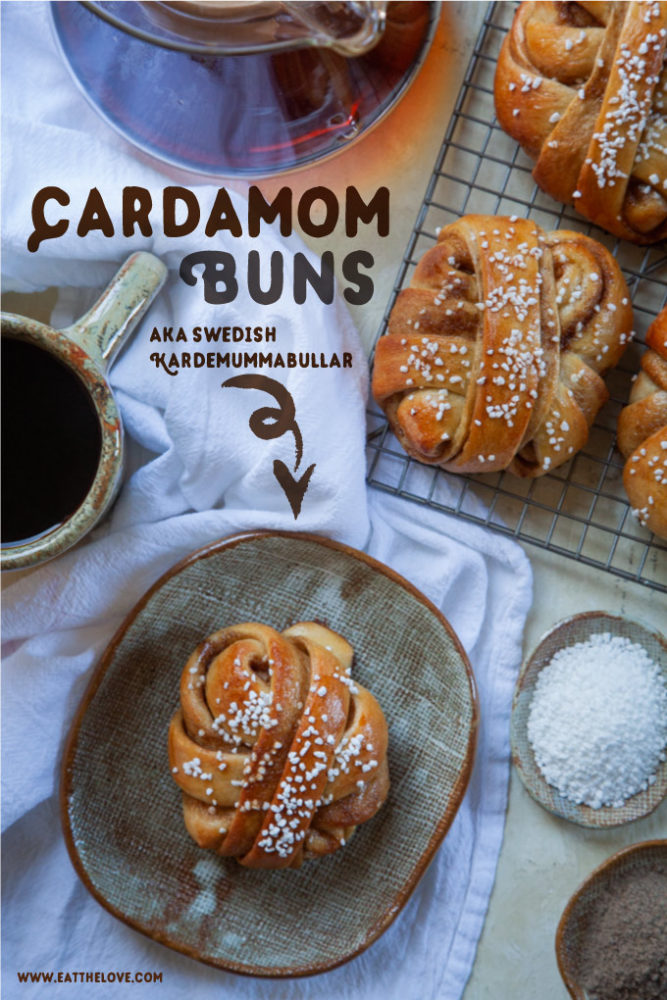 The days have gotten short and brisk here in San Francisco while the nights are long and dreary right now. And though the days will start to get longer soon, I feel like I'll still be hunkering down for the next couple of months, trying to achieve some Scandinavian hygge, a Danish word for a mood of comfortable contentment.
This of course will entail me making large mugs of coffee, reading lots of books, wearing thick wooly sweaters and socks, and baking up a storm with warm wintery spices. And though I love making cinnamon rolls in all their various forms, from classic cinnamon rolls, red velvet cinnamon rolls, rosemary & pistachio cinnamon rolls, sweet potato cinnamon rolls and, even eggnog cinnamon rolls, I was inspired by a local Scandinavian eatery nearby, to make these cardamom knots.
What is a cardamom bun?
Cardamom buns, called kardemummabullar in Swedish, are the sibling to the classic cinnamon bun, though they are significantly less sweet, with a brown sugar cardamom filling and no icing on top. Instead of the sticky cream cheese frosting, the Scandinavian cardamom knot has Swedish pearl sugar sprinkled on top.
How do you make cardamom buns?
First you make an enriched yeasted dough, which has all-purpose flour, milk, eggs, butter, vanilla, salt, brown sugar, white sugar and a touch of cardamom in it. Knead and let the dough rise until double in size.
As the dough is rising, make the filling which has brown sugar, butter, vanilla, cardamom and cinnamon in it. Yes, the cinnamon is not traditional in a Swedish cardamom bun, but I like the extra warmth and dimension it adds. Feel free to omit it if you are a purist.
Once the dough has risen, roll the dough out in a large rectangle and spread half the filling over it. Fold the dough in half over the filling.Once the filling is sandwiched between the dough, cut the dough into 1-inch strips. Wrap the dough around your fingers and form the knots! Let the buns rise, brush with an egg wash, sprinkle with the pearl sugar and bake.
Wait back up. That knot looks complicated, how do you shape cardamom buns?
It's not! Promise. If you can tie a ribbon around a present, you can make these buns. In fact, it's EASIER than tying a ribbon!
Roll the entire dough out into one large rectangle, about 12 x 18-inches. Then spread the filling over half the dough. Fold the dough in half, creating a 12 x 9-inch rectangle.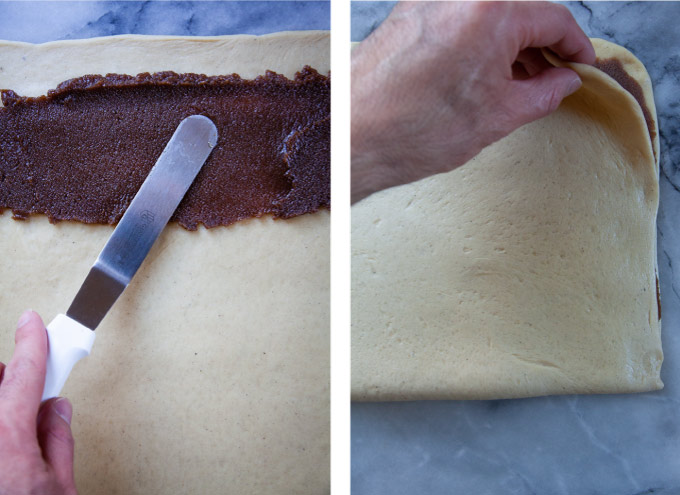 Cut into 12 strips, about 1-inch thick. Take the strips of dough with the filling inside, gently stretch each strip out to twice its size, about 18-inches long.
Wrap the dough over a couple of your fingers about three times, making sure there is enough dough left for ONE more wrap around. Slide the dough off your fingers.
Then take the remaining dough and change directions, using that last piece of dough to wind around the bun, making sure the end of the dough is on the bottom of the bun.
If those instructions and photos above don't help you, here's a short 15 second video that shows how to twist and fold the cardamom buns.
Proceed with the recipe as written, letting the knots rise for an hour, and then brushing with an egg wash, sprinkling with pearl sugar and bake until golden brown.
What is cardamom?
Cardamom is a spice that comes from the seeds of a couple of different plants in the ginger family. It is used a lot in Indian cooking and is one of the common components in Indian chai beverages. It is native to South India and Indonesia, though most cardamom purchased in the United States is from Guatemala. Though long associated with South Asian and Middle East, cardamom spice has migrated to Scandinavia where is has been used liberally in Nordic baked goods. Sweden consumes 18 times more cardamom than the median country, while Norway consumes 30 times as much!
Cardamom has a more complex flavor profile than cinnamon, though the two are often compared to one another. Cardamom has floral and citrus notes in it, with a subtle mentholated eucalyptus taste. I use a blend of ground cinnamon and ground cardamom in this recipe because I like how they interplay with each other, but you can use all cardamom if you want to make this a traditional cardamom bun. Or you can omit the cardamom completely and use cinnamon in its place, turn these knots into beautiful individual cinnamon rolls.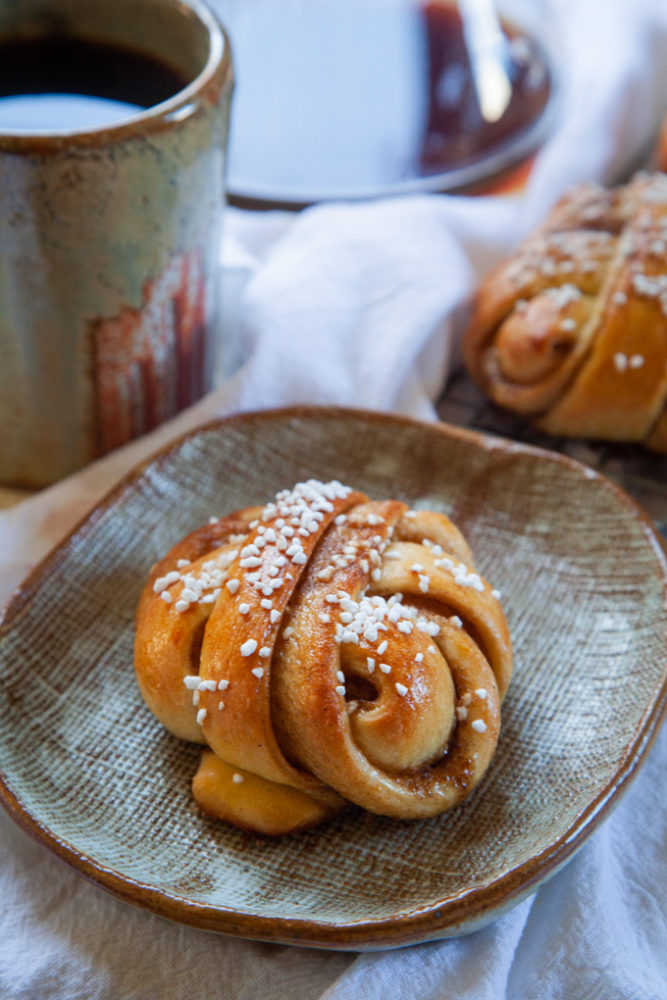 What is Pearl Sugar?
Pearl sugar, otherwise known as nib sugar or hail sugar, is coarse, crunchy, hard white sugar that does not easily dissolve. It comes in two versions, Belgian and Swedish. The Belgian pearl sugar is larger and used in liege waffles, while the Swedish style is smaller and looks like pretzel salt. I use the Swedish pearl sugar on these cardamom knots. If you have Belgian style pearl sugar, try placing them in a heavy-duty freezer Ziploc bag and crushing them with a rolling pin into smaller bits before using them in this recipe.
You can find pearl sugar online (<- affiliate link) or at specialty baking and professional food shops. Ikea occasionally sells it as well in their food department. If you can't source it or don't wish to buy it online, you can make a substitution by lightly crushing some sugar cubes in a resealable Ziplock bag under a rolling pin. Keep in mind the resulting sugar won't be exactly the same as the pearl sugar and the knots won't look as traditional, but they will still taste great.
Of course, you can also just use sparkling sugar, turbinado sugar or even plain sugar on top of the knots. They won't look as traditional but will be equally tasty, with a crunchy sweet topping.
Can you make these ahead?
Like most yeasted dough, you can make the dough ahead and slow the rise time by chilling the dough. Here are two ways you can make the dough ahead of time.
Make the dough and let it rise overnight in the fridge in a covered bowl, then take the dough out the next day to continue to rise until double in size. Proceed with the recipe as directed.
Or let the dough rise completely, divide, roll out and form the buns. Place the buns on a baking sheet and cover with plastic wrap. Store in the fridge overnight. The next day, let the buns come back to room temperature, about 1 to 2 hour on the counter or kitchen table, then brush with the egg wash, sprinkle with the pearl sugar, and bake as directed.
Frequently Asked Questions
Can I substitute instant or rapid rise yeast for the active dry yeast?
Yes! I use active dry yeast but feel free to substitute instant or rapid rise yeast for the active dry yeast if that is what you have on hand. You can either reduce the amount of instant or rapid rise yeast to 1 3/4 teaspoon instead of the full 2 1/4 teaspoon that the recipe calls for, or just use the same amount of yeast as the active dry yeast. If you use the same amount, keep in mind the dough will double and rise faster so check the dough in 30 to 45 minutes instead of 1 hour.

Instant yeast also does not need to be dissolved in liquid first. Just add the yeast with the flour and proceed with the recipe.
Can I knead this dough without a stand mixer?
Yes! Just hand knead this dough for 6 to 7 minutes on a clean surface until the dough is smooth and elastic. You want the dough to be slightly tacky but not sticky and not dry.
How do you store these buns?
Store the buns in an airtight container for 2 to 3 days at room temperature or up to 7 days in the fridge. Warm them up in the microwave for 30 seconds or in the oven/toaster oven at 350°F for 5 to 7 minutes or until warm.
Can you freeze the cardamom knots?
Yes! These cardamom knots freeze great! Let the knots cool completely and then place them on a baking sheet in the freezer for 2 hours or until they are completely frozen. Then store them in a resealable Ziploc bag or airtight container for up to 2 months. Thaw them on the countertop or just warm them up directly in the microwave (1 minutes) or in an oven/toaster oven at 350°F for 10 to 15 minutes, or until warm.
If you like these cardamom buns, you might also like these other baked breakfast treats:
Cardamom knots
These beautiful Swedish cardamom knots are easier to make than they look. A cousin to the classic cinnamon roll, these buns have ground cardamom, as well as a touch of cinnamon, in the filling, adding an alluring floral and citrus note to these buns. Feel free to use all cardamom in the filling if you'd like a more traditional cardamom bun. These buns require two resting periods to rise, so plan accordingly, or make the buns one day, let them rest in the fridge overnight, and bake them the next day!
Ingredients
Dough
1

cup

whole milk

1

teaspoon

dark brown sugar

2 1/4

teaspoon

active dry yeast

7 g or 1 package

6

tablespoons

unsalted butter

melted and cooled

2

large eggs

1/4

cup

white granulated sugar

50 g

1 1/2

teaspoon

ground cardamom powder

1

teaspoon

vanilla extract

1

teaspoon

kosher salt

4

cups

all-purpose flour, plus more if necessary

560 g
Filling
6

tablespoons

unsalted butter

melted

1

teaspoon

vanilla extract

3/4

cup

packed dark brown sugar

165 g

2

tablespoons

ground cardamom

2

teaspoons

ground cinnamon
To finish
1

large egg yolk

1

tablespoon

water

2

tablespoons

Swedish pearl sugar

see note above
Instructions
Make the dough by first warming the milk up on the stove in a small pan, about 15 seconds or so on high. You only want the milk to get warm to the touch, not hot. Remove from heat, stir in the brown sugar, then stir in the yeast until it dissolves. Set aside for 5 minutes to proof.

Once the yeast has proofed and bubbles start to form at the top of the surface of the milk, pour the liquid into the bowl of stand mixer fitted with a dough hook attachment. Add the melted butter, eggs, sugar, cardamom, vanilla and salt. Stir with a whisk or a fork to combine.

Add the flour and turn the mixer on low speed and mix until flour has been absorbed and a shaggy dough has formed. You may need to scrape down the sides of the bowl to help this along. Once most of the flour has been absorbed, increase the speed to medium and knead the dough for 4 to 5 minutes or until the dough is smooth and elastic. The dough should not be sticky but slightly tacky. If you need to add more flour, knead it in 1 tablespoon at a time until you get the right consistency.

Grease a large bowl with cooking spray. Grab the dough and pull/stretch the sides of it until a smooth round ball is formed. Place the dough, rough side down, in the bowl and cover it with plastic wrap. Set in a warm place to rise until double in size, about 1 hour.

While the dough is rising, make the filling by placing the butter and vanilla in a small bowl or glass measuring cup. Combine the brown sugar, cinnamon and cardamom in a medium sized bowl.

Prep two 12 x 17 baking sheets by placing silicon baking mats or parchment paper on each of them. If you're using parchment paper, liberally spray the paper with cooking oil.

Once the dough has risen, roll the dough out to a 12 x 18 inch rectangle. With the dough in a vertical "portrait" position, spread the filling over the top half of the dough, leaving the bottom half bare.

Fold the dough over, sandwiching the filling between two layers of dough, forming a 12 x 9 inch rectangle.

Using a sharp knife or pizza cutter, cut the dough into 12 strips, about 1-inch thick.

Take one strip and gently stretch the dough until it is about twice as long (about 18 inches). Then wrap the dough around two fingers 3 times. After the third time, slide the dough off your fingers and wrap the remaining dough perpendicularly over the dough, forming a knot. Place on the prepared baking sheet and repeat with the remaining strips.

Cover with plastic wrap and let the knots rise again for about 1 hour in a warm place. They should look puffy but will not have doubled in size.

Beat the egg yolk and water together in a small bowl. Preheat the oven to 450°F.

Once the knots have finished their final rise, brush them with the egg wash and then sprinkle them with a generous amount of pearl sugar. Bake the knots for 15 to 18 minutes, or until they are golden brown on top. Don't worry some of the filling leaks out of the knot. That is to be expected. If you have an instant read thermometer, the inside temperature should read 185°F.

Let the knots cool on the baking sheet for 5 minutes, then move to a wire cooling wrap to cool completely.
Nutrition