These traditional Swedish cardamom almond buns, called Semlor (Semla is the singular), are slightly sweet and an absolute delight to eat.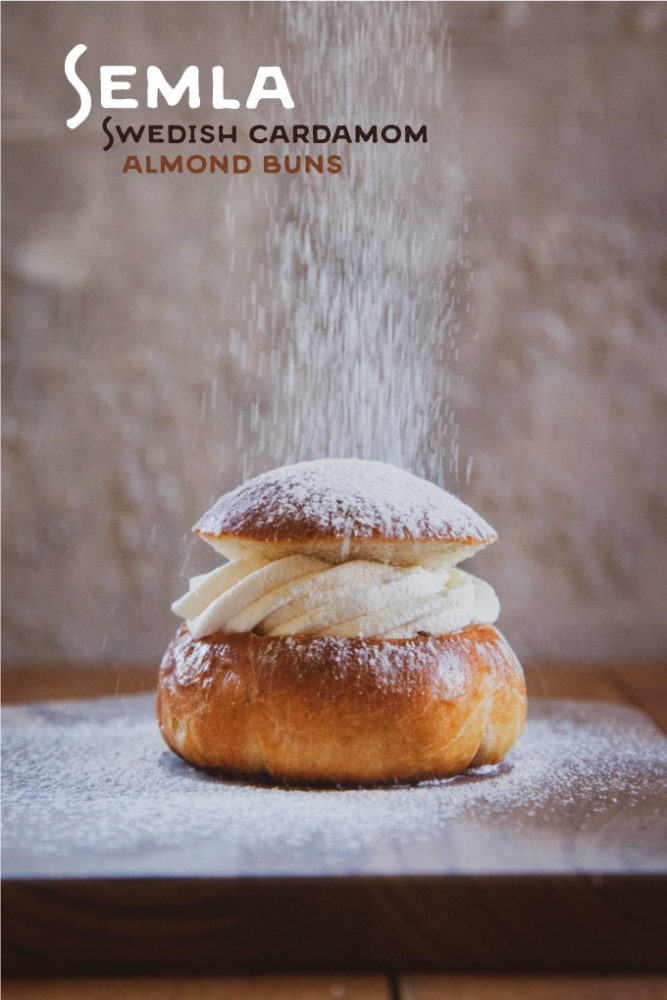 The weather has been cool and chilly here in San Francisco, though a little bit of gray sky and rain is nothing compared to the madness that other folks seem to be around the country with their snow storms and subzero temperature drops. All of it makes me want to snuggle down deep in my thick comfy sweater and embrace the Scandinavian hygge sensibilities. This probably explains why I've been baking things like my Swedish Blueberry Cake and Swedish Cardamom Buns (and also making and eating my Swedish Meatball Stroganoff which is totally comfort food).
But with Shrove Tuesday happening a bit ago (affectionately known as Fat Tuesday), I turned to make Swedish Semlor. The Semla (the singular word for Semlor) is an enriched cardamom scented brioche-style bun that is split open filled with almond paste and whipped cream. It's a traditional Swedish treat eaten between Shrove Tuesday through to Easter in Sweden (and other Scandinavian countries) but they're so much beloved, that they appear around Christmas time and are sold all the way through Eastertime. My friend Amy introduced them to me at a local Scandinavian restaurant here in San Francisco and I've been obsessed with them ever since. Turns out making them at home isn't too hard!
What is a Semla or Semlor?
Semla (singular) or Semlor (plural) is a yeast risen bun that is flavored with cardamom and then often filled with almond paste and whipped cream, though other variants have them filled with fruit jam, chocolate or pastry cream.
In Sweden they are often served in a bowl of hot milk, though plenty of folks eat them on their own, or with coffee or tea. In other Nordic countries you'll find variations of the Semla. Danish bakeries have a puff pastry filled with whipped cream and a dab of jam, while Finland and Norway semlor often add or use jam as the filling. Iceland semlor uses choux pastry, similar to a cream puff or an éclair, while the Faroe Islands also uses choux pastry filling with vanilla cream, whipped cream and jam, adding a chocolate icing on top.
How do you make a Swedish Semla?
There are three components to a classic semla, the sweet enriched brioche-style bread roll scented with cardamom filled, the almond filling, and the whipped cream.
You start making the roll by heating milk and butter in a small sauce pan until the butter is melted and the milk is warm. Stir in the yeast to dissolve, then mix it with an egg, sugar, flour, salt and some cardamom. Knead until a smooth elastic dough forms and let it rise until it doubles in size.
Once doubled, divide the dough into 12 pieces and let it rise again. Bake and let cool.
Once the buns are cooled, cut them open and cut out the inside bread. Add this to a blender or food processor, along with almond flour, milk and sugar. Process until a paste forms. Add the almond paste to the bottom of the bun and top with lightly sweetened whipped cream. Place the top back on the bun and dust with powdered sugar before serving.
Should I use almond paste, marzipan, almond meal or almond flour for the filling?
Most recipes you find online use almond paste (a combination of ground almonds, sugar and egg white as a binder) or marzipan (a firmer, more sweet almond paste with a smoother consistency that is often used to sculpture adorable edible treats). Because they are both a little hard to find (not to mention expensive) here in the United States I opted to make the filling using almond flour which is easier to source. You can find almond flour in well-stocked grocery stores or online.
Almond flour is ground almonds that have been blanched with the skins removed. It has a more delicate flavor nutty flavor. Almond meal is made from ground almonds with the skins still intact. Almond meal is slightly more bitter because of the skins.
I prefer the slightly sweeter and nuttier flavor of almond flour in this recipe. But you can use almond meal if that is what you have on hand. Just increase the sugar by 1 tablespoon, using 4 tablespoons of white sugar total. Keep in mind that almond meal often is a little more coarse in texture. So if you want a smooth paste, use finely ground almond flour or use commercial almond paste or marzipan.
Finally if you can't find any of the ingredients above, just take some whole almonds (or blanched slivered almonds) and grind them yourself in a food processor blender! Use the same amount of almonds (1 1/2 cups or 180 g) and grind until you have a powder. Keep in mind that your resulting almond paste won't be quite as smooth, as home ground almonds tend to be more coarse than the store-bought almond flour and meal.
If you want to use almond paste or marzipan, grate 7 ounces (200 g or one tube) of almond paste or marzipan into a bowl and add 6 tablespoons of milk to the paste. Stir with the bread crumbs to form a paste and use that a filling. Keep in mind the marzipan filling will be sweeter than the almond paste filling.
Can you make these buns ahead of time?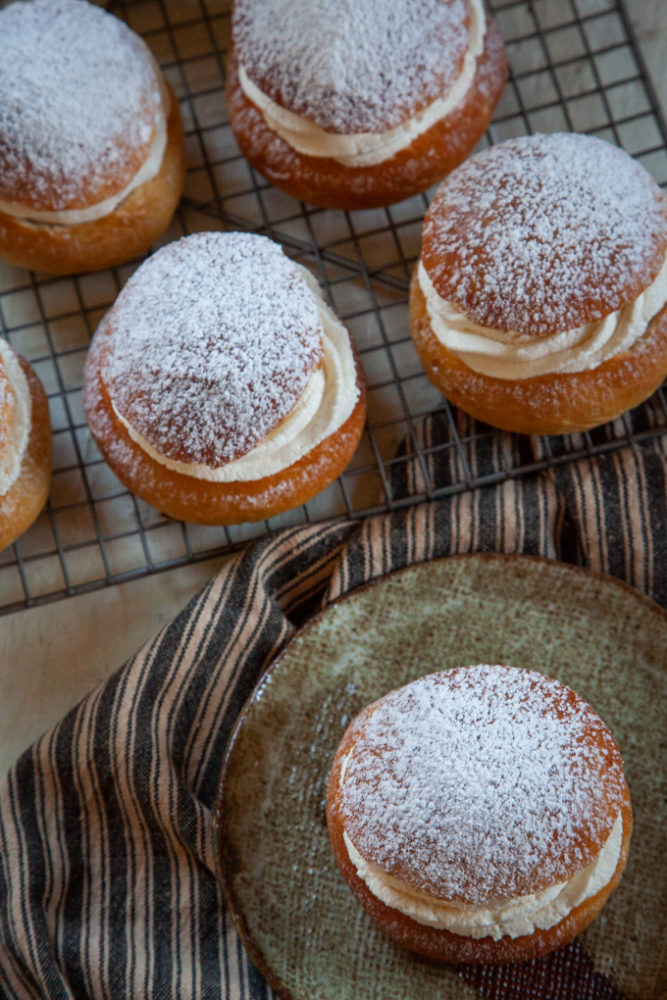 Because of the high butter and milk in the bun dough, these buns get stale fairly fast. For optimum quality, they should be baked and enjoyed the same day.
If you do make the buns ahead of time, you can freeze theme unfilled. In fact, most folks don't eat all 12 buns in one sitting. They will freeze the plain buns and then thaw out the number they want to serve and fill those thawed buns individually. Freeze the buns in a resealable ziplock bag or airtight container for up to 2 months. Let the buns thaw on the counter for 1 to 2 hour before splitting, filling and serving.
The almond filling can be made a day ahead of time and stored in the refrigerator. The whipped cream needs to be made and used immediately otherwise it will start to deflate. You can also make stabilized whipped cream if you want to prepare these buns earlier and serve them later in the day. Stabilized whipped cream made with gelatin will last up to 2 days in the fridge.
Can you use instant yeast or fast acting yeast in this recipe?
Yes! Use the same amount of instant or fast acting yeast but keep in mind that they will both work faster than regular active dry yeast. So check the dough and see if it has doubled in size as early at 45 minutes after letting it rest to rise.
If you use instant yeast, you do not have to dissolve it in the milk. You can add it when you add the flour, sprinkling it in with the remaining dry ingredients.
If you like this semlor recipe, check out some of these other sweetened yeast risen bread recipes:
Semla (Swedish cardamom almond bun)
This traditional Swedish cardamom almond bun is eaten between Shrove Tuesday and Easter but is delightful any time of year. Usually the filling is made with almond paste or marzipan, but the instructions below use almond flour. See the section above if you want to almond paste, marzipan or almond meal.
Ingredients
Dough
1/2

cup

unsalted butter

115 g or 1 stick

1

cup

whole milk

236 ml

2 1/4

teaspoon

active dry yeast

1 package

1

large egg

1

teaspoon

ground cardamom

1/2

teaspoon

kosher salt

4

cups

all-purpose flour

560 g

1/4

cup

white sugar

50 g
To Bake
1

egg yolk

1

tablespoon

heavy cream
Almond filling
1 1/2

cups

almond meal or flour

180 g

3

tablespoon

white sugar

3/4

cup

whole milk

177 ml

Bread crumbs from filling

1/4

teaspoon

almond extract

optional but recommended
Whipped Cream Filling
2

cup

heavy cream

2

tablespoons

powdered sugar

1

teaspoon

vanilla extract
Instructions
Make the dough by melting the butter in a small saucepan. Add the milk and test to make sure the liquid is lukewarm and not too hot to the touch. If it is too hot to touch, let it cool off until it is about 100°F.

Sprinkle the yeast over the liquid. Stir to dissolve the yeast. Set aside for 5 minutes to let the yeast proof. The top of the liquid should have a little bit of bubbles and activity but it won't be as active as if you had used water.

Pour the liquid, scraping out any solidified butter if your kitchen is cold, into the mixing bowl of a stand mixer fitted with a paddle attachment. Add the egg, cardamom, salt and stir to break up the egg, dissolve the salt and distribute the cardamom. Add the flour and sugar. Stir until most of the flour has been absorbed, then switch to the dough hook attachment. Knead and mix the dough on medium low speed until the dough is smooth and elastic, about 4 to 5 minutes.

Lightly spray a large bowl with cooking oil, then gather the dough into a smooth ball. Place the ball of dough down into the bowl, making sure the "rough" side of the dough is face down in the bowl. Cover with plastic wrap or a damp towel and let rest to rise for about 1 hour and 30 minutes, or until the dough has doubled in size.

Once the dough has risen preheat the oven to 400°F. Line two baking sheets with parchment paper or silicon baking sheets.

Divide the dough into 12 equal pieces (if you have a scale, each piece should be about 85 to 90 g). Roll the dough into rough balls and then place them on the lined baking sheet, 6 buns per baking sheets.

Cover dough rounds with plastic wrap and let rise for 45 to 60 minutes. The dough will not have doubled in size but they will be more puffy and larger.

Beat together the egg yolk and cream. Brush this egg wash over the top of each dough round. Bake the buns for 14 to 16 minutes or until the top of the bun is golden brown. If you have an instant read thermometer, the inside of the bun should register 180°F to 190°F.

Let the buns cool for 5 minutes on the pan, then move the to a wire rack to cool completely.

Once the buns are cool, cut into the bun, in a diagonal downward motion, making an inverted cone or pyramid to cut out the center bun. Then cut the inside center off the top of the bun. Set aside the inside of the bread.

Make the filling placing the almond meal/flour and sugar in a blender or food processor along with inside of the bread rolls. Pulse a few times to break down the bread into crumbs and blend the almond and sugar. Drizzle the milk and almond extract (if using) into the blender or food processor until a paste forms.

Make the whipped cream by placing the heavy cream and powdered sugar in the bowl of a stand mixer fitted with the wire whisk attachment. Whip the cream together until soft peaks form. Fill a pastry bag fitted with large tip with the whipped cream.

Spoon a tablespoon of the almond paste into the bottom of the bun, then top with a swirl of whipped cream. Place the top of the bun over the whipped cream. Dust with powdered sugar. Repeat with the remaining buns and serve immediately.
Nutrition