This easy Swedish Blueberry Cake is a riff on the traditional Scandinavian Toscakaka with a buttery almond topping that yields to a moist rich blueberry cake underneath. (Jump directly to the recipe.)
Lately I've been trying to take a back seat on surfing the web for recipes and really diving deeper into the cookbooks that I own. I adore cookbooks (it's one of the reasons I started this blog, and one of the reasons I wrote my own cookbook Marbled, Swirled, and Layered) and I own WAY too many of them. But somehow, when I am looking for a recipe I just sit down on my computer and just type in keywords hoping to find that perfect recipe.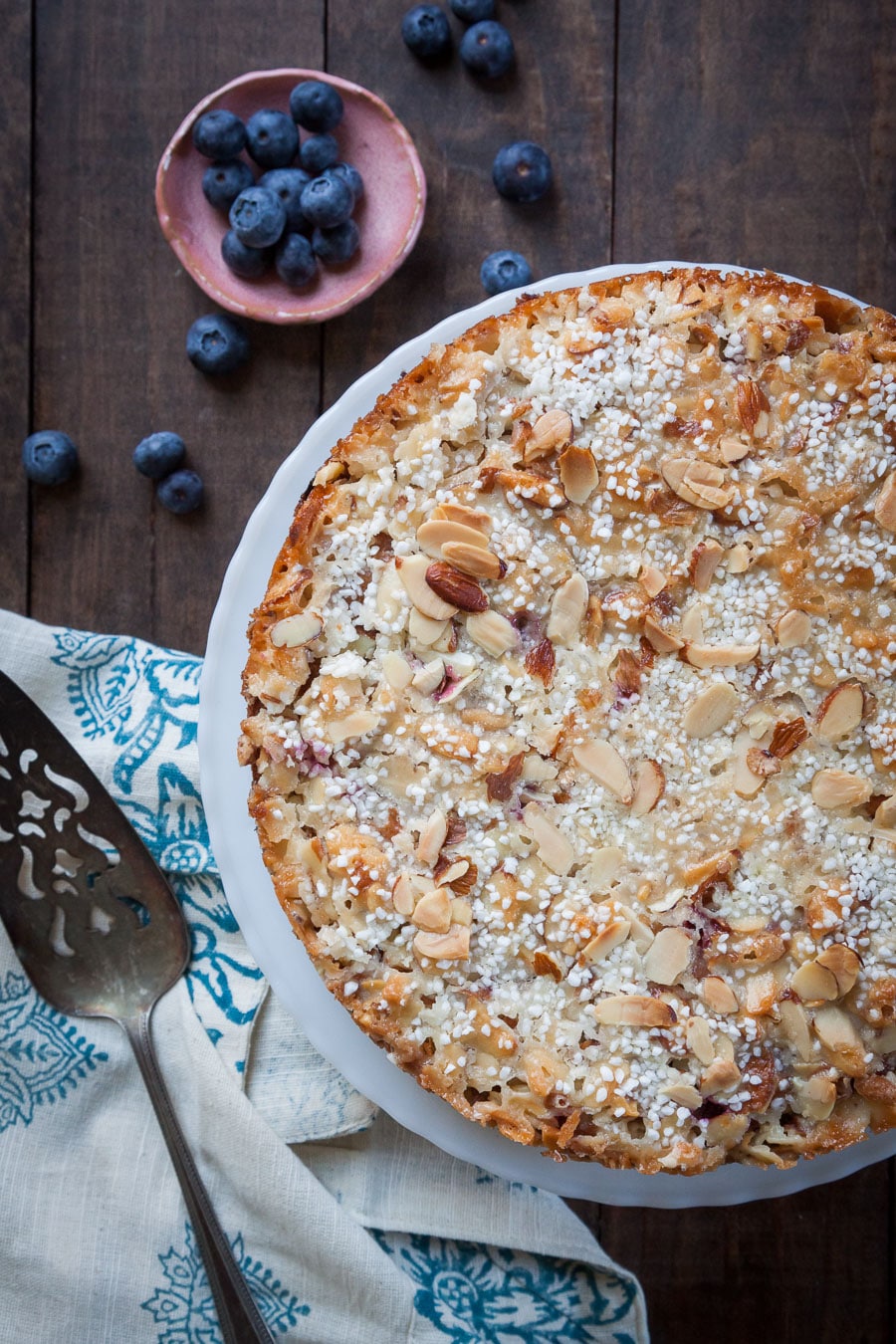 Not that I have issues with recipes online. I love recipes online! I run a blog with recipes online. The ability to find recipes online is amazing! But the sense of discovery I get when I thumb through a magazine or pick up a cookbook is something that doesn't quite translate on the web. Sure I can surf through Pinterest or visit some of my favorite recipe sites. But the thrill of finding a recipe that you didn't know you needed in your life is so much more visceral when you find it from a printed page. At least for me it is.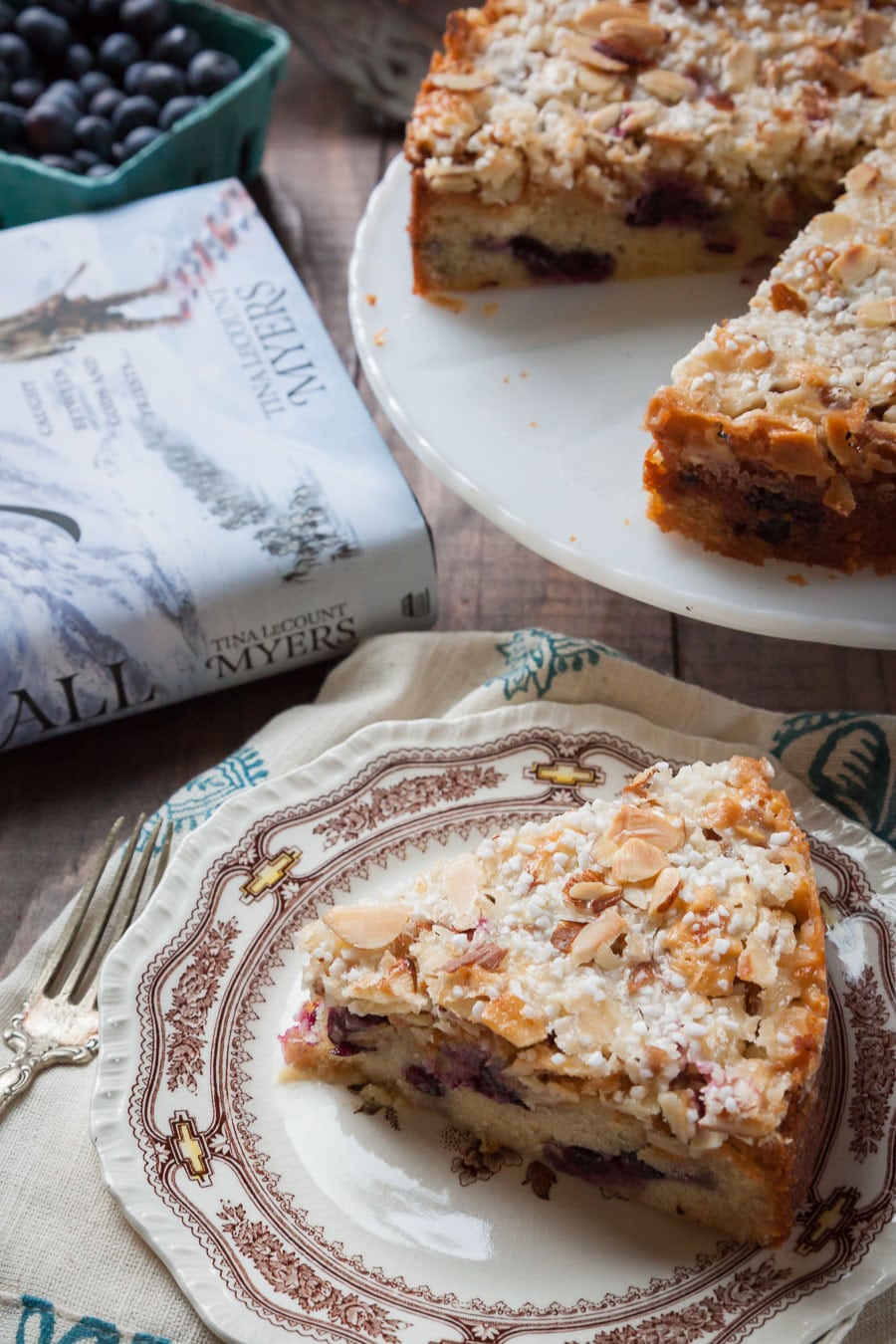 Of course, actually using your cookbooks is a pretty obvious thing for most folks, but it's something I still occasionally forget. And then my friend Tina's book Song of All arrived on my doorstep. It's NOT a cookbook, but rather the first book in a fantasy trilogy set in Scandinavia. I'm excited to read it, she's a dear friend of mine and in my writing group, but it also got me thinking about Scandinavian cuisine which led me to a bunch of Scandinavian cookbooks I own. Why do I own so many of these books? And more importantly, why have I not cooked out of them?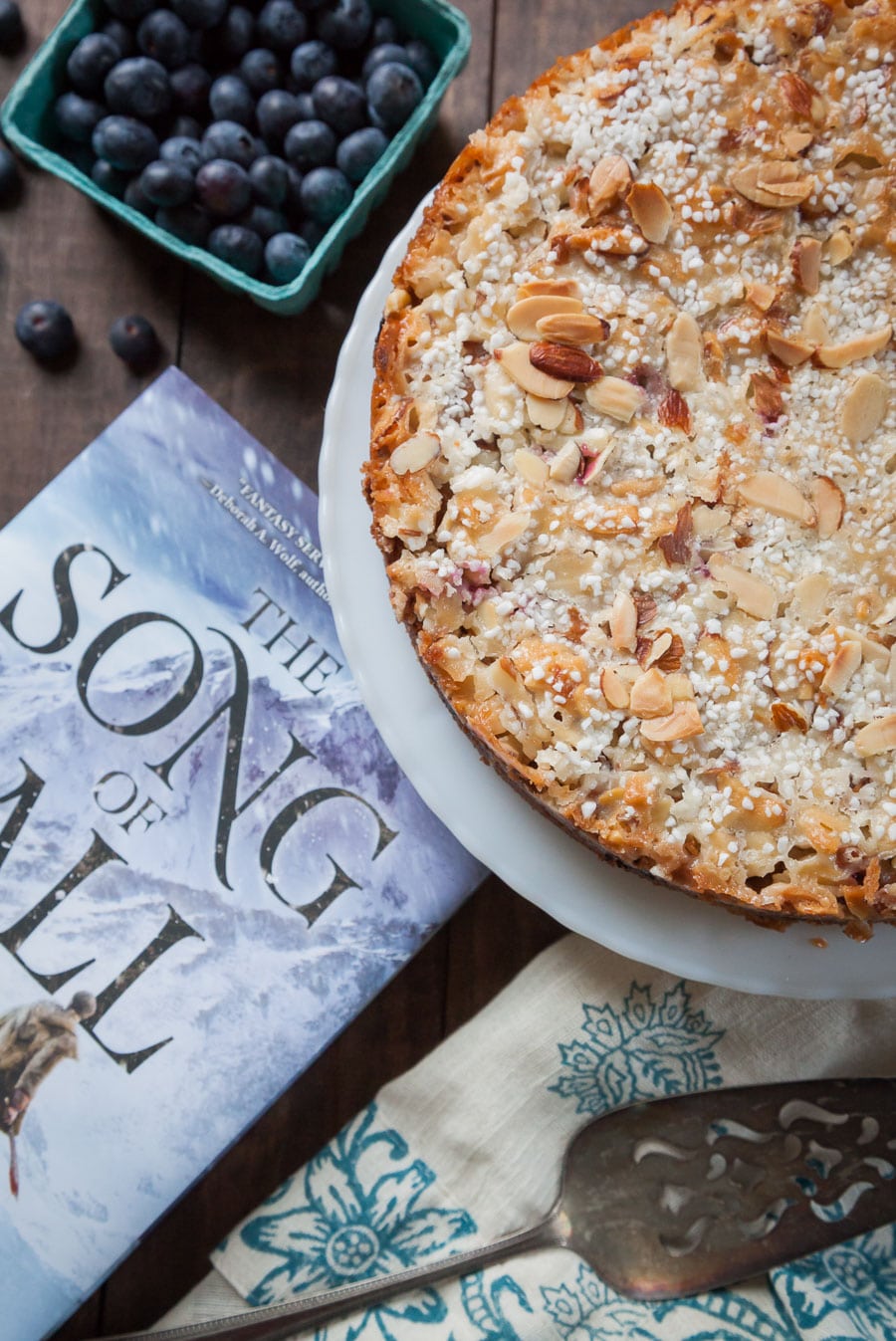 It was thumbing through the one of the books, Fire and Ice: Classic Nordic Cooking by Darra Goldenstein that had me bookmarking and placing post-it notes on page-after-page. And it was there that I stumbled upon Goldenstein's version of toscakaka. Her version, a Swedish Blueberry Cake, is a riff on a traditional toscakaka, a classic Swedish cake that is usually made without fruit. But this blueberry version just looked absolutely lovely, the perfect cake for me to make, then snuggle down and have a slice, while I dive into my friend's book. And I once the smell of the cake baking in the oven permeated the apartment, I suddenly felt that hygge sensation that everyone keeps talking about.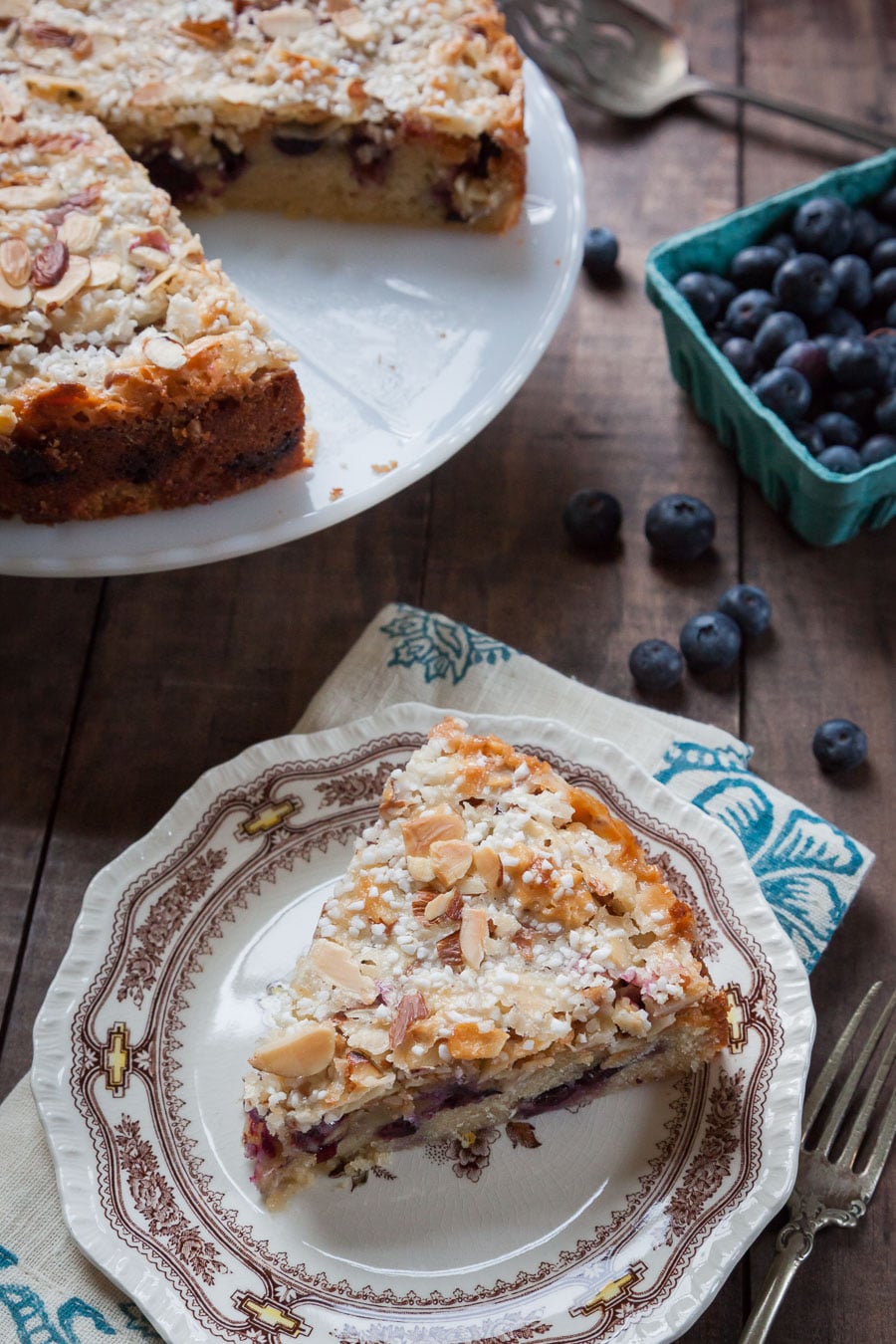 Swedish Blueberry Cake aka Blueberry Tosca Cake
This almond topped cake is a fruit version of a traditional Swedish sponge cake. My version is pretty similar to the one found in the cookbook on Nordic cooking called Fire and Ice, though I tweaked it a bit by adding a little almond extract and sprinkling the top with pearl sugar, which is a crunchy white sugar that you can find at specialty stores, as well as shops like Ikea in their food section. One of my favorite parts of the recipe is how you sprinkle the blueberries on top of the cake batter, then press down to push the into the cake. It seems like an odd step (why don't you just fold them into the batter and then pour into the pan?) but this method has you evenly distributed the berries throughout the pan, as well as pushing them from the top, making sure that the berries don't sink to the bottom as they bake.
Ingredients
Cake Batter
3

large eggs

1

cup

white granulated sugar

200 g

1

teaspoon

baking powder

1/2

teaspoon

ground cinnamon

1/2

teaspoon

kosher salt

1/2

cup

unsalted butter, melted

115 g or 1 stick

2

teaspoon

vanilla extract

1/4

teaspoon

almond extract

optional but recommended

1 1/4

cup

all-purpose flour

175 g

2

cups

fresh blueberries
Topping
1/2

cup

unsalted butter, melted

115 g or 1 stick

1/2

cup

white granulated sugar

2

teaspoon

all-purpose flour

1

cup

sliced almonds

1

tablespoon

heavy cream

2

tablespoon

pearl sugar

optional but recommended (see headnote)
Instructions
Preheat oven to 350°F. Spray a 9-inch springform pan with cooking oil and line the bottom of the pan with parchment paper.

Beat the eggs and sugar together until pale yellow in color, about 3 minutes. Add the baking powder, cinnamon and salt and stir in.

Stir the melted butter, vanilla and almond extract (if using) together, then add it to the egg mixture. Beat to incorporate, then add the flour and mix until absorbed.

Pour the batter into the prepared springform pan and spread evenly into pan.

Sprinkle the blueberries over the cake batter, then press berries into the batter. Bake for 40 to 45 minutes in oven or until the cake is puffy in the middle and just starting to turn golden brown on the edges.

About 10 minutes before cake is done, combine all the topping ingredients, except the pearl sugar, into a pan and cook on the stovetop on medium high heat until it starts to bubble. Reduce heat to simmer and cook for 3 minutes, stirring once or twice carefully, trying not to break any of the sliced almonds.

Once the cake is barely done, pull it out of the oven and increase the heat of the oven to 400°F. Carefully spoon the topping ingredients over the cake then sprinkle the pearl sugar on top (if using). Return cake to the oven and bake for an additional 10 minutes or until the top of the cake is golden brown and crisp.

Let cool in the pan 15-20 minutes before removing from springform pan.
Nutrition