These Neapolitan brownies have strawberry and vanilla cheesecake swirls in a chocolate brownie, inspired by the ice cream flavor.
Growing up in the 80s and 90s, in the midwest, there was ALWAYS a box of Neapolitan flavored ice cream in our freezer with the evenly divided brown, white and pink stripes in the box. Each of my individual family members would dig into whatever flavor they prefer most, often leaving one left over. Usually this meant the sad pink strawberry stripe would sit there, half eaten in the end, and my mom would refuse to buy a new box until we finished that one. I liked strawberry ice cream but I mostly liked it COMBINED with the other two flavors.
As a grown-up, the combination of any of the three is just delightful to me. Here on my blog I've shared my strawberry and chocolate checkerboard cookies, strawberry chocolate cheesecake, and I often serve my chocolate and vanilla swirled waffles with fresh strawberries. When I want a quick dessert, I'll even make my chocolate strawberry grilled sandwiches. And I included a Neapolitan flavored shortcake in my cookbook Marbled, Swirled, and Layered (affiliate link). So I was delighted to see a Neapolitan cookie in my friend Sarah's cookbook 100 Cookies (affiliate link), which went viral on Instagram. It was those cookies that inspired me to make these Neapolitan brownies!
What is Neapolitan flavored ice cream?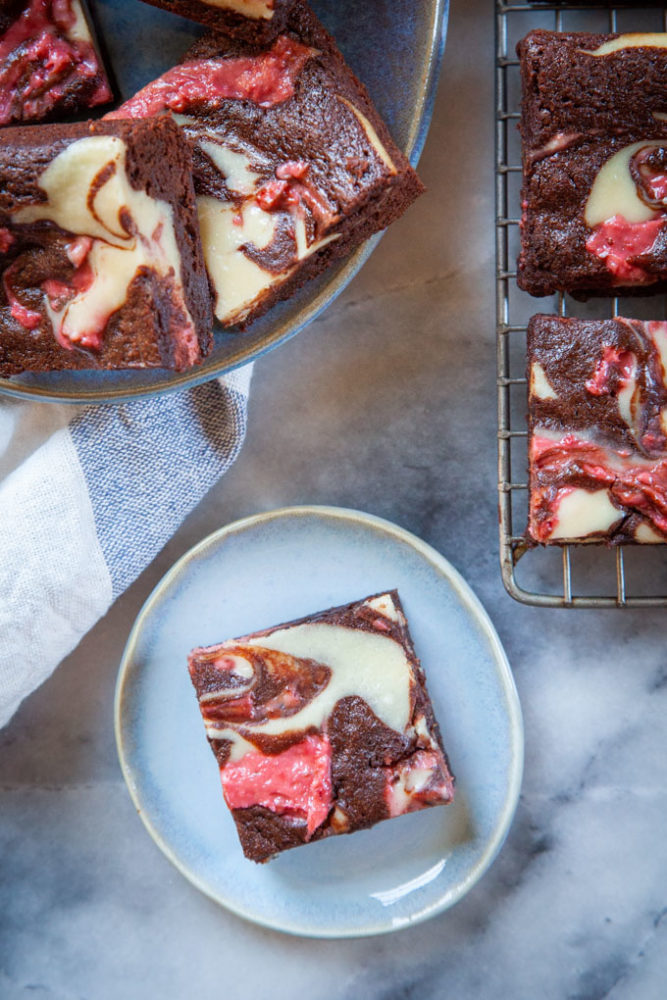 Neapolitan refers to the cuisine of Naples, Italy. As Italians immigrated to the United States they brought their frozen desserts with them, including ice cream. Spumoni ice cream is most likely a predecessor to Neapolitan flavored ice cream, with the three flavors of cherry, pistachio and vanilla or chocolate. Neapolitan flavored ice cream evolved to be chocolate, vanilla and strawberry, as those were the most popular flavors in America. 
How do you make Neapolitan brownies?
Neapolitan brownies take inspiration from the popular ice cream flavor and turns them in a brownie form! And though it looks complicated, it's no more difficult than making cream cheese brownies.
Make the cream cheese topping by mixing softened cream cheese, eggs, sugar, vanilla, and salt. Divide the cream cheese in half and add a little flour to one half and crushed freeze-dried strawberries to the other half. You can also add couple of drops of food coloring to the strawberry half to punch the color up a bit.
Then make a brownie base by combining melted butter, espresso powder, white and brown sugar, cocoa powder, baking powder, salt and vanilla. Then you stir in eggs, then a little bit of flour. Scrape the batter into a prepared pan, reserving about 1/2 cup of the batter.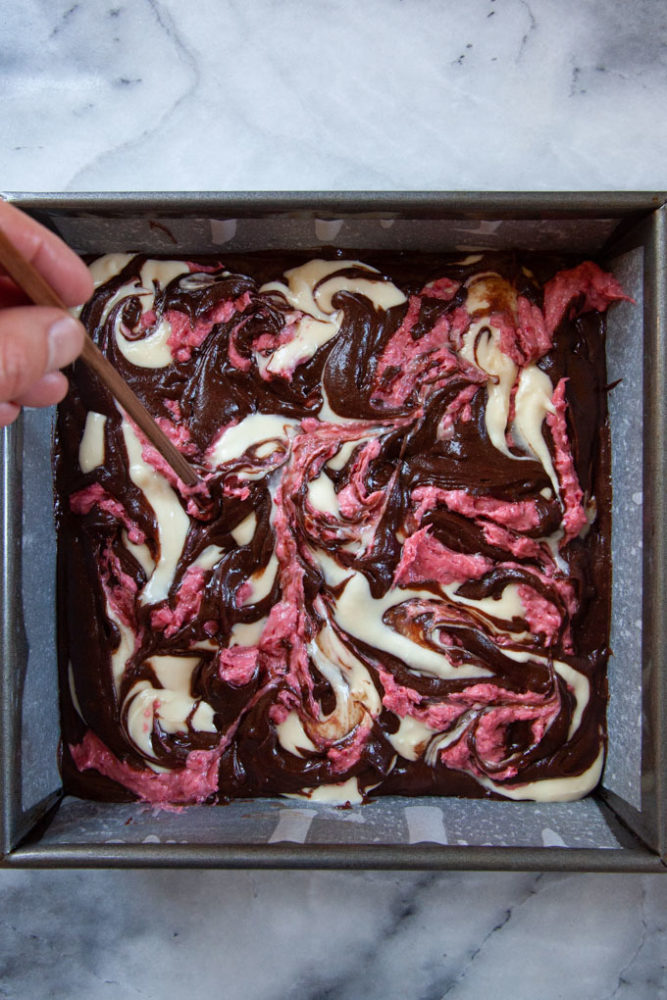 Evenly distribute spoonfuls of the plain cream cheese, the strawberry cream cheese and the reserve brownie batter to the top of the brownie mixture. Swirl away with a chopstick (my preferred tool) or a butter knife. Bake and you've got Neapolitan brownies!
What's the difference between Dutch-processed cocoa powder and regular cocoa powder?
Natural cocoa powder is the more commonly found cocoa powder in most grocery stores. Common brands include Hershey's 100% cocoa power (with the silver-gray stripe on the package), Ghiradelli's Unsweetened 100% cocoa, Trader Joe's Cocoa Powder. It is more acidic and lighter in color, with a sharper, almost fruity chocolate flavor.
Dutch-processed cocoa powder is cocoa powder that has been alkalinized, where the natural acidic cocoa powder has been neutralized. It has a deeper darker color and smoother fudgier chocolate flavor. The most commonly found Dutch-processed cocoa powder in a grocery store is Hershey's Special Dark (with the red stripe on the package), Guittard's Cocoa Rouge, Droste Cocoa, Rodelle Baking Cocoa, and Ghiradelli's 100% Cocoa Dutch-Processed.
I used regular natural cocoa powder in this recipe because it is easier to find in the grocery store and the one most folks have on hand. I also felt like the flavor of natural cocoa, with its fruity tasting notes, went well with the vanilla and strawberry cheesecake swirl. If all you have on hand is Dutch-processed cocoa, or you prefer the flavor of Dutch-processed cocoa, just substitute the same amount of Dutch process cocoa as natural cocoa, omit the baking soda and add 1/2 teaspoon of baking powder instead. Expect the brownies to look darker in color and have a fudgier chocolate flavor.
What are freeze-dried strawberries?
Freeze-dried strawberries are fresh strawberries that have had all the moisture pulled out of them using a freeze drier machine. There are no chemicals or additives involved. Freeze-dried strawberries are just strawberries with all the water extracted!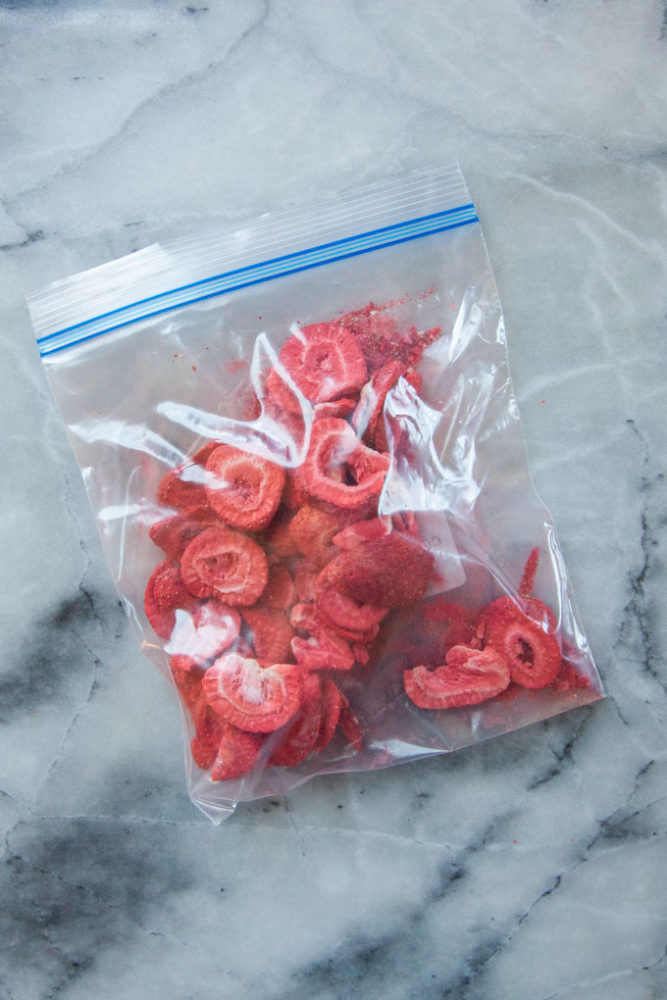 To make the freeze-dried strawberries, the fruit is frozen, then placed under a vacuum where the frozen ice in the strawberries sublimates to vapor, skipping the liquid phase of water. Freeze drying machines are expensive, so most folks won't have access to one. Thankfully you can find freeze-dried strawberries at well stocked grocery stores, upscale and specialty grocery stores like Whole Foods or Trader Joe's as well as online.
Once purchased, the freeze-dried strawberries can be placed in a food processor or blender and crushed into a powder to be used for this recipe. You can also place the freeze-dried fruit in a plastic ziplock bag and crush it with a rolling pin or use a mortar and pestle to make the powder.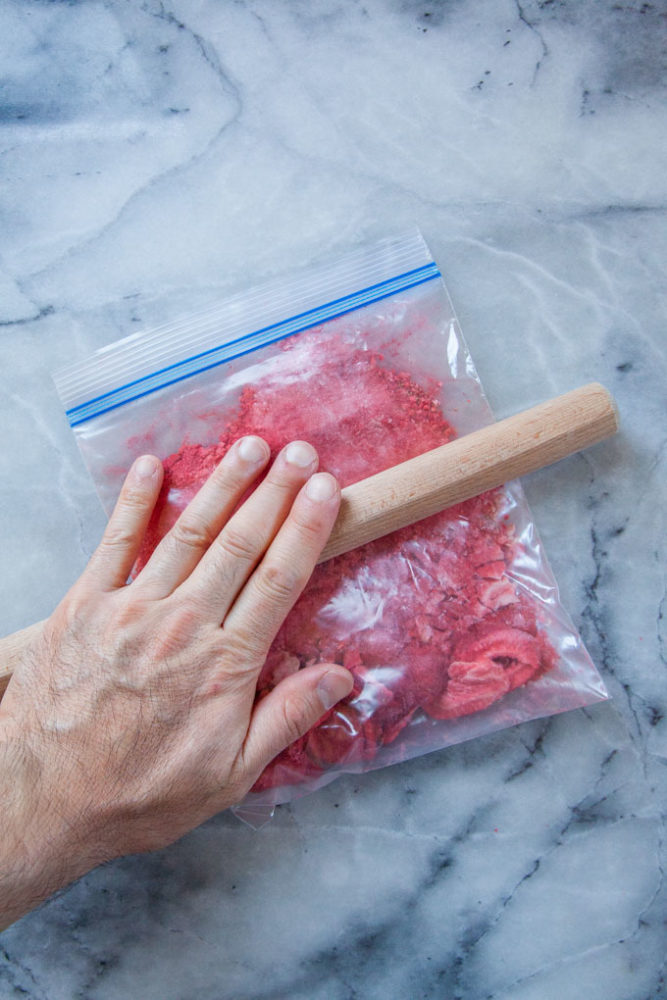 Can I use regular dried strawberries or fresh strawberries?
Freeze dried strawberries are not the same as regular dried strawberries. You cannot use regular dried strawberries for this recipe. Dried strawberries are strawberries that are placed in a dehydrator and gently heated to remove a lot of the moisture. But there is still moisture in the fruit, leading to a chewy product. Freeze dried strawberries are dry and brittle and break down into a powder when pulverized. Regular dried strawberries do not turn to powder when crushed and are not suitable for this recipe. They are more like raisins or prunes.
This recipe is also not designed for fresh strawberries, as they have too much moisture. If you want to use fresh strawberries in a brownie recipe, check out my balsamic vinegar strawberry fudge brownies.
How long do Neapolitan brownies keep?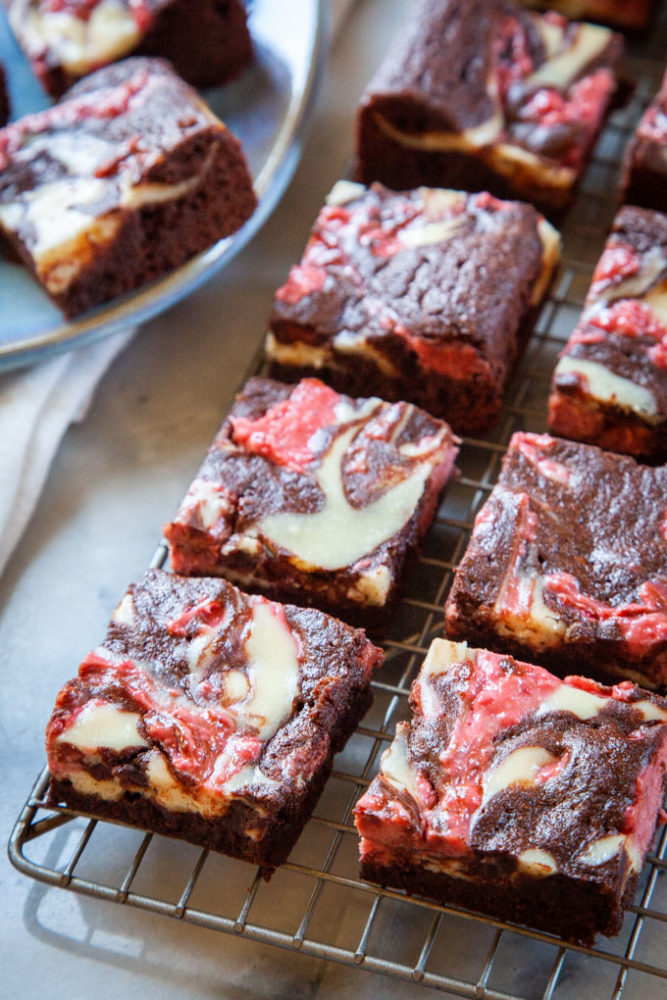 Like traditional cheesecake brownies, these brownies keep for up to a week in the refrigerator. Store them in an airtight container in the refrigerator. Take them out of the fridge and set them on the counter for 30 minutes to an hour to come to room temperature before serving.
It is not recommended to store them at room temperature, though you can leave them out to serve for up to 4 to 6 hours, depending on how warm the room is. This makes them totally suitable for a party or picnic.
Can you freeze these brownies?
Yes. Neapolitan brownies freeze. Store them in an airtight container or ziplock bag for up to 2 months in the freezer. Thaw in the fridge overnight and then let them come to room temperature by placing them on the counter for an hour before serving.
If you like these Neapolitan cheesecake brownies, check out some other brownie recipes I have
Neapolitan Cheesecake Brownies
Neapolitan cheesecake brownies are inspired by the classic Neapolitan strawberry, vanilla, chocolate ice cream flavor. The brownies are similar to a cheesecake brownie, with the addition of a freeze-dried strawberry powder added to the mix. See the note at the end of the recipe for how to make freeze-dried strawberry powder. Be sure to bring the cream cheese to room temperature before mixing it together, otherwise the batter will be lumpy.
Ingredients
Cream Cheese Batter
8

ounces

cream cheese at room temperature

1 brick

1

large egg

1/3

cup

white sugar

66 g

1

teaspoon

vanilla extract

1/4

teaspoon

kosher salt

3

tablespoon

freeze-dried strawberry powder

20 g freeze dried strawberries crushed

2 to 3

drops of red food coloring

optional

2

tablespoons

all-purpose flour
Brownie Batter
10

tablespoons

melted unsalted butter

142 g

3/4

cup

white sugar

150 g

3/4

cup

+ 2 tablespoons natural cocoa powder

not Dutch-processed, 80 g

1/4

cup

packed dark brown sugar

55 g

1/4

teaspoon

baking soda

1

teaspoon

vanilla extract

1

teaspoon

coffee espresso powder

optional

1/2

teaspoon

kosher salt

2

large eggs

1/2

cup

all-purpose flour

70 g
Instructions
Preheat the oven to 325°F. Lightly spray a 9 x 9-inch pan with cooking oil, then line with parchment paper.

Make the cream cheese batter by placing the cream cheese, egg, sugar, vanilla, and salt in the bowl of a stand mixer fitted with a paddle attachment. Mix the ingredients on low speed until the ingredients start to blend together, increasing the speed to medium low if necessary. You can also do this in a bowl with a hand whisk, but the cream cheese must be at room temperature or you'll never get the lumps out of the batter.

Spoon half the batter into one bowl, and then scrape rest of the batter in a different bowl. Stir in the freeze-dried strawberry power to one bowl and add the food coloring if desired. Stir the flour into the other bowl of batter.

In the mixing bowl (no need to clean it) make the brownie batter by placing the butter, sugar, cocoa powder, brown sugar, baking powder, vanilla extract, espresso powder (if using), and salt. Mix on low speed until the ingredients are blended. You can also do this in a bowl by hand with a spatula or whisk.

Add both eggs and mix to incorporate. Add the flour and stir in at low speed until the batter is shiny and glossy.

Scoop out about 1/2 cup of the brownie batter and set it aside. Then scrape out the remaining batter into the baking pan, spreading it out evenly to the sides.

Spoon both cream cheese batters, and the reserve brownie batter, all over the top of the brownie batter, alternating types, to give a random scattered pattern of strawberry, vanilla and chocolate on top. Then use a chopstick, a wooden skewer, the handle of a wooden spoon or a butter knife and artfully marble together the batters. Don't overly swirl the batter together, you just want to create a few swirls here and there on top for decoration.

Gentle tap the pan on the counter one or two times to settle it and then place the pan in the oven and bake for 23-27 minutes or until toothpick inserted in the middle has a few moist crumbs that come out. If you're using a glass or ceramic pan instead of a metal one, be aware that the brownies will take longer to cook, but will also continue to cook because the pan will retain the heat, so take them right after the middle of the brownies have set.

Cool the brownies in the pan for an hour minimum, then remove them by grabbing the parchment paper and lifting straight up and moving them to a cutting board. Cut the brownies into 16 pieces and serve.
Nutrition