This Chicken Caesar Sandwich takes all the flavors of a classic Caesar salad and turns it into a satisfying sandwich.
This post was sponsored by Safeway. I was compensated for this post and for developing the recipe. However, all opinions below are completely my own.
I'm not going to lie. When I go to a restaurant and there's a Caesar salad on the menu, 9 times out of 10, I'm going to order it. It's one of my all-time favorite salads to eat. So when Safeway and Boar's Head approached me to partner for the new Boar's Head FireSmith™ Flame Grilled Chicken Breast, I knew that it would work beautifully in a chicken Caesar salad inspired sandwich. The Boar's Head FireSmith™ chicken is seasoned and then cooked over an open flame, giving it a grilled flavor that works perfectly with a quick homemade Caesar dressing and griddle toasted garlic bread.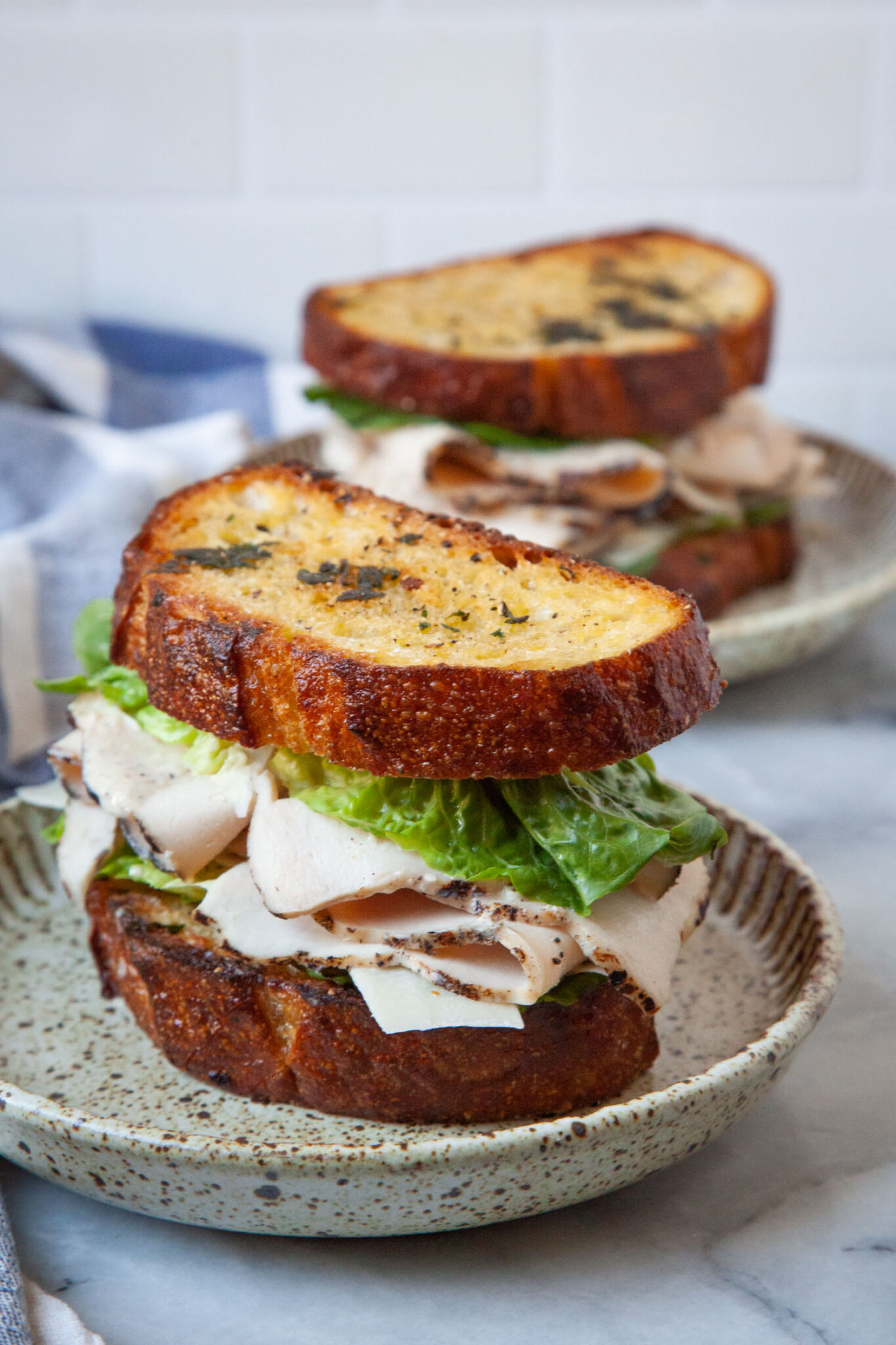 How to make this sandwich
This sandwich takes a little more time to prepare than a typical sandwich, because you need make the Caesar dressing and griddle toast the garlic bread. But it's totally worth the effort! I also have some shortcut tips in the section below in case you want to spend less time making the food and more time eating it!

First make the dressing by mincing a clove of garlic or running it through a garlic press. Add it to Greek-style yogurt, olive oil, lemon juice, mustard (I like to use Boar's Head Deli-style mustard), grated Parmesan cheese, an anchovy fillet, and some salt and pepper. Mix all the ingredients together, smashing the anchovy fillet with a fork to incorporate it into the dressing.
Next take a garlic clove and slice it thinly. Place it in a skillet with extra virgin olive oil and gently cook it on medium low heat until the garlic is brown. Remove and discard the garlic (or mash it into the Caesar dressing if you'd like). Dip each piece of bread into the garlic olive oil, brushing and coating each of them. Then sprinkle the bread with chopped parsley, salt and pepper. Toast on the skillet over low heat until golden brown on both sides. This bread will simulate the crunch croutons you find in Caesar salad!
Once you've created the dressing and toasted the bread, assemble the sandwich by first laying a piece of the grilled toast on a plate, add lettuce, shaved parmesan cheese, Caesar dressing spread, Boar's Head FireSmith™ Flame Grilled Chicken Breast, and then more Caesar dressing, lettuce and the remaining toasted bread. All ingredients can be found in most Safeway stores.
Tips and Tricks
Though this sandwich easy to make, I have a few tips that will help bring it to the next level and/or customize it to your own tastes
Dressing: The beauty of making your Caesar dressing is you have control over the ingredients and how it tastes. I like a classic Caesar dressing with anchovy in it, but if you don't like anchovy, skip that ingredient. Or using anchovy paste, replacing 1/2 teaspoon of anchovy paste for the fillet to simplify. Reduce the lemon juice or substitute red wine vinegar in its place if you don't like lemon. Or if you love lemon, instead of adding more lemon juice try adding lemon zest along with the juice which adds lemon flavor without more liquid. Finally taste the dressing and adjust the salt and pepper, giving it enough seasoning for your own palate. But if you don't want to make the dressing, substitute your favorite store-bought Caesar dressing in place of it.
Lettuce: You want a crunchy lettuce for this sandwich, similar to what you find in in a Caesar salad. And the classic lettuce for Caesar salad is Romaine! But I skipped the Romaine because Romaine leaves tend to be really large. Instead, I opted for Little Gem lettuce, sometimes called Sweet Gem which is a cross between Butter lettuce and Romaine and looks like baby versions of Romaine. It's perfect in sandwiches because of the small size. However, you can use Romaine, Green leaf or Red leaf lettuce if you can't find Little Gem. Just use tear the larger lettuce leaves into smaller sandwich-size pieces.
Bread: I chose a nice sourdough bread for the base of the sandwich but if you don't like sourdough, feel free to pick a bread that you love. I prefer a thicker-cut bread which helps to soak up the olive oil and toast up golden brown to simulate the croutons you'd find in a Caesar salad.  French bread, cut sideways is great, as are brioche buns or Texas toast. If you wish to skip making the sourdough garlic toast, make a quick substitute by toasting some thick cut bread (like Texas toast or a French bread cut lengthwise) and then buttering it and sprinkling garlic salt, grated parmesan cheese and a pinch of dried oregano.
How to store the sandwich
This sandwich, like all sandwiches, is best eaten the day you make it. But because the Caesar dressing is spread on the lettuce and the Chicken Breast and not directly on the toasted bread, the sandwich does keep fairly well. The lettuce on both sides of the bread protect it from getting soggy from the dressing. Store the sandwich in a resealable Ziploc bag at room temperature for up to 2 hours, or in the refrigerator overnight to be eaten the next day.
If you like this Chicken Caesar Salad Sandwich, check out these other easy to make recipes:
Chicken Caesar Sandwich
This Chicken Caesar Salad sandwich is inspired by the classic Caesar salad. It's made with Boar's Head FireSmith™ Flame Grilled Chicken Breast which is cooked over an open flame which gives the meat actual grilled flavor. Creating the sandwich does take a few more steps, as you have to make the Caesar dressing and toast the bread, but it's worth the effort! That said, I have a tips and tricks section above, which gives easy shortcuts and substitutions, simplifying the sandwich-making process.
Ingredients
Caesar Dressing
3

tablespoons

Greek-style yogurt

3

tablespoons

grated Parmesan Cheese

2

tablespoon

lemon juice

1

teaspoon

mustard

1

teaspoon

olive oil

1/2

teaspoon

black pepper

1/4

teaspoon

kosher salt

1

garlic clove

minced or put through a garlic press

1

anchovy fillet

or 1/2 teaspoon anchovy paste
Garlic Toast
1/4

cup

extra virgin olive oil

1

garlic clove

sliced

4

slices

thick cut bread

like sourdough, French or Texas toast

2

tablespoons

chopped Italian parsley

1/4

teaspoon

kosher salt

1/4

teaspoon

black pepper
To Assemble
8

leaves

Little Gem or Sweet Gem lettuce

or 4 pieces Romaine lettuce

Parmesan cheese

1/2

pound

Boar's Head FireSmith™ Flame Grilled Chicken Breast
Instructions
Make the Caesar dressing by placing the yogurt, parmesan cheese, lemon juice, olive oil, black pepper, salt, garlic and anchovy fillet (or anchovy paste) in a medium sized bowl. Mix together thoroughly. If using the anchovy fillet, smashing the anchovy with a fork until it's a paste and is incorporated into the dressing.

Make the garlic toast by placing the extra virgin olive oil in a large 12-inch skillet and adding the garlic slices. Cook on medium low heat, until the garlic slices are brown (but not burnt). Remove the garlic slices from the oil, and discard or mash the garlic into the dressing.

Dip both sides of all the bread slices into the oil, brushing any oil that isn't soaked up onto the bread. Sprinkle the toast on both sides with the parsley, salt and pepper. Then cook in the same skillet on medium low heat, until golden brown on both sides. Remove from heat.

Assemble the sandwich by placing 1 piece of toast on a plate. Add 2 pieces of Little Gem lettuce or 1 piece of Romaine on the bread. Shave some Parmesan cheese onto the lettuce, then drizzle from Caesar dressing onto it. Add the chicken breast, then drizzle more Caesar dressing on. Add another layer of lettuce and a piece of toast.

Repeat the process again to make the second sandwich.
Nutrition
Calories:
537
kcal
|
Carbohydrates:
20.2
g
|
Protein:
35
g
|
Fat:
35.9
g
|
Saturated Fat:
8.1
g
|
Cholesterol:
96
mg
|
Sodium:
1338
mg
|
Potassium:
553
mg
|
Fiber:
1.3
g
|
Sugar:
8.6
g
|
Calcium:
228
mg
|
Iron:
3
mg