These chewy pumpkin oatmeal cranberry cookies have browned butter in them and are packed full of autumnal flavor!
Pumpkin tends to be relegated to just the fall and winter but honestly, I could eat pumpkin spiced items all year round. Still, when the weather cools a bit, it's great excuse for me to bust out the pumpkin puree and pumpkin pie spice from my pantry. This is clearly evident with the number of pumpkin recipes on this blog, including my pumpkin cheesecake, pumpkin muffins with cream cheese filling, pumpkin bread pudding, pumpkin star bread, and all the pumpkin quick breads like pumpkin bread, pumpkin spice latte bread, and pumpkin banana bread. But there's always room for ONE. MORE. PUMPKIN. RECIPE. So, grab some pumpkin puree and make these pumpkin oatmeal cranberry cookies! They're the epitome of autumn, all wrapped up in a handheld snack!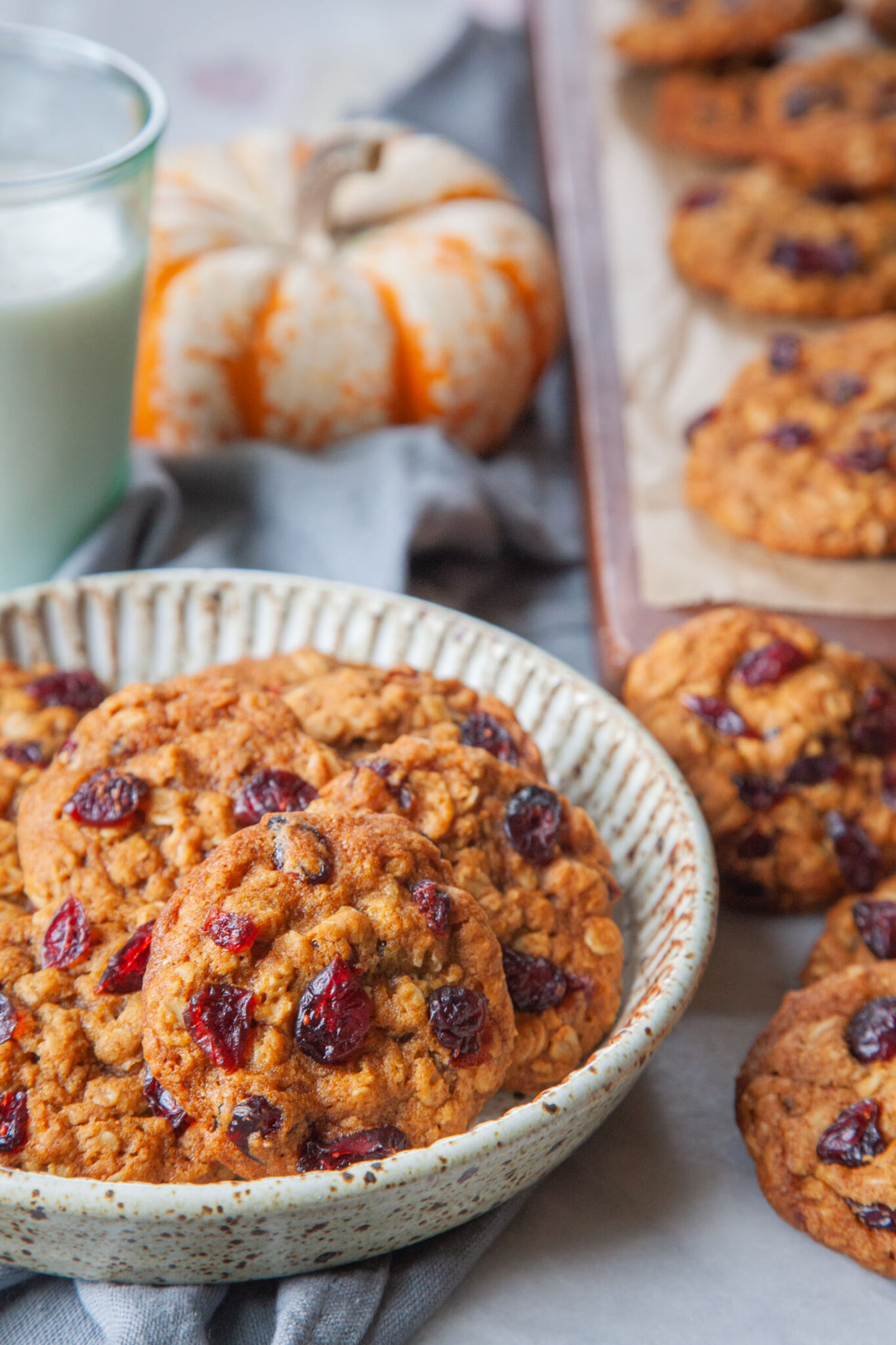 How do you make these cookies?
Like my brown butter oatmeal raisin cookies, this cookie starts with browning butter. Browning the butter does two things, it caramelizes the milk fat in butter, leading to a more complex, nutty-flavored butter, with notes of toffee and caramel. And it removes some of the water in the butter, which helps to reduce the "cakey" quality of the cookies.
Brown the butter by first placing it in a large skillet. Melt the butter on medium high heat, then reduce the heat to medium low after the butter melts. Continue to cook the butter until the solid milk fats have started to brown and the browned butter smells fragrant. Keep in mind the butter will bubble a lot, so stir frequently (the bubbling is a result of the water in the butter boiling off).
Once the butter is browned, pour it (making sure to scrape out and brown bits) into the bowl of a stand mixer and place the pumpkin puree in the same skillet (no need to clean it). Cook the puree until it has reduced and darkened in color and texture. Cooking the puree removes the metallic "tinny" quality that canned pumpkin sometimes has, concentrates the pumpkin flavor, and also removes some of the water which prevents the cookies from becoming cakey. Scrape the puree into the bowl with the browned butter.
Add the brown sugar, white sugar, pumpkin pie spice blend, vanilla, baking soda, and salt, then mix with a paddle attachment. Scrape down the sides and then mix in an egg yolk. Gently mix in rolled oats and flour, then stir in the dried cranberries.
Chill the dough to help it firm up, and then scoop out balls of dough and bake. 
What sort of pumpkin puree should you use?
This recipe has been tested with Libby's pumpkin puree, the most common brand of pumpkin puree that you can find at grocery stores. A vast majority of people use Libby's but if you use a different pumpkin puree brand or you roast your own sugar/pie pumpkin to make pumpkin puree, you might find that it's thinner and more watery than the dominant canned brand.
If you are using a non-Libby's pumpkin puree or a homemade puree, compensate for that extra water, by starting with 1 1/2 cups of puree and cooking it until it reduces down to 3/4 cup of puree. This might longer than the suggested 5 to 6 minutes in the recipe but it shouldn't take more than an extra minute or two.
What is pumpkin spice?
Pumpkin pie spice blend is a spice blend used in pumpkin pie, as well as pumpkin flavored recipes and drinks like pumpkin spice lattes. You can buy pre-mixed pumpkin pie spiced blend at the store or make your own pumpkin pie spice blend using my recipe. I have a recipe for pumpkin pie spice blend here on my blog, but if you don't feel like making a large batch of it, and you don't want to buy it, just substitute 2 1/4 teaspoons cinnamon, 1/2 teaspoon ginger, 1/4 teaspoon nutmeg in place of the pumpkin pie spice blend in the recipe.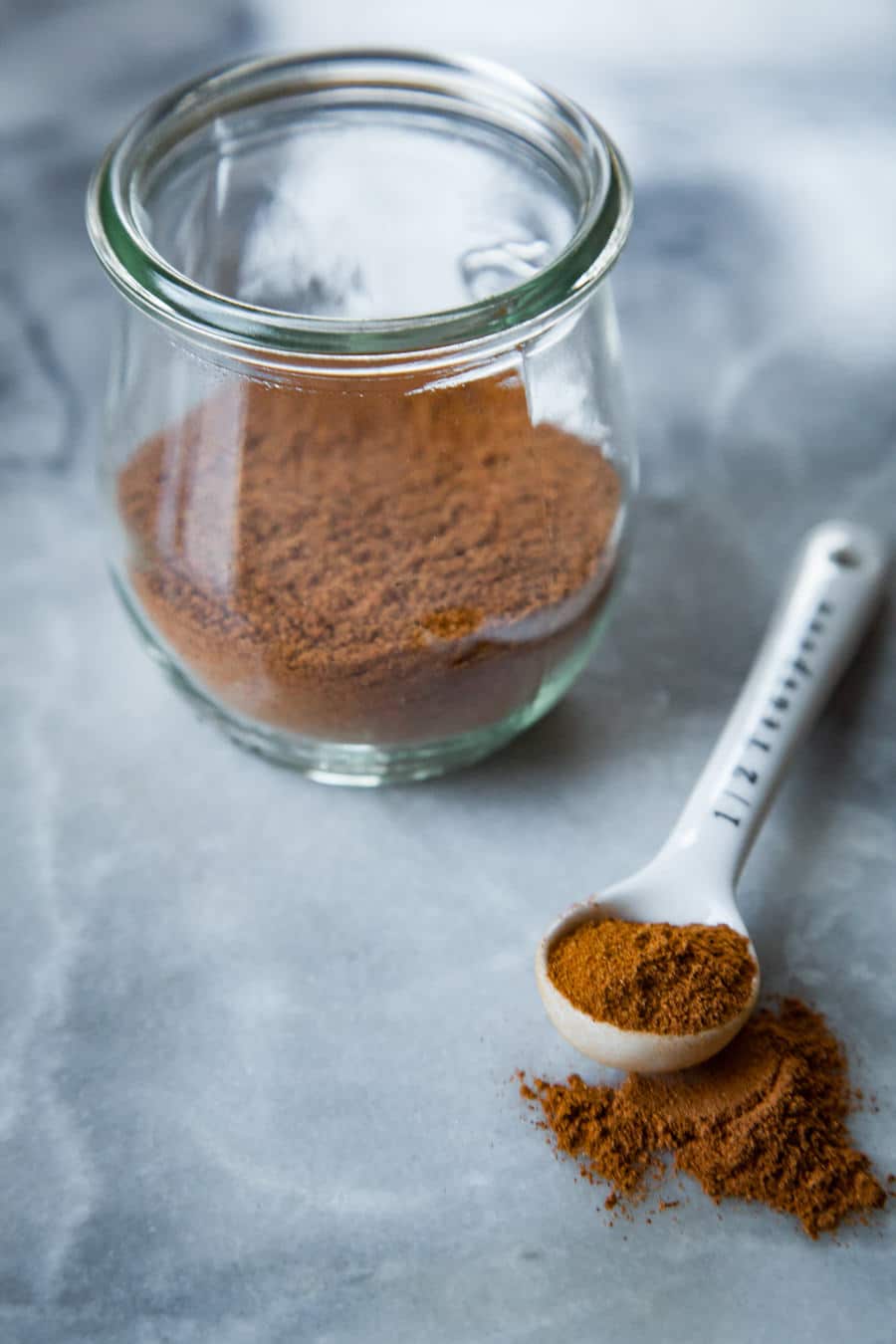 How do you store these cookies?
These cookies keep for about 3 to 5 days at room temperature, in an airtight container, under a cake dome or in a resealable Ziploc bag. You can also freeze these cookies. Place them in a single layer on a cookie sheet in your freezer for 2 hours, or until they are frozen solid. Then store them in a resealable freezer Ziploc bag. Thaw them on your counter for an hour before serving. 
If you like these cookies, check out these other cookie recipes:
Pumpkin Oatmeal Cranberry Cookies
These pumpkin oatmeal cranberry cookies are a fun autumnal riff on the classic oatmeal raisin cookie. They use browned butter, which lends a nutty toffee complexity to the cookie, as well helps reduce the cakey texture of the cookie. I also cook down the pumpkin puree to help concentrate the flavor and reduce the cakey cookie. Both steps are essential to creating that ideal chewy oatmeal cookie texture that isn't cakey or spongy. The cookie dough does require you chill it in the fridge for an hour or overnight so plan accordingly. If you don't chill the dough, the cookie will spread a lot when baked.
Ingredients
3/4

cup

unsalted butter

170 g or 1 1/2 sticks

1 1/4

cup

pumpkin puree

not pumpkin pie filling, 300 g

1

cup

packed light brown sugar

220 g

3/4

cup

white sugar

150 g

1

tablespoon

pumpkin pie spice blend

store-bought or homemade. See the section above for more information.

2

teaspoon

vanilla extract

1

teaspoon

baking soda

1/2

teaspoon

kosher salt

1

large egg yolk

2 1/4

cups

rolled oats

thick preferred, 225 g

1 1/2

cups

all-purpose flour

210 g

1 1/2

cups

dried cranberries

190 g
Instructions
Brown the butter by placing it in a large skillet. Cook the butter on high heat, stirring constantly, until it melts, then reduce the heat to medium. Continue to cook and stir the butter until the milk solids have turned golden brown and smell fragrant and nutty.

Remove from heat and immediately pour into the bowl of a stand mixer fitted with a paddle attachment, making sure to scrape out any brown bits with a heatproof silicone spatula.

Place the pumpkin puree in the same skillet (no need to clean it). Cook on medium heat, stirring constantly, until the puree has reduced down to 3/4 cup, about 5 to 6 minutes depending on your stovetop. Scrape the reduced pumpkin puree into the bowl with the browned butter.

Add the brown sugar, white sugar, pumpkin pie spice, vanilla, baking soda, and salt to the bowl. Mix until all the ingredients are evenly distributed and uniform in color. Add the egg yolk and mix in. Scrape down the sides and bottom with a silicone spatula.

Add the rolled oats and flour and slowly mix, turning the mixer on and off if necessary, to keep the dry ingredients from flying up, until all the dry ingredients are absorbed. The cookie dough will look very loose and wet. Scrape down the sides and bottom again.

Add the dried cranberries and slow mix them in. I like to do this by hand, with a wooden spoon, but the mixer on slow speed works too.

Cover the bowl with plastic wrap and place it in the refrigerator for 1 hour to chill and firm up. You can leave the dough to chill for up to 2 days if you wish.

Once the dough is chilling, preheat the oven to 350°F. Once the dough has firmed up and chilled, line a baking sheet with parchment paper or a silicon baking mat. Scoop out enough dough to make a 1-inch round ball and place it on the baking sheet. Continue to do this, spacing the cookie dough out about 2 inches apart.

Bake in the oven for 14 to 16 minutes, or until the top and edges of the cookie look golden brown and slightly darker than the top center. Let the cookies cool for 5 minutes on the baking sheet, and then move them to a wire cooling rack. Repeat with the remaining dough.
Nutrition
Calories:
95
kcal
|
Carbohydrates:
14.3
g
|
Protein:
1.2
g
|
Fat:
3.7
g
|
Saturated Fat:
2.2
g
|
Cholesterol:
14
mg
|
Sodium:
82
mg
|
Potassium:
49
mg
|
Fiber:
0.9
g
|
Sugar:
7.4
g
|
Calcium:
10
mg
|
Iron:
1
mg