This easy-to-make pumpkin banana bread uses ripe bananas and leftover pumpkin puree and can be made in a single bowl for an autumnal treat!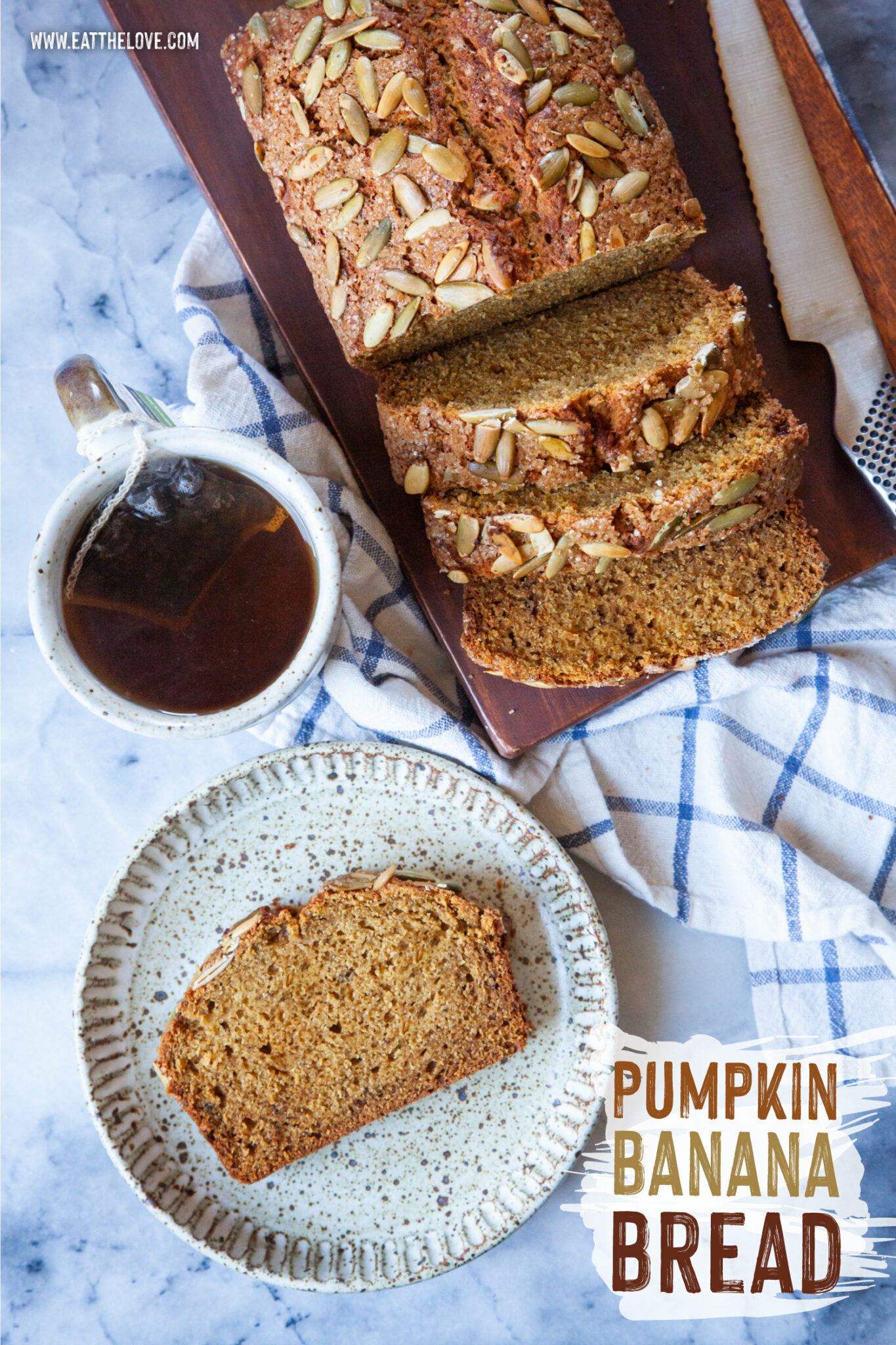 Growing up, I was engrained to use up EVERY. SINGLE. ITEM. in my kitchen and not to waste a single ingredient. And that includes those over browning bananas on top of my microwave. It's why I have so many banana bread recipes on my blog like my walnut banana bread, chocolate banana bread, sourdough banana bread, and my Kahlua mocha marble banana bread. But every Fall I also find myself with small leftover amounts of pumpkin puree after making my pumpkin bread, pumpkin cream cheese muffins, pumpkin coffee cake, pumpkin bread pudding, and pumpkin cheesecake. That's when I realize that I could combine the banana and pumpkin and make the brilliant combo banana pumpkin bread!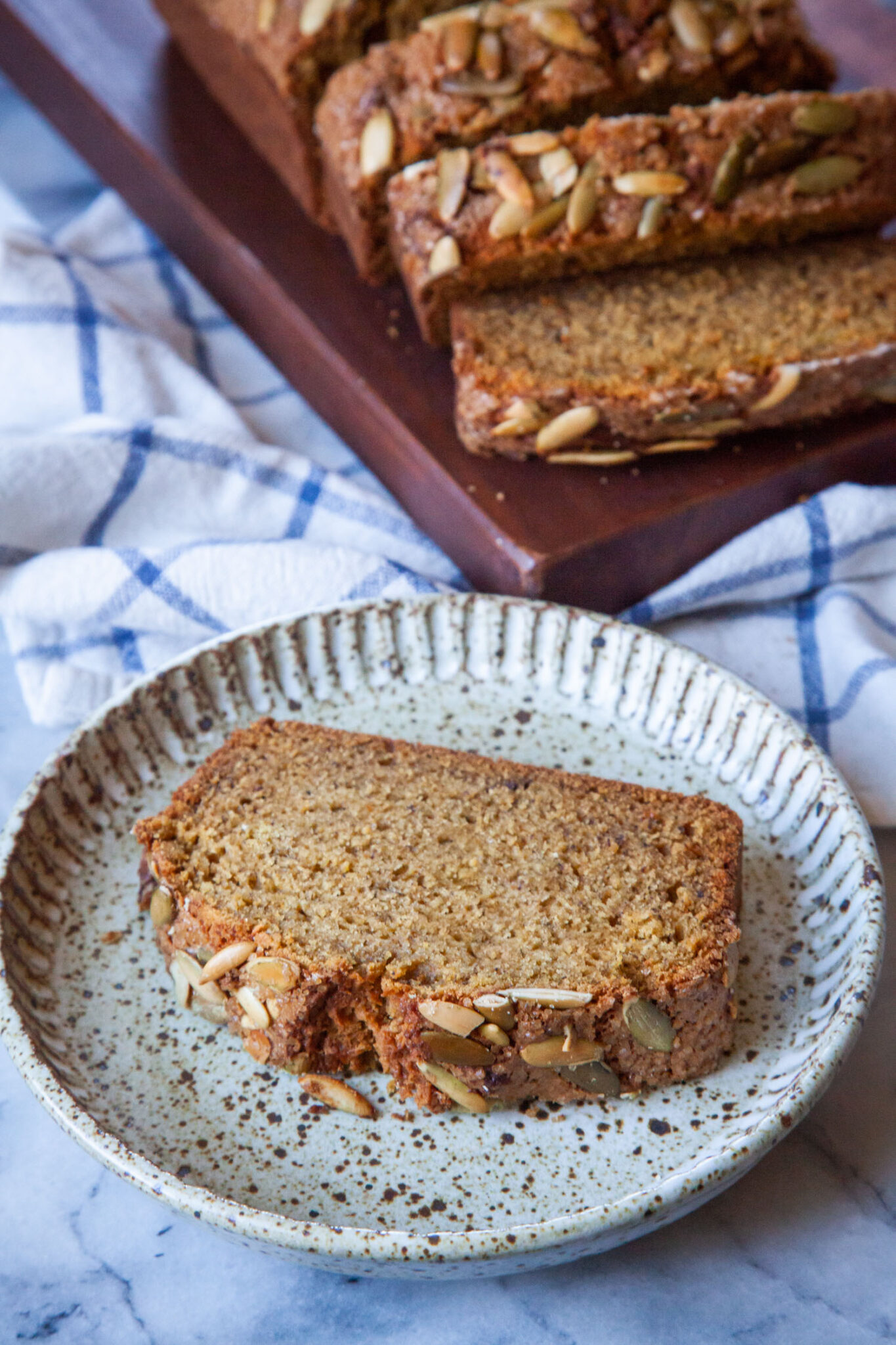 How do you make this Banana Pumpkin Bread
Making banana pumpkin bread is as easy as making banana bread or pumpkin bread. Just combine the mashed ripe bananas with the pumpkin puree in a bowl. Then mix in pumpkin spice, vanilla, baking powder, baking soda, salt.
Beat in an egg, then melted butter, then brown sugar in succession. Fold in the flour and scrape it all into a prepared loaf pan. Sprinkle the top with Turbinado sugar and pumpkin seeds and bake!
How ripe should the bananas be?
Like the typical banana bread, you want your bananas to be spotted brown but not completely brown. Some folks will tell you the browner the bananas the better, but there's a point where the banana starches turn to sugar, then start to rot. If the bananas are completely brown all over, they're time for the compost/trash. You want your bananas to be ripe and soft but with some yellow still visible on the skin.
Customize
Pumpkin pie spice blend: I use my homemade pumpkin pie spice blend, which is a blend of cinnamon and other warm wintery spices like nutmeg, ginger, and allspice. The great thing about making your own homemade spice blend is you can customize it. But you can use a store-bought pumpkin spice blend. Or you can substitute out various spices that you like. Spices that would work well with pumpkin and banana include cinnamon, nutmeg, ginger, allspice, mace, black pepper, cardamom, and coriander. You can even add in orange zest or lemon zest. Just use a combined amount of 3 teaspoons of the spices, divided however you like.
Pumpkin seeds: I use pumpkin seeds on top of this quick bread because I love how the pumpkin seed crunch tastes with the pumpkin flavor. But you can skip the pumpkin seeds, or add the same amount of a different seed like sunflower seeds or chopped nuts like pecans, walnuts or pistachios.
Turbinado sugar: I use turbinado sugar, which is a coarse blonde colored sugar that has crunch and slight molasses flavor that works well with the banana and pumpkin. It's often sold under the brand name "Sugar in the Raw". If you can't find turbinado sugar, or don't want to buy it, you can use regular white granulated sugar, coarse sparkling sugar or just skip the sugar topping all together.
Add ins: Though this recipe is super tasty all by itself, it's hard to avoid the temptation of adding in things like nuts and chocolate chips. Feel free to add 1/2 cup up to 1 cup of your favorite chopped nuts, like walnuts, pecans, or pistachios into this recipe. Just fold it in at the very end. If you are avoiding nuts, but want to add in some crunch, you can easily mix in chopped pumpkin seeds, sunflower seeds or even roasted cacao nibs.  Or add in 1/2 cup to 3/4 cup of semi-sweet chocolate chips or chopped chunks.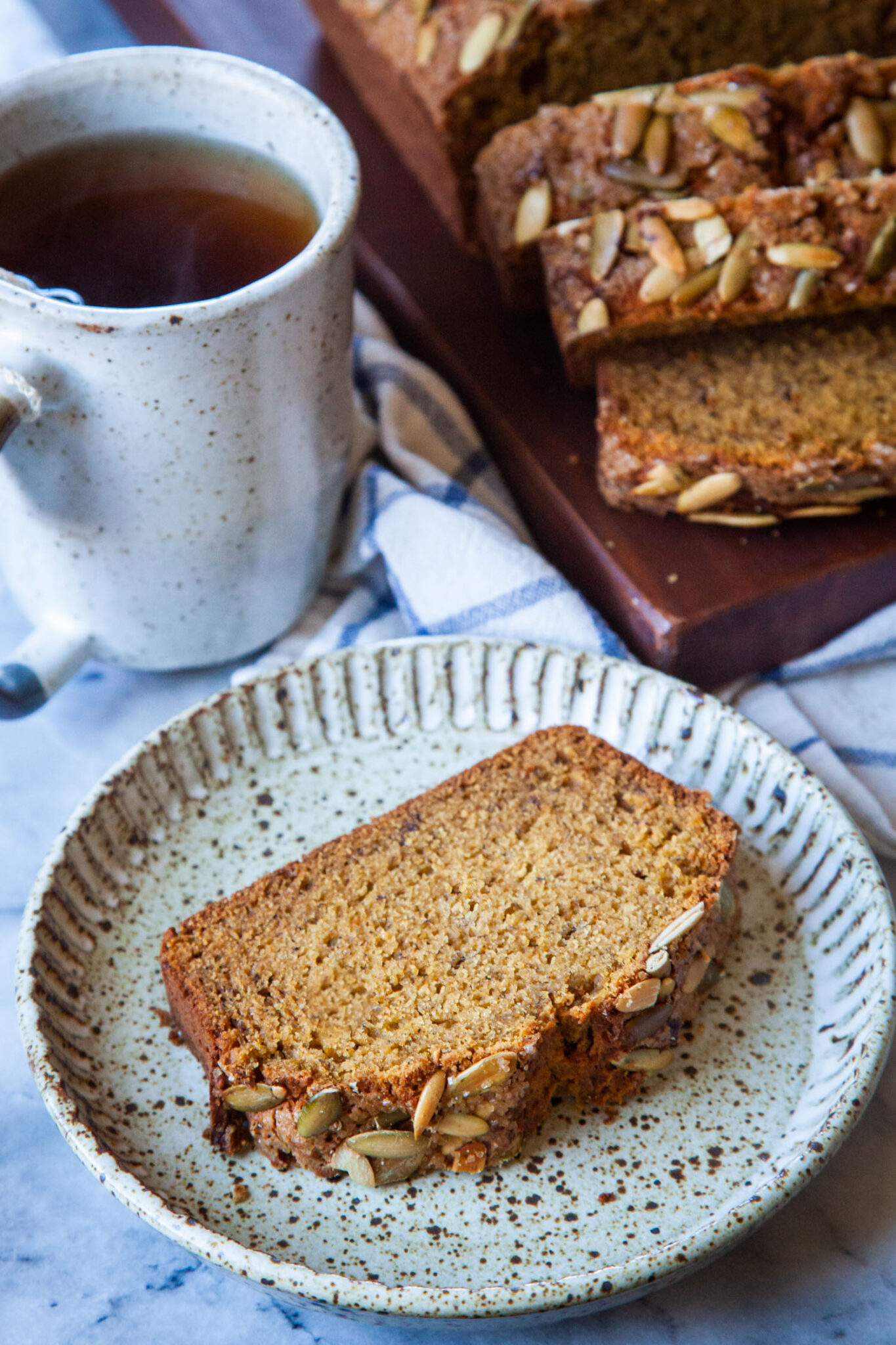 How to store this bread
Store this bread up to 3 days at room temperature, in an airtight container, resealable Ziploc bag, or under a cake dome. If you notice any mold at all on the bread, compost or throw the bread out.
You can also freeze the bread, up to 3 months, tightly sealed in a resealable freezer Ziploc bag. I like to slice the bread first, so that I can take an individual slice out to warm up or thaw and eat. Just make sure to place parchment paper or wax paper between each slice before freezing. Otherwise, the loaf will freeze as one solid mass.
If you like this Pumpkin Banana Bread recipe, check out these other autumnal recipes
One Bowl Pumpkin Banana Bread
A rich combo of sweet tropical banana and deeply earthy pumpkin blend together into this moist quick bread. Easy to make and completely satisfying. I have notes above on customizing the recipe, as well as what to do if you don't have a jar of pumpkin pie spice blend in your pantry.
Ingredients
Batter
3/4

cup

mashed ripe bananas

2 medium to large bananas, about 160 g peeled

3/4

cup

pumpkin puree

160 g

1

large egg

1

tablespoon

pumpkin pie spice blend

store-bought or homemade

1

teaspoon

vanilla extract

1

teaspoon

baking powder

1

teaspoon

baking soda

1/4

teaspoon

kosher salt

1/2

cup

unsalted butter

melted

3/4

cup

packed brown sugar

165 g

2

cups

all-purpose flour
For topping
2

tablespoons

pumpkin seeds

optional but recommended

1

tablespoon

turbinado sugar

optional but recommended
Instructions
Preheat an oven to 350°F. Lightly spray a large loaf pan with cooking oil, then line it with parchment paper, making sure about 1 inch of paper overhangs the edges.

Place the mashed banana in a bowl and add the pumpkin puree. Mix together with a whisk. Add the egg, pumpkin pie spice blend, vanilla, baking powder, baking soda, and salt. Mix with a fork or whisk until the ingredients are combined and uniform in color.

Stir in the melted butter and then the brown sugar.

Add the flour and mix in gently with a large silicon spatula. Don't overmix. It's ok if there are a few dry spots here and there.

Scrape the batter into the prepare loaf pan, spreading it out so it's evenly distributed in the pan. Then sprinkle the turbinado sugar and pumpkin seeds over the top of the batter.

Bake for 50 to 60 minutes, or until a skewer inserted in the center of the loaf comes out clean. If you have a quick read thermometer, the internal temperature should be 200 to 205°F.

Let cool in the pan, on a wire rack, for 15 minutes. Then lift the loaf directly out of the pan using the parchment paper and move it to a wire rack to cool completely. Peel off the paper before slicing.
Nutrition
Calories:
328
kcal
|
Carbohydrates:
47.7
g
|
Protein:
5.3
g
|
Fat:
13.6
g
|
Saturated Fat:
7.8
g
|
Cholesterol:
54
mg
|
Sodium:
330
mg
|
Potassium:
298
mg
|
Fiber:
2.4
g
|
Sugar:
18.9
g
|
Calcium:
58
mg
|
Iron:
2
mg