This insanely easy, super addictive Korean Fried Chicken Recipe is baked in the oven not deep-fried but still creates a super crisp skin!
Jump to Recipe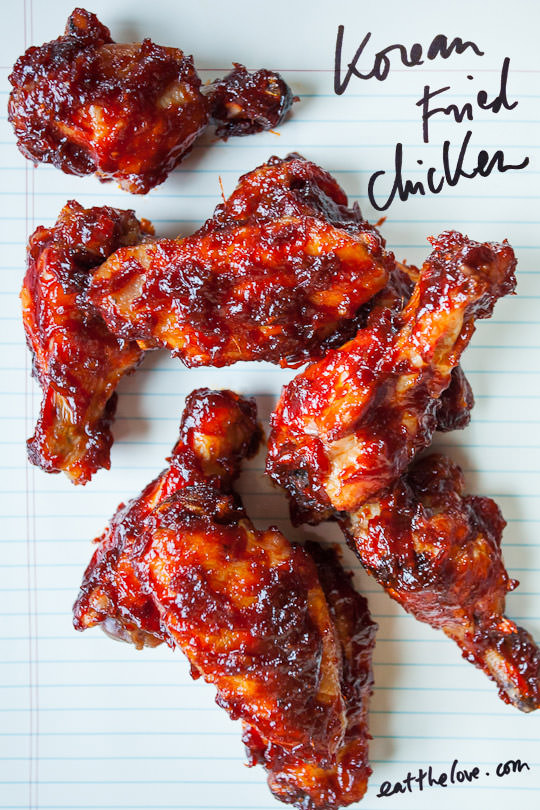 "Oh Man! Is that what we missed?!?" said my sister when she saw AJ post a picture of the Korean Fried Chicken Recipe that I had made. I originally had plans to make the Korean Fried Chicken when they were visiting but a flight cancellation and a reshuffling of family events meant I wouldn't time to make them for everyone. Just as well, because that meant more for AJ and me. After all, AJ and I are absolute obsessed with fried chicken, Taiwanese Popcorn Chicken and other chicken wing recipes like Vietnamese Pok Pok style wings but these Korean "fried" chicken wings are oven cooked, not deep fried and are one of our favorites!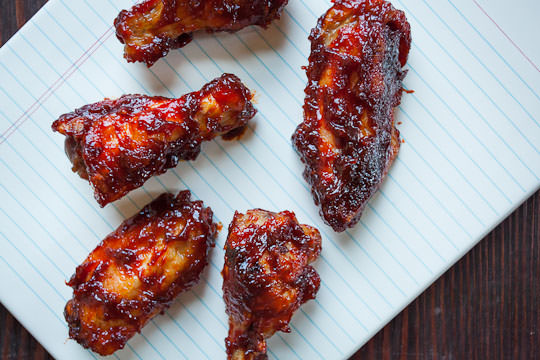 The first time I had Korean Fried Chicken, which those in-the-know refer to as "the other KFC" was in New York with my friend Calvin. I had coincidentally arrived in the city for a conference that also coincided with his birthday. He rounded up a few friends and we all headed to Korea Town to get Korean Fried Chicken at Mad for Chicken. Spicy and sweet with a shatteringly crispy skin, I was immediately smitten.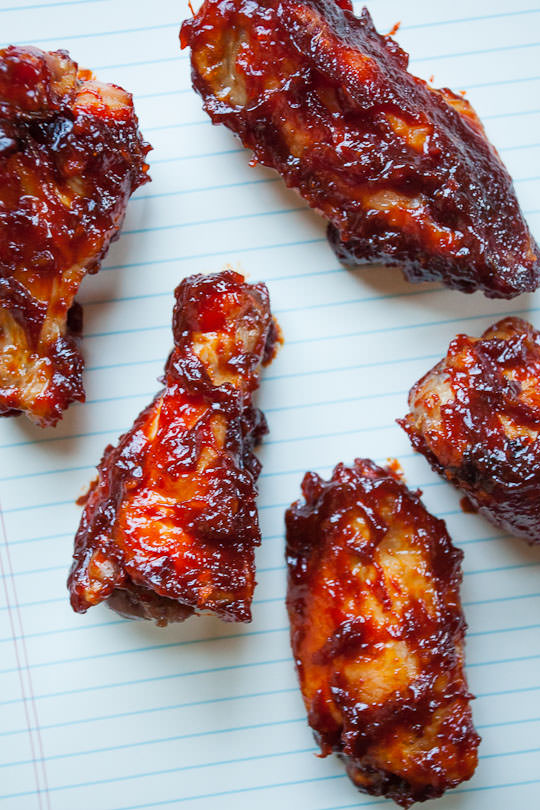 What is different about Korean Fried Chicken?
Traditionally you make KFC by double frying the chicken. Much like a French fry, the double frying of the chicken results in a super crisp brittle skin that snaps and cracks the second you bite into it, coated with deep, rich sweet and spicy sauce (or a sweet and garlic filled soy sauce for those who don't like the heat).
How do you make Korean Fried Chicken so crispy…in the oven?!
I'm not afraid of deep-frying but then I found a recipe by the innovative folks behind the blog Ideas in Food. Their cookbook Maximum Flavor had a technique for first coating the chicken in a salt, baking soda, egg white mixture and letting it dry out in the refrigerator. Unorthodox in nature I was pretty impressed with how they turned out, especially since it could just stick the chicken in the oven, and not have to deal with all the deep frying oil. Easy Korean Fried Chicken, oven baked that is super crispy! I'm so making these all the time now.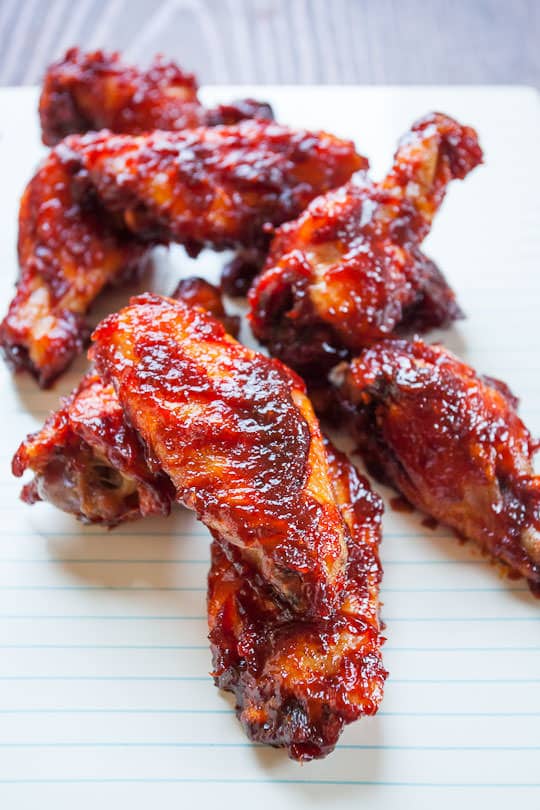 If you like these Korean Fried Chicken Wings, check out these other Korean recipes:
If you want more Chicken Wing recipes check out these:
Korean Fried Chicken (made in the oven)
Unlike traditional fried chicken, which is batter dipped and fried, these chicken wings are tossed in a thin coating of egg white, salt and baking soda then they are dried out in the fridge overnight to be baked in the oven. The result is a super crisp-skinned chicken without the deep-frying, which means an easier clean up and cooking (no constantly checking the deep fryer!). The sauce requires a trip to the Asian grocery store to get gochujang, a Korean chile paste. It's a deep red fermented chili paste that has a nice deep dark flavor (not too much heat, with a little bit of sweetness). You'll have to refrigerate the chicken overnight to let the egg white coating dry so keep that in mind if you are planning to make these.
Ingredients
2

large egg whites

1

teaspoon

kosher salt

1

teaspoon

baking soda

2

lbs

chicken wings

drumettes and flats separated with tips discards or saved for stock

4

medium garlic cloves

1

inch

knob of fresh ginger

1/4

cup

gochujang

Korean chile paste

2

tablespoons

dark soy sauce

1

tablespoon

rice wine vinegar

3

tablespoon

dark brown sugar

1

tablespoon

Asian fish sauce

1

tablespoon

toasted sesame oil
Instructions
Place the wire rack inside a rimmed baking sheet. Place the egg whites, baking soda and sea salt in a large bowl and beat until the salt and baking soda is dissolved into the egg whites (feel the egg white, you shouldn't be able to feel any grains of salt).

Toss the chicken wing pieces in the egg white mixture, making sure to coat all sides of the wings. Pick the wings up from the bowl, letting any excess egg white drip back in to the bowl, and put on the wire rack, making sure the wings aren't touching. Put in the refrigerator, uncovered for 8 hours or overnight to dry out. If you can, flip the wings once to let both sides dry out evenly.

Once the wings have dried, preheat the oven to 450˚Place the wings (still on the rack) in the oven for 15 minutes, then flip the wings over and bake for an additional 10 minutes. Flip one more time and bake for 10 more minutes or until the wings are crispy golden brown. Remove from oven and let rest for 5 minutes.

While the chicken is baking, prepare the sauce by forcing the garlic through a garlic press or finely mincing it. Peel then finely grate the ginger. Place the garlic and ginger in large sauté pan or wok and add the remaining ingredients (gochujang, soy sauce, rice wine vinegar, brown sugar, fish sauce and sesame oil).

Once the wings come out from the oven, turn the heat to medium and cook the sauce until it starts to thicken slightly, about two or three minutes. Toss the still warm wings in the sauce and serve immediately.
Notes
Adapted from Maximum Flavor by Aki Kamozawa and Alexander H. Talbot and Serious Eats.
[Editor's Note: Numerous people have asked me where you can get gochujang. Amazon has gochujang and a lot of well stocked grocery stores nowadays have it. Keep in mind it's often cheaper to get it at an Asian grocery store if you have access to one! And if you are a looking for a gluten free option, check out We Rub You's Hot Korean Gochujang Sauce which is vegan and gluten free. The above Amazon links are an affiliate link, so if you click through and buy it, I earn a small percentage off of the link. Feel free to just bounce directly to Amazon.com and search for gochujang if you want.]
Nutrition
And if you like this Korean Fried Chicken Recipe, check out these other Korean inspired chicken recipes from around the web: