This beautiful autumnal pumpkin layer cake is ideal for a special meal or just a weekend treat to celebrate making it through the work week.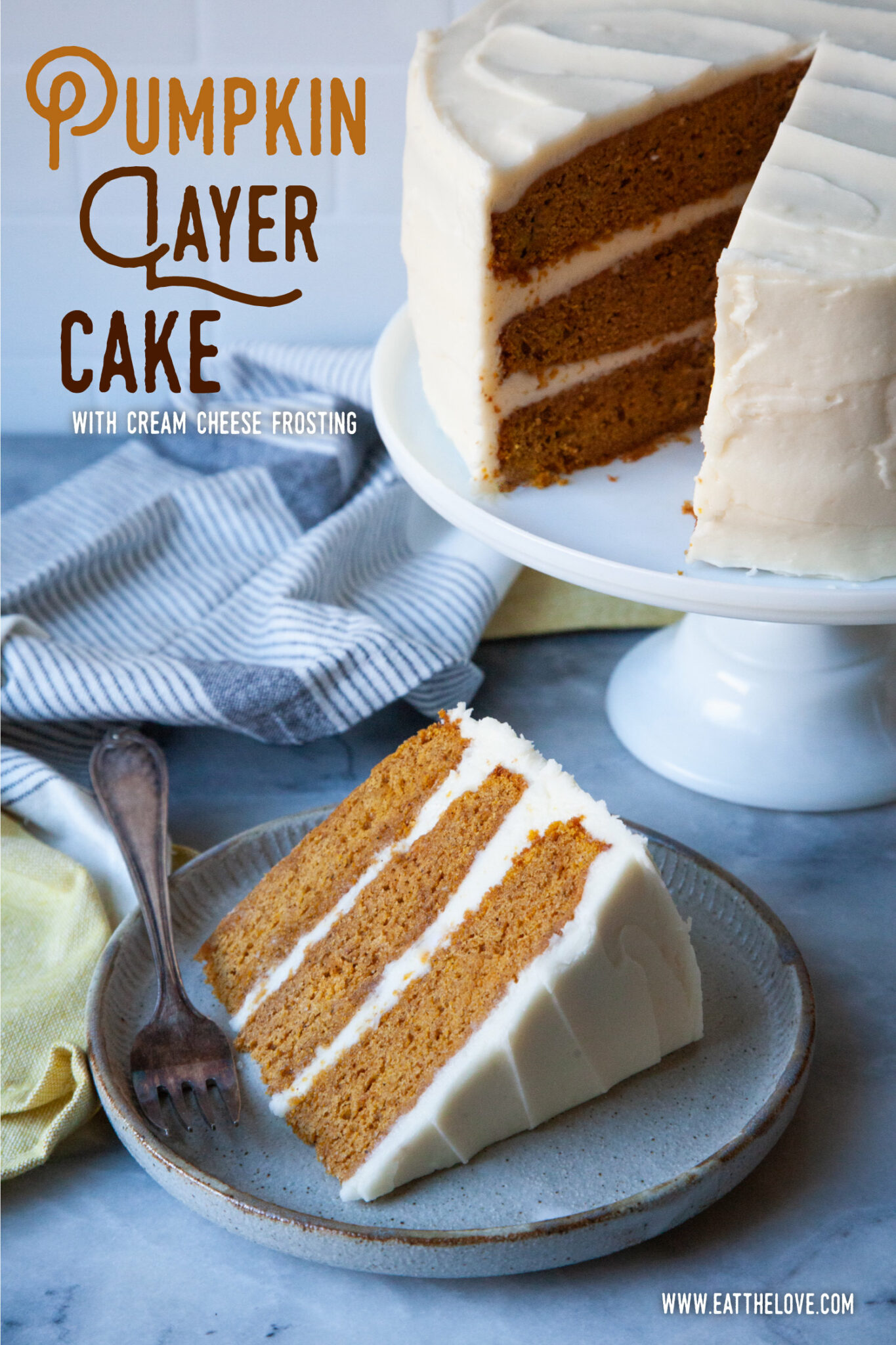 If you've followed my blog for awhile, you probably know I have an absolutely love of all things pumpkin. I've made everything from pumpkin coffee cake, pumpkin cream cheese muffins, pumpkin bread, pumpkin cheesecake, and even pumpkin star bread. But one thing I haven't had a chance to share is this pumpkin layer cake with cream cheese frosting. It's a beautiful cake, one you can make for an autumnal dinner party, ideal for those who are team cake over team pie, or just a celebratory cake to serve for getting through the tough work week!
How to make this cake
Layer cakes inherently are a little more work than a basic sheet cake, as you have to stack and frost layers of cake. But they're worth the minimal extra effort because you have a beautiful presentation when you slice into the cake!
The cake batter is fairly easy to make. Just mix and cream together butter, white sugar, brown sugar, baking powder, baking soda, pumpkin pie spice blend, cinnamon, ginger, cardamom, salt and vanilla extract in a bowl. Add 3 eggs, one at a time, then mix in the pumpkin puree. The batter will look "broken" but once you add in the all-purpose flour, the whole thing will come together.
Divide between 3 8-inch round cake pans and bake. Once done, invert onto wire cooling racks and let cool completely to room temperature.
Once cooled completely, make the frosting by combining cream cheese, butter, vanilla extract, salt and sifted powdered sugar. Mix until you have a spreadable frosting. Frost the first layer, stack another cake layer on it, and repeat until all the cake layers are stacked. Frost the top and sides and you're done!
What is pumpkin pie spice blend
This cake uses pumpkin pie spice, as well as a number of other spices. Pumpkin pie spice is a blend of various warm wintery spices like cinnamon, nutmeg, ginger, cloves and other spices. You can make your own custom homemade pumpkin spice blend or use a store-bought one. I like to make my own, because I can customize what goes into it, but I tested this recipe using a store bought brand and felt like I needed to add more cinnamon, ginger and cardamom to give the cake more spice dimension.
If you don't have pumpkin pie spice, and you don't feel like making a batch like in my homemade recipe, just use 1 tablespoon of cinnamon, 1 teaspoon of ground ginger, 1/2 teaspoon of nutmeg, and 1/2 teaspoon of allspice or cloves in place of all the spices. You can also add in the ground cardamom if you have it.
What sort of pumpkin puree should be used
This recipe was developed using Libby's pumpkin puree which is the most commonly available brand of pumpkin puree at the grocery store, and the most popular. Libby's has less liquid than other pumpkin purees and will give you a deeper orange color and more flavor than other pumpkin purees. Libby's also offers an organic version of their pumpkin puree, and it also has less liquid than other organic brand canned pumpkin. 
If you use a different brand of pumpkin puree, or homemade pumpkin puree, you might want to try and concentrate the flavor of the pumpkin by cooking the puree down. Add an extra 1/2 cup of pumpkin that the recipe calls for (2 1/4 cups of pumpkin puree) and then cook it on a large, nonstick skillet, stirring constantly, until the pumpkin puree has reduced down to 1 3/4 cups of pumpkin puree. Or use the pumpkin puree as is, knowing that the cake will taste a little bit less pumpkin-y and the cake will be a little more dense, because of the liquid in the puree.
How to bring cream cheese to room temperature quickly
This recipe calls for room temperature cream cheese to make the frosting. This is because if you use refrigerator cold cream cheese, it will stay lumpy when you try to mix it, resulting in a lumpy frosting.
The easiest way to bring cream cheese to room temperature is to leave it on the countertop or table for 2 hours. If you take the cream cheese out of the fridge when you take the cake out of the oven, by the time the cake has cooled to room temperature, the cream cheese should also be at room temperature.
But if you forget to put out the cream cheese earlier, my favorite kitchen tip is to place the cream cheese (still in the foil wrapper) in a bowl of hot water from the tap. Typically, the water is 120°F to 140°F. Letting the cream cheese sit in a hot water bath for about 10 minutes will bring the cream cheese quickly to room temperature. 
Tips on making a layer cake
Making a layer cake seems daunting but it's not difficult! Here are some tips on making a great layer cake.
Level the cake: I like to use 3-inch tall cake pans, which help prevent the cake from rising in the middle, creating a dome. But even with a 3-inch tall pan, sometimes you get a domed cake. If that happens, I level the layers of the cake by taking a long serrated knife (the kind you use to cut crusty bread) and remove the top domed area on one layer. Do this with all three layers, for a cake that is easy to stack and frost.
Use a rotating cake stand: Though it's not necessary, a rotating cake stand is super handy, and allows you to spin the cake as you frost it, making it easier to manipulate the frosting, giving you a smooth, even layer. My favorite rotating cake stand is by Ateco and is heavy duty and will last a lifetime. But there are other rotating cake stands that are cheap or look great. I even ended up writing a story about the best cake stands for The Spruce Eats.
Place some parchment under the first layer: Because I bake so much, I buy packages of round parchment paper to put in my cake pans. But if you don't do that, you can cut the parchment rounds out of regular parchment paper. But don't throw away the scraps! Save the extra parchment paper and place it under the first layer of cake. Then, once the cake is frosted, just gently pull the parchment paper out from under the cake. The scraps keep you from getting the frosting on the cake stand/plate, making it even easier to clean up and present a beautiful cake.
Use an offset spatula: Though you can use a butter knife to spread your frosting, I like to use a small offset spatula to spread the frosting. The thin flexible metal easily moves the frosting around, and it allows you to create smooth surfaces as well as beautiful swoops. I wrote about my love of the small offset spatula Simply Recipes.
Add a little frosting under the first layer: I always smear a little bit of frosting on the bottom of the cake stand or plate. This smear of frosting anchors the bottom layer, acting like glue, preventing the cake from sliding around, and making the cake more stable to frost.
Use an undercoat: For a picture perfect cake, I recommend after you stack all the layers of cake together, to do a very thin layer of frosting all over the top and sides of the cake. Then place the cake in the refrigerator for 30 minutes, uncovered. This will help cool and seal the cake from crumbs. Then you can frost the cake with the remaining frosting without worrying about crumbs from the cake rising up and disturbing your beautiful frosting. It's a trick that professionals never skip.
How do you store this cake
Because this cake has cream cheese frosting, I usually recommend that you refrigerate the cake. Cover the cake with a cake dome or let the cake sit out until the frosting has set a bit and outer frosting has "crusted" a bit, then loosely wrap with plastic wrap. Then refrigerate the cake.
If the cake has not been cut into, it will last up to 5 days in the fridge. But if it's been cut into, the cake will be best eaten within 3 days. Place a piece of parchment paper or wax paper over the area where the cake has been sliced. This will help prevent the cake from drying out there.
You can also freeze the cake if you want (and have room in your freezer). Freeze the entire cake solid (about 3 to 4 hours), then wrap in plastic wrap tightly. Or freeze leftover slices of the cake on a sheet pan then layer in a container, with parchment paper or wax paper in between each slice. Frozen cake can keep for up to 2 months. Thaw in the fridge overnight, or on the counter for a couple of hours before serving.
If you like this pumpkin layer cake, check out these other pumpkin recipes.
And check out these other autumnal recipes:
Pumpkin Layer Cake
This autumnal layer cake is a beautiful dessert for a special occasion or just a nice weekend treat for making it through the work week. You can serve it at Thanksgiving or a holiday meal if you are team cake over team pie. And it always impresses a crowd, even though it's not as hard as it looks. If you don't have pumpkin pie spice blend, I have a section above on substitutions.
And be sure to use room temperature cream cheese for the frosting and sift the powdered sugar, both of which will help yield a smooth frosting that is free from lumps. I have a section above on how to bring the cream cheese to room temperature if you forget to take it out!
Ingredients
Cake Batter
1

cup

unsalted butter at room temperature

225 g or 2 sticks

1

cup

white sugar

200 g

3/4

cup

brown sugar

165 g

2

teaspoon

baking powder

3/4

teaspoon

baking soda

1

tablespoon

pumpkin pie spice blend

store-bought or homemade

1

teaspoon

cinnamon

1/2

teaspoon

ground ginger

optional, but recommended

1/2

teaspoon

ground cardamom

optional, but recommended

1

teaspoon

kosher salt

1

tablespoon

vanilla extract

3

large eggs

1 3/4

cups

pumpkin puree

425 g or 1 15-oz can

2 1/2

cups

all-purpose flour

350 g
Cream Cheese Frosting
16

ounces

cream cheese at room temperature

2 bricks

1

cup

unsalted butter at room temperature

225 g or 2 sticks

2

teaspoon

vanilla extract

1/2

teaspoon

kosher salt

8

cups

powdered sugar, sifted

920 grams
Instructions
Preheat the oven to 350°F. Lightly spray 3 8-inch pans with cooking spray, then line the bottom of each pan with a parchment paper round.

Make the cake batter by first placing the butter, white sugar, brown sugar, baking powder, baking soda, pumpkin pie spice blend, cinnamon, ginger, cardamom, salt, and vanilla extract in the bowl of stand mixer fitted with a paddle attachment. Mix on low speed, increasing to medium speed until the ingredients are well blended together and cling to the side of the bowl.

Add the eggs, one at a time, making sure each egg is mixed and incorporated into the batter before adding the next egg. Scrape down the sides between additions. Add the pumpkin puree and mix until incorporated. Don't stress if the batter looks "broken" once you've mixed in the pumpkin puree. That's normal and the batter will come together when the flour is added.

Add the flour, pulsing and mixing on low speed until the flour is mostly absorbed. Scrape down the sides and bottom of the bowl, then mix the batter for another 30 seconds to make sure all the ingredients are well mixed.

Divide the batter into the 3 pans. If you have a scale, it should be about 500 grams of batter per pan. Spread the batter evenly in the pans, then bake for 20 to 25 minutes. Rotate the pans after about 15 minutes for even baking. A toothpick inserted into the middle of the cake should come out clean, with the cake should spring back when you touch the center of the cake, and the sides of the cake should be pulling away slightly from the sides.

Let the cake layers cool for 15 minutes in the pan, then invert them onto a wire cooling. Carefully peel off the parchment paper and let cool completely.

Once the cake has cooled completely to room temperature (at least 2 to 3 hours), make the frosting. Place the cream cheese, butter, vanilla extract, and salt in a clean bowl of a stand mixer fitted with a paddle attachment. Mix on low speed, increasing to medium speed, until all the ingredients are mixed thoroughly, and the consistency is smooth. If the cream cheese is still lumpy, your frosting will be lumpy, so make sure to take the time to mix it completely.

Add two cups of powdered sugar, making sure to sift it so it doesn't clump. Mix on low speed until incorporated, and repeat with the remaining powdered sugar, adding one to two cup at a time. The frosting should be firm but if it is too loose, place the bowl in the refrigerator for 15 to 30 minutes and mix again. Repeat the chilling in 15 to 30 minute increments until the frosting is the proper consistency.

Assemble the cake by placing a dab of frosting on a cake stand or cake plate, and placing a layer of cake on the plate, using the frosting as an anchor. Spread a layer of frosting on top of the layer, then add another layer of cake, repeating the process until you've have added all three layers. Then frost the sides and top of the cake.
Nutrition
Calories:
938
kcal
|
Carbohydrates:
130
g
|
Protein:
7.5
g
|
Fat:
44.2
g
|
Saturated Fat:
30.1
g
|
Cholesterol:
168
mg
|
Sodium:
506
mg
|
Potassium:
266
mg
|
Fiber:
1.9
g
|
Sugar:
105.4
g
|
Calcium:
97
mg
|
Iron:
3
mg