This is cinnamon-sugar topped southern peach cobbler is the ultimate comfort food, with easy-to-make soft fluffy drop biscuits on top.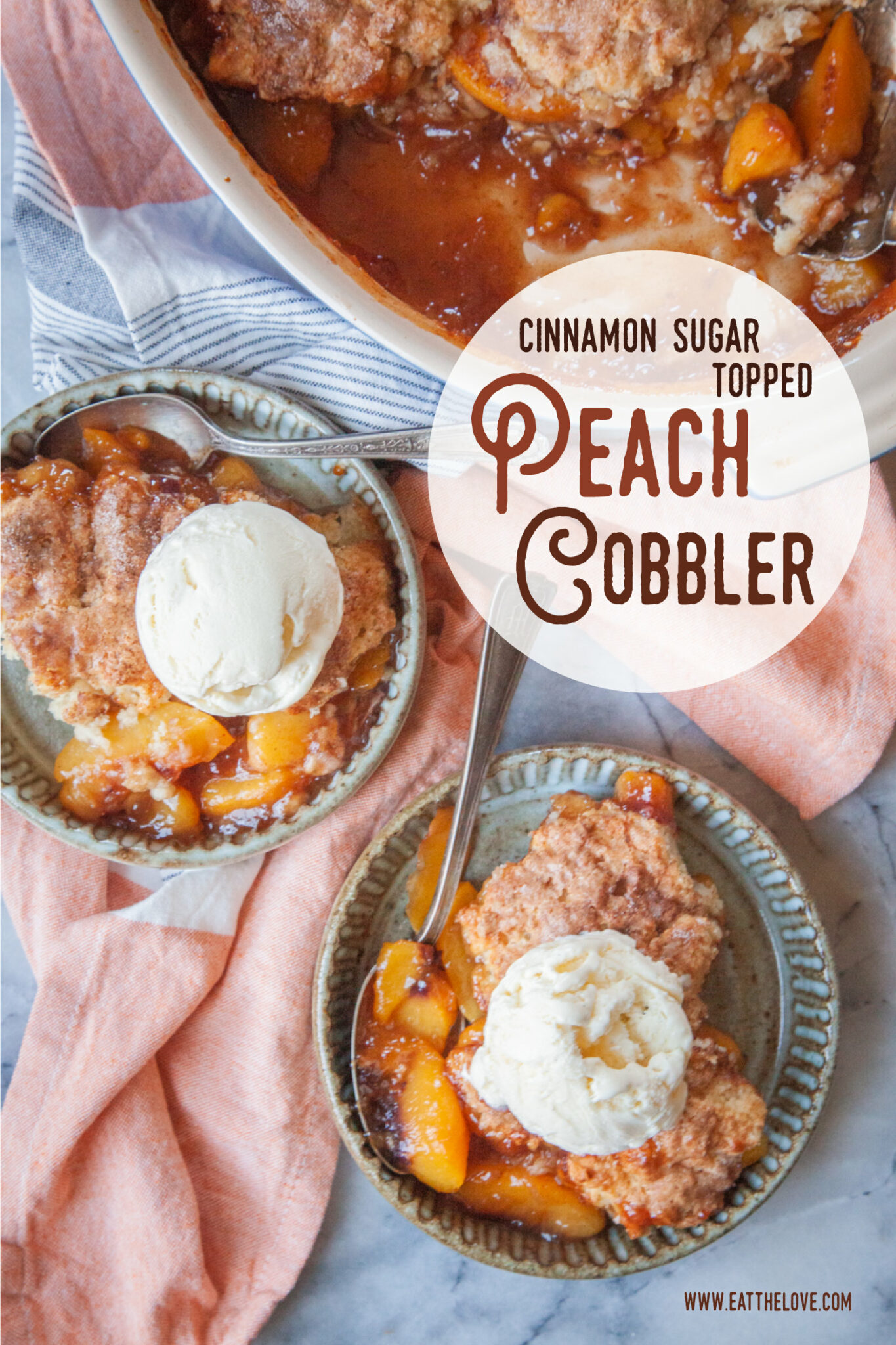 Let's talk a moment about one of my all-time favorite stone-fruits, peaches. There have been books written about love of honey-sweet juicy peaches. And there's nothing that makes me happier than taking the first bite out of a perfectly ripe peach. I often buy huge amounts of peaches when I see them arrive at the store since peach season can be fleeting. So not only am I eating them out of hand, but I'm making desserts like peach slab pie, caramel peach upside down cake, my bellini peach cobbler with strawberry biscuits, and my peach and blueberry coffee cake. But this cinnamon sugar topped southern peach cobbler is a streamlined classic recipe that hits all the right notes, with an easy-to-make soft fluffy drop biscuit topping and a sprinkling of cinnamon sugar topping that brings out the peach flavor. 
What is a cobbler?
A cobbler is one of those comfort desserts, easy to make and easy to eat! It's typically made with fruit, like peaches, as the bottom filling, and then topped with either biscuits (more common) or pie crust (less common). The biscuits are often drop biscuits, which are quickly prepared and dropped on top of the filling. Once baked, the biscuits rise and grow together, taking on a "cobbled" look, thus the name.
What's the difference between cobblers, crisps, and other rustic desserts?
Cobblers are often grouped together with other comforting rustic desserts, like crisps, crumbles, buckles, as well as lesser-known desserts like pandowdies, brown bettys, and slumps. All of these desserts commonly feature fruit or fruit filling. Here's a breakdown of what each is.
Cobblers have a fruit filling on the bottom and a typically a sweet biscuit on top. They occasionally have pie crust or dumplings on top, but these versions are less common. When baked, the biscuit version forms into a "cobbled" looking topping, which is where they get their name.
Crisps have a fruit filling on the bottom and use an oat topping like on my plum crisp recipe, instead of the biscuits. 
Fruit crumbles are similar to crisps but typically don't have the oats added in, instead use a streusel topping, like the kind you get on my cinnamon streusel coffee cake. 
Buckles are just another name for are a fruit-filled coffee cake, where the cake batter is often poured over the fruit and then baked, causing the cake batter to "buckle" when it rises, as in my strawberry rhubarb cheesecake buckle or my easy strawberry cake.
Pandowdies are similar to cobblers, but use a pie crust, which is then pushed into the filling halfway through the bake time, so the crust gets some of the filling juice on top, resulting in a slightly caramelized crust. I adore my apple blackberry pandowdy, as it's easier to make than a regular pie. 
Brown Bettys have a fruit filling on the bottom and bread cubes used as a top. The buttered bread cubes crisp up and add texture and crunch after baking. My apple brown betty with IPA beer filling is a great fall dessert.
Slumps are very similar to cobblers but instead of baking, they are cooked on the stovetop. The topping is more like a dumpling than a biscuit, and it's a great dessert if you don't have access to an oven, don't feel like turning it on, or your oven is already occupied with another item.
How do you make a cobbler?
Making a cobbler is one of the easier desserts that you can make. First make the filling by combining peeled peach slices, white and brown sugar, tapioca starch or cornstarch, a touch of acid like raspberry vinegar or lemon juice, vanilla and almond extract, salt, and some spices like cinnamon, paprika and nutmeg. I also add in a grated apple, which helps thicken and sweeten the filling. Don't worry though! You won't taste the apple at all. 
Bake the filling in a baking dish for about 20 minutes, and while it's baking, make the biscuit topping by combining flour, sugar, baking powder, and salt. Add in cubes of butter and smash them flat with your finger. Then drizzle in cold buttermilk until a dough forms. Once the filling has baked for the 20 minutes, scoop out biscuit dough and place over the filling, scattering the dough in balls irregularly over the top, leaving space for the biscuits to expand. 
Brush the top with an egg yolk wash and sprinkle with sugar and cinnamon. Bake until the biscuits are golden brown and the filling is bubbling thick in the center. Serve warm with ice cream!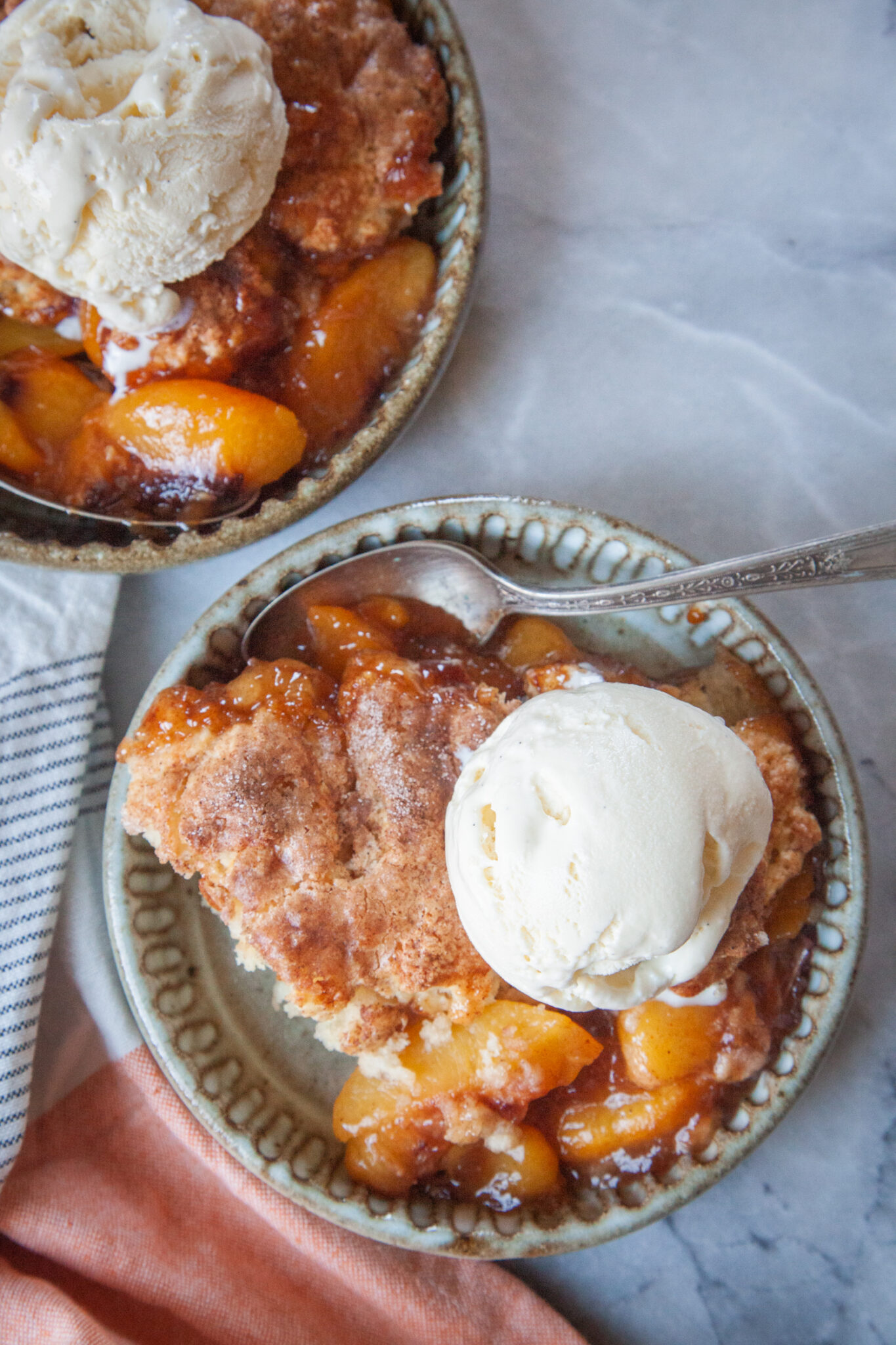 How to peel the peaches
Peach cobbler does require the extra step of peeling the peaches. You can use a serrated fruit peeler if you'd like. But I find blanching the peaches faster and easier. Cut an "x" on the bottom of the peach with a sharp paring knife. Then place the peaches in a large pot of boiling water for 1 minutes. Remove the peaches from the boiling water and "shock" them by placing them in a large bowl of ice water. Let them cool until you can handle them and peel the skin off with your fingers.
You can find a more detailed tutorial on my blog post on how to peel a peach. If you don't want to go through the trouble of peeling peaches, try swapping out the same amount of nectarines (which are botanically the same fruit, but have a thinner more tender smooth skin) or apricots for this cobbler.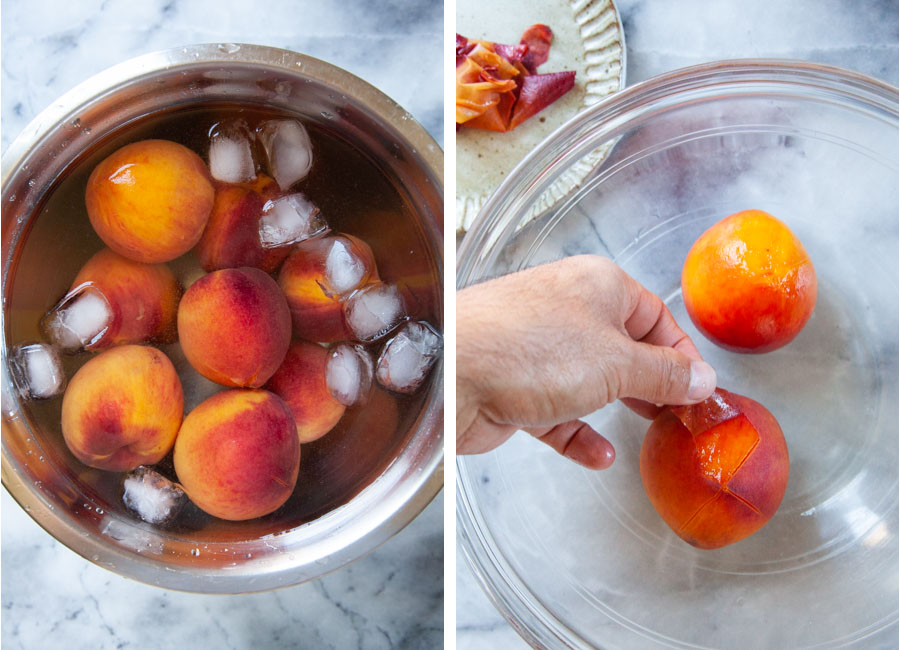 How to use frozen or canned peaches
If you don't have access to fresh ripe peaches, you can still make this recipe by using frozen or canned peaches all year round! If you are using frozen peaches, use them directly from the freezer without thawing, tossing them with the filling ingredients. Increase the tapioca starch or cornstarch to 6 tablespoons, as frozen peaches will release more liquid when cooked. Increase the initial filling bake time (before adding the biscuit topping) from 20 minutes to 25 minutes to accommodate for the colder filling.
If using canned peaches, just drain the peaches and bake as directed.
Storage
Store any leftover cobbler by covering it with plastic wrap or moving it to an airtight container and refrigerating it. Warm it up in the microwave (less ideal, as the biscuit topping will become rubbery) or in a 300°F for 10 to 15 minutes (the better option but takes longer). Leftover cobbler will keep in the fridge for up to 3 to 4 days, though the quicker you eat it, the better it will taste.
If you like this southern peach cobbler, check out these other fruit dessert recipes:
Cinnamon Sugar Topped Southern Peach Cobbler
This is one of those classic, rustic, comfort food recipes that everyone loves. I like to make it during prime peach season during the summertime, though I have notes above on how to make it with frozen or canned peaches, making it a year-round dessert. The paprika in the peach cobbler not only gives the filling an extra depth of flavor but also accentuates the lovely orange peach color. The cinnamon sugar topping of the biscuit gives the cobbler a sweet crunch and helps bring out the peach flavor even more! Don't be intimidated by the long ingredients list. The recipe is pretty easy once you've peeled the peaches.
Ingredients
Filling
3 to 3 1/2

pounds

ripe peaches

about 8 medium-sized peaches

1/3

cup

white sugar

67 g

1/3

cup

packed light brown sugar

75 g

1/4

cup

tapioca starch

or cornstarch, 35 g

1

tablespoon

raspberry vinegar

can substitute lemon juice or apple cider vinegar

2

teaspoon

vanilla extract

1/2

teaspoon

almond extract

optional but recommended

1/2

teaspoon

kosher salt

1/2

teaspoon

cinnamon

1/2

teaspoon

paprika

1/4

teaspoon

ground nutmeg

1

medium apple

peeled, cored and grated
Cobbler biscuit
2

cups

all-purpose flour

280 g

1/4

white sugar

50 g

2

teaspoon

baking powder

1/2

teaspoon

kosher salt

6

tablespoons

cold butter

85 g

3/4

cup

cold buttermilk

with additional 1 to 2 tablespoons if necessary, see note below for substitutions
Topping
1

large egg yolk

1

tablespoon

cold water

3

tablespoons

white sugar

1/2

teaspoon

cinnamon
Instructions
Preheat an oven to 375°F.

Peel and slice the peaches into 1/2-inch wedges. Place in a large bowl. Add the sugar, brown sugar, tapioca starch or cornstarch, raspberry vinegar, vanilla extract, almond extract if using, salt, cinnamon, paprika and nutmeg to the bowl. Peel, cut and then grate the apple into the bowl. Toss ingredients together until well blended.

Spray a 3-quart (9 x 13 x 2 inch) baking dish with cooking oil. Place the baking dish on a rimmed baking sheet to catch any filling drips and to help you move the pan in and out of the oven. Pour filling into the prepared baking dish, making sure to scrape any juice from the bottom of the bowl into the baking dish. Move to the oven to bake uncovered for 20 minutes.

While the peaches are baking, make the cobbler biscuits by placing the flour, sugar, baking powder, and salt in the same bowl you used to make the filling. There's no reason to wash the bowl. Cut the butter into cubes and sprinkle over the dry ingredients. Using your fingers, smash the butter into small flat pieces.

Drizzle the buttermilk over the dough ingredients, tossing with a fork until a dough forms. If you need to, add an additional 1 to 2 tablespoons of buttermilk. If the peaches aren't finished baking yet, place the bowl in the fridge to chill.

Make the topping by beating together the egg and water in a small bowl. Place the sugar and cinnamon together in a different small bowl and mix together with a fork.

When the peaches have baked for 20 minutes, remove them from the oven and spoon the biscuit topping over the warm peaches, leaving a little bit of room between each biscuit for the dough to expand.

Brush the top of the biscuits with the egg wash, then sprinkle the cinnamon sugar all over the top of the biscuits and the cobbler. Place back in the oven and bake for an additional 40 to 45 minutes, or until the cobbler filling is bubbly in the middle and the biscuits are golden brown on top.

Let cool for 30 minutes to let the filling thicken up a bit before serving. Serve with vanilla ice cream if desired.
Notes
If you don't have buttermilk, you can just add 1 tablespoon of lemon juice, raspberry vinegar or apple cider vinegar to 3/4 cup of milk and let it sit for 10 minutes to thicken. Use in place of the buttermilk.
The apple in the filling is there to help thicken the cobbler as well as provide sweetness. Don't worry, you won't taste the apple in the cobbler, though! The natural pectin in the apple means you can use less starch in the filling, allowing for the peach flavor to shine.
Nutrition
Calories:
359
kcal
|
Carbohydrates:
64.1
g
|
Protein:
5.1
g
|
Fat:
10
g
|
Saturated Fat:
5.9
g
|
Cholesterol:
50
mg
|
Sodium:
381
mg
|
Potassium:
352
mg
|
Fiber:
2.7
g
|
Sugar:
34.3
g
|
Calcium:
101
mg
|
Iron:
2
mg