These easy-to-make, one-bowl cakey brownies have a fluffier texture than fudge brownies and have a fantastic chocolate flavor and richness.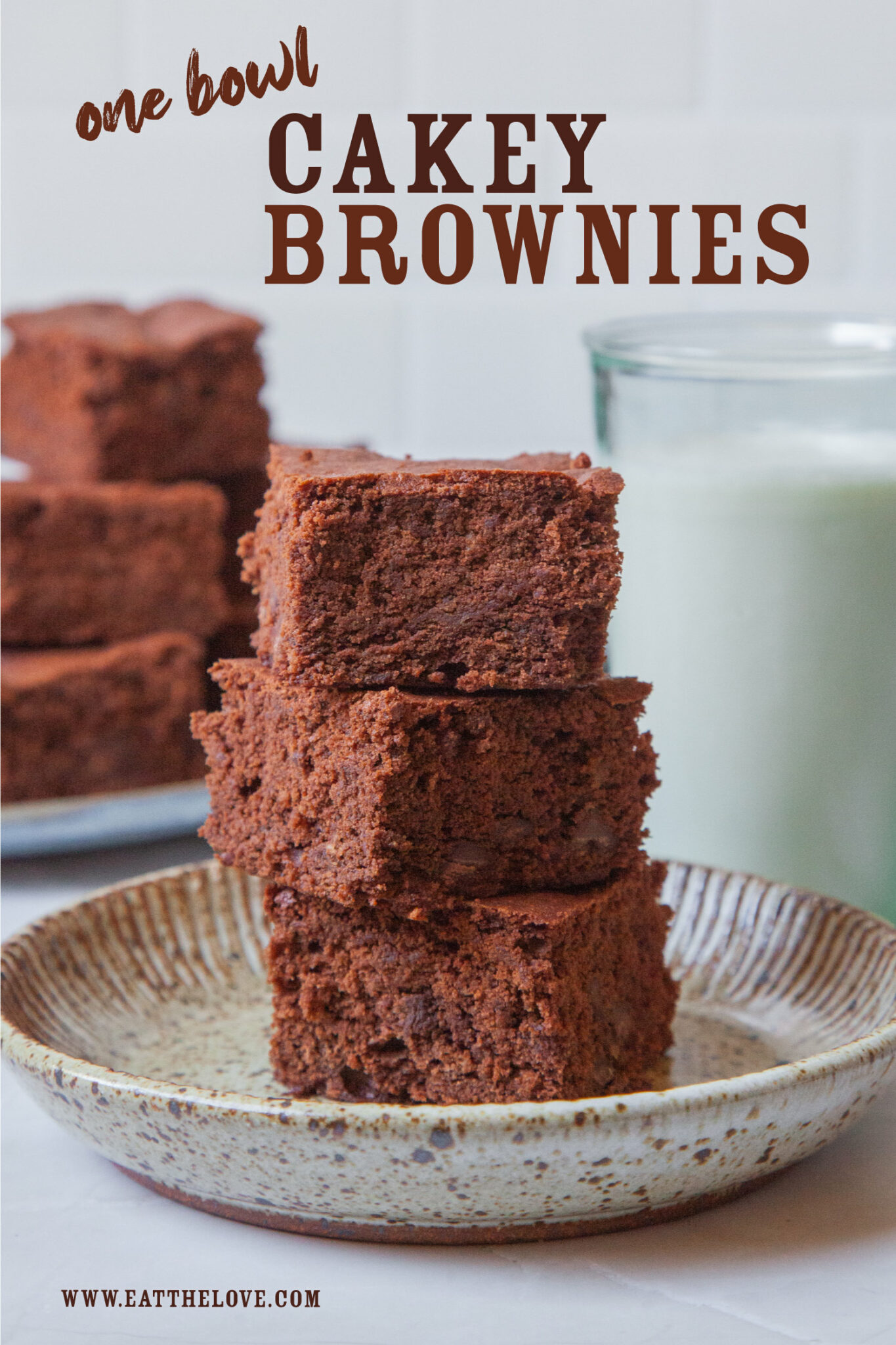 Let's talk cakey brownies! Even if you're more of a fudge brownie sort of person, there's something to be said about the old-fashioned homemade nostalgia of a cakey brownie that is lighter and less dense than their chewy fudgy counterpart. But the ideal cakey brownie can be hard to achieve. It has to hit that right balance between being more brownie than cake, otherwise why not just have a piece of dark chocolate Texas sheet cake? But it ALSO has to be less dense and chewy than a fudgy brownie, with a pleasant chocolate flavor that doesn't feel like you've eaten a chocolate bar. It's a hard balance to hit but after much experiment, I think I developed the best, easy-to-make cakey brownie, one that has the right bit of cakey texture but still fits into the brownie category. This, for me, is what a cakey brownie should be!
How do you make a cakey brownie?
This cakey does not use any melted chocolate in it but instead relies on the richness of melted butter, the moisture of five eggs, and cocoa powder with a touch of instant coffee to give chocolate. The additional use a large number of eggs also gives the brownie more lift and moisture, making it more cakey, less fudgy.
First melt the butter and add the white sugar and vanilla. Cream it all together as much as possible to try and dissolve the sugar. Then add the cocoa powder, salt, baking powder, and baking soda. Add the eggs, one at a time to the thick batter, then stir in a touch of instant coffee into the milk and add it to the batter to loosen it up. Fold in the flour then chocolate chips.
Bake the brownie batter in a prepared pan and then let them cool completely before diving in!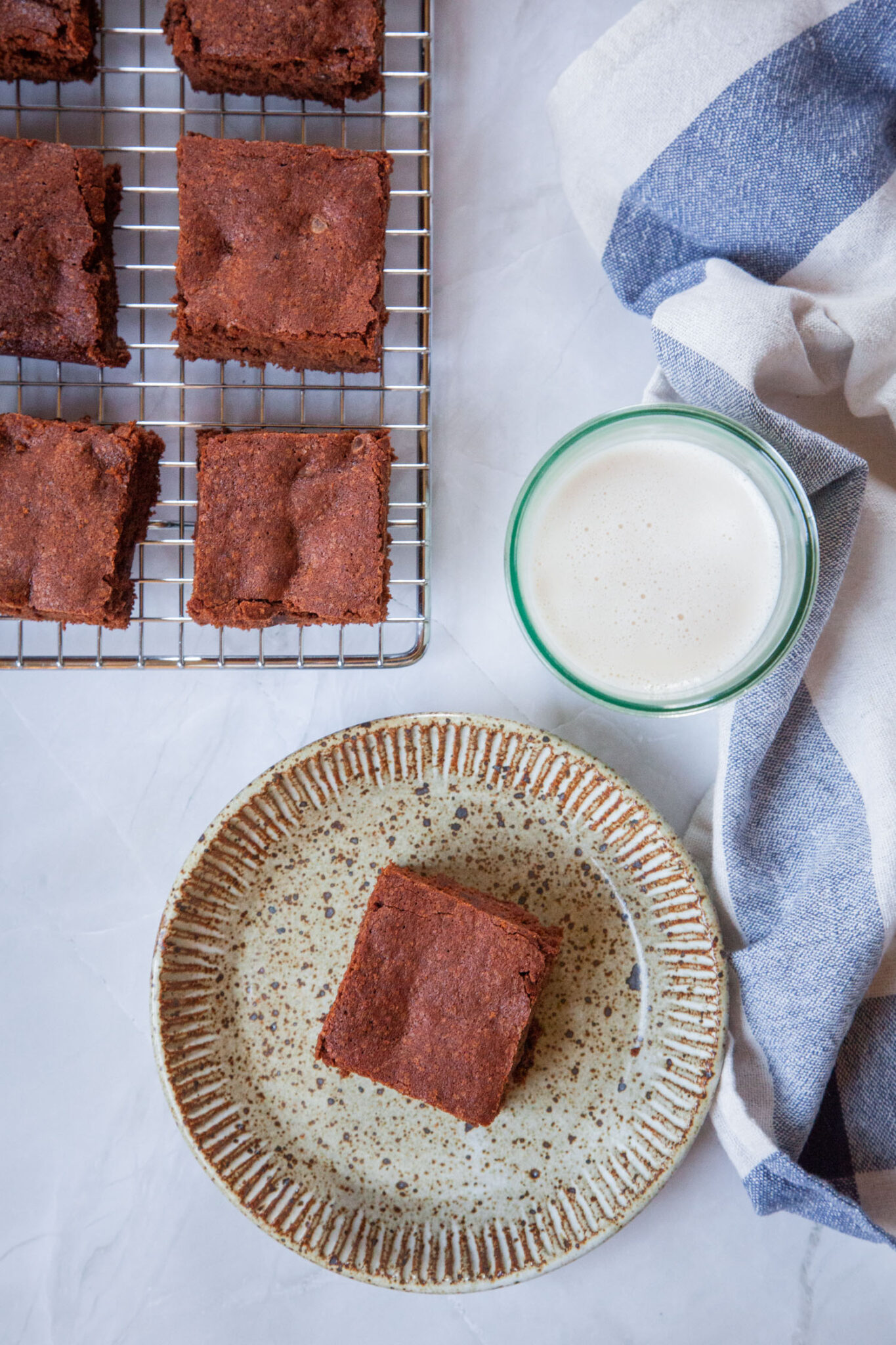 What sort of cocoa powder to use?
I use natural cocoa powder in this recipe because I wanted to give an old-fashioned nostalgic taste and feel to the cake brownie. Dutch processed cocoa is both darker in color and more mellow in flavor, while the natural cocoa powder is sharper and more acidic.
If you only have Dutch-processed cocoa powder, or you prefer the rich flavor of Dutch-processed cocoa, you can use out the same amount of Dutch-processed and omit the baking soda in the recipe. Realize your brownies will be a darker in color and have a slightly denser texture than how this recipe was original designed. But they'll still be great!

You can read more about the difference between Dutch-processed and natural cocoa in an article I wrote for Simply Recipes.
Can I use a glass pan or should I use a metal pan?
This recipe is developed for a metal pan, which conducts heat faster and more evenly than glass. Glass heats up slower and retains heat, which can yield to overdone edges and underdone centers. If you only have a glass baking pan, try reducing the oven temperature to 325°F and baking the brownies an extra 5 to 10 minutes. You can read more about the difference in baking in metal and glass pans in an article I wrote for Serious Eats about the differences.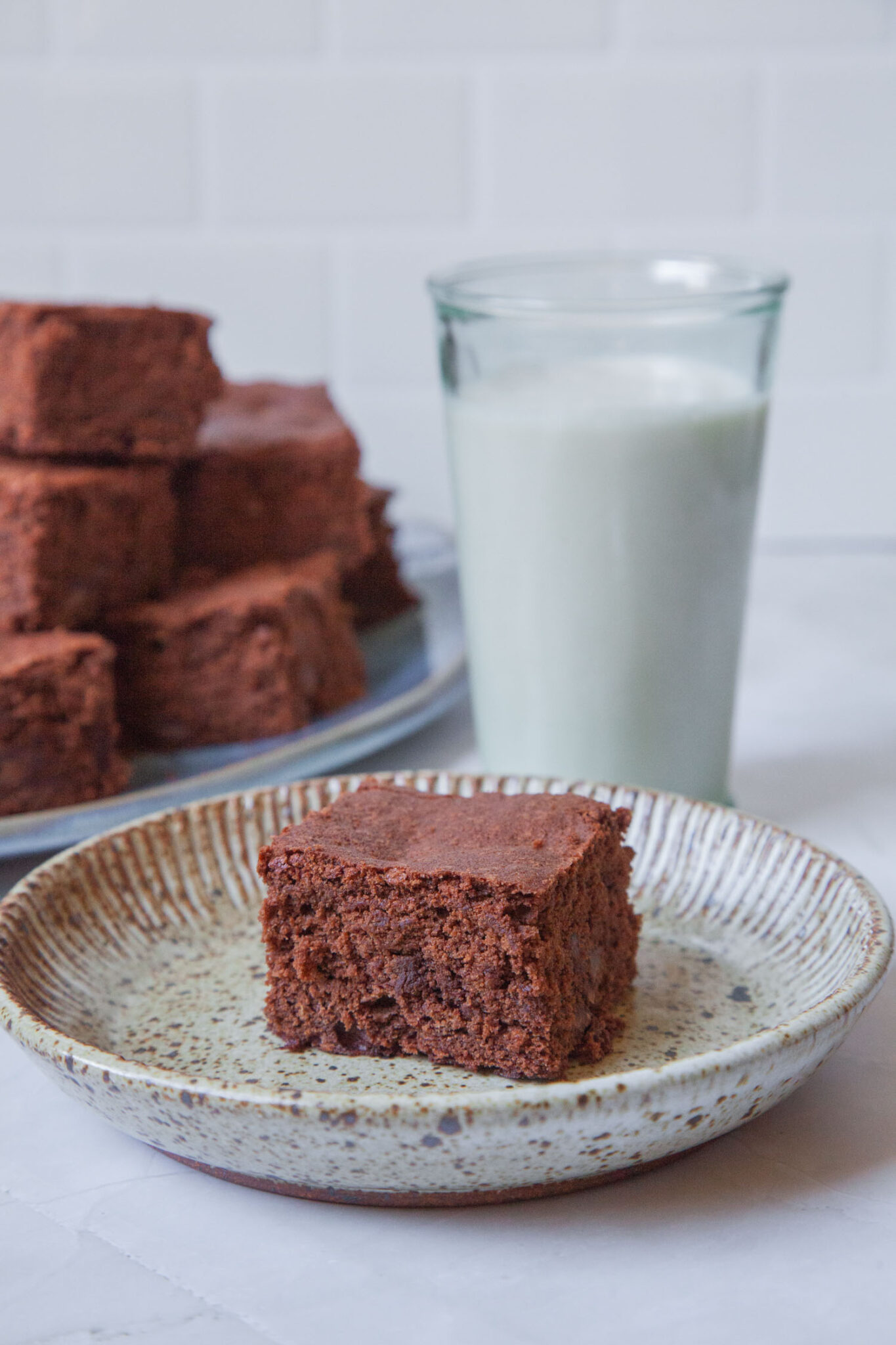 Customize the brownie
You can easily customize this recipe in different manners! Here's a few ideas:
Swap or omit chips: If you don't like chips in your brownies, just omit them! Or swap out the semisweet chocolate chips for milk chocolate chips, white chips or dark chocolate chips. You can even swap out the chocolate chips for peanut butter, butterscotch chips, or use chopped chocolate in their place.
Add nuts: Swap out the chips for 4 ounces (1 cup) of chopped nuts. Chopped walnuts, pecans, pistachios, and peanuts would all be great in these brownies.
Use a frosting: Make a simple chocolate frosting for these brownies to really give them a nostalgic sweet flavor! Cream 1/2 cup (1 stick) of room temperature butter until fluffy, then add 2 1/2 cups of powdered sugar and mix thoroughly. Mix in 1/2 cup of unsweetened cocoa and 1 teaspoon of vanilla extract. Drizzle in 2 tablespoons of milk and continue to add milk, 1 tablespoon at a time, up to 5 tablespoons, until the frosting is a nice spreadable consistency. Spread over the brownies when they are cool and then cut and serve.
How do you store this brownie?
These brownies keep at room temperature for up to 3 days. Store them in an airtight container or under a cake dome. You can also freeze them, placing them in a resealable Ziploc freezer bag or airtight container. They keep frozen for up to 2 months. Thaw to room temperature before serving.
If you like these cakey brownies, check out these other brownie recipes:
One Bowl Cakey Brownies
These cakey brownies are made with just one bowl and are the perfect texture of being more fluffy and lighter than a chewy fudge brownie, but still more intensely and brownie-like than chocolate cake. The secret is the large number of eggs, and the touch of instant coffee. The eggs give moisture and richness to the brownies as well as gives the brownie more fluffy loft, while the coffee helps boost the chocolate flavor of the brownie.
Ingredients
1

cup

unsalted butter

melted, 225 g or 2 sticks

2 1/4

cups

white sugar

1

tablespoon

vanilla extract

1/4

teaspoon

instant coffee or espresso

optional but recommended

1 1/4

cups

natural cocoa

115 g not Dutch-processed (see note above)

1

teaspoon

kosher salt

1/2

teaspoon

baking powder

1/4

teaspoon

baking soda

5

large eggs

1/2

cup

milk

1 1/4

cup

all-purpose flour

175 g

1

cup

chocolate chips

165 g
Instructions
Preheat the oven to 350°F. Lightly spray a 9 x 13 x 2-inch metal baking pan with cooking spray. Optionally you can line it with parchment paper, but I find it unnecessary with this recipe.

Place the melted butter, sugar, vanilla extract and instant coffee or instant espresso powder (if using) in the bowl of a stand mixer fitted with a paddle attachment. Mix on slow speed, increasing to medium until the mixture is well blended. Scrape down the sides once or twice to ensure everything is thoroughly mixed.

Add the cocoa, salt, baking powder and baking soda to the bowl. Again, mix on slow speed increasing to medium until well blended. Add the eggs one at a time, beating and scraping down the sides between additions. Then add the milk and repeat.

Add the flour and slowly mix it in until absorbed. Repeat with the chocolate chips, gently mixing until they are distributed throughout the batter. I often will do this by hand with a wooden spoon, to ensure the chocolate chips don't break.

Scrape the batter into the prepared pan and spread it evenly to the sides. Bake in the oven 30 to 35 minutes, or until a toothpick inserted in the middle of the pan comes out of clean or with a few crumbs. Pick a few spots, as you may hit a chocolate chip, which will give you a misleading toothpick test.
Nutrition
Calories:
228
kcal
|
Carbohydrates:
30.8
g
|
Protein:
3.6
g
|
Fat:
11.5
g
|
Saturated Fat:
7.1
g
|
Cholesterol:
61
mg
|
Sodium:
189
mg
|
Potassium:
176
mg
|
Fiber:
1.8
g
|
Sugar:
22.9
g
|
Calcium:
37
mg
|
Iron:
1
mg