These classic buttery garlic knots are a pizzeria treat, made from pizza dough and tossed in parmesan, oregano and lots of butter and garlic!
The first time I saw garlic knots were on a trip to New York City at a corner pizza-by-the-slice shop. Though my friends all ordered slices of pepperoni, sausage, and olive pizza, I gravitated toward the glass counter and stared at those glistening garlic bombs stacked high. I asked for a bag of them, and happily munched on them as my friend attacked their slices. I had no regrets with my choice! Since then, I've been making garlic knots with my homemade easy pizza dough to go with my dinner when I want to change it up from my parker house rolls or potato rolls.
What is a garlic knot?
Garlic knots are knotted pieces of dough, tossed in a butter garlic and oregano sauce. The origins of garlic knots came about in New York City where pizzerias wanted to prevent waste by using leftover pizza dough scraps.
Nowadays, they are sold in nearly every pizzeria in New York, as well as across the country. But they're super easy to make at home, by either using homemade pizza dough or store-bought dough. They make a tasty snack as well as a great side dish, like dinner rolls, for soup or stew.
How do you make them?
Garlic knots start with pizza dough, which is a lean yeasted dough. Combine warm water with a little bit of brown sugar and yeast. Stir to dissolve and proof the yeast. Then combine the yeasted water with flour, a little olive oil and salt.
Knead the dough, then let it rest to rise until double. Once doubled, divide the dough into 12 pieces and roll out the dough into ropes. Tie the ropes into knots.
Then make the butter garlic sauce! Cook fresh garlic with butter, then add in garlic powder, dried oregano, Parmesan cheese and salt. Brush the sauce on the dough knots and bake.
Once baked, toss the knots in the remaining leftover garlic sauce that has some chopped parsley in it, and serve!
Frequently Asked Questions
Can you use store-bought pizza dough?
Yes! I use my easy pizza dough in this recipe (it's also included down below in the recipe for your convenience). But you can use store bought pizza dough if you want to skip making the dough. Just pick up a package of 14 to 16 ounces (1 pound) of pizza dough and use that in place of the homemade dough.
How do I store the garlic knots?
Store garlic knots in a refrigerator, in an airtight container, for up to 5 days. Warm them up in a toaster oven or regular oven at 300°F for about 5 to 10 minutes to refresh them.
Can I freeze garlic knots?
Yes. Garlic knots can be frozen! Just freeze them on a baking sheet for two to three hours, until they are frozen solid, then store them in a heavy-duty freezer Ziploc bag for up to 2 months. Thaw them by placing them on the counter at room temperature for a couple of hours, or warm them up in the toaster oven or regular oven at 300°F for about 10 to 15 minutes.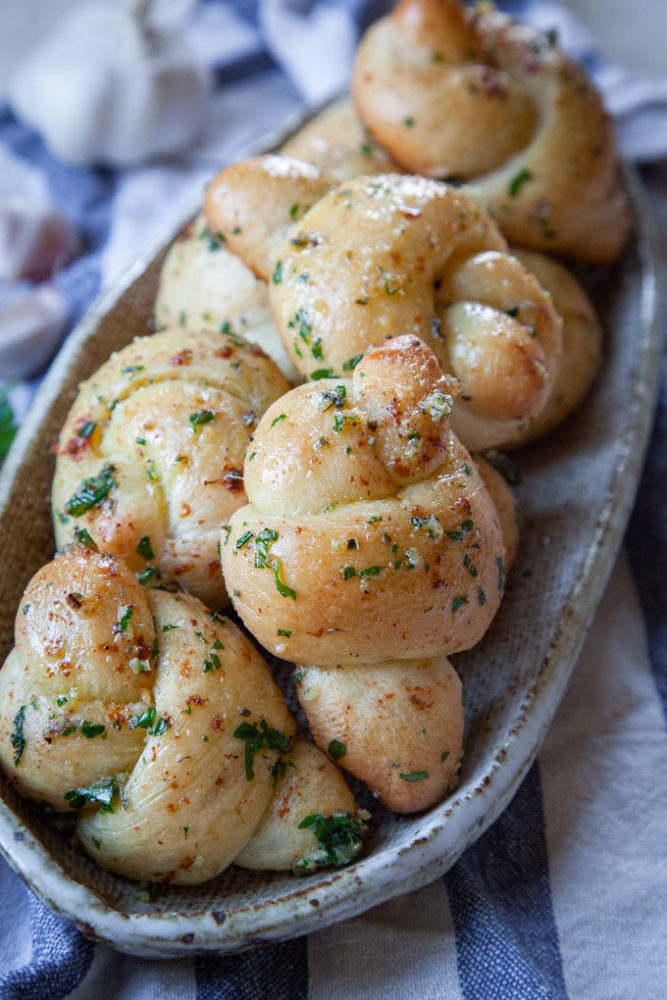 Serve these knots with:
If you like these garlic knots, check out these other bread recipes
Garlic Knots
These buttery and soft garlic knots are easy-to-make using homemade pizza dough or store-bought pizza dough! A quick herb butter sauce is made and brushed over the knots before baking, then the knots are tossed again in the remaining sauce right before serving.
Ingredients
Dough
1/2

cup

+ 2 tablespoons warm water

90 to 100°F

1

teaspoon

brown sugar

1

teaspoon

active dry yeast

1 1/2

teaspoon

olive oil

1 2/3

cup

all-purpose flour

plus additional flour if necessary

1/2

teaspoon

kosher salt
Sauce
1/2

cup

unsalted butter

115 g or 1 stick, plus more if necessary

1

teaspoon

minced garlic

about 1 to 2 medium cloves

1/2

teaspoon

garlic powder

not garlic salt

1/2

teaspoon

dried oregano

3

tablespoons

grated Parmesan cheese

1

teaspoon

kosher salt

2

tablespoons

chopped Italian parsley
Instructions
Pour the warm water into the bowl of a stand mixer. Stir the brown sugar into the warm water to dissolve, then sprinkle the dry yeast into the water. Stir to dissolve and let sit for 5 minutes for the yeast to proof.

At the end of 5 minutes, there should be bubbles and foam at the top of the water. If not, discard and start over with fresh yeast. Add the flour, olive oil, and salt to the bowl.

Stir with the hook attachment, until a rough dough has formed. You might need to scrape down the sides of the bowl. Once a dough has formed, increase the speed to medium and knead the dough for 5 minutes, or until the dough is smooth and elastic. The dough should be slightly tacky but not sticky. If it's too wet, add additional flour, 1 tablespoon at a time until absorbed and the dough is easy to handle.

Pull the dough into a round smooth ball and place the dough in a greased bowl. Cover with plastic wrap and place in a warm area to rise until double in size, about 60 to 90 minutes.

Once the dough has risen, line two baking sheets with silicon baking sheets or parchment paper. Preheat the oven to 400°F.

Divide the dough into 12 equal pieces. Roll each piece into a 7 to 8 inch long rope, about 3/4-inch thick.

Tie each rope into a knot, then place on the baking sheet. Once you made all the knots, cover with plastic wrap and make the sauce.

Place the butter and garlic in a medium-sized skillet or saucepan. Cook over medium heat, until the garlic starts to smell fragrant, about 1 minutes after the butter has melted and the garlic has started to sizzle. Stir in the garlic powder, oregano, and salt.

Remove from heat and stir in the Parmesan cheese.

Brush the top of each garlic knot with about half the warm butter, trying to keep as much of the solids in the skillet as possible. But don't stress too much about it. If some of the solids get on the dough, that's OK! Make sure there's about half of the sauce left for later. Bake in the oven for 12 to 14 minutes, or until the top of the knot is golden brown.

While the knots are baking, pour the remaining sauce into a large bowl. Add the parsley to the sauce.

Once the knots are done baking, remove from the oven and then move each knot to a wire cooling rack. Let cool for 5 minutes, then place a few knots in the remaining garlic sauce and toss to coat. Move to a serving plate and repeat with the remaining knots.

If the butter has cooled and solidified, microwave the sauce for 10 to 15 seconds to warm it up again. If you need to, add additional melted butter to the bowl as you toss and coat the knots to make sure they are completely coated.
Notes
For an easy shortcut, feel free to use store-bought pizza dough instead of making your own.
Nutrition