This moist pumpkin coffee cake is packed with autumnal flavor. It has a pecan streusel crumb topping and a pumpkin spice ribbon in the middle.
I often joke that the world IGNORES pumpkin until September/October, when it is EVERYWHERE. Which I get, because I love my seasonal food. But not a lot of folks actually go through the effort of roasting and using an ACTUAL pumpkin when they make something with pumpkin. They use canned pumpkin, which is available all year long.
I, of course, realize it's an uphill battle and have just resigned myself to using pumpkin mostly in the fall and winter, making pumpkin spice muffins or pumpkin spice latte bread. Which is fine. Other times of the year I'm making a peach and blueberry coffee cake, an Earl Grey infused blueberry coffee cake or a Mexican chocolate and corn coffee cake. But once fall and winter are here, I've got an excuse to make this pumpkin coffee cake with pecan streusel topping!
How do you make Pumpkin Coffee Cake?
For me, a proper coffee needs a crumb or streusel topping. This pumpkin coffee cake is no exception. Start by mixing together flour, sugar, chopped pecans, brown sugar, pumpkin spice, and a little salt in a medium-sized bowl. Drizzle in melted butter and toss until everything starts to clump together. Then refrigerate while you make the rest of the cake!
I like to give my coffee cake a little middle swirl of extra pumpkin spice and sugar as well as a touch of cocoa powder for color. Just blend it all together in a small bowl and set side. You'll thank me later for that.
And then cake batter! It's easy to make. I don't even bother pulling out the stand mixer for this cake. Just use a whisk and blend together sugar, vegetable oil, vanilla extract, pumpkin spice blend, and salt. Then whisk in eggs and some pumpkin puree (not pumpkin pie filling!). Stir in the baking powder, and then fold in the flour.
Spread half the batter into a parchment lined springform pan. Sprinkle the pumpkin spice filling on top of it. Then spread the remaining batter on top of the filling. Then take the cold crumb topping and sprinkle it all over the top of the cake, breaking up any big chunks into small pebble sized pieces. Bake, cool and serve!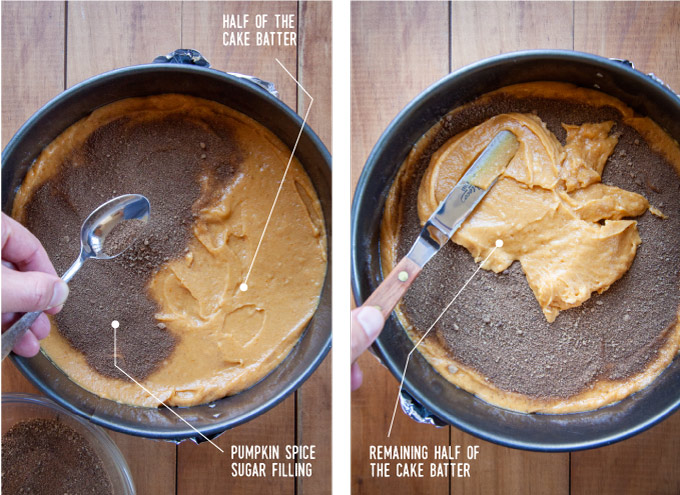 What type of canned pumpkin should I use?
I prefer to use canned pumpkin for this recipe, but not all canned pumpkin is the same! This recipe is tested with Libby's canned pumpkin, which is the leading dominant brand at most grocery stores. It also has less moisture than other canned pumpkin.
If you use Whole Foods or Trader Joe's brand organic canned pumpkin, or another brand of pumpkin puree, you'll want to remove some of the liquid from it. You'll know if your canned pumpkin is thick enough if it has the consistency of thicker Greek-style yogurt. If it's thinner like regular plain yogurt, you have too much moisture.
You remove moisture by either cooking it on the stovetop in a large skillet, stirring constantly until 1 cup and 2 tablespoons of the pumpkin puree has reduced to 1 cup or by blotting 1 cup and 2 tablespoons of pumpkin puree with paper towels until enough moisture has been removed to make it 1 cup.
If you use homemade roasted pumpkin, the resulting pumpkin puree will also be very moist. Reduce 1 1/4 cups of homemade pumpkin puree on the stove over medium heat in a large skillet, stirring constantly, until it reduces to 1 cup. You can try to do the same method as above with paper towels but be aware you'll end up going through a LOT of paper towels to get that much moisture out.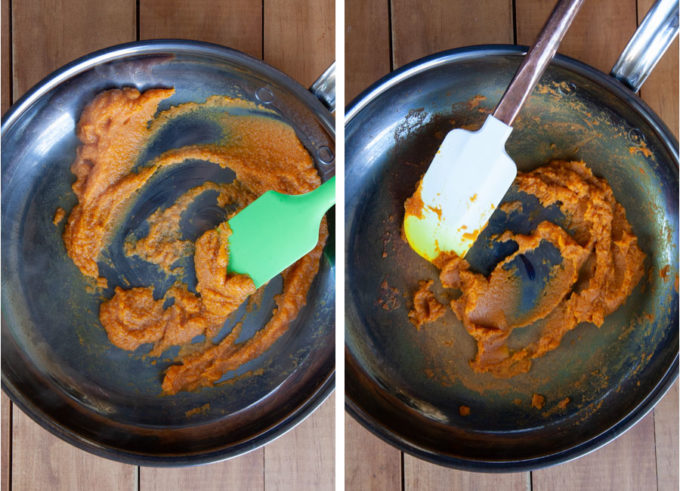 Of course, you can skip this step if you want, and just use the more watery pumpkin puree. Just keep in mind your pumpkin coffee cake will taste less pumpkin-y. Reducing the water increases the pumpkin flavor!
Whatever option you take, opt for pure pumpkin puree only! Avoid the canned pumpkin pie filling which is already packed full of spices and sugar. You want 100% pumpkin for this recipe.
What is pumpkin spice and can you substitute it?
Pumpkin spice, otherwise known as pumpkin pie spice is a blend of various different spices, including cinnamon, ginger, nutmeg and allspice. You can buy it at the store, online (<- affiliate link) or you can make your own custom homemade pumpkin spice blend.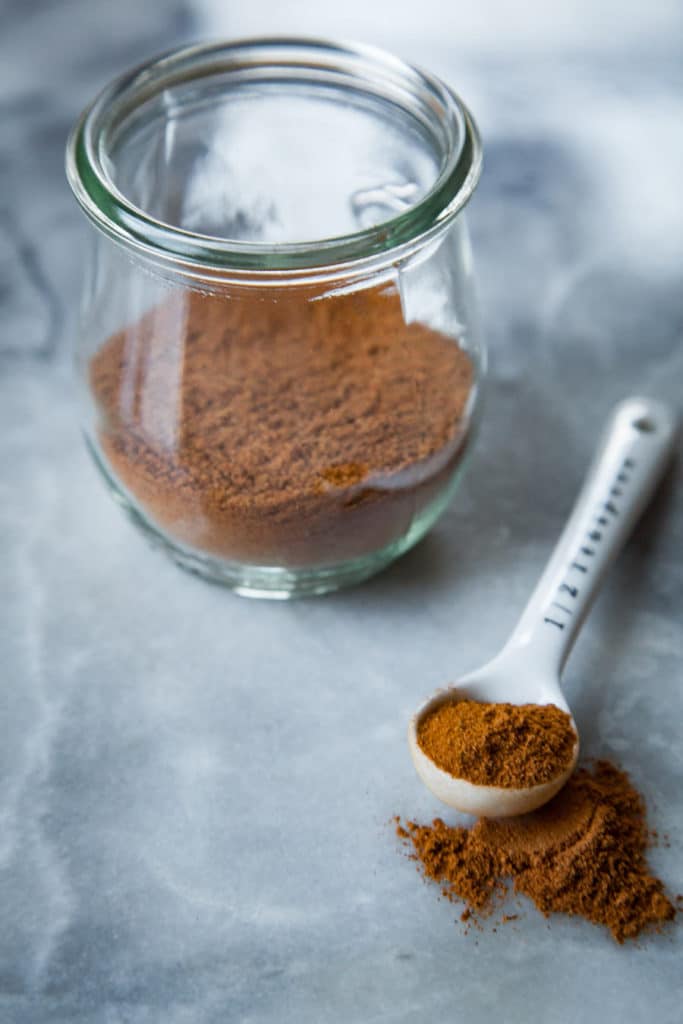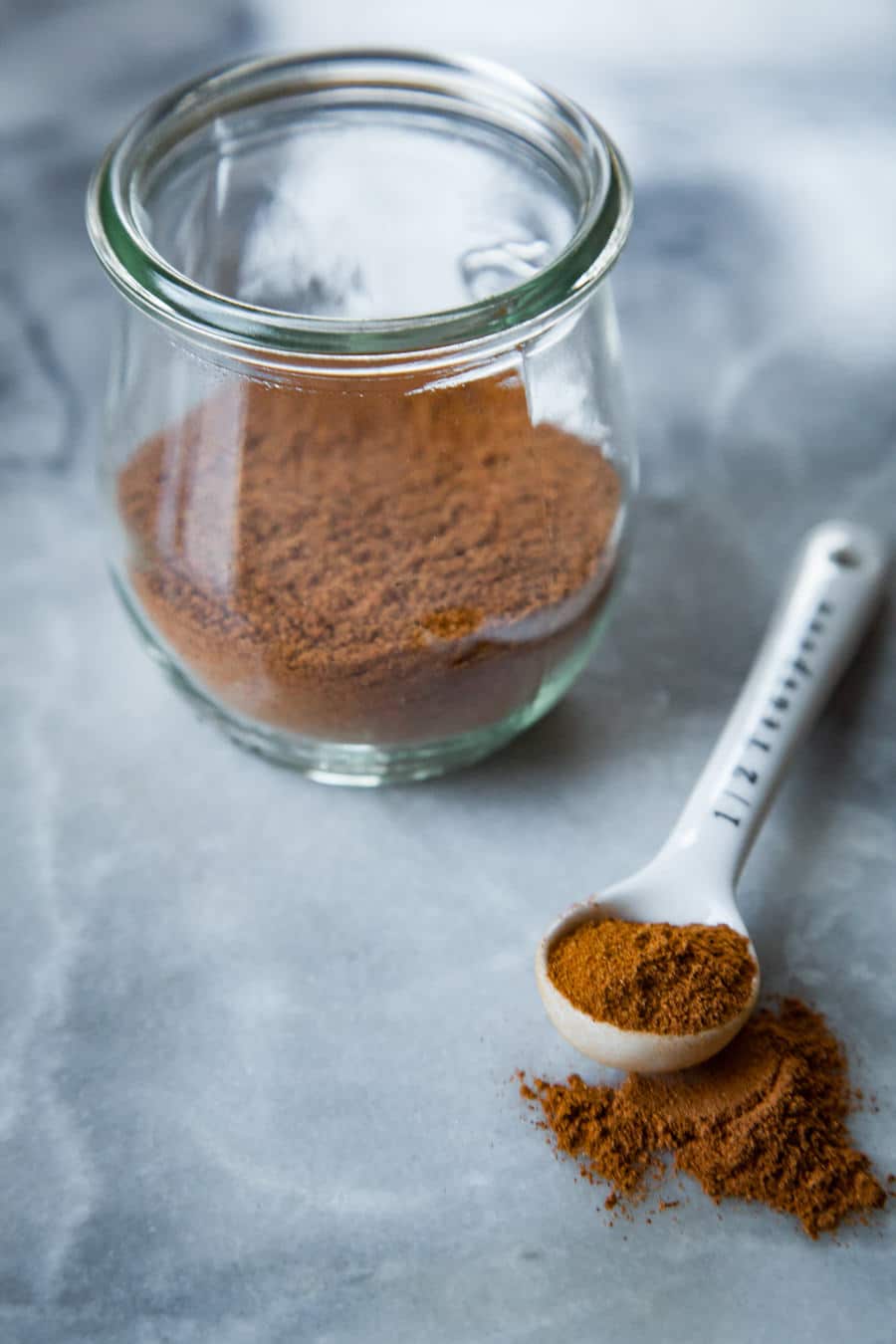 If you don't feel like making a large batch of pumpkin spice, just use 3/4 teaspoon cinnamon, 1/8 teaspoon ground ginger and 1/8 teaspoon nutmeg for every 1 teaspoon of pumpkin spice in the recipe. This is the amount in each component of the recipe:  the streusel topping, the filling, and the cake batter. You can also just substitute the 1 teaspoon of cinnamon for the pumpkin spice, just keep in mind the resulting cake won't quite tastes as complex in flavor.
Can you skip the pecans or substitute something else?
You can easily substitute the pecans for the same amount of chopped nut if you wish. Some great options that taste wonderful with pumpkin include:
Walnuts
Hazelnuts
Almonds
Macadamia
Pistachios
That said, nuts can be a polarizing thing in recipes! Some folks don't like them, others are allergic. If you want to keep a "nutty" flavor to the streusel topping but are allergic to nuts, try substituting an equal amount of roasted cacao nibs, pumpkin seeds or sunflower seeds for the chopped pecans.
If you want to omit the nuts completely, just increase the flour to 1 1/4 cup of flour, and increase the brown sugar to 1/4 cup. You can also substitute 2 tablespoons of the brown sugar for Turbinado sugar, to give extra sweet crunch to the top of the streusel.
Can you use a regular cake pan instead of a springform pan?
I like the ease of the springform pan and how it releases the cake without disturbing the top of the crumb streusel. But if you don't have a springform pan, you can use a regular 9-inch wide cake pan instead. I recommend using one that is at least 2 inches tall however, to accommodate the crumb topping and the rising of the cake.
Make sure to spray or oil the sides and bottom of the pan with cooking oil, and line it with parchment paper. Once the cake is baked and cooled about 30 minutes (it should still be warm to the touch but cool enough to handle with your bare hands), place a cutting board over the top of the pan and invert the cake on it. Peel away the parchment paper and place the serving platter or cake platter upside down on the bottom of the cake. Then flip the cake right-side up. Replace any crumb topping that has fallen off.
Frequently Asked Questions
Can you make this cake ahead of time? How do you store it?
Yes! This cake keeps beautiful for up to 2 to 3 days at room temperature. The pumpkin puree keeps the cake very moist. Just store it at room temperature under a cake dome or covered with plastic wrap.
Can you freeze this cake?
This cake freezes well. You can freeze the whole cake, wrapped tightly in plastic wrapped and slipped into a giant freezer resealable Ziploc bag. But I like to slice up the cake ahead of time and then freeze the individual cake slices on a baking sheet for 2 hours. Once the cake slices have frozen solid, I move the cake to a plastic freezer bag or to a container, stacking the slices between pieces of parchment if necessary. This way I can take out one slice at a time to thaw for my own personal treat! The cake will keep in the freezer for up to 2 months. Just defrost the cake at room temperature for 2 hours before serving.
If you like this pumpkin coffee cake, check out these other coffee cake recipes:
And check out these other pumpkin recipes:
Pumpkin Coffee Cake with Pecan Streusel Topping
This moist and autumnal scented cake is a great way to use leftover pumpkin puree that you might have leftover. The pumpkin makes the cake moist with a lovely toothsome bite, while the pecan crumb topping and pumpkin spice filling makes this a classic. Serve it with tea or coffee in the afternoon or for breakfast on a cold winter day.
Ingredients
Streusel topping
3/4

cups

all-purpose flour

105 g

1/2

cup

white sugar

100 g

1/2

cup

pecans

chopped, 55 g

2

tablespoons

dark brown sugar

1

teaspoon

pumpkin spice blend

see section above about substitutions

1/4

teaspoon

kosher salt

6

tablespoons

butter

melted, 85 g
Cake batter
1

cup

white sugar

200 g

1/3

cup

vegetable oil

corn or canola, 67 g

1

teaspoon

vanilla extract

1

teaspoon

pumpkin spice blend

see section above about substitutions

1/2

teaspoon

kosher salt

2

large eggs

1

cup

pumpkin puree

not pumpkin pie filling, 235 g

1 1/2

teaspoon

baking powder

1 1/2

cups

all-purpose flour

210 g
Instructions
Preheat the oven to 350°F. Place a 9-inch springform pan on a piece of aluminum foil and wrap the bottom of the pan tightly with the foil to keep any cake batter from leaking. Lightly spray the bottom and sides of the pan with cooking oil, then line the bottom with parchment paper. Place on a baking sheet and set aside.

Make the streusel filling by combining flour, white sugar, chopped pecans, dark sugar, pumpkin spice blend and salt in a medium size bowl. Stir together until mixed, then drizzle the melted butter over the dry ingredients, tossing with a fork until the butter has been absorbed and the ingredients have clumped up. Refrigerate uncovered while you prepare the remaining cake.

Make the filling by combining the dark brown sugar, pumpkin spice and cocoa powder (if using) in a small bowl and mixing with a fork until uniform in color.

Make the cake batter by placing the sugar, vegetable oil, vanilla extract, pumpkin spice, and salt in a large bowl. Mix with a whisk until well blended.

Add the eggs, one at a time, until incorporated, making sure the first one is mixed in before adding the second one. Add the pumpkin and mix in.

Add the baking powder and mix to absorb. Add the flour and gently stir it in with a large spatula or wooden spoon until all the flour is absorbed.

Carefully spoon and spread about half the batter into the bottom of the pan. Sprinkle the filling over the top of the batter, leaving about a 1/2-inch margin around the edge of the cake. Carefully spoon and spread the remaining batter over the filling.

Take the cold streusel topping out of the fridge and sprinkle it all over the top of the cake, breaking up any big chunks into small pebble sized pieces. Make sure to cover the entire cake.

Gently tap the cake on a table or counter to release any air bubbles, then bake in the oven 60 to 65 minutes or until a toothpick inserted in the middle of the cake comes out clean. If you have an instant read thermometer, the center of the cake should read 210° F.

Let cool on a wire rack for at least 30 minutes before releasing the sides of the spring form pan and removing the cake to a serving platter.
Nutrition