This pumpkin chocolate chip cookies recipe has the additional bonus of a chocolate pumpkin spice streusel that adds crunchy texture and flavor! (Jump directly to the recipe.)
We are in the middle of October 2017 and I am still in disbelief. 2017 has been a whirlwind of surreal moments, which came right after 2016, a year of equally surreal experiences. And though I see photos of friends in other parts of the country walking down sidewalks lined with trees and their changing leaves, putting on their adorable sweaters and scarves, and drinking their pumpkin spice lattes, San Francisco is in its own little surreal bubble.
With the wildfires up north in Sonoma and Napa, the weather has fluctuated between intensely smoky and unbearable to warm and smotheringly humid with just a hint of hazy to the north. I have friends who live up in wine country, and though all of them I know are safe and alive, many have lost homes. And, sadly, many of those that I don't know weren't able to escape the fires. I spent most of last week inside, near my HEPA air purifier, and just scrolling endlessly through social media staring in disbelief at the destruction. And then I just had to step away from the computer.
Since then, I've been on a bit of a social media break, occasionally checking in, but significantly less than my usual constant endless scrolling, something I have taken to calling "dead see scrolling" because of the completely glazed look on my eyes I get after I've been looking at Facebook and Twitter for too long (I think I may have gotten that term from my friend Meredith, but I'm not 100% sure about that). Part of the break was necessary because I was redesigning this blog (do you like the new look?) and part of it was just a chance for me to get away from the world for a bit. And, as usual, that also meant I went into the kitchen.
I've been trying to use up items in the back of my pantry and freezer that are neglected and recently I unearthed an old can of pumpkin puree from last year. It was still good to go (man, those canned pumpkins have a shelf life) so that meant I needed to figure out what to make. And then, on my doorstep, was a delivery from Fine Cooking magazine. I have a recipe in the current issue of the magazine for Butternut Squash and Swiss Chard Lasagna as part of a greater article on vegetarian main course items for the holidays. In that same issue was also a story on streusel (that magical crumb topping you put on coffee cake, like the stuff I put on my Mexican Chocolate Corn Coffee Cake). And in that wonderful piece, was the idea of putting streusel in cookies.
WHY HAS NO ONE TOLD ME ABOUT THIS IDEA. Suddenly I found myself making a batch of pumpkin spice streusel with cacao nibs and subsequently making pumpkin chocolate chip cookie recipe with streusel IN THE COOKIE. And, just like that, autumn has finally arrived in my household.
Pumpkin Chocolate Chip Cookie Recipe with Pumpkin Spice Streusel
By
Irvin Lin
Don't be put off by the long list of ingredients. The recipe comes together surprisingly fast. The streusel has a few ingredients that aren't common in most pantries, like cacao nibs and turbinado sugar. I've included substitutions as well if you don't want to run out and buy new ingredients. You can make the streusel ahead of time and let it sit in the fridge up to 2 days ahead of time in an airtight container or ziplock bag before or after you bake it (if you bake it ahead of time, just make sure it's completely cool before you store it). Or you can make a double or triple batch of it and freeze it for up to a month for use in the future. One thing to note, the pumpkin in the cookie takes the place of the eggs, so I imagine (though I haven't tested it) that this recipe can easily be adapted to vegan if you want by subbing out the butter with coconut oil or a vegan butter stick. Just skip the step where I brown the butter. If you do try it vegan style, let me know in the comments how it turned out.
Recipe idea inspired by a story in Fine Cooking
Cookie recipe adapted from Sally's Baking Addiction
Ingredients
Streusel
1/2 cup (115 g or 1 stick) unsalted butter
1 1/4 cups (175 g) all-purpose flour
1/4 cup (32 g) cacao nibs or chopped walnuts
1/4 cup (50 g) white granulated sugar
3 tablespoons dark brown sugar
2 tablespoons Turbinado sugar (sometimes called Sugar in the Raw, you can substitute dark brown sugar)
2 tablespoon unsweetened natural cocoa powder (not Dutch-process)
1 teaspoon pumpkin pie spice blend
3/4 teaspoon kosher salt
Cookie batter
10 tablespoons (145 g) unsalted butter
1/2 cup (100 g) white granulated sugar
1/4 cup (55 g) packed dark brown sugar
1 teaspoon vanilla extract
3/4 teaspoon pumpkin pie spice blend
1/4 teaspoon nutmeg
1/4 teaspoon kosher salt
1/4 teaspoon baking powder
1/4 teaspoon baking soda
6 tablespoons (110 g) pumpkin puree (not pie filling)
1 1/2 cups (210 g) all-purpose flour
1/2 cup (85 g) chopped dark chocolate (something you like to eat out of hand)
To finish
1 to 2 teaspoon of flaky sea salt like Maldon or kosher salt
Directions
1. Make the streusel by melting the butter in a large microwave safe bowl until just liquid. Add the remaining ingredients and toss until clumps start to form. Place in the freezer for 10 minutes. While the streusel is chilling, line a baking sheet with parchment paper and preheat the oven to 350ºF. Once the streusel is chill, spread it out on a baking sheet and bake for 12 to 15 minutes, stirring once in-between. The streusel won't change much in color and will still seem soft but will crisp up once you cooled. Let cool to room temperature.
2. While the streusel is baking, make the cookie batter by first placing the butter in a large skillet and cooking on high heat it until it melts. Reduce to medium heat and stir constantly until the milk solids of the butter start to just turn a light shade of brown. Turn the heat off and continue to cook using the residual heat of the pan until the milk solids are golden brown and smell fragrant and nutty. Immediately pour into the bowl of a stand mixer fitted with a paddle attachment, making sure to scrap in all the brown bits.
3. Add the both sugars, vanilla, pumpkin pie spice blend, nutmeg, salt, baking powder and baking soda into the bowl with the browned butter. Turn the mixer to low and stir until all the dry ingredients are moist and incorporated. Add the pumpkin puree and mix until incorporated. Add the flour and mix until the dry ingredients are completely absorbed. Place the cookie dough in the refrigerator for 30 minutes (or overnight).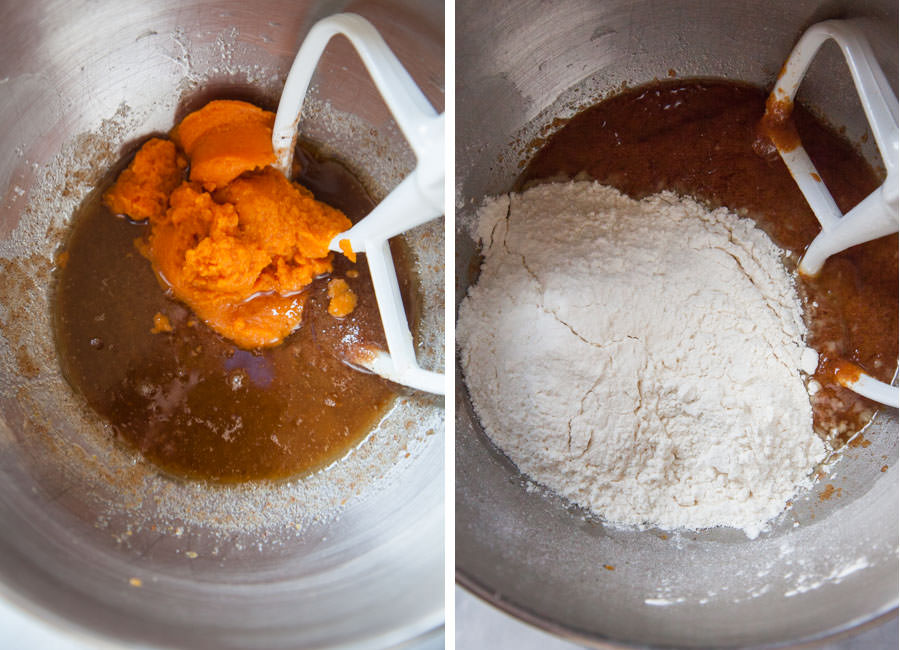 4. Once the dough has chilled preheat the oven back to 350ºF and line a baking sheet with a silicon baking mat or parchment paper. Add the chocolate to the dough, reserving about 1 to 2 tablespoons of the chocolate to garnish the cookies. Add the streusel, reserving about 2 tablespoons of the streusel to garnish the cookie as well. Using a wooden spoon or your clean hands, mix in the chocolate and streusel, folding and squeezing the dough together until the solid parts are incorporated.
5. Pinch off a heaping tablespoon of the dough and roll into a 1-inch ball. Place on the baking sheet and then press down with the palm of your hand to create a 1 3/4-inch round disk. Press some chunks of streusel into the top of the cookie then press a couple of pieces of chocolate into the top of the cookie disk as well. Sprinkle with a pinch of the finishing salt and repeat with the remaining dough.
6. Bake in the oven for 9 to 11 minutes or until the sides of the cookie start to look a little dry. Don't overbake though, you want these cookies to be slightly underdone in the middle. Let them sit on the baking sheet after you've taken them from the oven for 10 minutes to continue to set and cook. Then carefully move them to a cooling rack, the cookies will be a bit soft and fragile but will firm up as they cool.
Makes 24 cookies.