These addictive spiced candied pumpkin seeds made with cinnamon, ginger and other spices only take 5 minutes to make! (Jump directly to the recipe.)
The long thick green vines started to grown along the side of my childhood home in the late summer heading into Autumn. As a kid I didn't really know what it was. My parents had certainly experimented with gardening before and the first house that I lived in had a lovely green gage plum tree in the backyard that we all enjoyed until I moved away at the age of five. But this vine growing next to the house was something different, clearly an accidentally. We had a pumpkin vine growing there, tangling its way down the small grassy green strip adjacent to our house, nestled between the next door neighbor's driveway and our suburban house's powdery pale yellow painted aluminum siding. It was the result of my dad deciding the best way to get rid of a rotten pumpkin that we had carved the year before was to just toss against the side of our house, hoping it would decompose into the earth.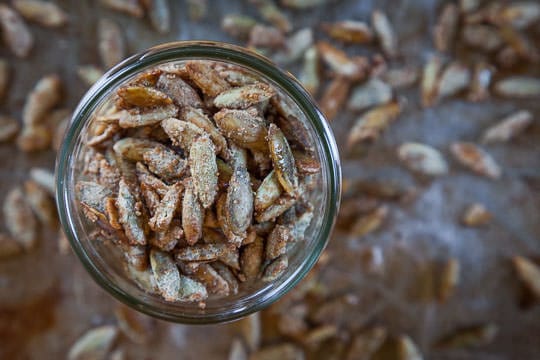 It was the fall of my third grade when I gleefully carved out my pumpkin using whatever dull knife my mom had in the house. In my memory it was enormous, clearly the largest pumpkin in existence, though I'm sure in reality it was medium, maybe even dainty small, in size. But I remember sawing through the top of the pumpkin, around the green brown hard stem, then struggling to pull it up from the round orange behemoth of a gourd. Plunging my hand into the middle of the pumpkin, I pulled out stringy orange gooey and clusters of white seeds. It seemed no matter how much I pulled out, there was still more and I gave up as soon as I had cleared enough out for a candle. I put aside my pumpkin seeds to toast in the oven, just as my grade school teacher told me to do and proceeded to give the pumpkin two triangles for eyes and a jagged grinning smile. My jack-o-lantern was done.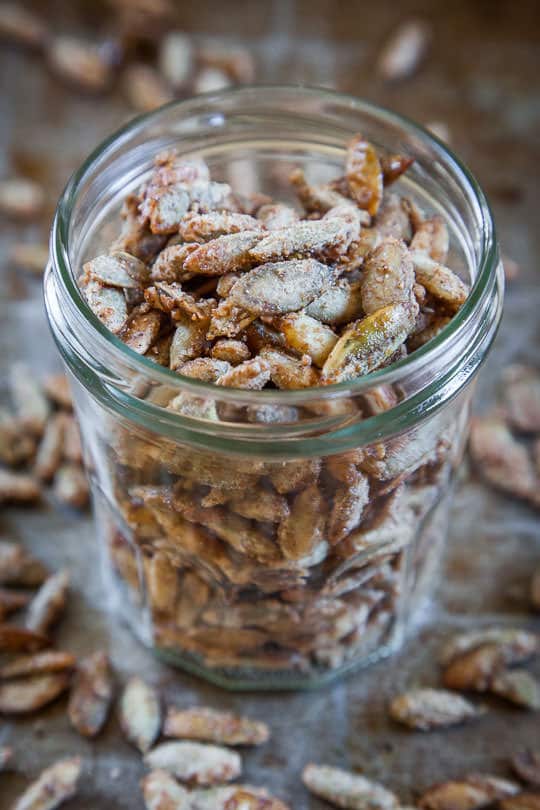 I proudly displayed my piece of art on the front porch of my house, well into the middle of November. The pumpkin had started to go bad, slowly sinking in the middle of the face and getting soft. Patches of mold were starting to form when my dad, complaining to me to throw it away (something I clearly wasn't going to do to my masterpiece, no matter how gross it was looking) finally took matters into his own hand and tossed it into the lawn, assuming it nature would just take it course. A year later, the unruly green vines were growing and it looked like we were going to have home grown pumpkins! I was thrilled with it, but my parents weren't as enthusiastic, as turned out the vines were becoming rather invasive. My dad dug them up, probably cursing me under his breath the entire time, but I got to carve a number of pumpkins that year and I learned a valuable lesson as well. If you don't want to do something, just don't it, and hope that someone else will take care of it. Perhaps if they do, you'll reap some awesome rewards of it down the road as well!
Candied Pumpkin Seeds
By Irvin Lin
These spiced pumpkin seeds are insanely easy to make and only take 5 minutes. So easy in fact, that you don't have to wait for your parent's or your significant other to make them. Since I don't have a front porch I can proudly display my jack-o-lantern, I rarely carve my own pumpkins. So instead, I buy pepitas, raw pumpkin seeds, as the grocery store (you can find them in upscale or natural food grocery stores in the bulk bin, at specialty stores like Trader Joe's or at Mexican grocery stores) then candy them on the stove top. Sweet and spicy with a nuttiness, these make great snacks and can even be packaged and given as an easy gift if you're feeling all DIY. Feel free to substitute or even leave out the spices can be omitted if you just want candied pumpkin seeds or don't really care for any of those specific spices.
Ingredients
3/4 cup (105 g) raw pumpkin seeds, sometimes called pepitas
1/2 cup (57 g) confectioner's (powdered) sugar
1/2 teaspoon cinnamon
1/4 teaspoon cloves
1/4 teaspoon ground ginger
1/4 teaspoon nutmeg
1/4 teaspoon sea salt
1 tablespoon vodka
Directions
1. Line a rimmed baking pan with a sheet of parchment paper.
2. Place all the ingredients in a medium pot. Turn the heat to medium high and cook, stirring with a wooden spoon constantly, until most of the liquid has evaporated. Continue to stir until the pumpkin seeds start to pop and the sugar starts to caramelize on the bottom of the pan. Pour the seeds onto the lined baking sheet and let cool completely before serving.
Makes 3/4 cup candied pumpkin seeds.
If you like these candied pumpkin seeds, try these other pumpkin seed recipes from around the web:
The Healthy Apple's Sesame Roasted Pumpkin Seeds
Comfort of Cooking's Salted Caramel Pumpkin Seeds
Sippity Sup's Roasted Pumpkin Soup with Toasted Pumpkin Seeds
Running to the Kitchen's Pumpkin Seed Nut Bread
Recipe Girl's Oatmeal Pumpkin Seed Bread