This stunning pumpkin star bread has a beautiful golden orange hue from the pumpkin puree in the dough, and is easier to make than it looks!
The weather is finally turning cooler in my hometown of San Francisco and the quality of light has the autumnal color in the air that feels cooler and crisp. All of which means I want to get into the kitchen and bake more than usual. And I usually always want to bake! And like everyone that is obsessed with pumpkin nowadays, I've gone through my old favorites like pumpkin spice latte bread, pumpkin chocolate monkey bread, pumpkin chocolate chip cookies and pumpkin snickerdoodle as well as my recent pumpkin bread pudding. But this time I wanted to make something a little more special occasion, so I created a pumpkin star bread with dried cranberries. It's an impressive looking baking project that is actually much easier to make than it looks. Which, as we all know, is my favorite sort of baking project!
What is a star bread?
A star bread is a star-shaped bread that is often made with an enriched dough and layered with a filling, commonly chocolate or cinnamon. It's a festive bread that has been cut and shaped into a star.
How do you make this star bread?
Making a star bread is easier than it looks! First you make an enriched bread dough, which involves yeast. Dissolve and proof the yeast in warm milk, then knead in egg, flour, oil, and sugar. My version also has pumpkin puree, pumpkin pie spice and brown sugar. Let the dough rise in a warm place until double in size.
While the dough is rising, make the filling by combining brown sugar, pumpkin pie spice and chopped cranberries. Melt some butter in a small bowl.
Once the dough has risen, divide it into 4 parts. Roll out each piece into a circle. Brush the dough with some of the butter, then sprinkle 1/3 of the filling over it. Place another dough circle over the filling, stacking it on top of the previous dough, and repeat, until you have a stack of dough and filling.
Then place a small cup or cookie cutter in the center and cut the dough into quarter strips. If you are looking at the circle, cut at the 12-o'clock, 3-o'clock, 6-o'clock and 9-o'clock positions. Then cut between each of those strips, making 8 even strips, then cut in the middle again, to cut make 16 even strips.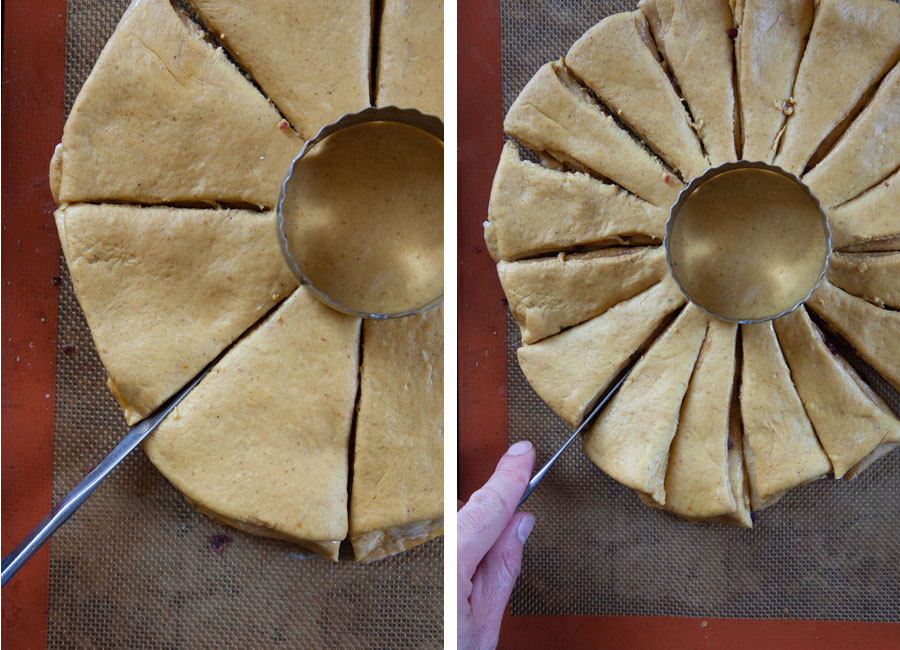 Take two strips next to each other, twist opposite each other, then press the ends together. Repeat with the remaining strips to form a star. Let rise while you pre-heat the oven, and then brush with an egg wash and bake. Once baked, cool on a wire rack, dust with powdered sugar, and then serve.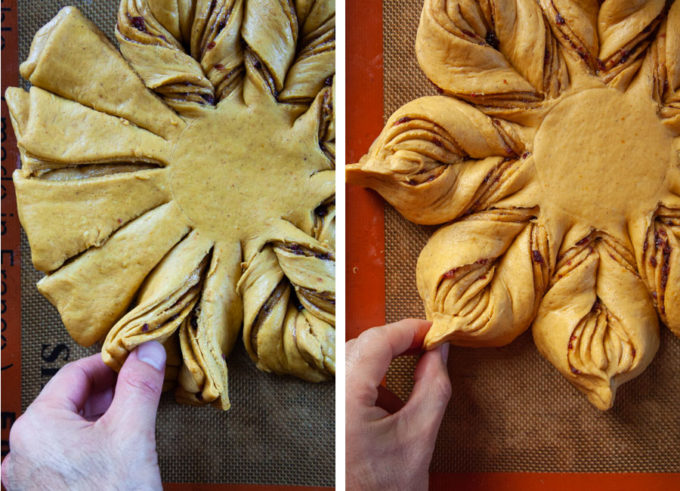 If the above process photos are a little confusing for you, feel free to watch this video as well, which shows you how to stack and form the star bread.
Can I use instant or rapid rise yeast instead of active yeast?
This recipe is designed for active dry yeast. But you can substitute instant or rapid rise as well. For instant yeast, just sprinkle it in with the flour. There is no need to add it to the warm milk to dissolve. For rapid rise yeast, just use half the amount of yeast in place of the full amount. Or use the same amount rapid rise yeast and keep an eye on the dough. It will rise in about half the time, so check it after 30-45 minutes.
Can I hand knead the dough if I don't have a stand mixer?
Yes! If you don't have a stand mixer with a dough hook, just make the dough by hand like you would a traditional bread dough. Proof the yeast in the milk, stir in the wet ingredients and pumpkin puree with a balloon whisk, then add the dry ingredients, mixing with a stiff wooden spoon until most of the flour is absorbed.
Dump the mixture on a clean floured surface and start kneading the dough by hand. Knead the dough for 6 to 7 minutes, or until the dough is smooth and elastic. Continue with the recipe as directed.
Can I swap out the dried cranberries for something else?
Yes! I used dried cranberries because they're a sweet and tart compliment to the pumpkin flavor and they look festive for the upcoming holidays. But feel free to substitute the same amount of any chopped fine dried fruit or nuts that you like or have on hand. Some of my favorite swaps include:
Golden raisins
Dried cherries
Dried blueberries
Dried currants
Black raisins
Dried figs
Prunes
Pistachios
Pecans
Walnuts
Hazelnuts
Almonds
Crystallized ginger
Can I swap out the filling?
Yes! If you don't want to use this filling, you can make this will a different filling all together. Use about 2 to 3 tablespoons of filling spreading it thin to the edges of the dough between layers. Try not to go too heavy with the filling, as it might burn or make the bread heavy and soggy. A thin layer is all you need. Here are a few suggestions:
Cinnamon sugar
Dulce de leche
Nutella
Cocoa and sugar blend, with chopped chocolate chunks
Mocha blend with cocoa powder, instant espresso and sugar
Pumpkin butter or apple butter
Jam or preserves
Compound butter with fresh chopped herbs and or garlic
Shredded cheese, like Cheddar or Mozarella
Pesto or pizza sauce (try sprinkling the top with parmesan cheese as well after the egg wash)
What is pumpkin puree? Can I make my own?
Pumpkin puree is cooked pumpkin that comes in a can. When buying pumpkin puree, be sure to look for pure pumpkin puree and not pumpkin pie filling. Do not use pumpkin pie filling, it has sugar and spices already added to it and this recipe is not designed for it.
You can also make your own pumpkin puree by roasting a small sugar or pie pumpkin in the oven. Cut the pumpkin in half, scoop out the seeds and stringy bits, then roast in a 400°F oven for 45 to 60 minutes. Let it cool and then scoop out the flesh and puree it in the food processor or blender until smooth.
Don't use a large pumpkin when you make pumpkin puree. Those are designed for decoration and jack-o-lanterns and are very watery and don't have any taste. Look for a small 4 to 5 pound pumpkin that is labeled pie pumpkin or sugar pumpkin.
Keep in mind that homemade pumpkin puree will often be more watery than canned puree. And some canned puree has more water than others. I tested this recipe using Libby's canned pumpkin puree because it is the most common pumpkin puree found in grocery stores. If you find your puree is soft or liquidy (from my experience, often organic brand pumpkin purees have more water in it) try cooking down the puree on the stove to drive off some of the water. Or if you have already added it to the dough and it seems too sticky, compensate by adding more flour to the dough, a tablespoon at a time.
What is pumpkin pie spice? Can I substitute?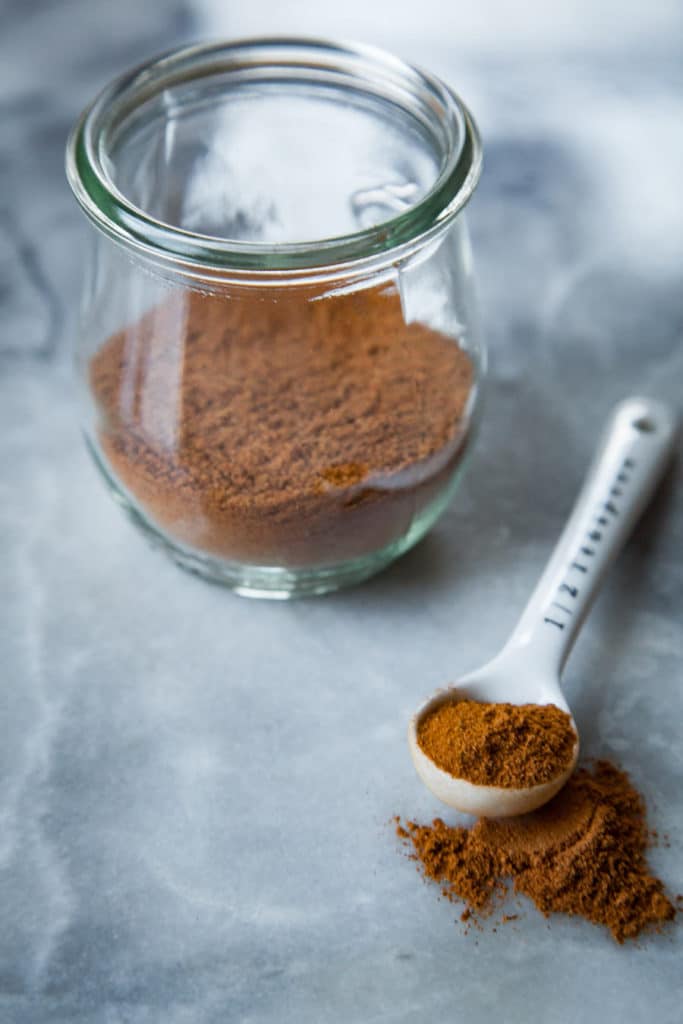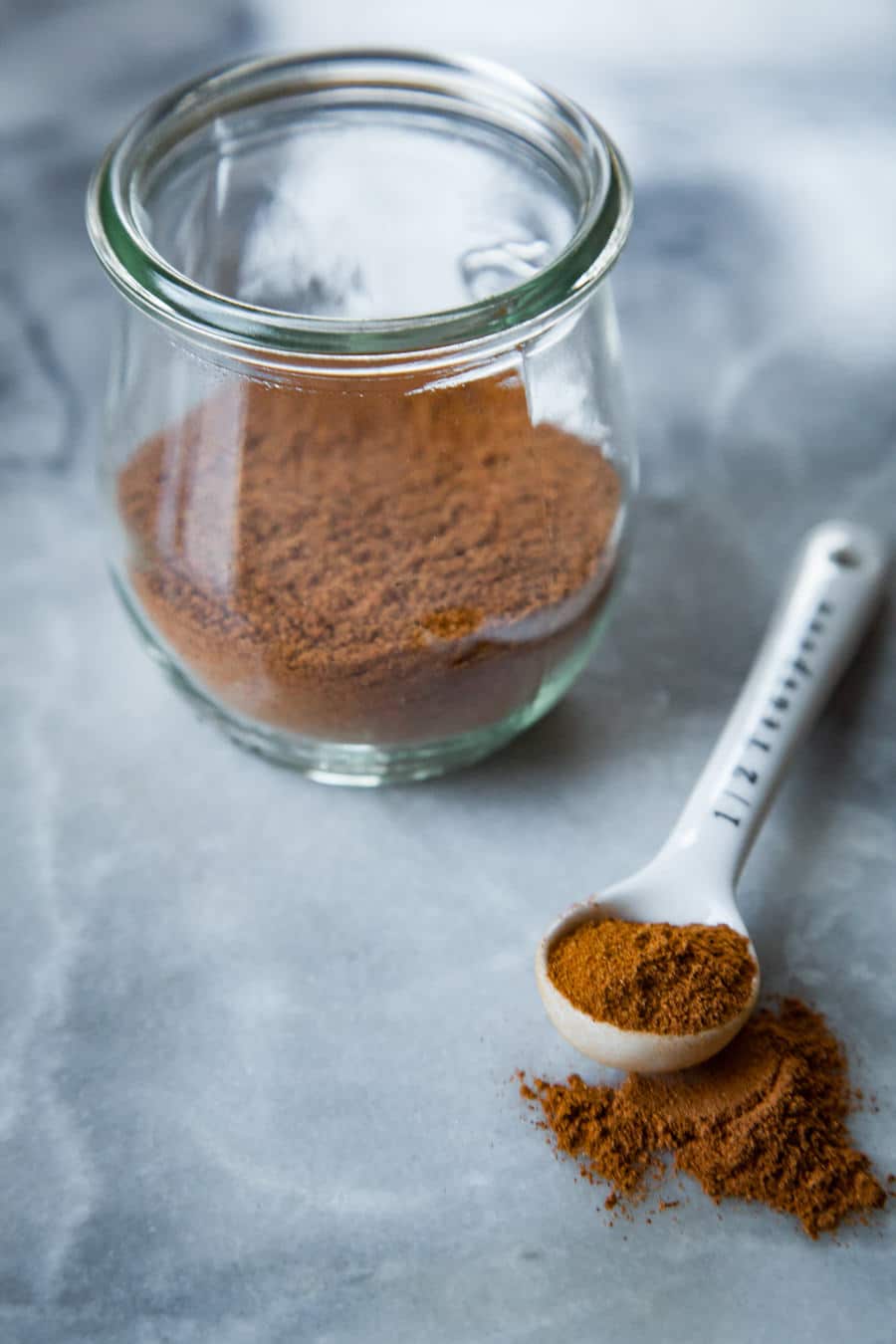 Pumpkin pie spice is a popular spice blend that is dominantly cinnamon, with secondary spices like nutmeg, ginger, allspice or cloves blended in. It's used in a lot of baked goods and is the dominant flavor in pumpkin spice lattes. You can buy pumpkin pie spice blend at the grocery store or you can make your own using my homemade pumpkin pie spice blend recipe here on my blog! But if you don't feel like blending your own batch of spice, feel free to substitute in 3/4 teaspoon cinnamon, 1/8 teaspoon nutmeg and 1/8 teaspoon ground ginger in place of the pumpkin pie spice blend for the dough and the filling.How do you store pumpkin star bread?
Like all enriched dough, this bread is best eaten the day it is baked. But you wish to make this ahead of time or you have leftovers, cool it completely and then store in an airtight container or under a cake dome for up to 2 days at room temperature. Keep in mind that it will progressively get stale, but you can refresh it a bit by heating it up in a toaster oven or in the oven at 350°F for 5 minutes. You should dust it with fresh powdered sugar before serving again, as powdered sugar gets absorbed into the bread.
If you like this pumpkin star bread, check out some of these other sweet yeasted breads
Pumpkin Star Bread with Dried Cranberries
This beautiful, golden orange bread hits all the autumnal notes, with pumpkin puree in the dough itself, along with a touch of pumpkin pie spice blend. Don't be scared of the long recipe below or the form of this bread. I've given lots of tips and tricks on how to make it, and it's significantly easier than it looks. I've even included a video to show you how to form the dough if you wish to watch it. Feel free to swap out a different dried fruit for the dried cranberries or use one of the alternative filling suggestions above.
Ingredients
Dough
1/4

cup

milk

any kind

2 1/4

teaspoon

active dry yeast

(see section above for substitutions)

3/4

cup

pumpkin puree

190 grams, not pumpkin pie filling (see section above for substitutions)

1/4

cup

packed golden brown sugar

55 grams

1

large egg

1

tablespoon

vegetable oil

1

teaspoon

pumpkin pie spice blend

homemade or store bought (see section above for substitutions)

1

teaspoon

vanilla extract

3 to 3 1/4

cups

all-purpose flour

420 grams (more if necessary, see section about pumpkin puree for more info)

1

teaspoon

kosher salt
Filling
3

tablespoon

dark brown sugar

1

teaspoon

pumpkin pie spice blend

homemade or store bought (see section above for substitutions)

1/4

cup

dried cranberries

chopped fine (see section above for subsitutions and customizations)

3

tablespoon

unsalted butter

melted
To Finish
1

large egg yolk

Powdered sugar
Instructions
Make the dough by heating the milk on the stove briefly until warm, this should only take 15 to 20 seconds or so, depending on your stovetop. Sprinkle the yeast over the milk and stir with a fork to dissolve.

Pour the yeasty milk into the bowl of a stand. Add in the pumpkin puree, brown sugar, egg, oil, pumpkin pie spice, and vanilla. Using a balloon whisk, stir the ingredients together, breaking up any pumpkin or brown sugar clumps.

Add 3 cups of flour and salt to the dough. Using the dough hook attachment, slowly stir together with the mixer until the dough starts to form together. Increase the speed to medium low and knead the dough until it is smooth and elastic, about 4 to 5 minutes.

If you notice the dough is very sticky, this might be because the pumpkin puree has more liquid in it. Add more flour, 1 tablespoon at a time to compensate. But don't do this until the dough has been kneading for about 1 to 2 minutes. Often times all the flour hasn't been incorporated yet, and dough that seems sticky will smooth out and absorb more flour, becoming less sticky in the kneading process. The final dough should be ever-so-slightly tacky but not sticky.

Once the dough has been kneaded, lightly coat a large bowl with cooking oil, then gather the dough into a smooth ball by pulling the edges of the dough down. Place the rough side of the ball of dough into the bottom of the oil bowl, cover with plastic wrap or a damp cloth, and then place in a warm area to rise. Let the dough rise until double in size, about 60 to 90 minutes.

While the dough is rising, make the filling by combining the brown sugar, pumpkin pie spice blend, and chopped cranberries into a bowl.

Once the dough has risen, dump it onto a clean surface and divide it into 4 parts. Cover three parts of the dough with plastic wrap to keep them drying out. Take the fourth dough and gently form it into a ball. This seems fussy, but making it into a ball will help form a more round disk when you roll it out.

Place the ball on a silicon baking mat or piece of parchment paper, then roll it out into a thin 10-inch circle. I found the silicon baking mat is easier because it doesn't slide around on the countertop. But you can use the parchment paper, just be aware of it as you roll the dough out.

Once the thin circle is formed (use your fingers to help stretch it to form a circle if there are uneven edges), brush about 1 tablespoon of the melted butter over the circle, then sprinkle about 1/3 of the filling over the butter. It will look pretty thin, barely covering the surface. That's to be expected. Resist the temptation to add more filling, as it will make forming the bread harder.

Take another piece of dough, form a ball, then roll it out into another thin 10-inch circle of dough on a clean surface. I don't bother to flour my surface, as I want a little bit of "grip" on the surface to help me roll it out, but if you find your dough too sticky, you can add a little flour. Move the dough to the top of the first circle, stretching out any edges to help cover the first dough and form a better circle. Gently use a rolling pin to press the dough down onto the first disk of dough, pushing out any air bubbles.

Repeat the process, brushing the dough with melted butter and sprinkling the filling over the butter. Roll out the third and fourth dough pieces in the same manner, creating a 10-inch stack with 4 layers of dough, and 3 layers of filling sandwiched between. Do not put any filling on the top layer.

Lift and slide the silicon mat or parchment paper onto a rimmed baking sheet.

Gently place a 2 1/2 or 3 inch round cookie cutter in the middle of the dough circle. You can use a cup if you don't have a cookie cutter, you just need something round to guide your cuts. If your bread is on a silicon mat use a dull butter knife or plastic dough scrape to cut down into the circle, from the edge of the dough to the edge of the cookie cutter. Do this at the top, bottom and sides (12-o'clock, 6-o'clock, 3-o'clock, and 9-o'clock positions if you pretend the circle is a clock).

Now cut between each division again, making 8 pieces. Then cut each piece one more time in the middle, making 16 even strips.

If your dough is on parchment paper, you can use a sharper knife or a pizza cutter if you wish. But use a dull knife or plastic scraper on the silicon mat, so as not to damage it.

Remove the cookie cutter and take two adjacent strips next to each other and twist them away from each other making one or two full twists. Then press the tips of the strips together to form a point. Repeat around the bread, continuing to twist and form points. You should have 8 points, and the center of the bread will look like a star.

Cover the bread with plastic wrap, and preheat the oven to 350°F. Let it preheat for about 20 minutes while the bread rests again.

After the 20 minutes, the bread will be a little puffy but won't rise a huge amount. Press together any ends that may have pulled apart after the rest. Beat the egg yolk with one tablespoons of water, then brush the bread with the egg wash. Bake the bread for 24 to 27 minutes, or until the bread looks golden brown on top. If you have an instant read thermometer, the center of the bread should read about 190°F.

Let the bread rest on the baking sheet for 10 minutes before loosening it from the parchment paper or silicon mat with a spatula. Move the bread carefully to a wire rack to let it cool. Dust with powdered sugar and serve.
Video
Nutrition