Pumpkin isn't just for dessert! These pumpkin cinnamon rolls with an easy caramel cream cheese drizzle make for a fabulous breakfast treat as well! (Jump directly to the recipe.)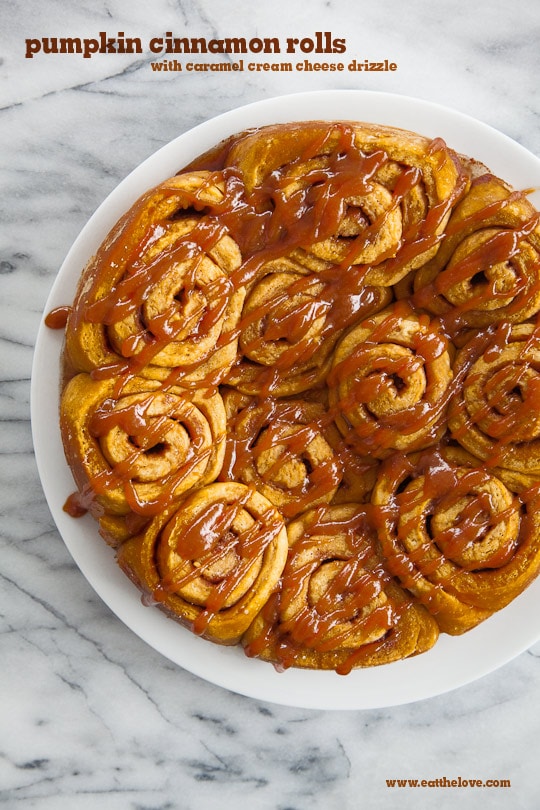 "Um…well it's a little underdone…" said my friend Tina when I leaned over and asked her how my pumpkin cinnamon rolls with caramel cream cheese drizzle were. I had showed up to a brunch with them a couple of weeks ago and everyone seemed pretty impressed with them when I walked in. Of course that was before they had actually taken bite.
Turns out that the rolls I had brought with me were slightly undercooked. Well, raw and doughy in the middle actually. That's the problem with developing a recipe and bringing it to a brunch untested. When people invite me over, they often expect me to bring something sweet, and this time I had was actually asked to bring something. It's a bonus of having me as a friend. I'm witty, charming and I always have baked goods with me. At least I like to think of myself as witty and charming but maybe my friends are just hanging out with me for my baked goods.


Regardless I always try to warn people that if I bring something over, it's usually a test run and there are no guarantees on the quality. And 9 times out of 10 it's not a problem. But let's face it, every now and then is a miss. So back to the drawing board it was for these pumpkin cinnamon rolls. All I can say is that it was a good thing I had brought another sweet treat with me, my pumpkin bundt cake.
After testing it a few more times I realized the recipe itself is still solid, it just needed more time in the oven. You'd think I'd be sick of pumpkin by now, but you'd obviously be wrong. Tomorrow is Thanksgiving and I can't wait for pumpkin pie. Until then, I'll just nibble on this pumpkin cinnamon roll.
Pumpkin Cinnamon Rolls

with Easy Caramel Cream Cheese Drizzle

By Irvin Lin

The addition of cooked down pumpkin puree makes these cinnamon rolls bright orange and extra pumpkin flavored but if you are too busy to cook down the puree, just skip that step and use 1 cup of the uncooked puree, saving the rest from the can for another project. Just make sure to use canned pumpkin puree and not the pie filling version which has added sugar and spices. And don't skip the caramel cream cheese drizzle. It's super easy to make with the microwave and it really adds something to the rolls!

Adapted radically from Baked Elements by Matt Lewis and Renato Poliafito
Ingredients
Dough
15 oz canned pumpkin puree, not pie filling (see note above)
1 1/2 cups (225 g) white whole wheat flour or all purpose flour
2 cups (320 g) bread flour or all purpose flour
1 tablespoon (1 1/2 packages) active dry yeast
1 teaspoon sea salt
1 teaspoon ground cinnamon
1/2 teaspoon ground ginger
1/4 teaspoon ground nutmeg
6 tablespoons (3 oz, 85 g or 3/4 stick) unsalted butter at room temperature
1/2 cup milk
1/4 cup maple syrup
1 large egg
Filling
1/2 cup (110 g) dark brown sugar or maple sugar
1/4 cup (50 g) white granulated sugar
2 teaspoon ground cinnamon
1/2 teaspoon ground ginger
1/4 teaspoon ground nutmeg
1/4 teaspoon sea salt
4 tablespoon unsalted butter, melted and divided
Caramel Cream Cheese Drizzle
1/2 cup (100 g) white granulated sugar
1 tablespoon light corn syrup
1 tablespoon water
2 tablespoon cream cheese
2 tablespoon butter, unsalted
1/2 teaspoon sea salt
Directions
1. Spray the bottom and inside sides of a 10-inch springform pan with cooking oil and place a 10-inch round piece of parchment paper on the bottom of the pan.
2. Place the pumpkin puree in a large nonstick skillet and cook on medium high heat, stirring constantly and scraping the bottom of the skillet with a wooden spoon or other hard heatproof spatula, until the puree is reduced to 1 cup, about 5-7 minutes. Remove from heat and let cool slightly.
3. While the puree is cooling, combine the flours, yeast, salt and spices in the bowl of stand mixer fitted with a paddle attachment. Cut the butter into 1/2 inch chunks. Turn the mixer on to slow speed to stir the dry ingredients for 5-10 seconds. While the mixer is on, add the butter chunks, one or two at a time, until incorporated into the dry ingredients. Stir the milk, maple syrup and egg together in a small bowl and drizzle into the stand mixer while it is turned on medium slow speed. Scrape in the puree (it should still be warm, that's OK) and turn the speed up to medium. Mix for about 3 minutes, or until a soft dough forms and is slightly sticky.
4. Remove the dough from the bowl and transfer it to a clean bowl that has been sprayed with cooking spray. Cover with plastic wrap and set aside for 30 minutes to rest. In the meanwhile, make the filling by combining the sugars, spices and sea salt together in a medium bowl. Drizzle half (2 tablespoons) of the melted butter over the ingredients and toss together with a fork, reserving half the butter for later.
5. Once the dough has rested, flour a clean surface and place the dough on the surface. Roll the dough out into a 20 x 10 inch rectangle, with the long side facing you. Brush the dough with half the melted butter (1 tablespoon) reserving the last remaining tablespoon of better for later. Sprinkle the filling over the buttered dough and roll the dough up from you (so you have a roll that is 20 inches long). Cut the dough into 12 even pieces and place them (roll side up) in the springform pan. Brush the remaining tablespoon of butter over the rolls and cover with plastic wrap.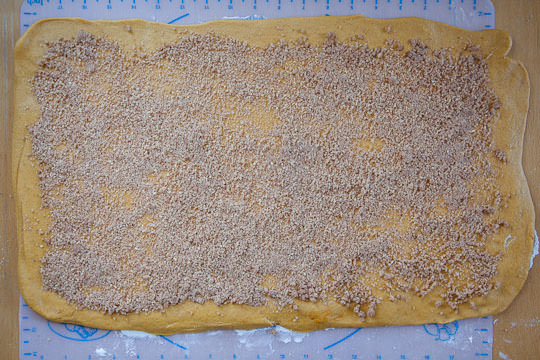 6. Let the dough rise for about 45 minutes in a warm place, or until they have doubled in size. Preheat the oven to 350˚F for about 15 minutes before they are done rising and then bake the rolls, with the springform pan placed on a rimmed baking sheet or pizza pan to catch any drips, for about 35-40 minutes or until the top of the rolls are browned. Remove from oven and let cool while you make the caramel cream cheese drizzle.
7. Make the caramel cream cheese drizzle by putting the sugar, corn syrup and water in a large heatproof and microwave safe glass measuring cup. Stir together and the heat on high in the microwave for 2-3 minutes. Start watching the microwave at about 2:15 and pay attention to the color of the liquid. Once it starts to brown (which happened after 2: minutes and 45 seconds passed for me) stop the microwave and pull the glass out of the oven. Watch the liquid continue to darken. Swirl it every now and then, but wait for it to darken to the color of dark rum or bourbon. Add the cream cheese and butter to the liquid (carefully, it will sputter up) and stir with a fork until incorporated. Let the caramel cool a bit until it has thickened to the consistency of honey, stirring occasionally. Once it's pourable, release the sides of the springform pan and drizzle the caramel over the top and sides of the cinnamon rolls. Serve warm.
Makes 12 pumpkin cinnamon rolls.
If you like these cinnamon rolls, check out my Super Quick Cinnamon and Spice Breakfast Rolls recipe using baking soda and powder instead of yeast!
And while you're at it, check out these other awesome cinnamon rolls from around the web:
Gimme some Oven's Caramel Apple Cinnamon Rolls
Crazy for Crust's Zucchini Cinnamon Rolls
Completely Delicious' Cranberry Orange Cinnamon Rolls
Diethood's Chocolate Cinnamon Rolls
Girl versus Dough's Gingerbread Cinnamon Rolls