This easy-to-make pumpkin bread uses an entire can of pumpkin puree and has a sugar pumpkin spice crust on the sides and top!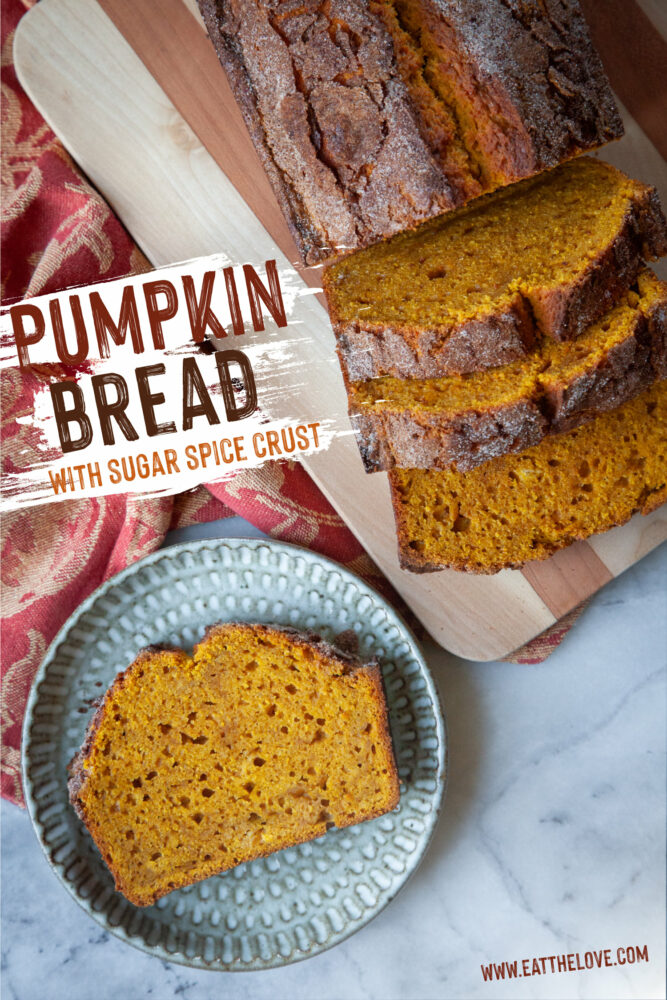 Though I loathe to let go of summertime and its bounty of berries and stone fruit, once the weather turns cooler I do get a slightly tinge of excitement for fall. We don't have deciduous trees here in San Francisco, something I missed terribly from growing up in the Midwest. But that doesn't stop me diving headfirst into pumpkin. I'm not a pumpkin spiced latte type of guy, though I do stand by my excellent pumpkin spiced latte bread recipe as one my favorite treats. But pumpkin bread pudding, pumpkin star bread, pumpkin chocolate chip cookies, pumpkin coffee cake, pumpkin muffins with cream cheese filling and pumpkin cheesecake will all start to appear soon in my apartment. However, the first pumpkin recipe to show up this Autumn in my kitchen is a classic pumpkin bread, a quick bread that is easy to make, and something I realized I've never shared here.
How do you make pumpkin bread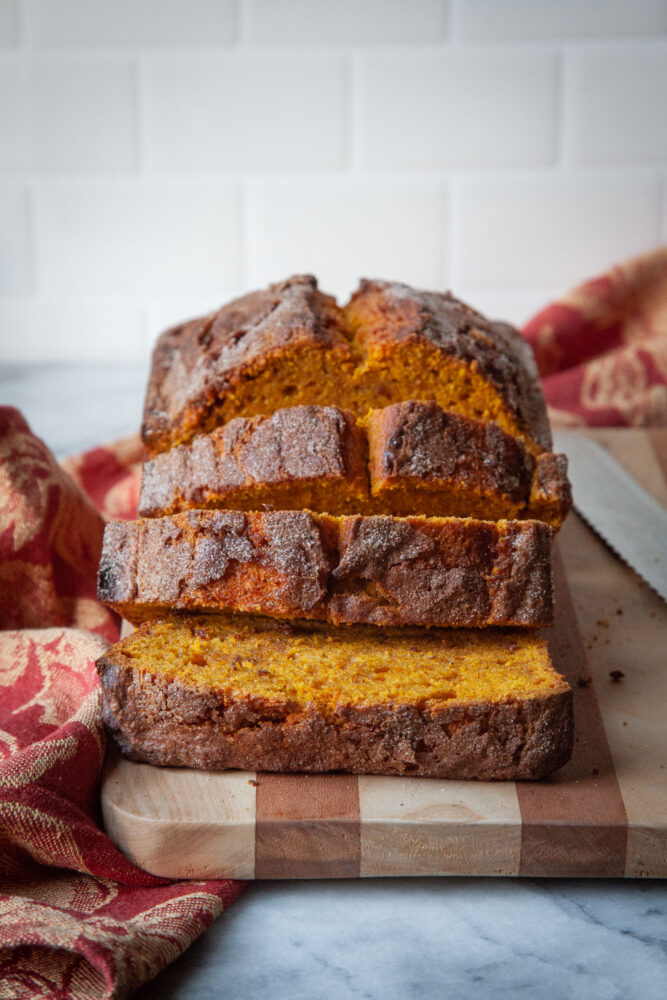 Pumpkin bread is a quick bread, which means it's a simple batter bread that is risen by chemical leaveners like baking powder and baking soda.
To make pumpkin bread, combine pumpkin puree (not pumpkin pie filling) with oil, melted butter, eggs, sugar, brown sugar, baking powder, salt, and pumpkin pie spice blend together. Fold in flour, then pour into a prepared pan. Sprinkle with some pumpkin pie sugar on top and bake. Super easy and so satisfying!
What makes this pumpkin bread different?
Most pumpkin bread use a small amount of pumpkin leaving you with leftover pumpkin to figure out what to do. I use the entire can of pumpkin puree (1 3/4 cups) to make an extra large loaf!
Beyond that, I use a generous amount of pumpkin pie spice, a blend of cinnamon, ginger, nutmeg and cloves, to help accentuate the pumpkin flavor. You can use a store-bought version of pumpkin pie spice or you can make your own.
But the best, and most different, thing about this recipe is the sugar and spice coated sides and top that it has! I first brush the sides of the pan with melted shortening, then I dust it with a blend of sugar and pumpkin pie spice. Then I use the remaining pumpkin pie spice sugar on top, creating a delightful sugar coating that elevates this standard pumpkin bread recipe to be my go-to favorite easy pumpkin recipe.
What sort of pumpkin should you use?
I tested this recipe with Libby's canned pumpkin puree. It's the most common pumpkin puree that is available at nearly every grocery. If you opt for a different brand of pumpkin puree you might find the puree is lighter in color and more watery than Libby's. That's fine for this recipe but in other recipes, like my pumpkin chocolate chip cookies, the extra moisture might affect the texture.
Do not use canned pumpkin pie filling, which has spices and sugar added to the filling. This recipe is not designed for pre-made pumpkin pie filling, so be sure to check the label to see if it says 100% pure pumpkin.
You can also use homemade pumpkin puree if you'd like. I recommend using a smaller "sugar pumpkin" or "pie pumpkin" instead of those larger pumpkins, which are flavorless and grown just for decoration. Smaller sugar pie pumpkins will be labeled as such. Just cut the pumpkin in half, and scoop the seeds out. Roast the pumpkin, cut side down, on a rimmed baking sheet in a 400°F oven for 45 to 60 minutes, or until the flesh is tender and pulls away from the skin. Scoop out the flesh and puree it in a food processor.
Keep I mind that homemade pumpkin puree is more watery than the stuff you find in the can. This won't affect this specific pumpkin bread recipe but it will affect other recipes. In most recipes, I like to cook the pumpkin puree in a skillet to drive off some of the moisture to get a firmer puree with more pumpkin flavor. Just cook twice the amount of pumpkin puree that is needed for the recipe until it has been reduced to the desired amount in a large skillet, preferably a nonstick pan, stirring constantly.
What is pumpkin spice?
Pumpkin pie spice, often referred to as pumpkin spice, is a blend of warm wintery spices. It's commonly a blend of mostly cinnamon, with smaller amounts of ginger, cloves, and nutmeg.
I have a recipe for how to make your own pumpkin pie spice on this blog. You can also add other complementary spices to your pumpkin pie spice blend, like black pepper, cardamom or allspice. For more ideas, check out my blog post on homemade pumpkin spice.
If you don't wish to make a large batch of pumpkin spice, just use 1 teaspoon of cinnamon, 1/2 teaspoon ginger, and 1/4 teaspoon of nutmeg in place of the pumpkin pie spice blend for the sugar topping, and the same amount of spices for the bread batter.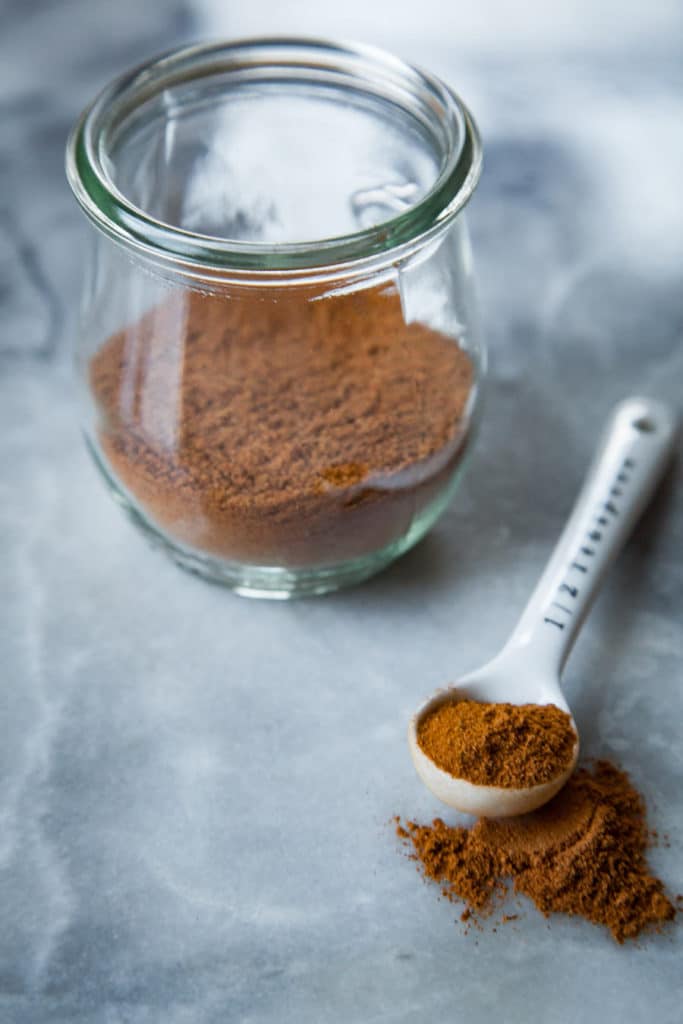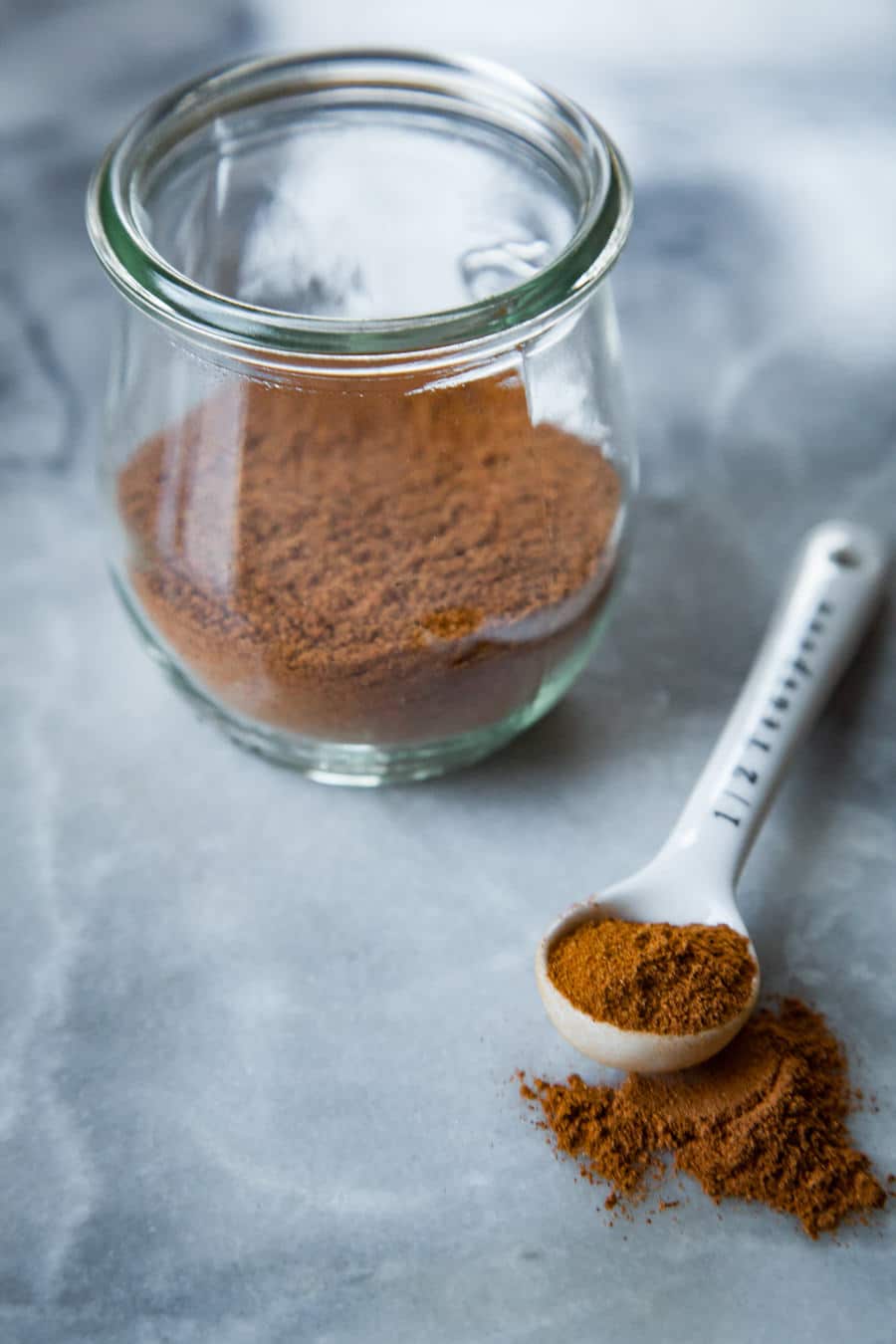 Customize it
This pumpkin bread is very customizable. Here are a few ideas to make it your own:
Chocolate chips and chunks: Make this a chocolate chip pumpkin bread by adding in 1/2 cup of semi-sweet chocolate chips or chopped dark chocolate right before baking.
Candy chips: Try adding in 1/2 cup of cinnamon or butterscotch chips to this pumpkin bread before baking.
Nuts: Fold in 1/2 cup of chopped nuts like pecans, walnuts, or pistachios into the batter before baking.
Seeds: Add in 1/2 cup of pumpkin seeds or sunflower seeds, or sprinkle some roasted seeds on top of the loaf instead of the pumpkin pie spice sugar.
Dried fruit: Add 1/2 cup of dried cranberries, dried cherries, dried blueberries or golden raisins to this batter.
Brown Butter: Cook 1/2 cup plus 2 tablespoons of unsalted butter in a medium skillet until the butter is fragrant and milk solids have turned golden brown. Let it cool slightly (about 5 to 10 minutes) and pour it into the bowl in place of the melted butter and oil
How do you store pumpkin bread?
Store this pumpkin bread in an air tight container or under a cake dome for up to 3 days. Or freeze it in a resealable freezer Ziploc bag for up to 2 months.
If you like this pumpkin bread, check out these other quick bread recipes:
Pumpkin Bread
This warm and comforting pumpkin bread is like eating a slice of autumn! It's easy-to-make and uses the entire can of pumpkin puree, which means you won't have any leftover. It does make a large loaf, so make sure to use a large loaf pan, one that is 9 x 5 inches in size. Do not use canned pumpkin pie filling which has additional spices and sugar added to it. This recipe is not designed for pumpkin pie filling. You can use store bought pumpkin pie spice, make your own, or use a substitution (see my section above).
Ingredients
Bread batter
1 3/4

cups

pumpkin puree

not pumpkin pie filling, 15 oz, 425 g or 1 standard can

1/4

cup

vegetable oil

1/4

cup

unsalted butter

melted, 57 g or 1/2 stick

3

large eggs

1

cup

white sugar

200 g

1/2

cup

packed light brown sugar

110 g

2

teaspoon

baking powder

3/4

teaspoon

kosher salt

1 1/2

teaspoon

pumpkin pie spice blend

see note above for substitution

1

teaspoon

vanilla extract

2 1/4

cups

all-purpose flour

315 g
Instructions
Preheat the oven to 350°F.

Make the topping and sugar crust by combining the white sugar and pumpkin pie spice blend together in a small bowl. 

Take the melted shortening and brush it all over the inside of a large 9 x 5-inch loaf pan. Sprinkle half of the pumpkin spice sugar blend all over the bottom and sides of the pan, pouring out any loose spiced sugar back into the bowl.

Make the bread batter by placing the pumpkin puree, vegetable oil, melted butter, eggs, sugar, brown sugar, baking powder, salt, pumpkin pie spice blend and vanilla in a large bowl. Mix thoroughly with a whisk until well blended.

Add the flour and gently fold until most of the flour is absorbed. If there are a few dots of dry flour left, that's ok.

Pour the batter into the prepared pan and spread out evenly.

Sprinkle the top with the remaining pumpkin spice sugar.

Bake 70 to 80 minutes, or until a toothpick or skewer comes out clean. If you have an instant read thermometer, the internal temperature should be somewhere between 200°F and 205°F.

Let bread cool for 5 minutes on a wire rack, then gently invert and place upright on the cooling rack to cool to room temperature. Replace any of the sugar crust that has fallen off.
Nutrition
Calories:
455
kcal
|
Carbohydrates:
72.7
g
|
Protein:
6.7
g
|
Fat:
16.6
g
|
Saturated Fat:
6.2
g
|
Cholesterol:
85
mg
|
Sodium:
75
mg
|
Potassium:
320
mg
|
Fiber:
2.7
g
|
Sugar:
42.2
g
|
Calcium:
98
mg
|
Iron:
3
mg