This rich and easy-to-make pumpkin bread pudding is the perfect autumnal dessert, elevated with the addition of brown butter and dried cranberries.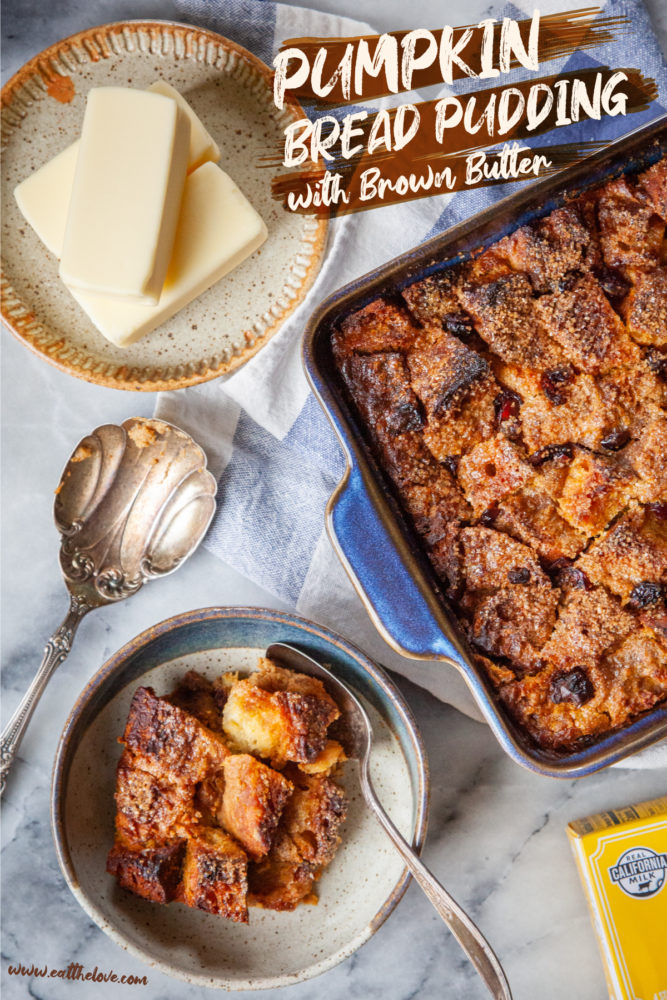 This post was sponsored by Real California Milk. I was compensated for this post and developing this recipe. However, all opinions below are my own. To find more recipe inspiration visit the Real California Milk website.
Things are cooling off here in San Francisco and I'm getting snuggly cozy in my woolen socks and comfy sweater. And with cooler weather, that also means comfy baking projects with pumpkin! I've made various pumpkin recipes in the past like pumpkin snickerdoodles, pumpkin chocolate chip cookies with streusel topping, pumpkin spice latte bread, and pumpkin coffee cake. But lately I've been craving an easy-to-make yet rich and decadent dessert. That's when I came up with this pumpkin bread pudding made with brown butter and dried cranberries! It hits all the right autumnal notes, with warm spices from the pumpkin pie spice blend, as well as the tart dried cranberries and earthy pumpkin. Using Real California butter, melted and cooked into a nutty and fragrant brown butter, just takes this fast and easy sweet treat up a notch!
What is bread pudding?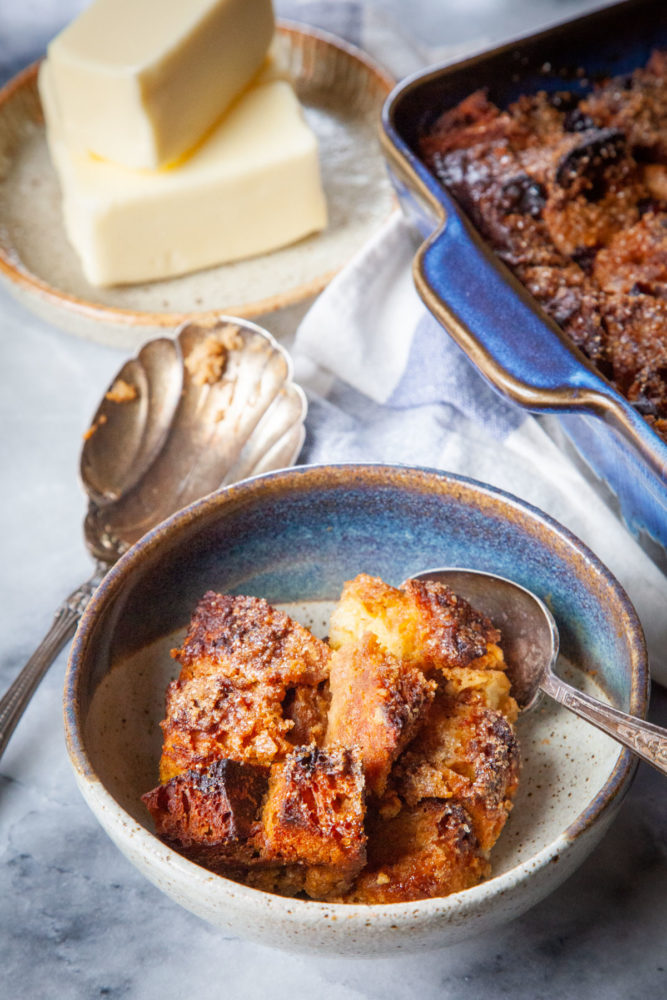 Bread pudding is simple dessert made from dried bread that has been soaked in a custard mixture of eggs, milk, sugar and (in this particular recipe) brown butter, pumpkin puree and spices, then baked. Often there is also an addition of dried fruit like raisins or dried cranberries. The result is a rich custardy dessert similar to French toast but more with a dessert twist, equal parts luxury and comfort.
How to make pumpkin bread pudding with brown butter
Most bread pudding starts out with stale or dried bread. Cut the bread into cubes, and soak it in a custard mixture of milk, eggs and sugar. This particular bread pudding ups the flavor factor by first making brown butter then tossing the bread pudding with the brown butter to infuse it with toasty nutty richness.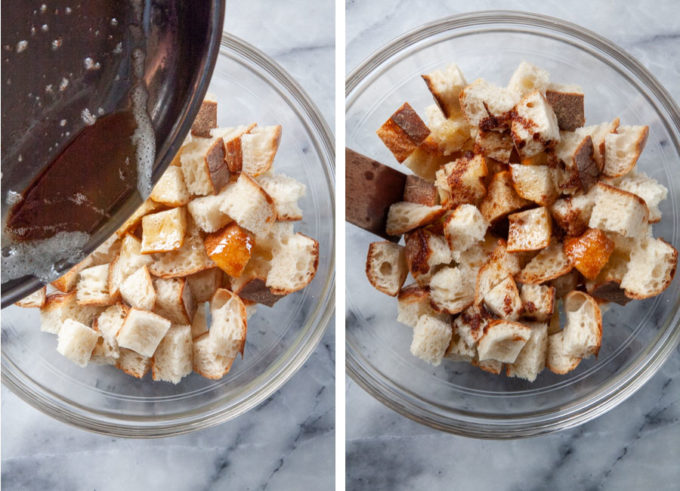 Once the bread has absorbed the brown butter, you soak the bread in a custard made with pumpkin puree, spices, egg, milk and sugar. Let the bread soak overnight if you want a more silky and soft bread pudding. Sprinkle with a little bit of turbinado coarse sugar and bake until set.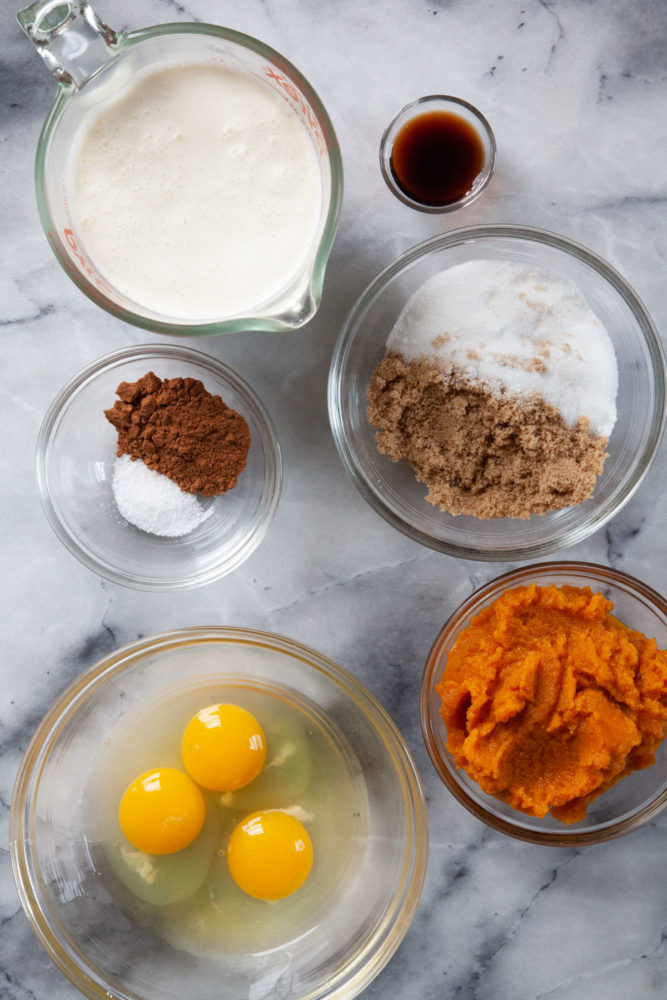 What is brown butter and how do you make it?
Brown butter, sometimes referred to by its French name "beurre noisette" which literally translates to hazelnut butter, is exactly what it sounds like: butter that has been cooked until the milk fat has caramelized and browned. I always use Real California butter for my baked goods, which is sustainably sourced and comes from California family farms. The French name comes from the nutty smell that occurs when you make brown butter.
To make brown butter, place the butter in a large skillet, preferably one that is silver or light colored, so you can see the color of the butter as it melts. Cook the butter on high heat, stirring constantly, until the butter is completely melted. Then reduce the heat to medium low and continue to cook, stirring constantly, until the solid milk fat has started to turn golden brown and the butter smells nutty and fragrant.
I like to turn the heat off when I start seeing some brown form, letting the residual heat of the pan continue to cook the butter. If you need to turn the heat back on to nudge the butter a little more to brown, that's much easier than burning the fat, which means you have to start all over! Once you have brown butter, just pour it directly into the cubed bread, making sure to scrape and add any brown bits as well, which is additional flavor!
Can I use different dried fruit?
I use dried cranberries in this recipe, but you omit the crabercan substitute the same amount of dried fruit (or even a blend) of your choice. Some of my favorite other dried fruits that go well with pumpkin include:
black raisins
golden raisins
dried cherries
dried blueberries
dried currants
dried figs, chopped into 1/2-inch chunks
dried prunes, chopped into 1/2-inch chunks
dried dates
Can I substitute pumpkin pie spice blend?
If you don't have a ready-made pumpkin pie spice blend in your cabinet, you use my pumpkin pie spice blend recipe to make your own. But if you don't feel like making up an entire batch of pumpkin spice, feel free to use 1 teaspoon cinnamon, 1/2 teaspoon ground ginger and 1/2 teaspoon ground nutmeg in place of the spice blend in the recipe.
Customizing the recipe:
Different add-ins: I already mentioned above how to swap out different dried fruit. But you can further customize the recipe and putting your own spin on it by adding in up to a cup of chopped chocolate, chopped nuts like pecans, walnuts or hazelnuts, or adding different spices like black pepper, cloves, cardamom, or mace. You can also add up to 3 tablespoons of chopped crystallized ginger to give the bread pudding some sweet spicy kick.
Fresh fruit: Try omitting the dried fruit and adding in 1 apple that has been peeled, cored, and chopped into 1/2-inch chunks. Or use the same amount of fresh cranberries or blackberries in place of the dried cranberries.
Swap out sugar: Try using maple sugar instead of the brown sugar to punch up the autumnal flavor even more.
Extracts and flavors: Reduce the vanilla extract to 1 teaspoon and add in an additional 1 teaspoon of rum extract, almond extract, or orange extract. Or add in an additional 2 to 3 tablespoons of golden rum, bourbon, whiskey, or kahlua to the custard along with the vanilla to give the dessert an adult twist.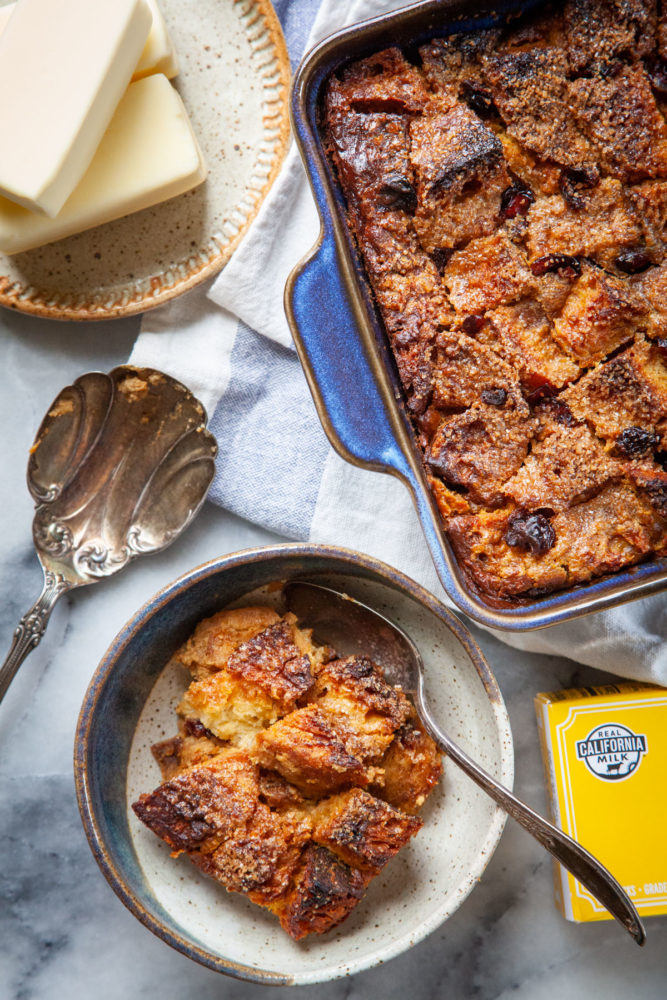 Tips and tricks for the best bread pudding
Use the right bread: I prefer to use a thick and crusty bread for this recipe, as it will soak up the custard more. A rustic country loaf, ciabatta, baguette, French or Italian loaf will all work well. You can also make it more luxurious by using challah bread which has egg in it. Or go all the way and use stale croissants! Just don't use a soft bread like sandwich bread, or milk bread. It has too much initial moisture and will lead to a soggy and mushy bread pudding.
Prep the bread: The bread should be dry before making the bread pudding. The easiest way to do this is to cut the bread into cubes and leave it out on a baking sheet to dry out overnight. But if you don't have time or wish to make the recipe on the same day with fresh bread, just cube the bread and place it in a preheated oven at 250°F for 8 to 10 minutes, or until the bread feels dry to the touch but still light in color. Don't toast the bread until it's brown, you want it dry, not crispy.
Soak the bread in custard overnight: This isn't a requirement, but I prefer to soak my bread overnight in the fridge. This means I can make the recipe ahead of time, and also it allows the bread cubes to absorb the custard, which gives more flavor with every bite. If you don't have time to soak the custard overnight, cut the bread into small cubes (1/2-inch cubes instead of 1-inch cubes). The smaller size bread pieces will soak up the custard faster.
Make ahead and storage
You can make this recipe ahead of time and store it in the fridge up to 24 hours. Just bake it directly from the fridge if your baking vessel is metal or explicitly says can handle the extreme temperature change (from cold fridge to hot oven) and add an additional 5 to 10 minutes to accommodate the cool bread pudding. If you're unsure about your baking pan's ability to withstand thermal shock (if it's ceramic or glass) just set the pan on the counter for an hour to warm up a bit first.
Be sure to sprinkle the turbinado sugar over the top of the bread pudding right before you bake it.
If you have leftovers, store the bread pudding in an airtight container and refrigerate for up to 5 days. You can reheat in the oven or in the microwave.
I don't recommend freezing this bread pudding. The pumpkin puree and the custard base will lead to a watery and mushy thawed dessert. Best to eat it while it's fresh.
If you like this bread pudding recipe, check out some of these other fall desserts:
Pumpkin Bread Pudding with Brown Butter and Dried Cranberries
This rich and luscious bread pudding is a notch above other bread puddings with the addition of brown butter. The dried cranberries can be swapped out for other dried fruit, just see my note above for recommendations. I also recommend preparing the dish first and letting it sit covered overnight in the fridge, so the custard can be fully absorbed by the bread. But if you don't have time, cut the bread into 1/2-inch cubes instead, and just let the bread soak for 15 minutes while the oven preheats, then bake it.
Ingredients
1/2

cup

Real California unsalted butter

1 stick or 115 g

8

ounces

day old crusty bread cut into 1-inch cubes

227 g

1/2

cup

dried cranberries

60 g

1

cup

Real California heavy cream

1

cup

Real California milk

1

cup

canned pumpkin puree

not pumpkin pie filling, 227 g

1/4

cup

packed brown sugar

55 g

1/4

cup

white sugar

50 g

3

large eggs

2

teaspoon

vanilla

2

teaspoon

pumpkin pie spice blend

1/4

teaspoon

kosher salt

2

tablespoons

turbinado sugar

or additional white sugar
Instructions
Place the butter in a medium-sized skillet (preferably one with a silver bottom) and turn the heat to medium high. Cook the butter, stirring constantly, until it completely melts, then reduce the heat to low. Continue to cook the melted butter gently, until the milk solid particles start to turn golden brown and smell nutty and fragrant. Turn the heat off and continue to stir, letting the pan's residual heat continue to brown the butter.

Place the crusty bread cubes in a large bowl and pour the butter over bread. Add the dried cranberries and then toss together to coat the bread completely. Pour the mixture into an 8 x 8-inch pan (coated pan with additional butter if desired) , scraping out any remaining butter in the bowl onto the bread. Evenly spreading the bread in the pan.

Place the heavy cream, milk, pumpkin puree, brown sugar, white sugar, eggs, vanilla, pumpkin pie spice, and salt together in the used bowl (no need to clean it out). Whisk together to combine.

Pour over the custard bread, making sure all the bread is covered. Dunk the bread in the custard with a fork or spatula to make sure all the bread is coated.

If you are baking the same day, turn the oven to 350°F and let the custard absorb into the bread for 15 minutes. Then sprinkle the turbinado sugar (or additional white sugar) over the top of the bread pudding and bake in the oven for 40 to 45 minutes. The top of the bread pudding should be golden brown, and a butter knife inserted in the middle of the pudding should come out clean.

If you are baking the bread pudding the next day, cover the pan with plastic wrap and let it sit in the refrigerator overnight for the bread to absorb the custard. The next day preheat the oven to 350°F and sprinkle the turbinado sugar (or additional white sugar) over the top of the pudding. If your pan is metal, or can go from refrigerator to oven, put it in the oven directly and bake for 65 to 75 minutes. If the pan is glass or ceramic, put the bread pudding on the countertop for an hour to warm up a bit, then bake in the oven for 55 to 65 minutes. Let cool for 15 minutes before serving warm.
Nutrition