This apple and prunes slab pie with a dash of brandy and wintery warm spices like cinnamon, cloves, and nutmeg can be made ahead of time and sliced into easy-to-serve portions for a larger holiday crowd!
This post was sponsored by California Grown. I was compensated for this post and developing this recipe. However, all opinions below are my own.
Fall is here and I'm officially ready for it! As the produce starts to shift at the grocery store I keep seeing some of my favorite Autumn and Winter fruit come into season. Figs are everywhere, which means I'm making my fig focaccia and my fig financiers. And all the heirloom apples are also arriving, which means apple pie! Fried apple pies, open-faced brown butter apple pie, and caramel apple pie bars are all in heavy rotation. But one of my favorite sorts of pies are slab pies! These apple slab pie with brandy and prunes is the perfect example. They're almost like a cross between apple pie bars and true apple pie, with a thinner filling per crust ratio.
This apple slab pie also feed a crowd, for all those casual gathering that you might find yourself attending that require…some physical distance (if you know what I mean). Cut the pie into smaller slices and leave them on the buffet table for folks to serve themselves. No fuss, no mess! This is the recipe you will want for the upcoming holidays!
What's a slab pie?
A slab pie is a pie that is made in a small rimmed rectangular sheet pan or baking pan. Because of this, there is a larger crust to filling ratio in most slab pies. Slab pies are perfect for larger gatherings as they can be cut ahead of time into smaller pieces, serving more people.
How do you make a slab pie?
Make a slab pie requires a 9 x 13 x 1-inch rimmed baking sheet, or a 9 x 13 x 2-inch baking pan (the kind you might make brownies or a sheet cake in). If you use the 2-inch tall baking pan, I recommend spraying it lightly with cooking oil, then lining it with parchment paper, so you can easily remove the pie once it's done baking for easier serving. If you use a rimmed 1-inch tall baking sheet, lining the pan isn't necessary and you can bake the pie directly in the pan!
As with all pies, you make a crust first. Place flour, salt and cold butter that has been cubed in a large bowl. Smash the butter with your fingers, to break them up. Then drizzle water over the ingredients, tossing with a fork until a crust forms. Divide the dough into two disks, wrap tightly with plastic wrap, and then refrigerate for 2 hours. You can also make the pie dough the day before and let it chill overnight.
While the dough is chilling, chop the prunes roughly into 1/2-inch pieces, and then let them steep in the brandy for the 2 hours while the crust is chilling.
Once the brandy has finished steeping, combine the prunes and brandy with the sliced apples, brown sugar, flour, cinnamon, cloves, nutmeg, and salt to make the filling.
Roll out the first disk of dough into a rough 11 x 15 rectangle then fit it into the 9 x 13-inch pan. Pour the filling into the pan and distribute it evenly into the pastry dough.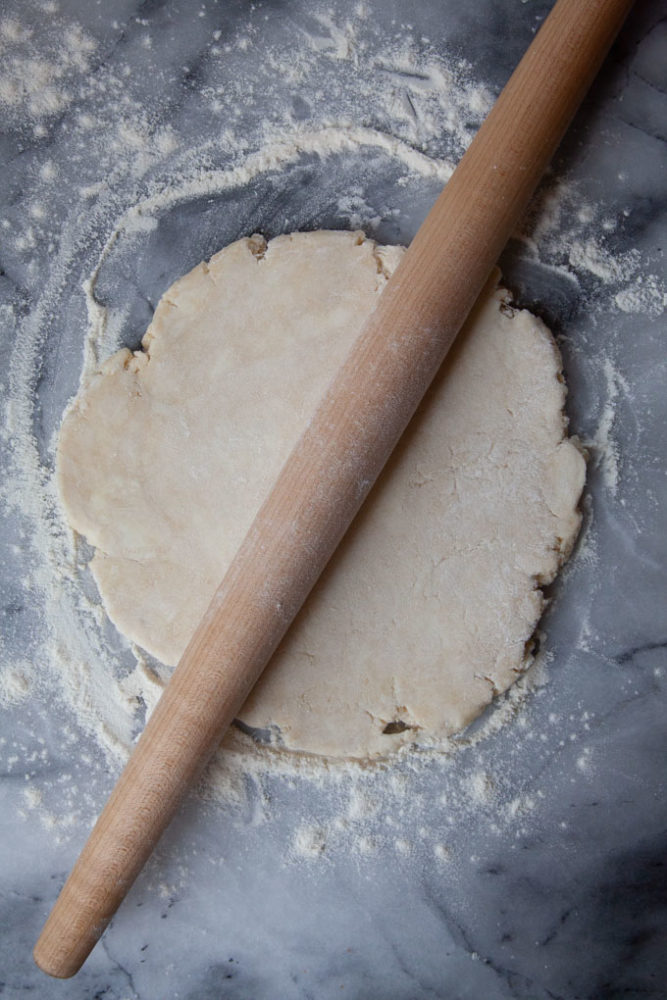 Roll out the second disk of dough and fit it over the filling, sealing the edges and crimping them tightly together. Refrigerate for 30 minutes while you preheat the oven.
Once the oven is preheated, brush the top of the pie with an egg yolk beaten with water, then sprinkle with some turbinado sugar. Cut a few vents into the top of the pie and bake until the filling is boiling and bubbling up through the vents in the middle. Let cool and serve!
Why the addition of prunes?
If you've visited my site before you know that I love my prunes! They're a versatile dried fruit that works well in savory dishes like my lamb tagine, and sweet dishes like my carrot muffins.
Prunes are actually dried Improved French variety Plums and their dark earthy, sweet and rich flavor works well with autumn fruits like pears and apples, as well as rich complex recipes that work with espresso, chocolate and chilies. California grows 99% of the nation's prune crop and 40% in the world. You can learn more about how the farmers and the produce grown in California from California Grown's How to Support a Farmer page.
On top of that, plums are highly nutritious, packed with antioxidants, high in vitamins and minerals and packed with fiber, sorbitol and polyphenols which are all great for good digestive health, as well as heart and bone health. They also add natural sweetness and moisture to desserts, allowing you to skip adding sugar or sometimes oil! You'll notice that the filling of this slab pie, which serves 12 people, only has 1/4 cup so dark brown sugar, with an additional sprinkling of 1 tablespoons of sugar on top of the crust. That's it!
What's the best apples to use?
Not all apples are made the same and some apples are better than others for baking. I like to use a mix of apples when I bake a pie to give the filling more complexity. Here's a few baking apples that I like to use when baking up pies.
Granny Smith
Gala
Honeycrisp
Jazz
Jonagold
Opal
SweeTango
I also tend to avoid Red Delicious apples and Braeburn apples, as they often get mushy when cooked.
By the way, if you can find them, Gravenstein, Pippin, and Arkansas Black apples are some of my favorite heirloom varieties of apples. They're hard to find but if you see them at a Farmers market, snatch up a bunch to bake or eat out of hand!
What other sort of spices can I use?
I use a mix of cinnamon, cloves and nutmeg in this recipe, because they go so well with apple and prunes. But if you aren't a big cloves or nutmeg fan or if you're tired of using cinnamon in your apple pie, try mixing it up with some different wintery spices! Here's a list of different spices to try out in your slab pie. Just substitute up to 2 teaspoons of whatever combination of spices you want. Keep in mind that some spices (like cardamom, cloves or nutmeg) are much more assertive and should be kept in smaller amounts.
Allspice
Black pepper
Cardamom
Coriander
Ginger
Grains of Paradise
Longpepper
Mace
Orange zest, fresh
Pink Peppercorn
White pepper
Vanilla bean powder
Can I make this non-alcoholic?
Yes! If you are avoiding alcohol, you can absolutely make this without the brandy. Just substitute the brandy for orange juice or apple juice. Or you can just leave out the brandy and liquid completely and just reduce the flour to 2 tablespoons. If you do omit the brandy, expect the prunes to be a little more firm and drier in the filling.
Can I use a different alcohol?
I use Brandy in this recipe as it works really well with the apple and prunes, but you can substitute another dark, complex flavored liqueur in its place. Here's a few suggestions:
Armagnac
Bourbon
Cougnac
Dark rum
Whisky
Frequently asked Questions
Can you make this pie ahead of time?
Yes. This pie can be made one day ahead of time before serving. Just refresh the pie in a 300°F for 10 to 15 minutes to allow the crust to crisp up again before serving.
How do I store this pie?
Keep the pie covered at room temperature up to 2 days or up to 4 days in the refrigerator. Just cover the pie with aluminum foil or plastic wrap. Keep in mind the longer you store the pie, the more soggy the crust gets. Refresh the pie in a 300°F oven for 10 to 15 minutes (or longer if you have stored the pie in the fridge) until the crust has crisped up.
Can I freeze this pie?
Yes! Slice the pie before freezing and then place the pie in the freezer on the baking sheet until frozen solid. Then move the pie to a ziplock bag or airtight container. The pie will keep for up to 4 months in the freezer. Thaw in the fridge overnight or on the countertop before refreshing in a 300°F oven for 10 to 15 minutes before serving.
If you like this slab pie, check out these other pies of mine:
Apple Slab Pie with Brandy and Prunes
This apple slab pie is spiked with brandy, as well as wintry warm spices like cinnamon, cloves and nutmeg. The autumnal winter scent will fill your house as you bake it in the oven, and every bite will remind you of the winter holidays!
Ingredients
Pie Dough
3

cups

all-purpose flour

420 g

3/4

teaspoon

kosher salt

1 1/4

cup

cold unsalted butter

285 g or 2 1/2 sticks

3/4

cup

cold water

plus more if necessary
Filling
1

cup

prunes

145 or about 18 medium-sized prunes

1/4

cup

brandy

2

pounds

apples

910 g or about 4 medium sized apples

1/4

cup

packed dark brown sugar

65 g

3

tablespoons

all-purpose flour

1

teaspoon

ground cinnamon

1/2

teaspoon

ground nutmeg

1/4

teaspoon

kosher salt
To finish
1

egg yolk

1

tablespoons

turbinado sugar

or sparkling sugar or white granulated sugar
Instructions
Make the pie crust by placing the flour and salt in a large bowl. Cut the butter into 1/2-inch cubes then sprinkle it over the dry ingredients. Using your fingers, smash the butter into small flat bits, breaking the butter up into pieces the size of peas.

Sprinkle and drizzle the water over the ingredients, tossing the components with a fork. Continue to do this until all the water has been added and a dough forms. You might need to "clean" the fork every now and then as you make the dough. If the dough seems too dry, sprinkle a tablespoon of water at a time onto the dough until it comes together.

Divide the dough in half and form flat 1-inch thick discs. If you have a scale, each disk should way roughly 415 grams. Tightly wrap the dough in plastic wrap and then refrigerate for 2 hours or overnight.

While the dough is chilling, chop the prunes into 1/2-inch chunks and place them in a small bowl. Pour the brandy over the prunes and cover with a plate. Let sit for the 2 hours, stirring every now and then.

Once the dough has finished chilling, make the filing by peeling the apples, and then slicing them into 1/4-inch thick slices. Place them in a large bowl (it can be the same bowl you made the pie dough in, no need to clean it). Add the prunes and the remaining brandy, flour, cinnamon, cloves, nutmeg, and salt. Gently stir together with a large spatula to make sure everything is coated.

If you're using a 9 x 13-inch baking pan (the kind that you make brownies in), lightly spray it with cooking oil, then line it with parchment paper. If you are using a 9 x 13-inch rimmed baking sheet, skip this step. Flour a clean surface and then roll out a disk of dough into an 11 x 15-inch rectangle.

Fold the dough into quarters. Move the dough carefully to the pan. Unfold and fit the dough into the baking sheet or pan, trying to NOT stretch the dough as much as possible. This will help prevent shrinkage.

Pour the filling into the pastry dough and then distribute the filling evenly throughout the pan. The flat apple slices should lay down fairly evenly throughout the pie.

Repeat the rolling out of the dough with the remaining disk, making sure it 11 x 15 as well. Place this dough over the filled pie.

Roll up and seal the pie all the way around, pinching any excess dough together to form a crust. Them decoratively pinch and seal the dough all the way around the pie. Place the pie in the refrigerator (uncovered) for 30 minutes.

While the pie is chilling, preheat the oven to 400°F. Once the pie is done chilling, make an egg wash by combining the egg yolk with 1 tablespoon of water in a small bowl. Beat together and then brush all over the top of the pie crust. Sprinkle the top with the turbinado sugar and then cut some decorative vent holes into the top.

Bake the pie for 40 to 50 minutes, or until the pie top is golden brown and the filling is bubbling through the vents. If the top of the crust seems to be browning too fast, cover the entire pie with aluminum foil to prevent it from burning.

Let cool to room temperature for pie to set before serving.
Nutrition