Every time I think of pumpkins I think of my old two-story house in the suburbs of St. Louis. I was in the third grade when my dad yelled at me for leaving the jack-o-lantern out on the front porch for too long. I believe it was my responsibility for cleaning it up, but instead of throwing it out, I just let it sit there, way past Halloween into mid-December, rotting away. Finally, my dad, in a fit of disgust, took our rusted dirt shovel, scooped up the barely intact shell of a gourd, and tossed it beside our house into the strip of lawn between our house and our neighbor's house. He figured it would compost down into the ground and by the time the snow thawed, no one would ever know. To all our surprise, the following September we had a pumpkin vine growing next to our house that grew pumpkins…until my dad finally dug it up and threw the vine away with an air of finality. We bought our pumpkin from the stores, not grew them next to our suburban house. I still think of that pumpkin vine when I use pumpkin in my kitchen, like when I made these Dark Chocolate Pumpkin Cheesecake Brownies (jump directly to recipe).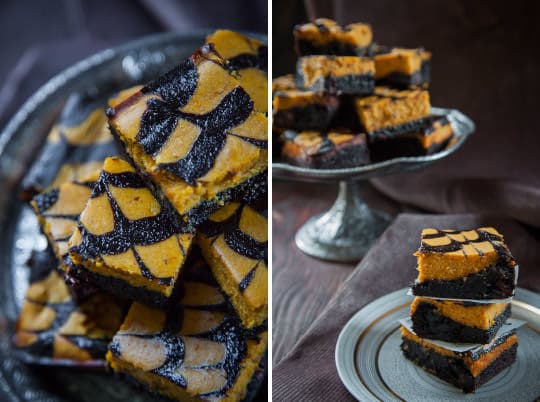 As the air starts to get more brisk and the great outside seems to come into focus with just a little bit more clarity than the hazy summer, the world seems to become obsessed with pumpkin. I'm sure this happens every year around now, but with social media and the ubiquitous internet it all seems ALL. PUMPKIN. ALL. THE. TIME. Friends with their children are at a pumpkin farm, sitting on gourds larger than doghouses. People are instagramming their carved pumpkins that look adorable but I keep on wondering if those pumpkins will last until Halloween. And commenters seem REALLY upset when a friend of mine shared her recipe for homemade pumpkin spice latte on Huffington Post (apparently some people love to go and buy them, not make them at home!).
But none of that deters me when it comes to baking with pumpkin. The combination of pumpkin and chocolate seems a bit odd at first, though I certainly skirted around it a bit last year when I made my white chocolate pumpkin cheesecake bars and my white mocha pumpkin frappuccino. But, as everyone knows, white chocolate isn't REAL chocolate. Besides, using dark chocolate gives the brownies a nice Halloween feel to the bars, which I have to admit is pretty fun all the way around. They're surprisingly easy to make and if you don't want to do a "spider web" pattern on top, it's even easier. I'm just a little Halloween obsessed right now so I decided to embrace it. I may not have a homegrown pumpkin vine in my yard, but that's OK. I have these brownies and there's no way I'm going to leave these to sit around until December. I'm eating them right now.
Dark Chocolate
Pumpkin Cheesecake Brownies
By Irvin Lin
There are two secrets to these brownies that make them a step above your usual pumpkin cheesecake brownie. One, make sure to cook down the pumpkin puree from the can, concentrating the pumpkin flavor. You can certainly skip this step and just use 1 cup of the pumpkin puree from the can but the resulting brownie won't look as orange and it won't taste as pumpkin-y. Two, use Dutch processed cocoa. You can find it online but most grocery stores carry Hershey's Special Dark cocoa which works fine for this recipe. You'll get a deeper more bitter chocolate taste to the brownies as well as a lovely rich black color that's a great contrast to the orange pumpkin cheesecake. If the "spiderweb" pattern seems too fussy for you to make, just drizzle the reserved brownie batter over the cheesecake batter in a random pattern and swirl with a butter knife or toothpick.
Adapted from Bake at 350's pumpkin cheesecake brownie recipe
Ingredients
Cheesecake Batter
15 oz (425 g or about 2 cups) pumpkin puree (not pumpkin filling)
1 1/2 teaspoon ground cinnamon
1/2 teaspoon ground ginger
1/4 teaspoon nutmeg
1/4 teaspoon sea salt
12 oz (340 g or 1 1/2 bricks) cream cheese, refrigerator cold
1 cup (200 g) granulated white sugar
2 tablespoons (18 g) all purpose flour
2 teaspoon vanilla extract
2 large eggs
Brownie Batter
3/4 cup (175 g or 1 1/2 sticks) unsalted butter
1 1/2 cup (300 g) granulated white sugar
3/4 cup (165 g) dark brown sugar
1 cup (100 g) Dutch-processed cocoa (like Hershey's Special Dark)
1 teaspoon sea salt
1/2 teaspoon baking powder
1 teaspoon vanilla extract
3 large eggs
1 cup (140 g) all purpose flour
1/3 cup (65 g) dark chocolate chips
1 tablespoon whole milk
Directions
1. Preheat the oven to 325˚F. Spray the bottom and sides of a 9 x 13 baking pan with cooking oil. Line the bottom and long sides with a piece of parchment paper, leaving an overhang of about 2 inches of paper over the long sides, to help removing the cheesecake brownies.
2. Make the cheesecake batter by first placing the pumpkin puree in a large skillet and cooking it on medium high heat for about 10 minutes, stirring constantly. The puree will darken and reduce down to about 1 cup. Remove from heat and stir in cinnamon, ginger, nutmeg and salt.
3. Place the cream cheese in the bowl of a stand mixer fitted with a paddle attachment. Beat the cream cheese until fluffy, about a minute on high. There might be some lumps in it because the cream cheese is cold but that's OK. Add the just cooked spiced filled pumpkin puree to the cream cheese and beat to blend, about a minute. If you skip cooking the pumpkin puree or if it's cooled off, you might want to bring the cream cheese up to room temperature before beating it. Add the sugar and beat to incorporate. Add the flour and vanilla extract and beat to incorporate. Add the eggs, one at a time, to incorporate. Set aside.
4. Make the brownie butter by placing the butter and both sugars in a medium sized pot. Turn the heat to medium and stir with a wooden spoon until the butter is completely melted and the mixture is a uniform butterscotch color and aroma. Remove from heat and add the cocoa, salt, baking powder and vanilla, stirring to incorporate. Add the eggs, one at a time, beating with a wooden spoon, to incorporate. Add the flour and beat to incorporate. Spoon out 1/3 cup (95 g) of brownie batter and reserve it. Add the dark chocolate chips to the remaining batter and fold to incorporate. The batter will be thick.
5. Scrape the brownie batter into the prepared pan and spread evenly with a butter knife or offset palette knife. Spoon the cheesecake batter on top of the brownie batter and gently spread it out over the brownie batter evenly.
6. Place the reserve 1/3 cup of brownie batter in a bowl and add 1 tablespoon of whole milk. Stir to incorporate. The resulting batter will be thin. Pour into a ziplock sandwich bag and seal. Clip a TINY corner of the bag off with a scissors. Carefully squeeze a line of the thinned brownie batter diagonally across one corner of the baking pan, over the cream cheese batter. Continue to do this all the way across the pan. Using a toothpick, drag a line from the initial corner to all the other three corners, creating a "web" pattern on the cheesecake batter.
7. Bake in the oven for 35 minutes or until the cheesecake batter has puffed up and looks set. Cool in the pan on a wire rack and move to the refrigerator to cool overnight before serving.
Makes 24 cheesecake brownies.
FYI, apparently I'm not the only one that thinks chocolate and pumpkin are a good combination. Here's a few more recipes from around the web that use this awesome combination:
Pumpkin S'mores Cake by Desserts for Breakfast
Perfect Soft Batch Pumpkin Chocolate Chip Cookies by Baked by Rachel
Chocolate Chip Pumpkin Bread by My Baking Addiction
Chocolate Pumpkin Brownies by Recipe Girl
Triple Chocolate Pumpkin Pie by Closet Cooking