These chewy (and not cakey) pumpkin snickerdoodles have a nice intense pumpkin flavor because you reduce the pumpkin puree down before baking!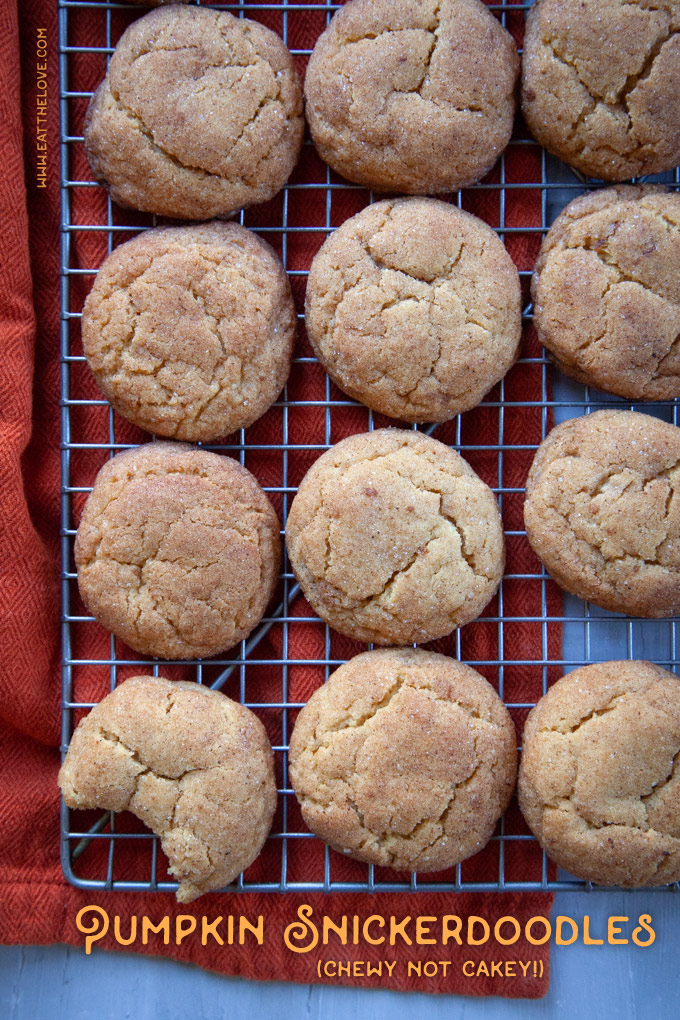 "These are PERFECT!" exclaimed my brother when he bit into my pumpkin snickerdoodles. I've made various different snickerdoodles in the past, including a classic snickerdoodle, a gluten-free snickerdoodle and even a caramel apple snickerdoodles. But then I had leftover pumpkin puree from baking my pumpkin chocolate chip cookies and I thought, I gotta use this up before it goes bad! And yes, pumpkin snickerdoodles are exactly as amazing as they sound.
My brother, it turns out, happens to be a fanatic about snickerdoodles. Which is something I did NOT know about. But he basically scarfed up a bunch of the cookies and then took the rest of them home with him. Which was fine by me, as I didn't need them around taunting me.
How to make pumpkin snickerdoodles
Making the pumpkin snickerdoodles is easy. First you cook the pumpkin puree, reducing it so you have less moisture and more pumpkin flavor. Remove it from the stovetop and let it cool.
While it's cooling, mix together butter, sugar, brown sugar, vanilla, pumpkin spice, cinnamon, salt, baking soda, cream of tartar. Once blended, add in an egg yolk. Then add the cooled pumpkin puree. Add the flour and you've got cookie dough!
Form cookie dough balls and roll in a pumpkin spice & sugar mixture. Then bake. You've got pumpkin snickerdoodles!
Can I skip cooking the pumpkin puree in this recipe?
The biggest issue with pumpkin snickerdoodles is the pumpkin makes the cookie "cakey". I wanted a cookie that wasn't as cakey and that had a similar texture to classic snickerdoodles. That required me cooking down the pumpkin first! This extra step removed the water in the pumpkin puree and intensified the pumpkin flavor as well.
However if you find the cooking step fussy, you can skip it! Just keep in mind that the cookie will be much more cakey and taste less "pumpkin-y" if you do skip this method. I highly recommend also using a standard grocery store pumpkin puree like Libby's. Other pumpkin purees, especially organic brand ones, are much more watery and will lead to even more cakey texture.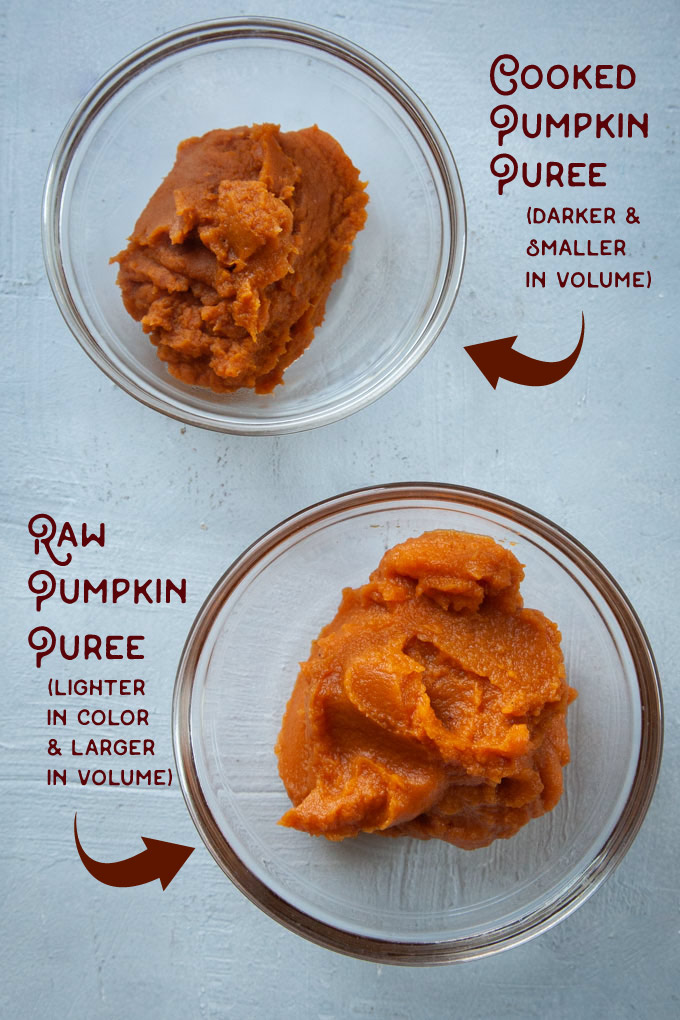 What sort of pumpkin puree should I use? Can I use pumpkin pie filling?
This recipe was developed with Libby's brand pumpkin puree. It is not designed for pumpkin pie filling, which already has sweeteners, thickeners and spices added so I don't recommend using pumpkin pie filling.
I have found other brands of pumpkin puree, especially organic ones, tend to be more watery. Libby pumpkin puree is stiff, like homemade mashed potatoes. If you don't use Libby's and use a different brand of pumpkin puree that feels more watery, I suggest you start with 2/3 cup of pumpkin puree and cook it a little it longer to reduce it down to 1/4 cup.
What if I don't have any pumpkin spice blend in my pantry?
You can totally make your own pumpkin pie spice blend from common pantry ingredients! I have a recipe for homemade pumpkin spice. Or, if you don't feel like mixing up a large batch of pumpkin spice, increase the cinnamon to 1 teaspoon in the cookie dough and add an additional 1/4 teaspoon of nutmeg and ground ginger. In the sugar coating, use 1 1/2 teaspoons of cinnamon and add in 1/4 teaspoon nutmeg and ground ginger.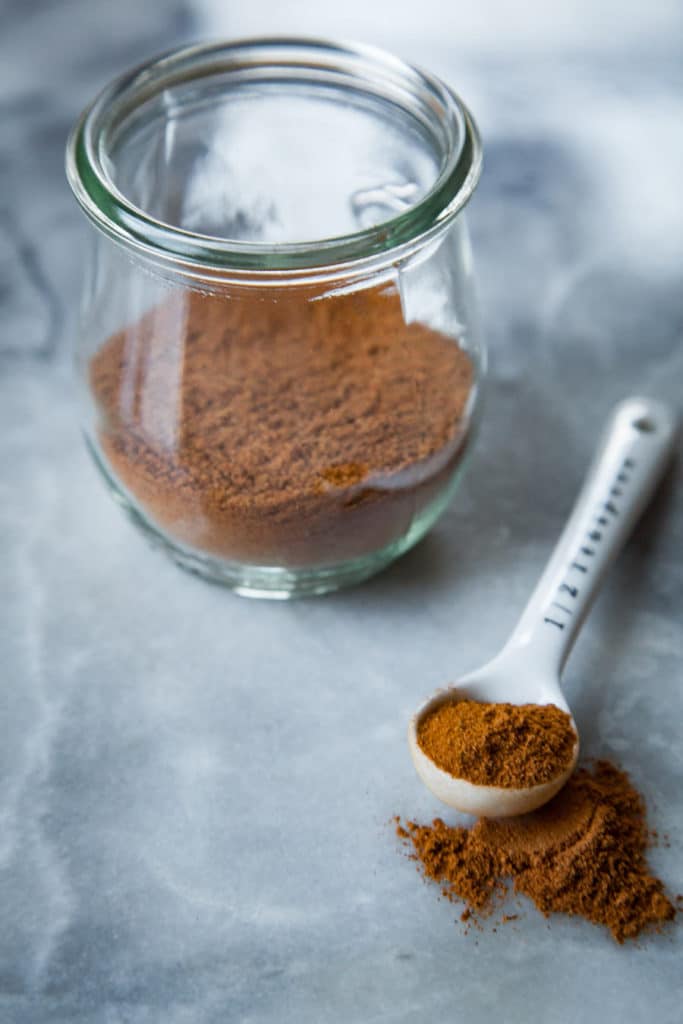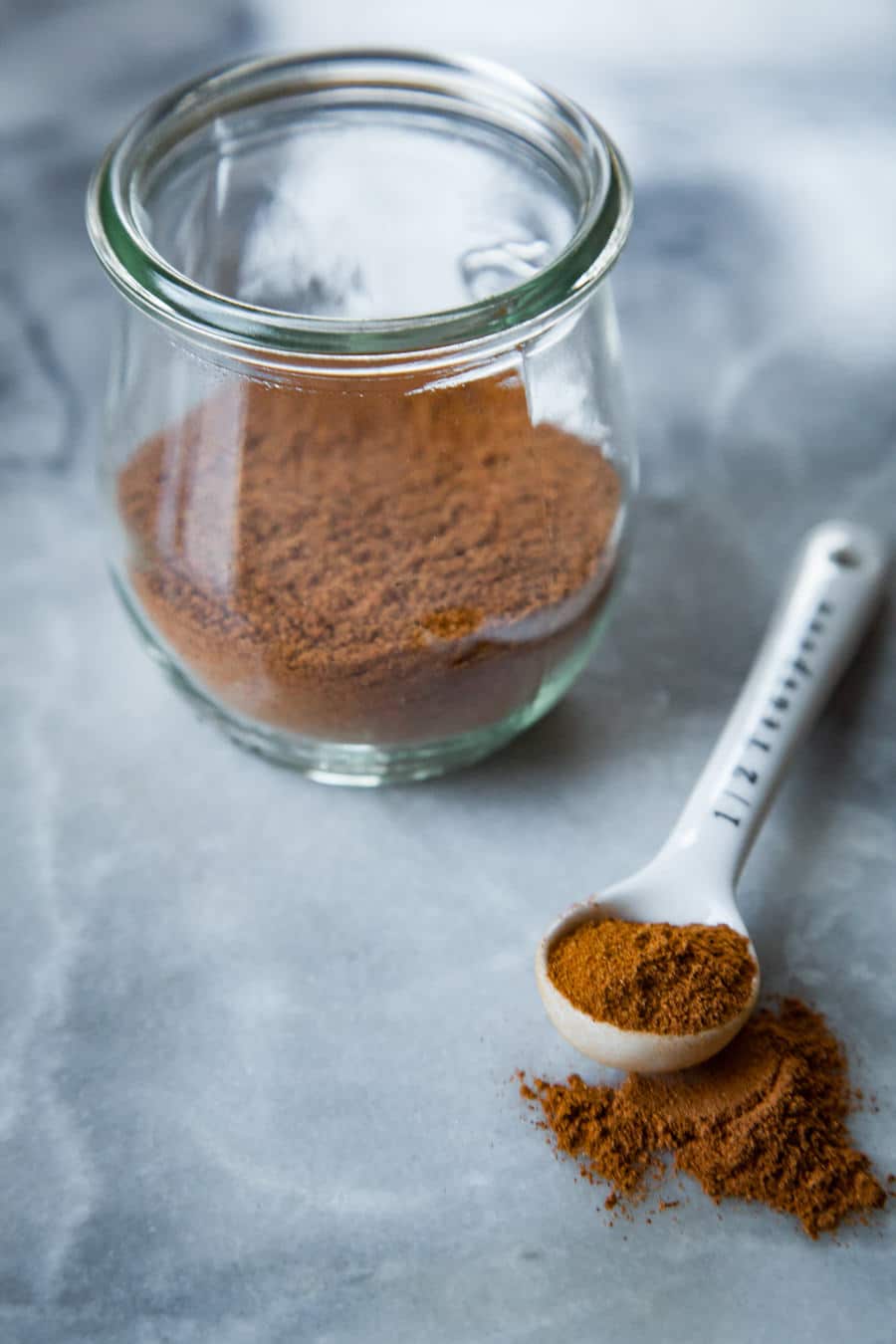 How do I store these cookies?
Store the cookies at room temperature in a resealable Ziploc bag or an airtight container. The cookies will keep for up to 3 days.
Can I freeze pumpkin snickerdoodles cookies?
Yes! You can totally freeze these cookie. Freeze them in an airtight container or resealable Ziploc bag. The cookies will keep up to 3 months in the freezer. Just thaw them out by placing them on the kitchen counter or table. The cookies should be back to room temperature in about 30 to 45 minutes, depending on how warm your kitchen is.
Can I freeze pumpkin snickerdoodle dough?
You can freeze the cookie dough easily but you need to do it BEFORE you coat the cookie! Just make the dough, form them into balls, then freeze them on a baking sheet for about 1 to 2 hours, or until they are frozen through. Then store them in a resealable Ziploc bag. Thaw them out on the countertop for about an hour, then roll the thawed dough in the pumpkin spice sugar coating. Bake as directed.
If you like these pumpkin snickerdoodles, check out these other awesome pumpkin desserts
Pumpkin Snickerdoodles
These pumpkin snickerdoodles have a nice, dense "bite" to them. They are soft and chewy without being too cakey. Make sure to use pumpkin puree and not pumpkin pie filling. I prefer Libby's brand pumpkin puree, as other pumpkin purees, including organic brands, tend to be more watery, but if you use another brand, check out my section above for how to accommodate for the thinner pumpkin puree. If you don't have pumpkin spice blend, you can make your own or check out my section above where I talk about substitutions.
Ingredients
Cookie dough
1/2

cup

pumpkin puree

not pumpkin pie filling

1/2

cup

unsalted butter at room temperature

115 g or 1 stick

1/2

cup

packed dark brown sugar

110 g

1/2

cup

white granulated sugar

100 g

1

teaspoon

vanilla extract

1

teaspoon

cream of tartar

1

teaspoon

pumpkin spice blend

1/2

teaspoon

cinnamon

1/2

teaspoon

baking soda

1

egg yolk

1 1/2

cups

all-purpose flour
Coating
3

tablespoons

white granulated sugar

2

teaspoon

pumpkin spice
Instructions
Place the pumpkin puree in a large nonstick skillet. Cook on medium high heat for about 4 to 5 minutes, or until the puree has reduced to 1/4 cup. Stir constantly with a wooden spoon or heatproof silicon spatula, making sure the pumpkin doesn't stick too much to the pan. Remove from heat and set aside to let cool.

Preheat the oven to 350°F. Line one or two baking sheets with parchment paper or a silicon baking sheet.

Combine the butter, both sugars, vanilla, cream of tartar, pumpkin spice, cinnamon and baking soda in the bowl of a stand mixer. Mix until everything is well blended and uniform in color.

Scrape down the side and bottom of the bowl and mix in the egg yolk. Again scrape down the sides and bottom of the bowl and add the cooled pumpkin puree (it's ok if it's still a little warm). Mix in and add the flour. Slowly mix the flour in, until it is absorbed into the dough.

Make the coating by combining the sugar and the pumpkin spice in a medium sized shallow bowl or pie pan.

Form balls of dough in the palm of your hands. You want a heaping tablespoon of dough that you roll out to a 1-inch diameter ball. Roll the dough in the sugar pumpkin spice coating. Place on the baking sheet. Repeat with the remaining dough, placing the dough balls about 2 inches apart from each other.

Bake in the oven 10 to 12 minutes or until golden brown on the sides and the top looks dry and baked. Let cool on the baking sheet for about 5 minutes before moving to a wire cooling rack.
Nutrition