This peach, basil and olive oil coffee cake is bursting with summer flavor. The Filippo Berio extra virgin olive oil gives it an extra dimension of flavor! (Jump directly to the recipe.)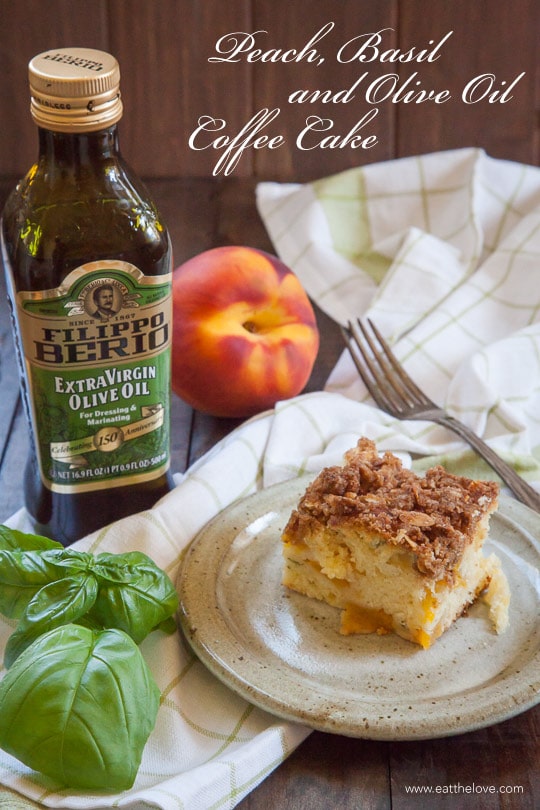 This post was sponsored by Filippo Berio. I was compensated for this post and for developing the recipe. However all opinions below are completely my own and not endorsed by Filippo Berio. To learn more about Filippo Berio olive oils, see where Filippo Berio will be visiting on their summer tour, and enter their sweepstakes for a chance to win an all-expense paid trip to Tuscany visit www.followfilippo.com, or follow along with the hashtag #FollowingFilippo.
Summer is in full swing and that means some of my favorite fruit has arrived at the grocery store! And one of my all-time favorite fruit is peaches! I have been buying peaches by the bushel full and desperately eating them as fast as I can as they ripen. But, as with all fruit, there comes a point when I have to use them or lose them! And so, I gathered some leaves off my basil plant, grabbed a bottle of Filippo Berio extra virgin olive oil and made myself a peach, basil and olive oil coffee cake!
If you follow my blog at all, you know that I'm a fan of combining flavors together in all sorts of ways. And though it might sound a bit odd to be adding basil to a coffee cake, the green herbal scent of fresh basil works incredibly well with peaches. But it's Fillipo Berio's Extra Virgin Olive Oil that brings the whole thing together in the coffee cake. Not only does it lend a moist richness to the cake, but the subtle pepperiness of the oil adds a dimension that you couldn't get with regular oil or butter.
If you haven't had a chance to try Fillipo Berio Olive Oil, you're in luck because they are currently traveling around the US on tour, stopping in major cities like Seattle, San Francisco, Austin, Nashville and Charleston to sample their olive oil. You can bounce to their website Following Fillipo to check out where they'll be in your city. And while you're there, enter their amazing sweepstakes for a chance to win an all-expense paid trip to Toscana Saporita Cooking School in Tuscany for two! How cool is that?
But back to this coffee cake. AJ happens to be a huge fan of coffee cake of all sorts. And this one is pretty spectacular, even by his standards. If you're fan of peaches, coffee cake and summertime, do yourself a favor and make this coffee cake now. You won't be disappointed.
Peach, Basil and Olive Oil Coffee Cake
By Irvin Lin
One of the issues with baking with peaches is they can vary in terms of how much liquid they exude. Unripened peaches can be hard and flavorless to bake with with very little moisture, while ripen peaches have a lot moisture and can lead to a soggy dessert in the end. I fix this issue by first macerating the peaches (a fancy word for letting the peaches sit in sugar) to pull out their moisture. Then I use that peach juice liquid in the cake itself, making sure all that flavor gets added back into the cake. Just make sure to leave time for peaches to sit when planning to make this cake.
Ingredients
Cake Batter
2 pounds (910 g or 3 to 4 peaches) ripe peaches
1 1/2 cups (300 g) granulated white sugar, divided
1/4 to 1/2 cup buttermilk
1 1/2 tablespoons chopped fresh basil
1/2 cup Fillipo Berio extra virgin olive oil
2 teaspoon vanilla extract
4 teaspoon baking powder
1 teaspoon kosher salt
2 large eggs
3 1/2 cups (490 g) all-purpose flour
Crumb Topping
1 cup (140 g) all-purpose flour
2/3 cup (145 g) packed dark brown sugar
1/2 cup (55 g) sliced almonds
2 teaspoon ground cinnamon
1/2 teaspoon ground ginger
1/2 cup Fillipo Berio extra virgin olive oil
Directions
1. Peel the peaches and cut them into 1-inch chunks. Place them in a bowl with 1 cup of the sugar and stir to combine. Cover with plastic wrap and let sit for 30 minutes.
2. While the peaches are sitting, make the crumb topping by combining the flour, brown sugar, almonds, cinnamon and ginger in a medium bowl Drizzle the olive oil over the dry ingredients and toss and stir with a fork until the ingredients start to clump together in chunks. Cover with plastic wrap and place in the refrigerator while you prep the cake batter.
3. Once the peaches have done macerating, preheat the oven to 350ºF. Spray a 9 x 12 x 2 inch baking pan with cooking oil.
4. Scoop the peach chunks out of the bowl and place in another bowl. Measure the peach juices in a liquid measuring cup. You should have about 1/2 cup to 3/4 cup of liquid. Add enough buttermilk to the measuring cup to make it 1 cup of liquid.
4. Add the remaining 1/2 cup of sugar to the bowl of a stand mixer. Add the chopped basil, Fillipo Berio extra virgin olive oil, vanilla, baking powder and salt to the bowl. Turn the mixer on to low speed, mixing until combined, about 30 seconds. Add the eggs, one at a time, waiting until the first one is incorporated before adding the second one.
5. Add the flour and peach juice buttermilk mixture to the batter, alternating between the two in four additions (half the flour first, then half the liquid, remaining flour, then ending with liquid). Remove the bowl from the mixer, and add the peach chunks (and any remaining liquid at the bottom of the peach bowl) to the batter. Using a large spatula fold the peaches into the batter.
6. Pour the batter into the prepared pan and spread evenly into it. Take the crumb topping out of the refrigerator and sprinkle it over the cake top.
7. Bake in the oven 50 to 60 minutes or until a toothpick inserted into the middle of the cake comes out clean. Let cool in the pan on a wire rack until room temperature before serving.
Makes 1 cake, serves 12 people.