Looking for an awesome coffee cake recipe? Look no further! Check out this most amazing delicious peach and blueberry coffee cake ever! (Jump directly to the recipe.)
Surprisingly, after I got back from our summer road trip, it took me awhile to get into the kitchen to bake. Sure there's was the little pesky issue of our refrigerator breaking while we were away for seven weeks that put a damper on baking. The heartbreak of tossing out bricks of Kerrygold butter, INNAjam preserves and BlueChair Fruit jams was the worst. But once we contacted my landlord and told him about the dead appliance, he had a new fridge delivered to us in a week. It turned out to be a blessing in disguise because who knows how long that bottle of oyster sauce has been sitting in the back of the fridge? WAY too long if you ask me. Plus our new fridge has a cheese drawer now. Well I call it a cheese drawer. It's probably meant for meats and such. But cheese is much more important in our household. However it wasn't the lack of fridge and freezer that kept me from baking. I felt a strange lack of motivation in the kitchen. After traveling for seven weeks on the road, visiting National Parks, hiking canyons and rivers, seeing gorgeous historical houses and laying about on beautiful beaches, there was something utterly mundane about going into my kitchen and baking. I guess I wasn't ready for reality.
Then our friends Megan and Erik invited us over dinner (Megan, by the way, runs an awesome mom blog and is doing a free weeklong class on the Art of the Well Crafted To-Do List. Go sign up, it's free!). Whenever we get invited to a dinner, I get put on dessert duty. It's a given and I've just come to accept that fact; in fact I usually revel in it, after all I love to bake! But this time it meant I had to overcome my mental block. I need to get back into the kitchen. As I dragged my feet over to the oven and started to figure out what I wanted to bake, it occurred to me — what I didn't want to do wasn't the baking. Once I got to peeling and chopping the peaches, measuring the flour, sugar and blueberries and prepping the baking pan, I realized that I still loved baking. That love never went away. The soothing zen quality of being in the kitchen (with a shiny new clean fridge and the just bought fresh food inside) was magical. It was the taking of photos that sounded less exciting. More specifically it was the documentation of the food I was making. It no longer felt at genuine or as inspired as I was when I was out in the open, in the wild shooting on our road trip.
So I didn't. I baked a peach and blueberry coffee cake, brought it to the dinner hoping it was good (everyone seemed to like it) and I didn't take a single picture of it. It wasn't that I didn't think it was worth of blogging about, but I just didn't want to document it. And it was utterly liberating not having to do anything more than bake a coffee cake. In the end, after I baked the peach and blueberry coffee cake again for AJ's birthday, tweaking the recipe a bit, I decided to pull out the camera. Turns out taking photos of the coffee cake was fun. Maybe not as fun as photographing and insta-videoing the Grand Canyon. Or The Badlands. Or even Charleston, South Carolina. But still fun. I sort of missed setting up the shot in my tiny kitchen. Looking for the right angle. Trying to figure what sort of story I'm trying to tell with my baked goods. I miss playing with my food.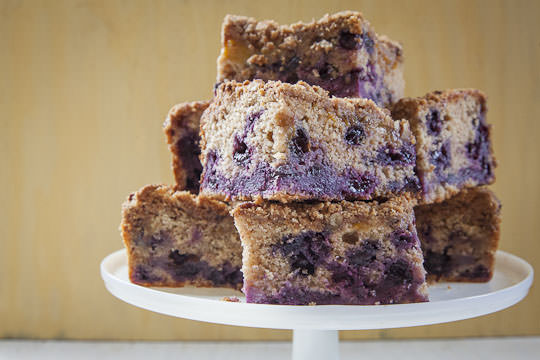 That's when it hit me. It's not about documentation. I don't take photos to document my life. If you follow my Instagram feed on my roadtrip, nothing about what I shared was "documentation" by the normal definition. I don't take photos to prove I was at a place or that I ate some ribs. I take photos and write about it them to share my experiences with others. Whether that's a slice of cake, or a walk through a petrified forest, I love sharing my experiences with everyone who wants to learn a bit more about what I'm up to. It's sort of why I started this blog in the first place. And that's why I found myself pulling out the camera after making this cake. Not everything needs to be documented in my life. But some things needed to be shared.
Peach and Blueberry Coffee Cake
By Irvin Lin
Most of the time, when I get a peach coffee cake I find the peach flavor to be lackluster. Weak soggy peaches that have sunk to the bottom of the cake disappoint me. I flipped that around by first cooking the peaches in the beginning of the recipe, to help concentrate the flavor and then a bit of thickener (cornstarch or tapioca flour) to thicken the peaches and keep them from sinking to the bottom. Basically I create a simple peach pie filling ahead of time, to marble into the cake. It may sounds fussy but it's worth the trouble once you take a bite of this marvelously moist coffee cake. Something to note, I used sprouted Spelt flour in this recipe, which can be found at upscale grocery stores like Whole Foods or organic/natural grocery stores. If you can't find it or don't feel like buying a special flour, you can substitute 3 1/2 cups (490 g) regular all purpose or whole wheat flour in it's place. The sprouted Spelt adds a great nutritional value (as well as a subtle nuttiness) but it's still a coffee cake, completely with butter and sugar. Don't be fooled into thinking your eating something super healthy. It's just slightly better for you is all!
Ingredients
Peach mix-in
2 medium ripe peaches
1/2 cup (110 g) dark brown sugar
1 vanilla bean or 2 teaspoon vanilla extract
1 tablespoon cornstarch or tapioca flour
1 tablespoon cold water
Cake Batter
3 cups (390 g) sprouted Spelt flour (see note above for substitutions)
1/2 cup (65 g) almond meal (ground almonds)
4 teaspoons baking powder
1 teaspoon sea salt
1/2 cup (115 g or 1 stick) unsalted butter at room temperature
1 1/2 cups (300 g) white granulated sugar
2 teaspoons vanilla extract
1 teaspoon almond extract (optional)
2 large eggs
1 cup buttermilk
4 cups (2 pints or 630 g) blueberries
Coffee cake topping
2/3 cups (115 g) maple sugar or dark brown sugar
1 cup (130 g) sprouted Spelt flour
1/2 cup (55 g) chopped pecans or almonds
2 teaspoon ground cinnamon
1/2 teaspoon ground nutmeg
1/2 teaspoon sea salt
1/2 cup (115 g or 1 stick) cold unsalted butter
Directions
1. Preheat the oven to 350˚F. Spray a 9 x 13 inch baking pan with cooking oil and line the bottom and sides with parchment paper, leaving two inches of paper on either side of the pan.
2. Make the peach mix-in by peeling and cutting the peaches into 1 inch chunks. Place the peaches in a medium saucepan and add the sugar. Split the vanilla bean lengthwise (if using) and scrape the seeds out. Add the vanilla bean pod to the saucepan as well. Cook over medium high heat for about 10 minutes, or until the peach juices starts to thicken a bit and the peaches start to break down. Mix the cornstarch or tapioca starch with the water to make a slurry and then slowly drizzle it into the saucepan with the cooking peaches. Cook for an additional minute more until the peach juices have thickened. Remove from heat and let cool.
3. Make the cake batter by placing the flour, almond meal, baking powder and salt in a medium sized mixing bowl. Vigorously stir the dry ingredients together until uniform in color and well blended. Place the butter and sugar in the bowl of stand mixer fitted with a paddle attachment. Cream on medium speed until the butter starts to lighten in color and look creamy. Add the vanilla extract and almond extract (if using) and beat for additional 30 seconds on medium speed to incorporate. Add the eggs, one a time, beating until the first egg is incorporated before adding the second one.
4. Add half the dry ingredients to the butter and beat on slow, increasing the speed to medium as the dry ingredients incorporate. Add the buttermilk and repeat. Add the remaining dry ingredients and repeat. Gently fold in the blueberries by hand with a large rubber spatula and scrape the batter into the prepared baking dish and spread to evenly distribute. Spoon the peach mix-in over the cake batter and marble and swirl the cake batter and peach mix-in together.
5. Make the topping by placing the sugar, flour, nuts, spices and salt in a medium sized mixing bowl. Cut the butter into 1/2 inch chunks and sprinkle over the ingredients. Squeeze and break up the butter by hand in the ingredients, until the butter has been incorporated and the toppings start to hold together in pebble side chunks. Sprinkle the topping over the cake batter and bake in the oven for 50-60 minutes, or until a toothpick inserted in the middle of the cake comes out clean (you may have to pick a few spots as you more than likely will hit a blueberry the first time).
Makes 1 coffee cake with 12 generously slices