This Strawberry and Grape Coffee Cake has a little bit of almond meal in the batter and sliced almonds in the crumb topping, bring it to the next level! (Jump directly to the recipe.)
There's a saying that gay breakfast is actually just brunch. Ok, I'm not sure if that's really a saying or I just made that up. But what is NOT made up is that fact that gay men LOVE brunch. I'm not sure why it's a thing. But it is, and as a gay man, I have to admit, I fall into this stereotype. HARD.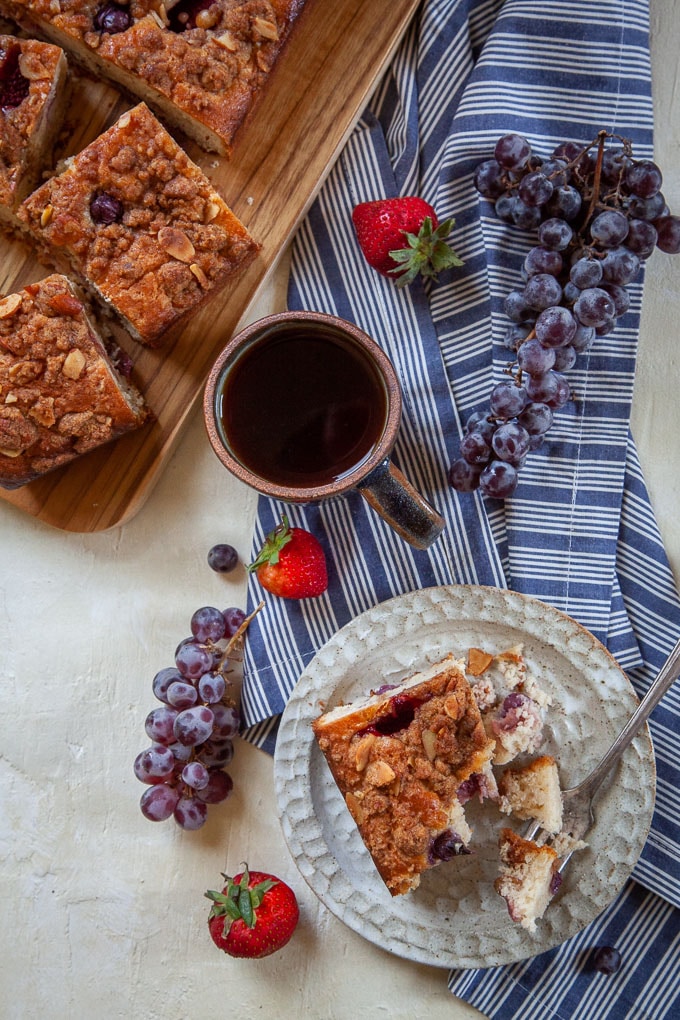 That said, I rarely have a chance to host brunch at my place because I live in a tiny one-bedroom apartment with my partner AJ. We love it here, but it's also EXTREMELY small and hence, makes it difficult for us to entertain. Which is sad because I love to cook and entertain.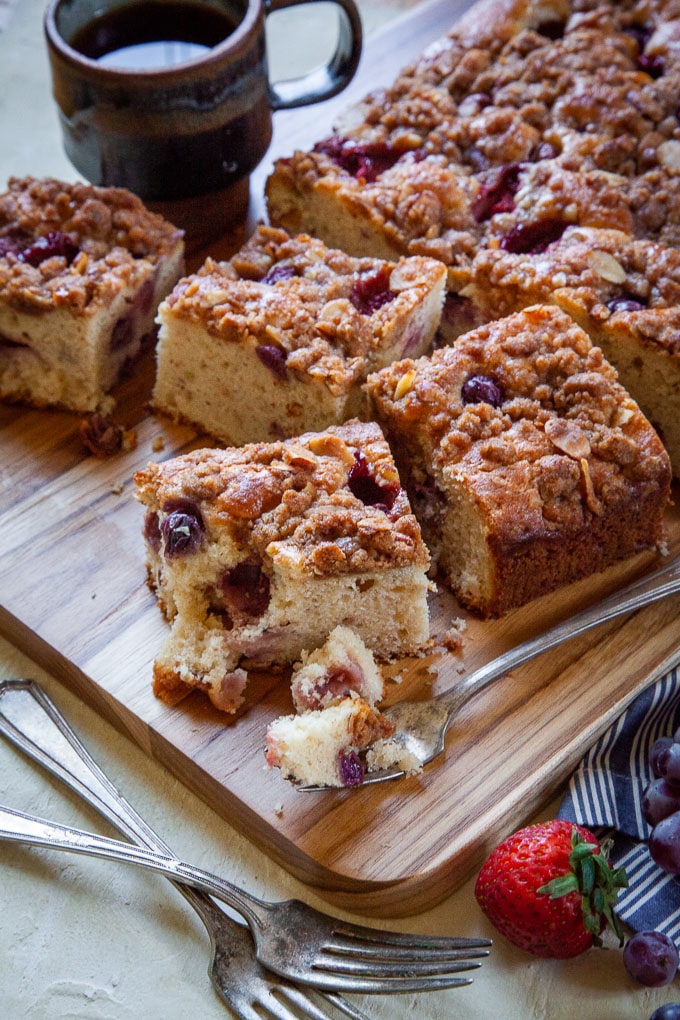 So when my friend Betsy asked me if I wanted to come over and do a personal photo project with her on the topic of breakfast and brunch I was ALL. IN. Betsy is an amazing food stylist, and I've been wanting to work with her forever. She makes everything look gorgeous and my favorite thing in the world is to work with talented people and learn from them. So, I got my butt in gear and drove over to Oakland to her awesome home, and shot for most of the day, making magic with all her props and beautiful food.
Of course, before I did that, I baked up a storm, making scones, muffins, morning buns, kouigns amann, and a coffee cake because I was in charge of sweets (she provided the savory side of things). And since she's a profession food stylist, I knew I had to bring my A-Game! The photos we did were amazing and I'll be posting some more of them over on Instagram (I think Betsy has already shared a photo from the session). But this coffee cake that I made for the shoot turned out to be one of my absolutely favorites of the day. Packed with strawberries and ThomChord grapes (a seedless varietal cross of Thompson and Concord) as well as an almond crumb topping, if I ever find a way to host a large brunch in my home, this is going to be my new go-to recipe.
Strawberry and Grape Coffee Cake with Almond Crumb Topping
The addition of almond meal as well as sliced almonds gives takes this coffee cake to the next sophisticated level. You can find almond meal at most well-stocked grocery stores or make your own by just grinding almonds in a food processor or blender until it becomes powder. Just don't process too long or the almonds will turn into almond butter. I used ThomCord grapes for this recipe, as they have a jammy grape jelly flavor because of the Concord heritage but you can use whatever seedless grape you have on hand, though I recommend Red Flame or black seedless if you can find them. Green seedless grapes tend to be a little one-note sweet for this recipe.
Ingredients
Crumb Topping
1/2

cup

all-purpose flour

70 g

1/4

cup

dark brown sugar

55 g

2

tablespoons

Turbinado sugar

sometimes called Sugar in the Raw

1/4

cup

almond slices

35 g

1

teaspoon

cinnamon

1/4

teaspoon

kosher salt

4

tablespoons

unsalted butter

melted
Cake Batter
3

cups

all-purpose flour

420 g

1/2

cup

almond meal

50 g

2 1/2

teaspoon

baking powder

1/4

teaspoon

baking soda

3/4

teaspoon

kosher salt

1/2

cup

unsalted butter

room temperature

1 1/2

cups

white granulated sugar

300 g

1

teaspoon

vanilla extract

1/2

teaspoon

almond extract

1/2

teaspoon

cinnamon

2

large eggs

1 1/4

cup

buttermilk

8

ounces

strawberries

hulled and halved (or quartered if large)

1

cup

sliced in half ThomCord grapes

150 g (see headnote above about grape varietal substitution)
Instructions
Make the crumb topping by placing the flour, both sugars, almond slices, cinnamon and salt in a small bowl. Drizzle the melted butter over the ingredients and toss with a fork until clumps start to form. Place in the refrigerator to cool while you make the cake batter.

Preheat the oven to 350°F. Spray a 9 x 13 x 2-inch baking pan with cooking oil, then line baking baking pan with parchment paper.

Make the cake batter by placing the flour, almond meal, baking powder, baking soda and salt in a large bowl. Stir vigorously with a balloon whisk until ingredients are evenly distributed.

Place the butter, sugar, both extracts, and cinnamon in the bowl of a stand mixer fitted with a paddle attachment. Cream the butter, sugar and other ingredients together until well blended and the butter clings to the side of the bowl. Add the eggs, one at a time, waiting until the first egg is incorporated before adding the second egg.

Mix in 1/3 of the dry ingredients, then 1/2 of the buttermilk, waiting until the dry ingredients are absorbed before adding the buttermilk. Repeat this process until all the ingredients are added, ending on the dry ingredients.

Add most of the strawberries and grapes (reserving about 1/4 cup of each fruit for the top) to the cake batter. Gently mix in by hand with a spatula or wooden spoon. Carefully spoon the batter into the prepared cake pan, then spread evenly on the bottom with a butter knife. Press the reserve fruit into the top of the cake. Then remove crumb topping from the refrigerator and sprinkle it on top of the cake, making sure to break up any really big chunks (though you want to leave some smaller chunks, it's a crumb topping!).

Bake in the oven 45 to 55 minutes, or until a toothpick inserted in the middle of the cake comes out clean.
Nutrition