This beautiful and easy to make marbled pumpkin chocolate bread is bursting with Autumn flavor! (Jump directly to the recipe.)
"Wait, you're taking off? What about the after party?" exclaimed my friend Yvonne of Tried and Tasty as I hugged her goodbye on the way to the airport. I was in Austin for the BlogHer Food conference where I had given a 20-minutes inspirational TED-style talk on creativity during their "Lightning Lesson" main stage. It was a quick 2-day trip for me, as I had to head back to San Francisco to speak at the Eat, Drink and Be Literary event of San Francisco's Litquake on Sunday. In all the whirlwind traveling, I found time to bake up a marbled pumpkin chocolate bread for my ceramics class potluck critique. For someone who always professes to be an anti-social hermit, I sure was getting out there a lot.
It probably will come as a surprise to many folk that I am a natural introvert. For new folks who meet me, I come across as pretty gregarious and (I have been told) rather energetic. But as much as I enjoy getting out and meeting folks and doing public speaking, it takes a not insignificant amount of mental and emotional energy for me to do it. For some folks who are natural extroverts, they gain energy from being around people. But for those of us who are introverts, going out and meeting and being with folks takes energy away. It doesn't mean we don't enjoy it or don't have fun, it just means we need time to recharge from all that energy spent.
But right now I'm on the move, hitting up as many conferences and events that will have me, as well as meeting as many people as I can. And it's not because I'm a glutton for punishment, it's because I have my very first cookbook coming out! The book Marbled, Swirled, and Layered, has been in the works for nearly 3 years and I can't wait for everyone to look at it. I got to show a few folks at the conference the one single copy that my publisher sent me in advance (the rest of my copies are slowly coming over on a ship from Asia where it was printed). The glee and joy when my friends flipped through the book made me so very happy. I can only hope that everyone that goes out and buys the book will feel that way as well.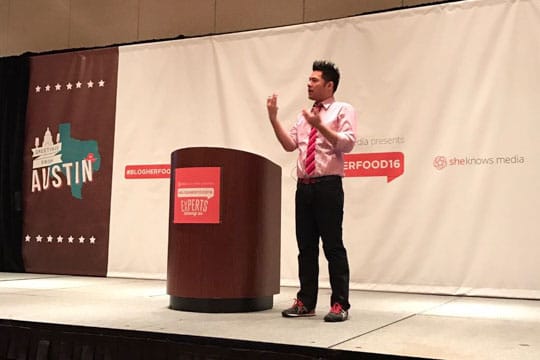 The book comes out November 1st, just in time for the holidays but it is available for pre-order. And because I want to make sure EVERYONE knows about this book, I am putting myself out there, more than I have ever before. That mean back-to-back events like BlogHer Food and the San Francisco Litquake's Eat Drink and be Literary event. But to keep myself from going crazy I'm also giving myself a little bit of "me time". If you were one of the 300+ folks who were at BlogHer Food and watched me on the main stage, you heard me explain how doing things OUTSIDE your profession (whether it's food, photography, or writing) can foster your own creativity. Doing things you love and enjoy, that seem almost like self-indulgences, can feed your soul. Doing a yoga class, going for a run, visiting a museum, or even just getting coffee with friends are so important to all of us and keep us sane.
And that's why, even though I knew things were going to be crazy for me this fall with my book release, I opted to take a ceramics class at the local community college. I needed something to distract me from the chaos of cookbook promotions. And it has worked. There is something really nice and relaxing about playing with clay, slip and glazes. Mentally engaging in something that has NOTHING to do with what I do for a living nourishes me in ways that I didn't even realize I craved. Learning something just to learn something, is immensely satisfying and empowering. With a pottery critique happening on the Monday after the back-to-back events, I knew that I wanted to also bring something for folks to nibble on as the class shares what everyone made for our first projects. And since Fall is officially here, a marbled pumpkin chocolate bread were the perfect autumnal treat.

Marbled Pumpkin Chocolate Bread
By Irvin Lin
This recipe is a perfect example of the sort of recipes I developed for my cookbook Marbled, Swirled and Layered. It seems that I can't stop marbling, swirling and layering my desserts, even though I turned that manuscript in ages ago and the book is already printed and ready to be bought! I used Kahlua, a coffee rum liqueur because it helps bring out the chocolate flavor, but if you don't have any on hand, you can just use strongly brewed coffee that has been cooled to room temperature in it's place.
Ingredients
1 1/2 cups (300 g) white granulated sugar
1 1/3 cup (270 g) canned pumpkin puree (not pumpkin pie filling)
1/2 cup vegetable oil
2 teaspoon vanilla extract
2 teaspoon pumpkin pie spice blend
1/2 teaspoon kosher salt
2 large eggs
1 3/4 cup (245 g) all-purpose flour
1 teaspoon baking soda
1/2 teaspoon baking powder
1/2 cup Kahlua (or strong brewed coffee, cooled to room temperature)
1/2 cup (45 g) natural cocoa powder (not Dutch-process)
Directions
1. Preheat the oven to 350ºF. Spray a 9 x 5 inch loaf pan with cooking oil then line the sides and bottom with parchment paper.
2. Place the sugar, pumpkin puree, oil, vanilla extract, pumpkin pie spice, and salt in a large bowl and mix with a spatula until well blended. Add one egg, mixing with the spatula until incorporated, before adding the additional egg and repeating.
3. Add the flour, baking soda and baking powder to the wet ingredients and fold together until just moist.
4. Combine the Kahlua (or coffee) and cocoa powder together in medium size bowl until a paste forms and the cocoa is dissolved. Scoop out 1/3 the pumpkin bread batter and add it to the bowl with the cocoa paste. Mix together until uniform in color.
5. Scoop 1/3 of the pumpkin batter into the lined loaf pan and spread evenly on the bottom of the pan. Scoop 1/2 the cocoa batter on top and spread evenly to cover. Repeat with 1/3 more of the pumpkin batter ,the reminder cocoa batter and rest of the pumpkin batter, alternating batters. Don't worry if you can't spread the batters completely on top of each other. Swirl a knife through the batter to marble and then bake in the oven for 1 hour to 1 hour 10 minutes or until a toothpick inserted in the middle of the loaf comes out clean.
Makes 1 loaf.