This easy-to-make one bowl banana bread uses walnut oil and almond extract to make it the best walnut banana bread recipe!
Banana bread often seems like a last resort recipe, the one that you make when you don't want those freckled brown bananas to go to waste. But lately in our household, banana bread hasn't been an afterthought. I've been doing batch after batch of banana bread, including my chocolate banana bread, sourdough banana bread, and my Kahlua mocha marble banana bread because they're all so tasty. But when I found some walnuts in the back of my pantry, I knew I had to make some walnut banana bread, upgraded just slightly because that's what I do!
How do you make this banana bread
This banana bread is super easy to make and can be made in one bowl! Mash 2 to 3 bananas in a mixing bowl until you have a puree. Then mix in 1 egg, some vanilla, almond extract, and spices like cinnamon and nutmeg. Add melted butter, a little bit of walnut oil, packed brown sugar, baking powder, baking soda, salt and all-purpose flour.
Fold in toasted walnut pieces and bake! One bowl, one pan, super easy.
How ripe should the banana be?
Common wisdom says bananas should be super overripe to the point of being black. I disagree. I find ripened black bananas to taste…well overripe to the point of tasting rotten. Instead, I go for bananas that are mostly dark, with freckling, but still a little bit of yellow showing through. If the bananas are too dark, I compost them.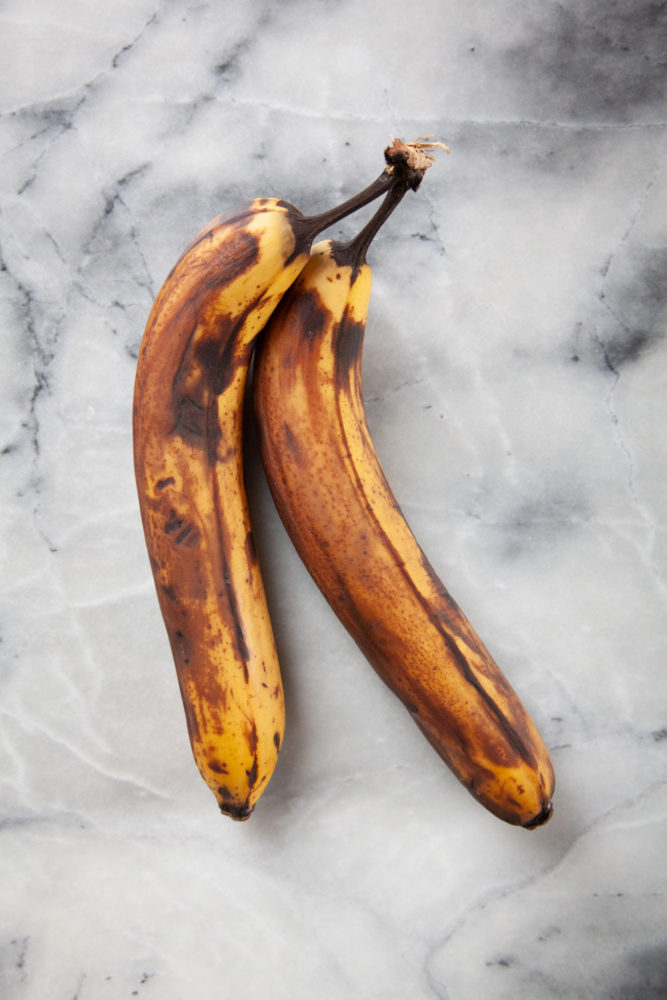 But if the bananas aren't quite ripe enough for me, I sometimes try to ripen them faster. Bananas produce ethylene gas as they ripen. I place them in a paper bag, to help trap this gas, which encourages the bananas to ripen faster. Or if you really are in a hurry, use the tip I learned from Stella Parks, and mash and mix the banana with the egg and let it sit for 30 to 60 minutes before proceeding with the recipe. The enzymes in the egg yolk will help ripen the banana quickly.
What makes this walnut banana bread different
Though this recipe is super easy, I do have a few tips on how give this banana bread an extra robust walnut flavor. I first toast the walnuts in a skillet, to bring out the nuttiness. Toasting nuts takes an extra two or three minutes, but the results amp up the flavor remarkably. But if you don't feel like toasting the walnuts, just skip that step. It's totally optional.
I also use walnut oil in the loaf to give it an extra boost of nutty flavor. Walnut oil is exactly what it sounds like, oil pressed from a walnut. You can find walnut oil at well-stocked grocery stores. It's a lovely oil that is excellent in salad dressing as well as in baked goods.
And if you don't have walnut oil or don't feel like buying for this recipe, just swap out the same amount of melted butter (1/4 cup) or vegetable oil in its place. Your bread will still taste fantastic.
Finally, I add just a touch of almond extract to the bread. Not enough to notice, just a smidge 1/4 teaspoon. But the almond extract brings out more of the nutty flavor, making this an even better walnut banana bread than most recipes.
Customize this banana bread
This walnut banana bread is a great jumping off point to customize. Here are a few suggestions:
Swap nuts: If walnuts aren't your thing, just swap out the same amount of walnuts for another nut like pecans, pistachios, hazelnuts, brazil nuts or macadamia nuts. Or do a mix of nuts if you'd like. You can even swap out the nuts for cacao nibs, which is ideal for those folks who still want a nutty crunch but are allergic to nuts. Of course, if you are allergic to nuts, remember to swap out the walnut oil for regular vegetable oil or melted butter!
Swap flours: Swap out 1/2 cup of the all-purpose flour for almond flour if you want to amp up the nutty flavor even more. Swap out 1 cup of all-purpose flour for whole wheat flour which will give a slightly more dense loaf. Or use all bread flour instead of all-purpose for a chewier "bread-like" loaf.
Swap spices: I use cinnamon and nutmeg in this bread. But feel free to play around with other warm spices like cardamom, cloves, ground ginger, or mace.
Add chocolate or dried fruit: Though I have a chocolate banana bread, feel free to swap half the walnuts for chocolate chips in this recipe. Or swap out half the walnuts for dried fruit like dried cranberries, dried blueberries, or dried cherries.
How to store this banana bread
You can store this banana bread on the counter, under a cake dome or in an airtight container for up to 3 days. If you notice any mold, throw the banana bread away immediately.
You can also freeze this banana bread for up to a three or four months. Just freeze it in an airtight container or Ziploc bag. I like to slice my banana bread before freezing, so I can take out individual slices to thaw and eat. Just make sure to place parchment paper or wax paper between slices, otherwise the moist bread will thaw into one large frozen chunk.  
If you like this Walnut Banana Bread, check out these out these other quick breads:
Walnut Banana Bread
This walnut banana bread is a nutty banana bread muffin in loaf form. Easy to make, it's packed with banana flavor, with just a smidge of cinnamon and nutmeg spice, enough to bring out the banana flavor without being overpowering. Feel free to swap out the walnuts with another chopped nut like pecans, pistachios, or hazelnuts. I have a section above on other substitutions and customizations.
Ingredients
1

cup

chopped walnut pieces

100 g

3

medium ripe bananas

about 350 to 400 g after peeling

1

large egg

1

teaspoon

vanilla extract

1/4

teaspoon

almond extract

optional but recommended

1/2

teaspoon

ground cinnamon

1/4

teaspoon

ground nutmeg

1/4

cup

unsalted butter

melted

1/4

cup

walnut oil

or vegetable oil

3/4

cup

packed brown sugar

165 g

1

teaspoon

baking powder

1

teaspoon

baking soda

1/4

teaspoon

kosher salt

2

cups

all-purpose flour

280 g
Instructions
Preheat the oven to 350°F. Lightly spray a large 9 x 5-in loaf pan with cooking oil. Line the pan with parchment paper, making sure there is 1-inch of paper overhanging the edges.

Place the walnut pieces in a dry skillet and toast them on the stovetop, on medium heat. Stir them frequently while they toast, until they have darkened slightly and smell nutty and fragrant. Remove from heat and set aside to cool. Once cool enough to handle, chop them into 1/2-inch chunks.

Place the bananas in a large bowl and mash them with a fork until smooth. Add the egg and mix in with the fork. Stir in the vanilla, almond extract (if using), cinnamon, and nutmeg.

Whisk in the melted butter and oil to the bowl, then mix in the brown sugar, baking powder, baking soda and salt. Add the flour and gently mix it in, until most of it has been absorbed, but there are a few dry spots in the batter.

Add the walnut pieces to the batter and mix until they are evenly distributed.

Pour the batter into the prepared pan and then smooth out the top so it's even. Bake in the oven for 55 to 65 minutes, or until a toothpick or skewer inserted in the middle comes out clean. If you have an instant read thermometer, the center should read 200°F to 205°F.

Let cool for 10 minutes in the pan set on a wire cooling rack. Then lift the bread up using the overhanging parchment paper and move it directly to the wire cooling rack. Cool completely before cutting into it.
Nutrition
Calories:
424
kcal
|
Carbohydrates:
49.3
g
|
Protein:
8.3
g
|
Fat:
22.9
g
|
Saturated Fat:
5.1
g
|
Cholesterol:
38
mg
|
Sodium:
288
mg
|
Potassium:
366
mg
|
Fiber:
3.1
g
|
Sugar:
19
g
|
Calcium:
60
mg
|
Iron:
2
mg