https://www.eatthelove.com/fried-apple-pies/These classic southern-style fried apple pies are easy to make and so very fun to serve and eat. Just follow the step-by-step instructions and you'll be making them all the time! (Jump directly to the recipe.)
"These are SO much better than McDonald's" said A.J. after he bit into his second fried apple pie. My friends chuckled, but A.J. was dead serious. Our friend Ben is obsessed with McDonald's fried pies and has always lamented how they are impossible to find here in the US. He grew up in Hong Kong, and they still fry their pies in Asia. But here in the U.S. they switched over to baked in 1992, over 25 years ago.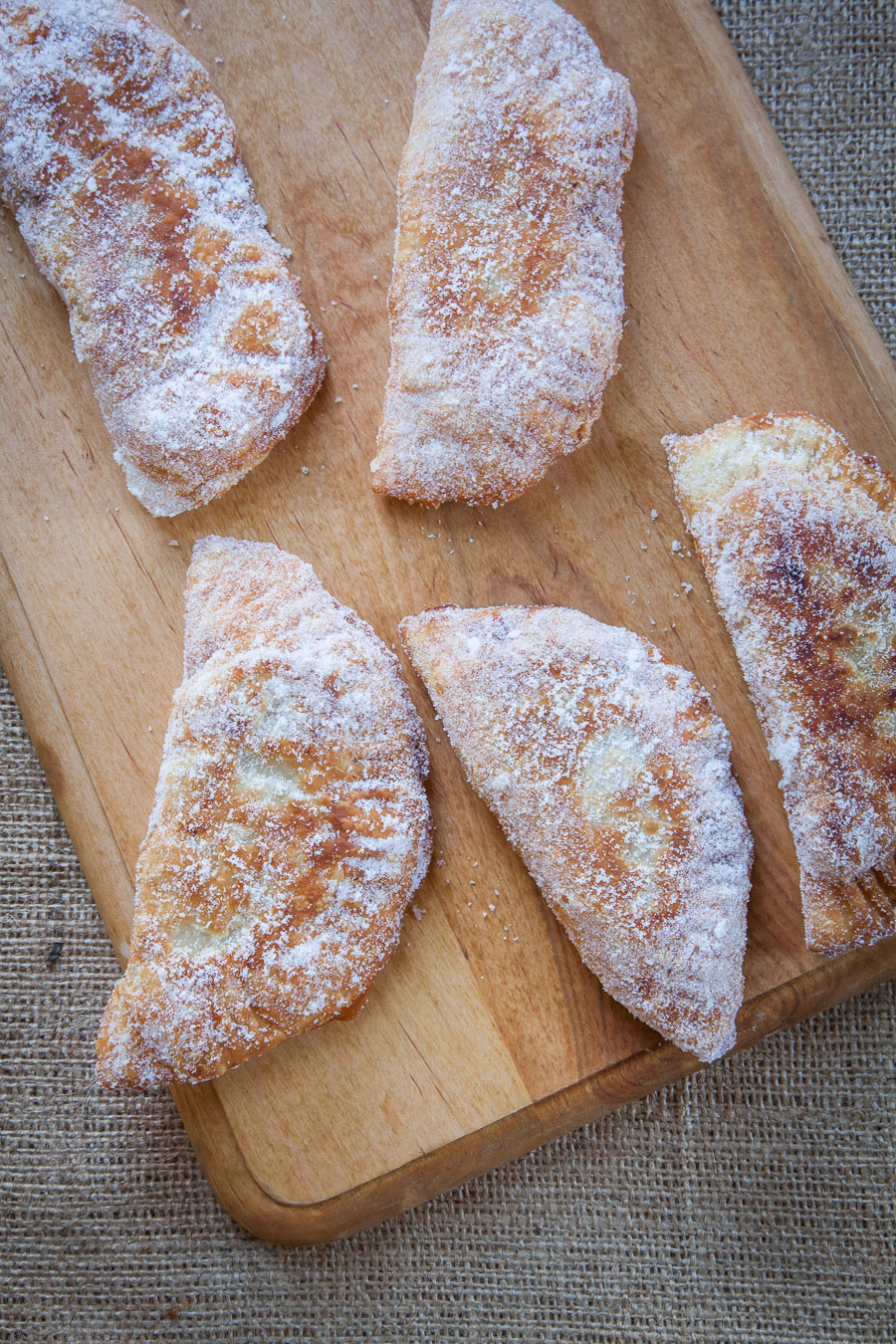 Actually, that's not 100% true. Folks don't know this but there ARE some McDonald's stores that still fry their pies. I don't talk about it much but in a former life, I used to work as a graphic designer. The majority of design that I worked on was chain restaurant work, including fast food, fast casual and family restaurants. Walk into any Ben & Jerry's scoop shop or Quiznos and look at their menu. I designed the look of those menu board systems (or at least, I designed the original design, I'm sure they have been since evolved from my initial design in the subsequent years since leaving my day job).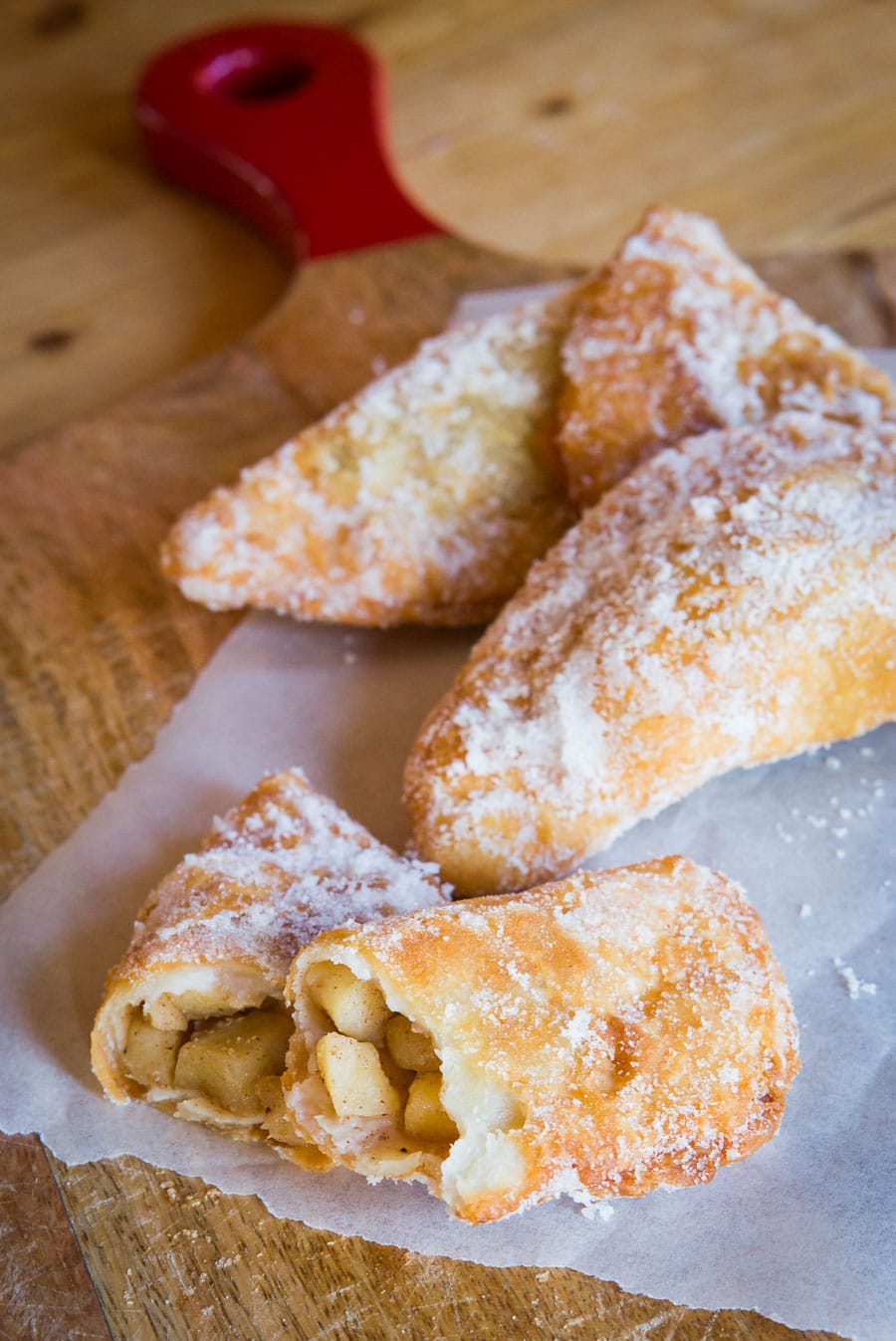 Because of my former job, I got to know the CRAZY ins and outs of fast food and chain restaurants. And there's a little known fact about McDonald's and their pies. While the chain switched over to baked pies in the early 90s when they decided to move toward a "healthier" menu (because, you know, everyone goes to McDonald's for health food #eyeroll) not every McDonald's kitchen had space to accommodate the specific oven that was required to bake the pies. McDonald's that had limited kitchen real estate were allowed to continue selling fried pies! And in fact, there used to be a McDonald's here in San Francisco that still sold fried apple pies. It was tiny, with no seating, and a small counter that had room for just one register. Sadly it closed a couple of years ago, and that meant my friend Ben now had to fly back to Asia to get his beloved fried apple pies.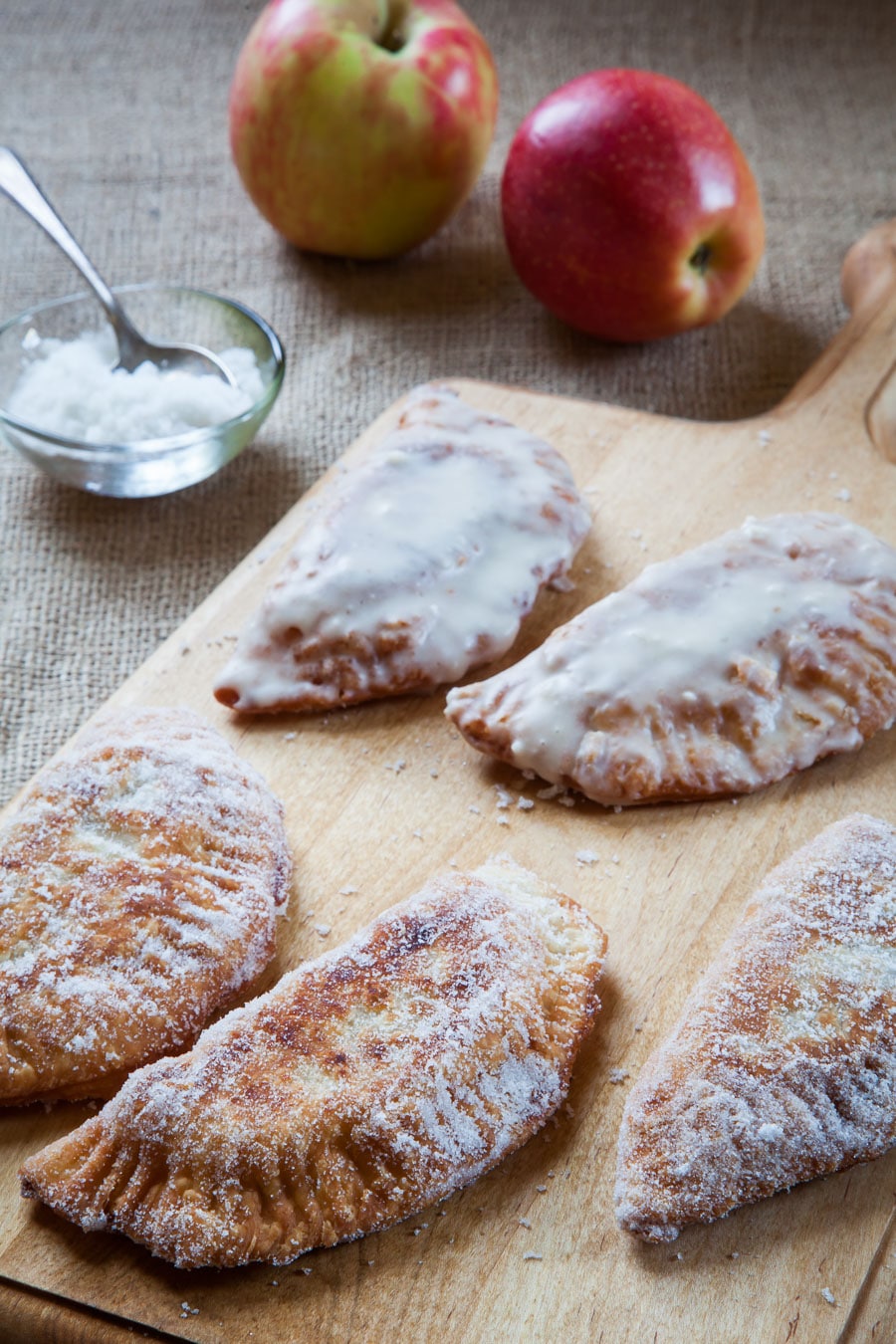 Now my fried apple pies aren't that similar to the McDonald's ones. They don't have that blistered crispy crunchy salty shell (the saltiness is probably because the pies are fried in the same oil as French fries), nor do they have the napalm hot gooey sweet filling that always scalded my mouth when I bit into the pie in my youth (younger Irvin had absolutely no patience whatsoever). But I still love these fried pies so much, and apparently AJ loves them even more than the McDonald's one. I never did get Ben's opinion on the matter though, but then again, nostalgia is a hard things to overcome.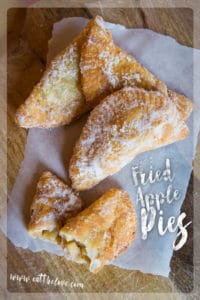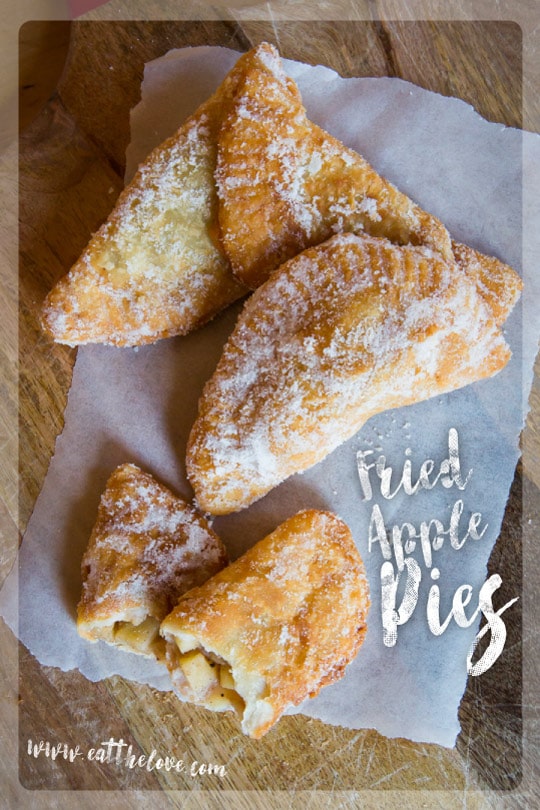 Fried Apple Pie
This dough doesn't need to rest or chill and is very forgiving. The pies cook fast because you roll the dough so thin and the filling is already cooked. Just make sure to chop the apples into small chunks, somewhere between 1/2-inch to 1/4-inch! You can wait for the fried pies to cool and then make a glaze and spoon or brush it over each pie. But I like to just coat them in sugar. It's faster, easier and means you can enjoy the pie while it's warm. I've included the optional glaze in case you want to go that route.
Ingredients
Dough
2

cups

all-purpose flour

280 g

1/2

teaspoon

kosher salt

1/2

cup

unsalted butter

115 g

1/2

cup

whole milk

plus 2 tablespoons if needed
Apple filling
3

medium apples

Granny Smith, Braeburn, Gala – about 18 to 20 ounces

2

tablespoon

unsalted butter

1/4

cup

white granulated sugar

50 g

1/2

teaspoon

ground cinnamon

1/4

teaspoon

ground allspice

1/4

teaspoon

ground ginger

1/4

teaspoon

kosher salt
To assemble
1

large egg

1

tablespoon

water

to fry

2

cups

frying oil

peanut, rice bran, avocado or other deep frying oil with high smoke point
To finish
1

cup

white granulated sugar

200 g
Optional Glaze
2

tablespoon

unsalted butter

2

cups

confectioner's sugar, sifted

230 g

1/4

teaspoon

sea salt

2

teaspoon

vanilla extract

1/4

cup

whole milk
Instructions
The Dough
Make the dough by placing the flour and salt in a large bowl. Stir with a whisk. Cut the butter into 1/2-inch chunks. Sprinkle over the dry ingredients and toss to coat. Using your fingers, press and smash the cubes into small flat bits, smaller than the classic apple pie. You want them almost (not not quite) incorporated into the flour. Sprinkle 1/2 cup of milk into the bowl and stir with a fork until it starts to get shaggy. Sprinkle more milk, a tablespoon at a time, if the dough looks too dry. Once the dough starts to look shaggy, start to massage it with the palms of your hand to incorporate the dry ingredients.

Pat into a circle then cut into quarters. Then cut each quarter into 3 equal pieces. Roll into rounds. You should have 12 balls of dough. Cover with plastic wrap.
The Apple Filling
Make the filling by peeling, coring and chopping the apples into 1/4 to 1/2-inch chunks. You want them pretty small. Heat the butter in a large skillet until melted, and add the apple chunks. Cook on medium heat for 3 to 5 minutes until the apples just start to soften. Add the sugar, spices and salt to the apples and continue to cook for about 4 to 5 minutes or until the apples are soften and are on the verge of falling apart (but are still whole). The apple pieces will start to look a bit translucent. Set aside to cool.
Assemble the Pies
Flour a clean surface then roll out 1 dough round into a 5-inch circle. Spoon 1 heaping tablespoon into the center of the dough circle. You might be tempted to add more. Don't.

Beat the egg with the water to form an egg wash. Brush the edge of half the circle then fold over dry dough edge to close the pie, forming a half moon. Using a fork, press down all the way around the pie to seal it. Move to a baking sheet and repeat with the remaining dough and filling.
To Fry and Finish Pies
Once the pies are made, place the sugar in a large bowl or baking pan. Pour the oil into a 12-inch wide saute pan with straight sides or a heavy dutch oven. Heat the oil to 350°F. Once it reaches that temperature, gently slide three or four pies in the hot oil (don't drop it as it will splash up the hot oil and burn you). Fry for 1 to 3 minutes on each side, or until each side is a deep golden brown. Remove the pies and place immediately in the sugar, coating each side by spooning the sugar over each pie or turning the pies over in the sugar. Move to a wire rack placed on a rimmed baking sheet and repeat with the remaining pies.
Optional Glaze
If using the glaze instead of coating with sugar, cool the fried pies on a wire rack. Once the pies have cooled completely, make the glaze by melting the butter in a medium sized bowl in the microwave. Sift the confectioner's sugar over the butter. This is important as powdered sugar clumps so don't skip. Add the salt, vanilla extract, and milk. Stir until the sugar has dissolved. Spoon or brush the glaze over the cooled pies and let the glaze dry before serving.
Recipe Notes
Pie dough adapted from Kate McDermott's book Art of Pie.