This chocolate banana bread with chocolate chips has just the perfect balance of banana and chocolate to complement each other.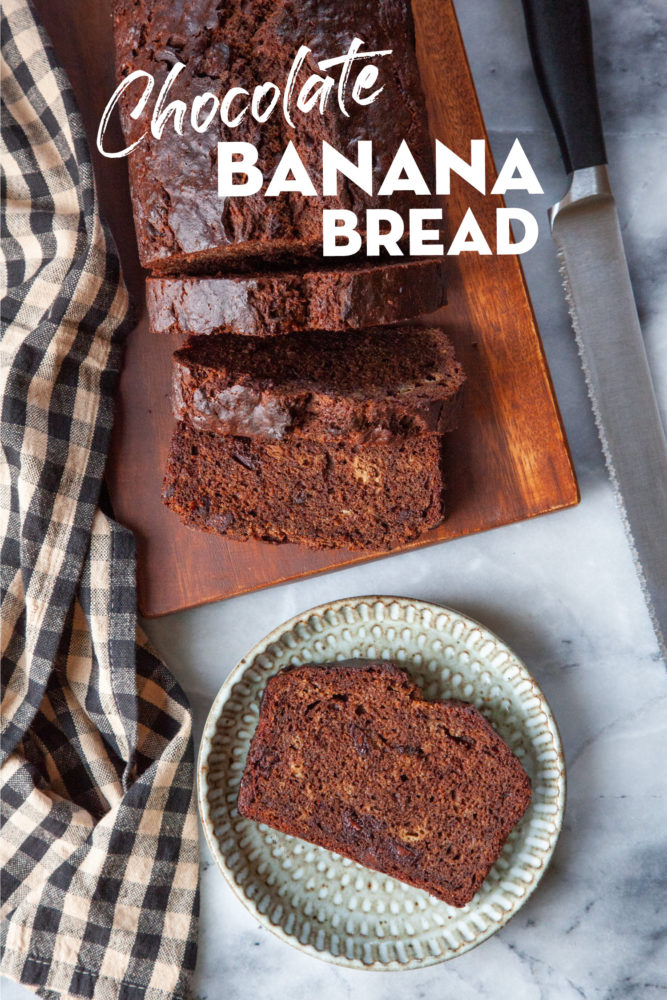 I've made sourdough banana bread and mocha swirled banana bread, before. And recently I developed an easy banana bread recipe for a client of mine. But my thoughts are "can you ever have enough banana bread?" especially since I'm the sort of guy that buys bananas with the idea of eating them or making a smoothie…and they just sit there until they are overripe. So, I decided to go all out and make a chocolate banana bread with chocolate chips.
Because sure, you can make banana bread and just throw some chocolate chips in it. But why stop there? You might as well give the banana bread batter some rich chocolate flavor and fold in the chocolate chips for the perfect balance of banana and chocolate!
How do you make chocolate banana bread?
Like all banana bread, you start with ripe bananas, verging on over ripe. Mash the bananas with a fork, then whisk in eggs, a little bit of milk, vanilla and a touch of instant coffee (to help boost the chocolate flavor).
Once blended, whisk in melted butter, brown sugar, baking powder, baking soda, and salt. Then gently mix in flour and natural cocoa powder. Fold in the chocolate chips, pour into a loaf pan and then bake! So easy. SO. GOOD.
How ripe do you want the bananas?
You might see a lot of people telling you the blacker and overripe the bananas the better, but I disagree. There's a fine line between slightly overripe and rotten! I prefer to use bananas that are just past the point of eating, where the peel is yellow with a lot of black freckling. If the banana peel is completely black or you see any mold on it, it's past the point of no return and you should discard or compost the bananas.
If the bananas have any green at all, the bananas aren't ripened enough. Bananas start off starchy (which is why they are so firm) and that starch converts to sugar as they ripen. Green bananas are full of starch and need time to ripen. Give them a few more days before making banana bread.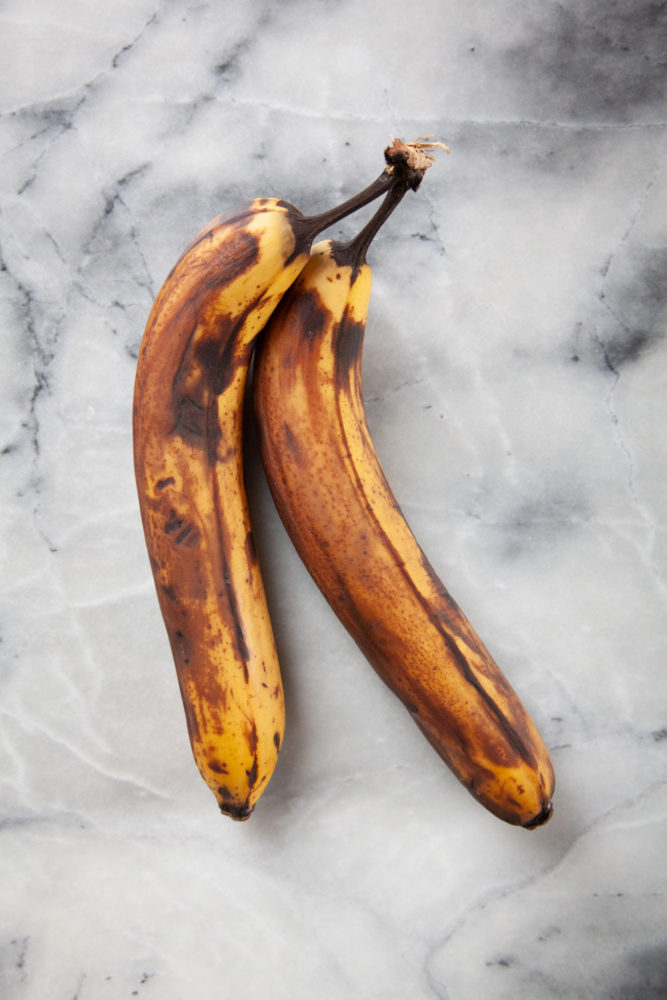 Can you speed up the banana ripening?
If you are really craving banana bread, you can try to ripen the bananas faster by placing them in a paper bag. Bananas give off ethylene gas when they ripen. The paper bag traps the gas, which will encourage the bananas to ripen faster.
But if you are in a rush, you can also roast the bananas to help ripen them. Preheat the oven to 300°F. Use a fork to poke some holes in the bananas peel, to release steam. Then place the bananas (with the peels on) on a rimmed baking sheet and roast for 15 to 20 minutes. Once the peels are completely black, they are done. Once roasted, let the bananas cool until you can handle them, then peel and use.
What type of cocoa should you use?
This recipe uses natural unsweetened cocoa powder not Dutch-processed cocoa, which is sometimes referred to as alkalized cocoa powder. Natural cocoa powder has a sharper acidity that works well with the rich banana flavor. Dutch-processed cocoa powder is mellower in flavor with a smoother chocolate finish. It is also and much darker in color.
If you only have Dutch-processed, you can substitute the same amount of cocoa powder amount. But increase the baking powder to 2 teaspoons to accommodate the change. Expect the bread to look darker, almost midnight brown, and taste slightly different. It will still be delightful though!
Make it your own:
I use classic semi-sweet chocolate chips in this recipe, the kind you can find in nearly every grocery store. But you can swap out the same amount of any sort of chocolate chip or confectionary chip you like. Or add in chopped nuts or cacao nibs! Here are a few suggestions:
Milk chocolate chips, or chopped milk chocolate chunks
Bittersweet chocolate chips, or chopped bittersweet chocolate chunks
White chocolate chips, or chopped white chocolate chunks
Butterscotch chips
Peanut butter chips
Mini peanut butter cups
A mix of any of the above!
Sub out half or all the chocolate chips for chopped nuts. Here are few suggestions
Pistachios,
Macadamia nuts
Walnuts
Pecans
Peanuts
Roasted cacao nibs, which will give a nutty intense chocolate flavor, and are perfect for those who are allergic to nuts but want a nutty flavor and texture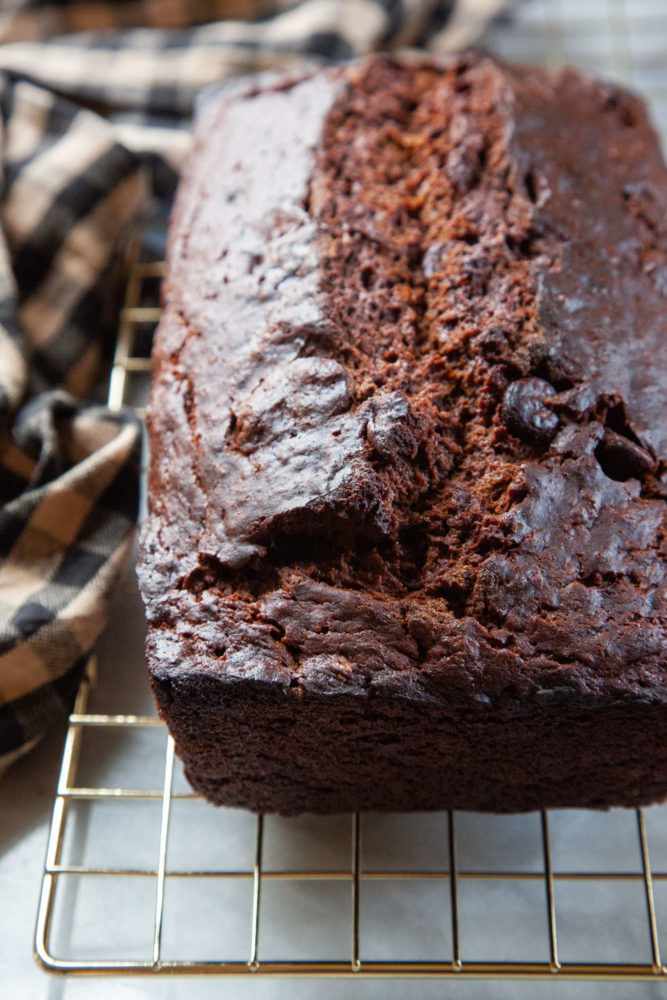 How do you store this banana bread?
Store this chocolate banana bread in an airtight container or under a cake dome for up to 3 days at room temperature.
Or tightly wrap it in plastic wrap, and then slide it into a resealable Ziploc bag and freeze it for up to 2 months.
If you like this chocolate banana bread, check out these other quick bread recipes:
Chocolate Banana Bread
This chocolate banana bread is an easy one bowl recipe that uses cocoa powder in the batter and chocolate chips to punch up the chocolate flavor. The result is a rich but not overwhelmingly chocolate banana bread that you can eat for breakfast or as a snack.
Ingredients
2 to 3

medium ripe bananas

about 400 g after peeling

2

large egg

2

tablespoons

milk

any type

2

teaspoons

vanilla extract

1

teaspoon

espresso powder

optional but recommended

1/2

cup

unsalted butter, melted

115 g or 1 stick

3/4

cup

packed brown sugar

165 g

1

teaspoon

baking powder

1

teaspoon

baking soda

1/2

teaspoon

kosher salt

2

cups

all-purpose flour

280 g

1/4

cup

natural cocoa powder

unsweetened, not Dutch-process, 30 g (see section above)

3/4

cup

chocolate chips

135 g (see section above for other options)
Instructions
Preheat the oven to 350°F. Spray a 9 x 5-inch loaf pan with cooking oil then line it with a piece of parchment paper.

Mash the bananas with a fork into a large bowl. You should have about 1 3/4 cups of mashed bananas. Add the eggs, milk, vanilla extract, and espresso powder (if using) to the bowl and stir with a whisk to combine.

Stir in the melted butter, brown sugar, baking powder, baking soda and salt. Fold in the flour and cocoa powder until there are just a few spots of dry ingredients that are NOT absorbed.

Add and then gently fold in the chocolate chips, until they are evenly distributed and the dry ingredients are fully mixed in. Try not to overmix.

Pour the batter into the prepared loaf pan and spread the batter evenly. Bake in the oven for 65 to 75 minutes or until a toothpick or skewer inserted in the middle of the loaf comes out clean, or an instant read thermometer reaches 200°F.

Let the loaf cool in the pan for 15 minutes before grasping the sides of the parchment paper and lifting straight up to remove it from the pan. Move to the wire cooling rack, peel off the paper and let the banana bread cool another 15 minutes further before serving warm or at room temperature.
Nutrition
Calories:
305
kcal
|
Carbohydrates:
55.5
g
|
Protein:
7
g
|
Fat:
6.8
g
|
Saturated Fat:
4
g
|
Cholesterol:
50
mg
|
Sodium:
344
mg
|
Potassium:
367
mg
|
Fiber:
3
g
|
Sugar:
25.4
g
|
Calcium:
898
mg
|
Iron:
3
mg