This is the best apple cider donut recipe! It uses two easy-to-find grocery store ingredients adding extra apple flavor with no boiling or rest time needed.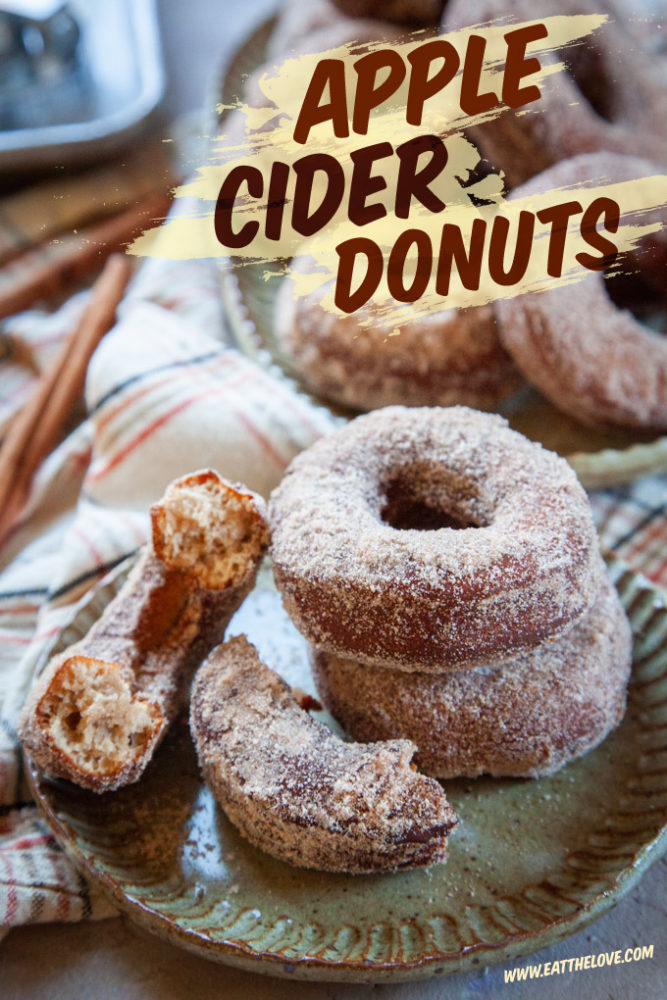 I have a running joke with my partner AJ that you NEVER say no to donuts. It stems from the time when we were on a cruise and he ordered coffee from room service in the morning. The man taking his order on the phone asked him if he needed anything else with the coffee, like donuts. HE SAID NO. Obviously I hadn't trained him properly (though had he been asked if he wanted an apple fritter, he would have said yes). You don't necessarily need to order the donuts, but if they offer it to you, YOU NEVER SAY NO TO DONUTS (or sufganiyot – which are basically Jewish donuts).
So, when we were on a road trip across the US a couple of years ago, we found ourselves just outside of the Shenandoah National Park, at a small town that was known for their apple cider donuts. Though it the summertime and blazing hot outside, I knew I had to get a couple of donuts for the road. I have no regrets. To me, apple cider donuts are a year round treat!
What are apple cider donuts?
Apple cider donuts, or cider donuts, are cake donuts made with apple cider or boiled cider, cinnamon and other spices. The donut does not have yeast in it but rather uses a chemical leavener like baking soda or baking powder to give it rise. Most apple cider donut recipes require you to boil and reduce the apple cider down to give it a more intense apple flavor or to use boiled cider, which is apple cider boiled and reduced to 7x strength.
Why are these the best apple cider donuts?
My recipe simplifies things by using apple juice concentrate (juice concentrated down 2 1/2x), found in the frozen section of the grocery store, instead of using regular apple cider (which doesn't have as much flavor) or boiled cider (which is difficult to source). I also use apple butter, which is a concentrated cooked apple spread and easy to find at a well-stocked grocery store. Both ingredients give the cider donuts extra apple flavor, making these the best homemade apple cider donuts you've ever had!
How do you make apple cider donuts?
Making apple cider donuts is pretty easy. Mix butter, brown sugar, white sugar, vanilla, spices, baking soda, baking powder and salt in a bowl until it's light and fluffy. Then mix in the eggs, one at a time. Add about half the flour, then the apple butter. Repeat with most of remaining flour, then apple juice concentrate and buttermilk, then the tiny bit of leftover flour.
Generously dust a clean surface with flour, then scrape the dough on to it. Pat the dough into a disk, cut out donuts, then fry in a pan! Frying happens fast, about 90 seconds per side. Toss in a cinnamon sugar mixture and you have homemade fresh cider donuts! No rest time necessary and no boiling down of juice or cider. Donuts in 30 to 45 minutes!
What's the difference between apple cider and apple juice?
In this recipe, I use apple juice concentrate because it's already 2 1/2 times more concentrated which means it has more apple flavor. But apple cider and apple juice are slightly different. Apple cider is made from apple that are washed, cut and pureed into a mash, then the juice is pressed out of it. Cider is unfiltered and is often unpasteurized as well. It has a stronger, more robust apple flavor. Apple juice is filtered and pasteurized, making it more shelf stable. For this recipe, apple juice and apple cider are interchangeable, but if you want to use apple cider instead of apple juice concentrate, I recommend starting with 1 1/3 cups of cider, then boiling it down to half the volume, until you have the 2/3 cup, which you can use in the recipe.
What is apple butter? Can I substitute apple sauce for it?
Apple butter and apple sauce are similar in that they are both slow cooked apples. However apple butter is further cooked for a longer period of time where the sugar caramelizes and darkens the color. It has a higher concentration of sugar and much more flavor.
I don't recommend substituting applesauce for the apple butter in this recipe. Apple sauce has much more water and less apple flavor and won't give you a great tasting donut.
Do I need a special donut cutter or donut pan?
Nope! I make donuts at home fairly often, so I have a specific 3-inch donut cutter which makes cutting out donuts easier. But you can just use a 3-inch round biscuits cutter and then a smaller 1 or 1 1/4-inch round cutter to cut out the hole. And since this apple cider donut recipe is designed to be fried, you do not need a donut pan, which are used for baked donuts, not fried ones.
Can I bake these cider donuts?
This recipe is specifically designed to be fried like traditional cider donuts. I tested the recipe and found they do not taste that great if you bake them. I'm mean, they'll be edible. But just barely. You need to fry these donuts! However, there are many recipes out there for baked cider donuts. Just try one of those!
How do you store homemade cider donuts?
The best way to store cider donuts is at room temperature in an airtight container or ziplock bag. The donuts will keep for about 1 to 2 days, though the longer you keep them on the counter, the less fresh they taste. Don't try to store them in the fridge. The cold will just make them dry out more.
Can you freeze apple cider donuts?
That said, you can freeze the donuts! Keep in mind, when they thaw, the sugar coating will be absorbed by the donut. So thaw them at room temperature (or you can tempt fate and try to microwave them for 10 to 15 seconds!) and then toss them in new cinnamon sugar.
If you like these homemade apple cider donuts, check out these other apple recipes:
And check out these other great recipes that use cinnamon and pumpkin spice blend:
Apple Cider Donuts
Unlike other cider donut recipes, I use apple juice concentrate (the kind you find in the freezer section of a grocery store) as well as apple butter to give these donuts a double boost of apple flavor. Using the apple juice concentrate means you don't have to spend extra time reducing the cider down on the stove, or bother with mail ordering boiled cider. Look for apple butter at well-stocked grocery stores near the jams and jellies section.
Equipment
candy thermometer (optional but recommended)
Ingredients
Dough
6

tablespoons

unsalted butter

at room temperature 85 g

1/4

cup

packed brown sugar

55 g

1/4

cup

white granulated sugar

50 g

2

teaspoon

vanilla

5

teaspoon

baking powder

1

teaspoon

kosher salt

1

teaspoon

pumpkin spice blend

or ground cinnamon

1/4

teaspoon

baking soda

2

large eggs

4 1/2

cups

all-purpose flour

630 g

1/2

cup

apple butter

165 g

2/3

cup

frozen apple juice concentrate

(straight from the freezer still frozen) 160 g

1/3

cup

buttermilk

75 g
Cinnamon sugar coating
1 1/2

cup

white granulated sugar

300 g

1 1/2

tablespoon

cinnamon sugar
Instructions
Place the butter, both sugars, vanilla, baking powder, kosher salt, pumpkin spice blend, and baking soda in the bowl of a stand mixer fitted with a paddle attachment. Mix on low speed until the ingredients start to blend. Increase the speed to medium and beat together until light and fluffy, about 2 to 3 minutes

Add the eggs, one at a time, mixing and scraping down the side of the bowl between additions. Don't worry if the batter looks "broken" after you add the eggs. It'll come together when you add the dry ingredients.

Add 2 cups of the flour and mix to incorporate. Scrape down the side of the bowl and add the apple butter, mixing to incorporate.

Add 2 more cups of the flour, then add the frozen apple juice and buttermilk together, mixing until the liquid is absorbed into the mixture. It'll slosh around a bit, but will eventually mix in. Add the remaining 1/2 cup of flour and mix until it is absorbed. The dough will be very sticky.

Scrape the dough out onto a clean surface dusted generously with flour. Pat the dough down until it is about 1/2 inch-thick. Dust the top of the dough and your hands with flour occasionally as the dough gets too sticky to work with.

Dip a 3-inch round donut cutter into flour, then cut out donut rings. You can also use a 3-inch round biscuits cutter and a 1 to 1 1/4-inch round cutter to cut out the center hole. Gather remaining dough scraps, knead gently to bind the dough together, and press back down into 1/2-inch thickness. Cut out more donuts. Repeat until all the dough is used up. Cover with plastic wrap.

Pour enough oil in a large deep skillet to bring it up to about 1-inch deep. I like to use a cast iron skillet, but you can use any deep wide skillet or Dutch oven if you want. Heat the oil to 350°F. If you don't have a deep frying/candy thermometer drop a cube of fresh bread into the oil. If it turns golden brown in about 60 seconds you're at the right temperature.

While the oil is heating up, mix the sugar and cinnamon together in a large shallow bowl or pan (a pie tin is for this). Set aside. Place a wire rack on a rimmed baking sheet.

Once the oil is heated up, pick up one of the donuts and place half of it in the oil, then let go. The donut should slide into the oil with minimal splashing, which will minimize risk of burns. Repeat with two or three more donuts, but don't overcrowd the pan. Fry the donuts for 90 seconds, or until the bottom of the donut is golden brown. Then flip over using tongs, long chopsticks or a mesh ladle spoon. Fry for an additional 60 to 90 seconds until that side of golden brown too.

Remove donuts from oil, and move to the wire rack. Once the donuts are removed from the oil let rest on the wire rack for about a minute, then dip each donut in the cinnamon sugar. Move back to the wire rack. Repeat with the remaining donuts and donut holes, frying them first, then coating in the cinnamon sugar. Keep an eye on the donut holes as they may fry faster. Let cool slightly but serve warm!
Notes
I use pumpkin pie spice blend in this recipe because it has a mix of spices like cinnamon, ginger and nutmeg that really play up the apple flavor. You can use my recipe for homemade pumpkin spice blend to make some yourself or just use a store bought mix. Or just use the same amount of plain ground cinnamon instead!
Nutrition