This blueberry rhubarb pie (aka Bluebarb Pie) combines tart red rhubarb with earthy sweet blueberries to create a vibrant luscious dessert.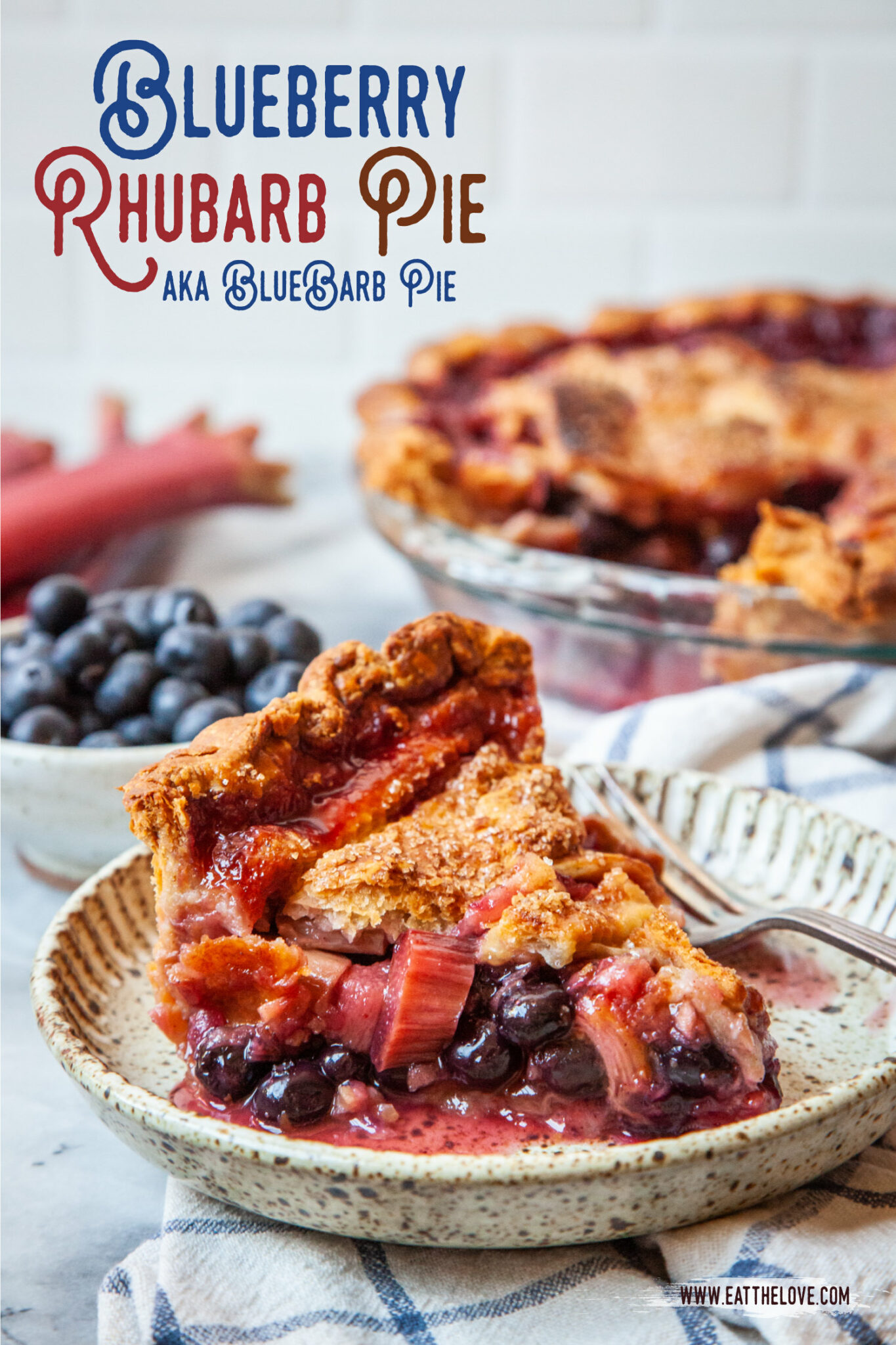 This post was sponsored by California Grown. I was compensated for this post and for developing the recipe. However, all opinions below are completely my own.
Though my strawberry rhubarb pie is a classic in my household when Spring comes around and rhubarb appears in the store, I'm going to tell you that blueberry rhubarb pie might possibly edge out other rhubarb-based pies in my playbook. It's not a combo that a lot of folks know but I've been matching the two for years, as I love how the tart sour rhubarb works so well with the earthy sweet blueberries. Years ago I made a sour cream blueberry and rhubarb pie inspired by a wedding of a college friend, I've adapted a recipe from a friend of mine's cookbook to make blueberry rhubarb oatmeal bars, and I've shared an excellent berry rhubarb slab pie on this blog a few years ago for a gathering I attended up in Sonoma. 
It was at a recent agricultural farm tour in the Temecula valley for California Grown, that I was inspired to make this pie. There, I got a chance to learn all about the region, which is about an hour north of San Diego. There they produce over 50 varietals grapes for over 40 different wineries. Beyond the wine tasting we visited hillsides of gorgeous protea flowering plants grown by the Resendiz Brothers, and had a chance to pick blueberries right off the bush at Fairfield farms, an organic farm that grows blueberries and avocados. It was these blueberries, which ripen earlier than other summertime blueberries in the California due to the unique climate of Pauma Valley where their farm is, reminded me that I could pair them with springtime rhubarb to make this luscious blueberry rhubarb pie, otherwise known as the bluebarb pie.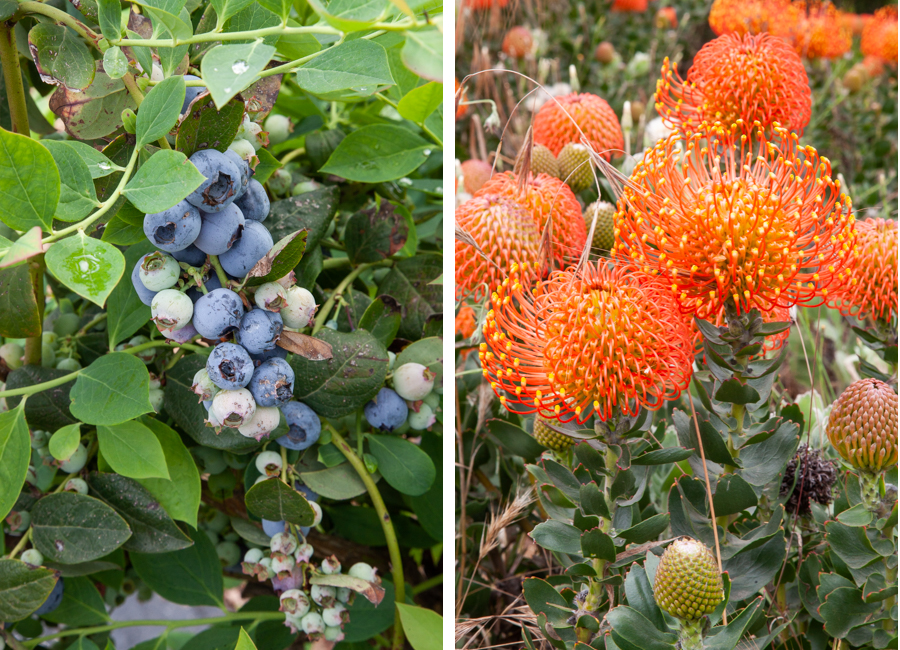 What is Rhubarb?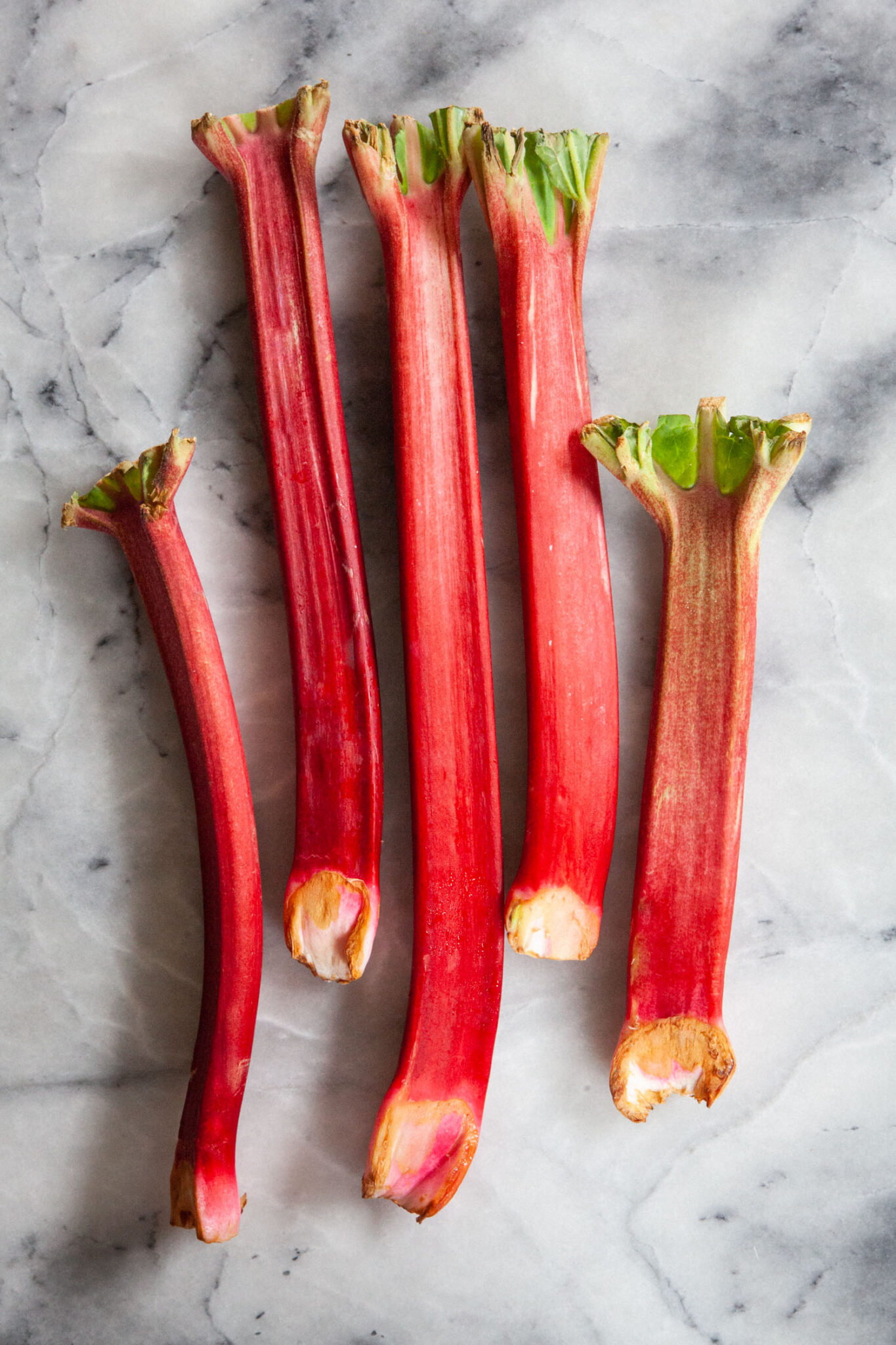 Rhubarb is technically a vegetable, but most folks use it like a fruit, pairing it with sweet strawberry. It's a long stalk that look a bit like red celery (though there are a varieties of rhubarb that are green and never turn red). Like celery, it can be a bit stringy which is why it's often cut into chunks. Once cooked, the rhubarb softens a lot, and the astringent sour flavor of raw rhubarb mellows. Still, because it is more tart and sour, rhubarb is often paired with sweet fruit like strawberries or blueberries, to balance out the flavor.
You've probably heard that you shouldn't eat the rhubarb leaves, as they are poisonous. Most rhubarb that you buy have the leaves trimmed but if you grow your rhubarb or you find rhubarb at a farmers market that still has the leaves, trim it off. But even if you do eat a little rhubarb leaves, don't stress about it too much. You need to eat 11 pounds of rhubarb to kill you so a few leaves here and there, at most will just give you a stomach ache.
Rhubarb season usually starts in April and can go through June, though late season, second harvest, and hothouse rhubarb tends to extend the season from early Spring to late summer. Frozen rhubarb is also available all year.
How do you make this pie?
Like all pies, you start with pie dough! My all-butter pie dough is my go-to, and it requires very few ingredients. Combine flour and little kosher salt in a bowl, then sprinkle some refrigerate cold butter cubes over the dry ingredients. Smash the butter with your fingers into small flat pieces. Then drizzle the mixture with ice cold water. Toss with a fork until most of the water has absorbed and a dough forms. Divide the dough in half, wrap with plastic wrap, and refrigerate for 2 hours or overnight.
Once the dough is chilled, make the filling by combining chopped rhubarb, blueberries, sugar, a grated apple, vanilla extract, lemon juice, salt, tapioca starch (or cornstarch), cinnamon and nutmeg. Roll out the dough and fit it into a deep-dish pan. Scrape the dough into pie crust, and then roll out the second disk of dough. Cut strips and weave a top crust, sealing and crimping it around the edges of the pan. Brush the top with an egg wash and sugar, then bake!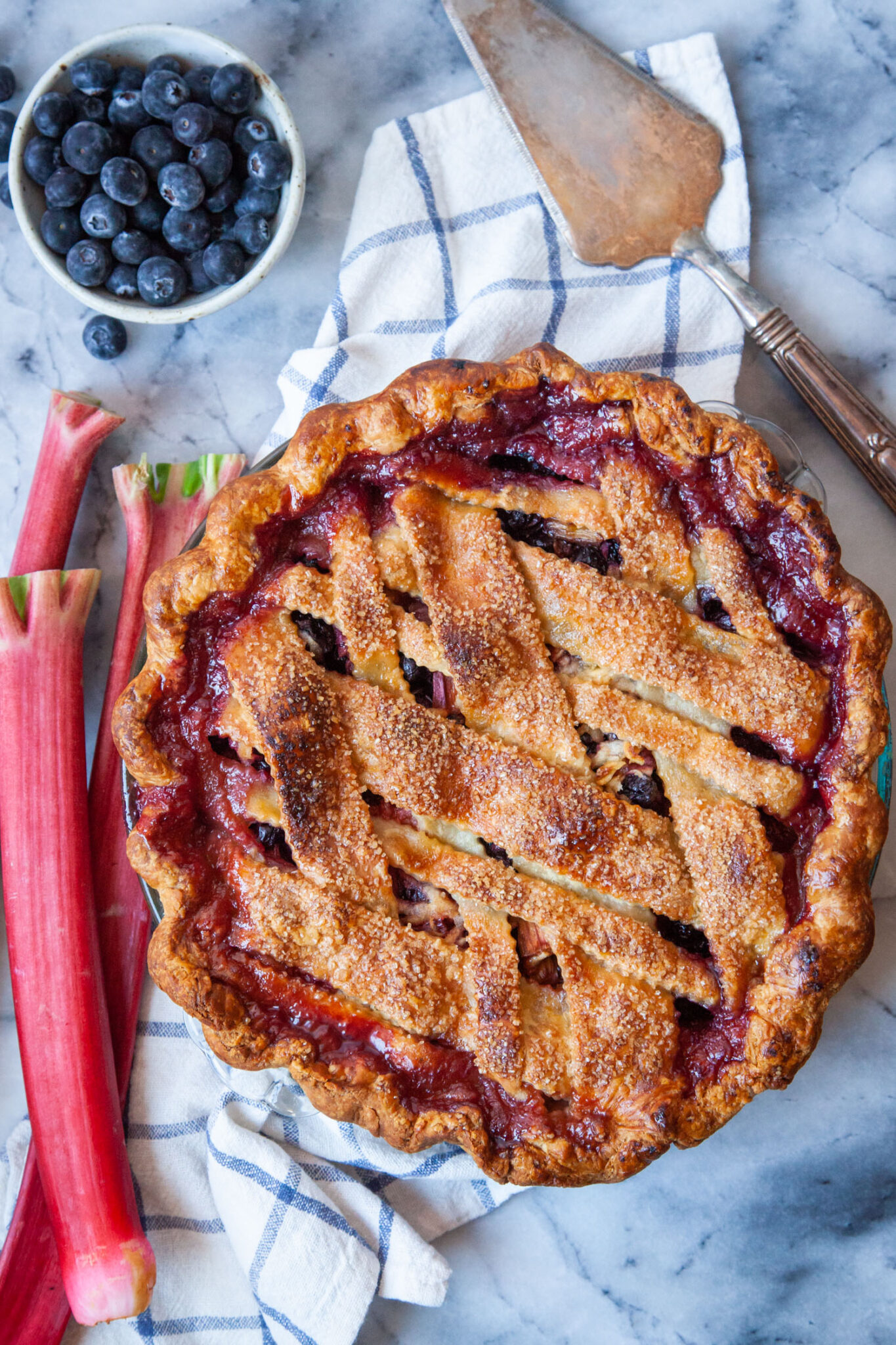 Shortcuts and substitutions
Pie dough: You can easily skip the homemade pie dough and use store-bought pie crust. Or use store bought puff pastry, but expect the crust to be puffier.
Spices: This pie doesn't use a lot of spices but I do add a bit of cinnamon for dimension and nutmeg to help bring out the buttery richness. You can omit, add or swap out spices if you'd like. I'd recommend ginger, cardamom, allspice, black pepper, or even coriander as options.
Skip the top weave: If the top crust weave seems fussy, just cover the entire top of the pie with a full sheet of pie dough, and seal and crimp the edges. Just makes sure to cut some steam vents into the top of the crust.
Lemon Juice: I use lemon juice for acidity, which gives the pie filling some juiciness, as well as helps to activate the pectin in the apple, which helps thicken the pie. If you don't have lemon around, swap it out for a different citrus like lime, Meyer lemon, or orange. Or use the same amount of vinegar instead. Balsamic vinegar which will give it a dark richness, apple cider vinegar which will give is a sweetness, or raspberry vinegar which will boost the berry flavor.
Tapioca starch/flour: I like using tapioca starch for pie fillings. It sets at a lower temperature and doesn't taste quite as "starchy" as cornstarch. It also tends to work better in acidic environments. But if you don't have any tapioca starch, an equal amount of cornstarch will work just as well!
Frozen fruit: If you want to use frozen rhubarb or frozen blueberries for this recipe, substitute the same amount as you would fresh fruit. Don't worry about thawing the fruit, just increase the bake time by 10 minutes or so to accommodate the cold filling. But I would recommend increasing the tapioca starch by 1 tablespoon if you are using frozen rhubarb or frozen blueberries, and 2 tablespoons if you are using both frozen rhubarb and blueberries. The frozen fruit tends to shed more water, so you'll need more starch to absorb that liquid.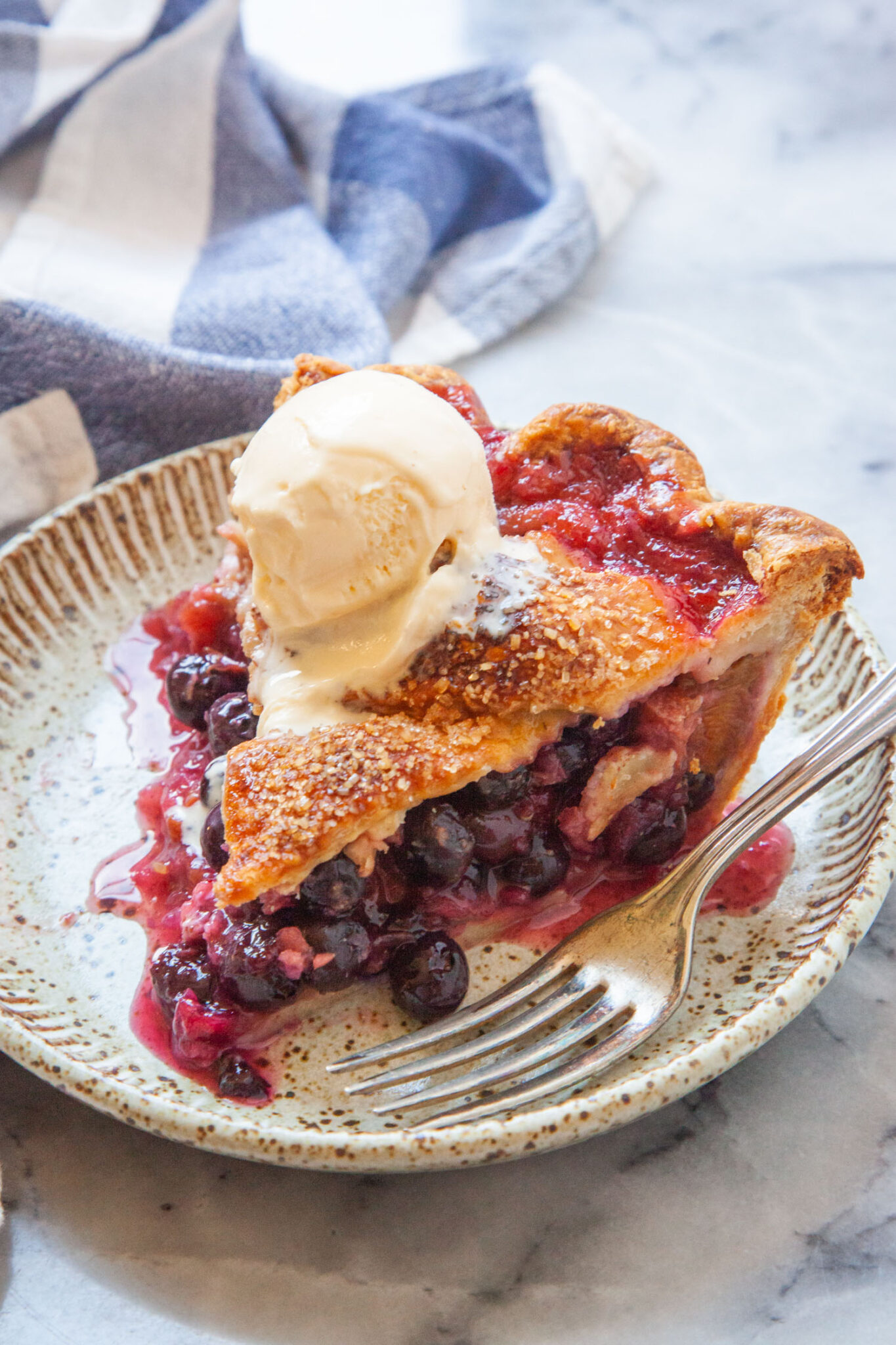 How to store the pie
This pie keeps at room temperature for about 2 days. You can also store it in the fridge for up to 5 days. Just store the pie under a cake dome or wrapped in plastic wrap. If you're storing the pie in the fridge, bring it to room temperature before serving.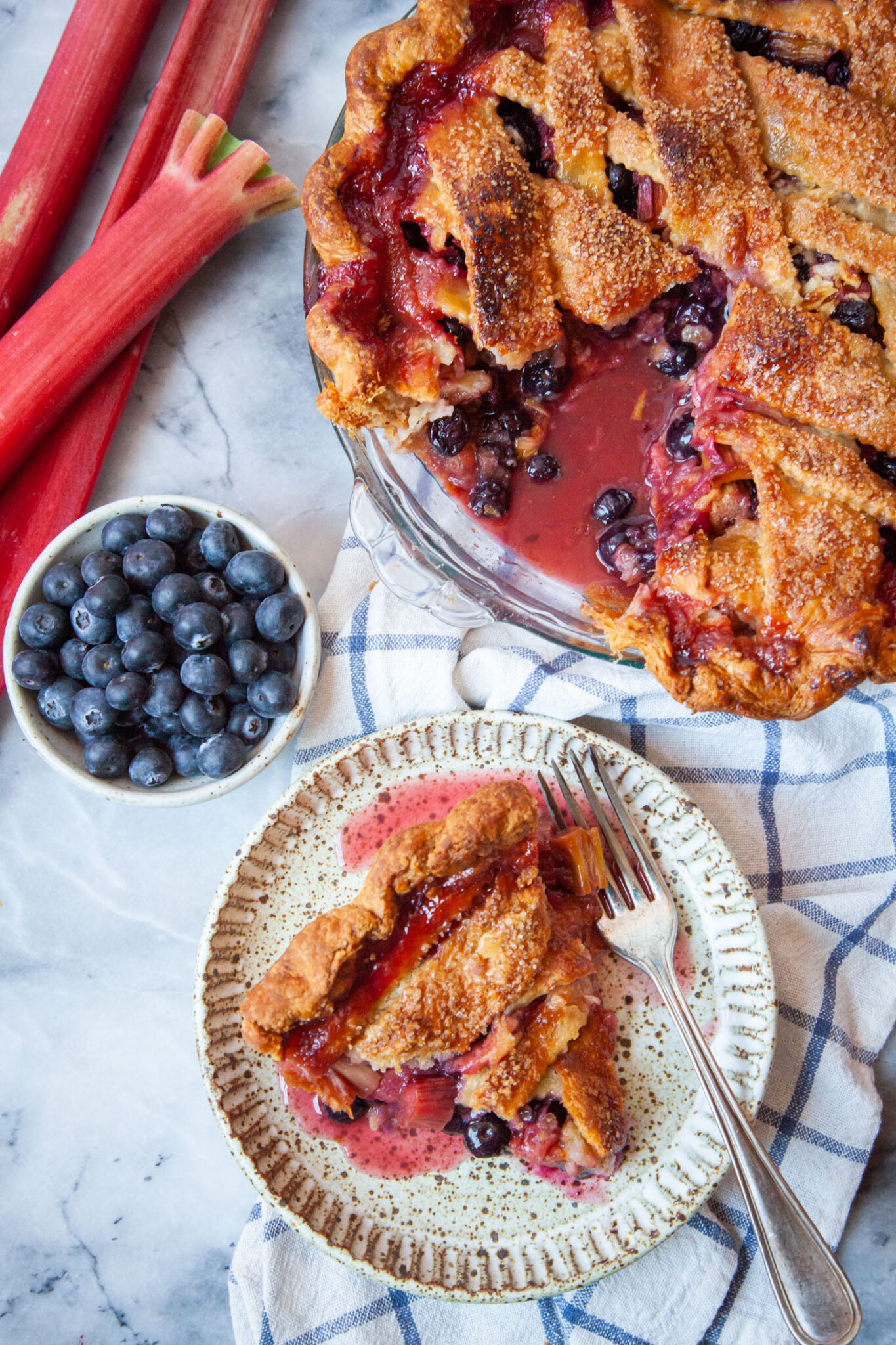 If you like this blueberry rhubarb pie, check out these other rhubarb recipes
And check out these other blueberry recipes
Blueberry Rhubarb Pie (aka Bluebarb Pie)
This blueberry rhubarb combines the earthy sweet blueberry with the mellow sour tartness of rhubarb and is awesome as a late Spring or early Summer pie. Don't skip the grated apple. It is full of pectin, which helps naturally thicken the pie, as well as sweeten it. But don't worry, you won't notice the apple flavor in the pie itself. The bold flavor of the blueberry and rhubarb come through. I have tips and trips above on shortcuts or substitutions. Keep in mind this recipe requires a 9-inch deep-dish pan, one that has a more vertical high side. If you only have a more traditional pie pan with slanted sides, you should half the filling recipe to accommodate for that and reduce all the filling ingredients by half. Reduce the bake time as well, as the filling won't need as long to bake.
Ingredients
Crust
3 1/4

cups

all-purpose flour

455 g

1

teaspoon

kosher salt

1 1/4

cups

cold unsalted butter

2 1/2 sticks or 285 g

3/4

cup

ice cold water

plus more if needed
Filling
1 1/4

pounds

rhubarb

cut into 1-inch chunks, about 2 1/2 cups

1

pound

blueberries

about 3 1/2 cups

1

medium-sized apple

peeled, cored and grated through the big hole of a box grater

3/4

cup

white sugar

150 g

3

tablespoons

tapioca starch or cornstarch

1

tablespoon

lemon juice

2

teaspoon

vanilla extract

1/2

teaspoon

ground cinnamon

1/4

teaspoon

ground nutmeg

1/4

teaspoon

kosher salt
To finish
1

large egg yolk

1

tablespoon

water

2

tablespoon

turbinado sugar or white sugar
Instructions
Make the pie crust by placing the flour and salt in a large bowl. Cut the butter into 1/2-inch cubes, and add them to the dry ingredients. Toss with your hands to coat the butter, then smash the butter cubes into small flat pieces, that are roughly the size of peas. If the butter starts to stick to your fingers, dip them back into the flour to coat them and the butter. Continue doing this until all the butter is broken down.

Drizzle the water over the pie dough ingredients, tossing with a fork, until the water is absorbed a dough starts to form. At this point you can start to massage the dough with your hands in the bowl, pressing and folding the dough to incorporate all the dry ingredients. If the dough doesn't seem to be forming, add a tablespoon of water at a time, tossing with a fork until it comes together.

Cut the dough in half and shape two disks, about 1-inch thick. Wrap in plastic wrap and refrigerate for 2 hours or overnight.

Once the dough is chilled, preheat an oven to 375°F. Make the filling by placing the rhubarb, blueberries, grated apple, sugar, tapioca starch, lemon juice, vanilla, cinnamon, nutmeg and salt in a large bowl. Mix until the fruit is evenly coated with the sugar and starch.

Roll out one disk of dough to a 11 to 12-inch wide circle. Fit it into a deep dish pie pan. Add the filling, scraping and adding any liquid on the bottom of the bowl, into the pie crust.

Roll out the second dough into a 12-inch wide circle, and then cut the dough into strips. Weave the dough over the top of the pie, creating a lattice top. Trim any excess dough, then seal the dough around the edges, decoratively crimping the edges of the bottom crust to the top crust.

Beat the egg yolk with the water, the brush the egg wash over the top of the crust. Sprinkle the top with sugar, then place the pie on a rimmed baking sheet to catch any filling that might bubble over.

Bake in the oven for 50 to 60 minutes or until the top of the crust is starting to turn golden brown. Cover with aluminum foil to prevent burning, and bake an additional 30 to 35 minutes or until the center of the pie is bubbling.

Cool on a wire rack for at least 2 hours to let the filling set or let it cool completely to room temperature. Serve warm with vanilla ice cream or whipped cream.
Nutrition
Calories:
607
kcal
|
Carbohydrates:
79.5
g
|
Protein:
7.1
g
|
Fat:
30.3
g
|
Saturated Fat:
18.6
g
|
Cholesterol:
103
mg
|
Sodium:
575
mg
|
Potassium:
348
mg
|
Fiber:
4.8
g
|
Sugar:
31.7
g
|
Calcium:
83
mg
|
Iron:
4
mg