These easy-to-make raspberry oat bars, made with fresh or frozen raspberries, uses a shortbread oat crust that is also the topping!
Though I have yet to meet a berry that I did not like, I have a special place in my heart for raspberries. They're tart, they're sweet, and they have that concentrated berry flavor that a lot of other berries doesn't. But I don't use them a lot. I've made raspberry cookie bars and I've added them to my mixed berry galette with chocolate crust but somehow, I haven't really made a recipe where the raspberries really SHINED. So clearly I had to rectify that with these raspberry oat bars! 
These raspberry oat bars are based on my strawberry oatmeal bars that have crystallized ginger in them. I kept these raspberry bars a bit more simple, so their pure raspberry flavor shines through. The baking of the bars breaks down the berries into a jammy fruit spread from the heat. Best of all, they can be made with fresh or frozen raspberries (no need to even thaw the frozen berries) which means you can make them all year round and not have to worry if the raspberries are in season.
How to make these oat bars
These one-bowl raspberry oat bars are super easy to make. Spray a square pan with cooking oil, then line with parchment paper.
Combine oats, flour, sugar, cinnamon and salt in a bowl. Drizzle melted butter over it and toss until the dry ingredients start to lump together. Pull out about a cup of it, and press the remaining amount into the pan, creating the crust.
In the same bowl (no need to clean it!) mix raspberries, sugar, balsamic vinegar, tapioca or corn starch, and vanilla together. Spread over the crust.
Then sprinkle the top with the reserve oat mixture. Add a little bit extra turbinado sugar for crunch. Bake, let cool, then pull out of the pan with the parchment paper. Cut and serve.
How to customize these bars
These bars are super easy to customize. Here are few ways:
Use a different berry: Try subbing out blueberries, blackberries or strawberries (like in my strawberry oatmeal bar recipe). 
Use a different fruit: Try chopping up and making these with a stone fruit like cherries, plums, peaches or apricots. Just chop the fruit into 1/2-inch chunks and cook until the center of the bar is bubbly. Bake time may vary depending on the fruit, so just bake until you see the fruit break down and boiling in the center of the pan.
Swap out the balsamic: I use balsamic to bring a touch of deep sweet acidity but if you want something slightly brighter in flavor, try substituting lemon juice or apple cider vinegar in its place.
Add spices: Try upping the cinnamon in the recipe to 1 teaspoon to bring the cinnamon more forward. Or add 1/4 teaspoon of cloves, allspice or nutmeg for a different dimension. Try adding dried ginger powder or fresh ground pepper for a hint of heat and depth.
Add dried fruit: Try adding 1/4 cup of dried fruit like dried cherries, blueberries or cranberries to give the bars a little more chewy. Or add 2 tablespoons of dried ginger to give a little sweet heat to the raspberry bars.
Use a different flour: Try swapping out the all-purpose flour with rye flour or whole wheat to give a healthier or nuttier flavored crust and crumb.
Use a multigrain cereal: Use a multigrain rolled cereal in place of the rolled oats to give a different flavor to the recipe
Add some nuts: Add 1/2 cup of chopped nuts like almonds, pecans, walnuts, pistachios, macadamia or hazelnuts to the topping of the bar for crunch and flavor. 
How do you store the bars?
Store these bars in the fridge for up to 5 days in an airtight container or resealable Ziploc bag. Eat them cold or bring them back to room temperature if you prefer.
You can also freeze them, sealed in a heavy-duty resealable freezer bag. They'll last up to 3 months in the freezer.
If you like these raspberry oat bars, check out these other berry desserts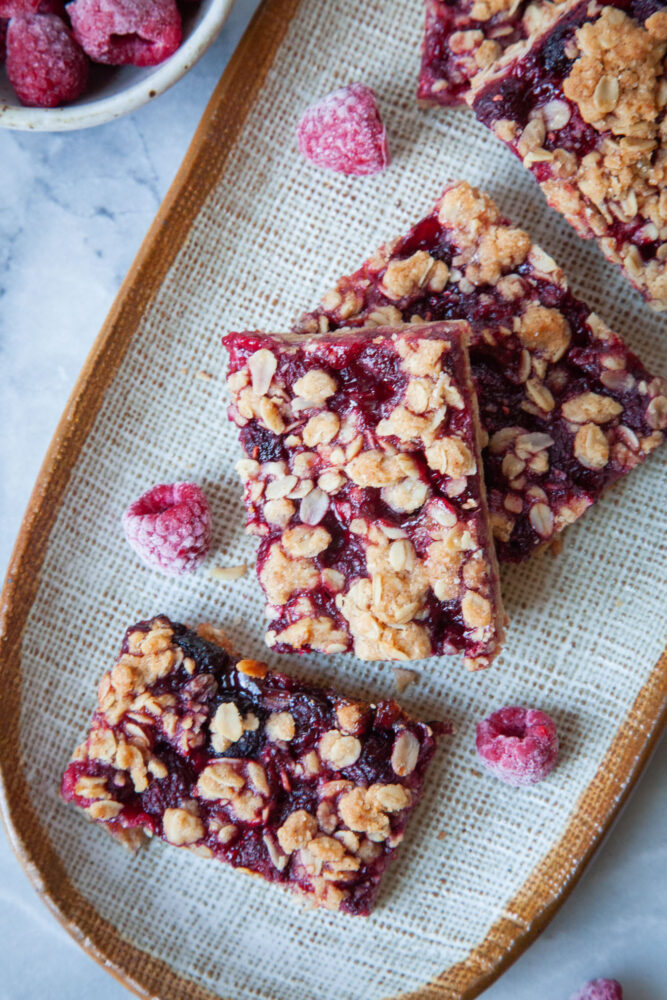 Raspberry Oat Bars
These bright and vibrant raspberry oat bars have a jammy fruit berry flavor in every bite. The shortbread rolled oat base also functions as an oat crumb topping, making these super bars incredibly easy to make as well.
Ingredients
1 1/2

cups

rolled oats

regular or thick cut preferred, 165 g

1

cup

all-purpose flour

140 g

1/2

cup

packed light brown sugar

110 g

1/2

teaspoon

cinnamon

1/4

teaspoon

kosher salt

10

tablespoon

melted unsalted butter

140 g

2 1/2

cups

fresh or frozen red raspberries

if frozen, no need to thaw, 1 pound or 455 g

1/4

cup

white sugar

50 g

1

tablespoon

balsamic vinegar

1

tablespoon

tapioca starch

1

teaspoon

vanilla

1

tablespoon

turbinado sugar

or white sugar
Instructions
Preheat oven to 350°F. Spray 9 x 9-inch pan with cooking oil, then line with parchment paper, making sure there's at least 1 inch of paper overhanging the sides of the pan. Spray the paper lightly with more cooking oil.

Place the oats, flour, sugar, cinnamon, and salt in a bowl then mix together with a whisk. Drizzle butter over mixture, tossing until mixture clumps and all butter is absorbed.

Scoop out and reserve about 1 cup of oat mixture. Press remaining mixture into the bottom of the pan.

In the same bowl (no need to clean it) combine frozen or fresh red raspberries, sugar, balsamic vinegar, tapioca starch, and vanilla in a bowl. If using fresh raspberries, don't worry if the raspberries start to break down as you mix them.

Spread raspberry filling, evenly distributing raspberries over the crust. Sprinkle reserve oat mixture and turbinado sugar on top.

Bake in oven for 50 to 55 minutes, or until the middle of the oat bars are bubbling. Let cool completely in pan, about an hour, then remove by pull the parchment paper out of the pan. Remove the paper then cut into 12 bars and serve.
Nutrition
Calories:
220
kcal
|
Carbohydrates:
29.6
g
|
Protein:
2.9
g
|
Fat:
10.5
g
|
Saturated Fat:
6.2
g
|
Cholesterol:
25
mg
|
Sodium:
121
mg
|
Potassium:
100
mg
|
Fiber:
3
g
|
Sugar:
12.1
g
|
Calcium:
22
mg
|
Iron:
-51
mg