This classic British Eton Mess is a simple-to-make, delightful dessert that is great to serve when strawberries are in season.
My obsession with strawberries is well documented here on the blog. I use them in my strawberry rhubarb pie, chocolate strawberry scones, easy strawberry cake, sparkling strawberry lemonade, and of course, just eating them straight from the carton in abundance. But one of my favorite super easy strawberry recipes is for British Eton Mess. It's basically whipped cream, meringue cookies, and strawberries layered together like a parfait. It's not only easy to make but so very pretty as well! I use a touch of balsamic in the strawberries to bring out the juiciness, and you can either use homemade meringue drops, or just buy a package of meringue from the store to make it!
What is Eton Mess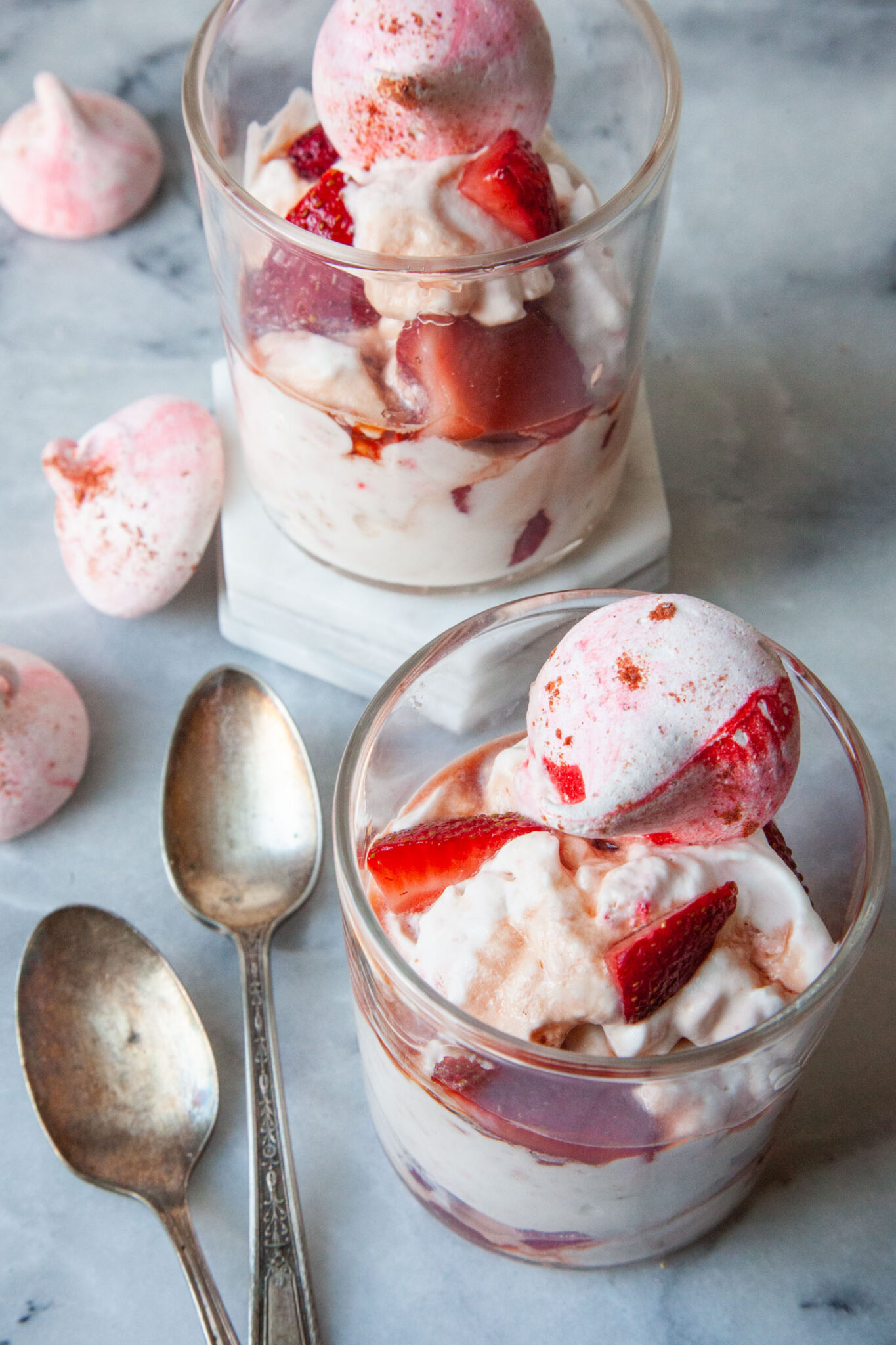 Eton mess is a classic British dessert, where whipped cream, meringue and strawberries are layered and served together in a glorious beautifully delicious mess. It has long been associated with Eton College, a public school in Berkshire England, where it is served in the annual cricket match against their rivals Harrow School, who serve their own version of the dessert called Harrow Mess. Other schools have their own version, including the Banana Mess, served at Lancing College, built with whipped cream, meringue, and of course bananas.
How do you make Eton Mess
If you have store bought meringue cookies, the British Eton Mess can be made incredibly fast. But even if you don't have meringue cookies, you can make them one day and use them the next to make the Eton Mess.
To make plain meringue cookies, just whip a couple of egg whites until soft peaks form. Then sprinkle in sugar until it is dissolved and stiff peaks form. Using a spoon or a piping bag, make dollops of the meringue on a baking sheet lined with parchment paper and then bake in the oven at 200°F until the meringues are crispy, about 60 to 90 minutes depending on how large you make the dollops.
(Note: the meringues in the picture are strawberry malted meringue cookies from a recipe I developed for All Recipes magazine.)
Once the meringues are baked and crisp, crush some strawberries with sugar and balsamic vinegar and let them sit to macerate. Whip some heavy cream with powdered sugar and vanilla until soft peaks form. Then fold in crushed meringues into the whipped cream.
Layer the whipped cream with the strawberry sauce, adding in a few sliced fresh strawberries for texture. Garnish with a whole meringue cookies and serve.
Customize it
Though the classic Eton Mess is made with strawberries here are a few ideas on customizing the Eton Mess to make it your own
Berry swap: Strawberries are great but you can easily substitute some or all of the strawberries with another berry like raspberries, blackberries, or blueberries.
Fruit swap: Try swapping the strawberries for a summer stone fruit like pitted cherries; chopped peaches or nectarines; or chopped plums or pluots. You can even roast a pound of chopped rhubarb with 3 tablespoons of sugar for 10 to 15 minutes in a 350°F oven on a rimmed baking sheet until tender, and use that for a rhubarb mess.
Tropical fruit swap: Substitute some or all of the strawberries for tropical fruit like chopped pineapple, passionfruit, sliced bananas, or sliced kiwis.
Spices and herbs: When making the whipped cream, add in a little ground cinnamon, ground ginger, ground allspice, or fresh ground pepper. For a little more punch, add in a tablespoon of chopped crystallized ginger. Or add a few leaves of fresh mint, some fresh tarragon or fresh lemon thyme to give an herbal touch to the Eton Mess.
Nutty texture: Though it's totally non-traditionally, but you can add some texture to the Eton mess by sprinkling a little bit of chopped nuts like pistachios, macadamia nuts, walnuts, pecans or almonds over the top to give a little nutty texture. Or, if you want to go with a deeper flavor or are allergic to nuts, try roasted cacao nibs which add a nutty chocolate note to the Eton Mess.
Can you make Eton Mess ahead of time?
Eton Mess should be served right away. But since assembly is relatively fast, you can make all the components ahead of time. Make the meringues up to two weeks in advance, just keep them in an airtight container or heavy-duty Ziploc freezer bag. Make the strawberry sauce up to a day ahead of time, but whip the cream and use it right away, otherwise it might deflate.
If you like this British Eton Mess recipe, check out these other berry recipes:
British Eton Mess
This easy traditional British dessert has three main components, a macerated strawberries sauce, whipped cream, and meringue cookies. I also add in some fresh cut strawberries to give the Eton Mess a little more texture, along with the macerated strawberry sauce. This recipe gives instructions on making the meringue cookies but feel free to just use store bought meringue cookies as an easy shortcut.
Ingredients
Meringue cookies
2

large egg whites

1/8

teaspoon

cream of tartar

1/2

cup

white sugar

100 g
Strawberry Sauce
1/2

pound

strawberries

227 g

2

tablespoons

white sugar

or more if the strawberries aren't very sweet

1

teaspoon

balsamic vinegar
Whipped cream
2

cup

cold heavy cream

1 pint

2

tablespoons

powdered sugar

1

teaspoon

vanilla extract
To assemble
1/2

pound

strawberries

hulled and sliced, 227 g
Instructions
Make the meringue cookies by first preheating the oven to 200°F and lining a baking sheet with parchment paper. Place the egg whites and cream of tartar in a stand mixer fitted with a wire whisk attachment and whip the whites on medium fast speed until soft peaks form. Reduce the mixer to medium speed and slowly sprinkle in the sugar until it is incorporated, and the meringue is shiny and reaches stiff peaks.

Spoon the meringue into 1-inch wide dollops on the parchment paper, or place the meringue in a piping bag fitted with a plain tip and pipe the meringue into 1-inch dollops. Bake in the oven for 60 to 75 minutes, or until the meringue cookies are dry and crispy. Set aside to cool.

Alternatively use 5-ounces of store-bought meringue cookies instead of making your own.

Make the strawberry sauce by first cutting the greens off the strawberries and discarding them. Then quarter or dice the strawberries. Sprinkle 2 tablespoons of the sugar over the mashed strawberries and add the balsamic vinegar. Taste and if the strawberries aren't sweet enough for your preference, add a tablespoon more of sugar. Keep in mind that meringue will add sweetness to the final dessert.

Make the whipped cream by placing the cream, powdered sugar and vanilla in the bowl of a stand mixer fitted with the wire whisk. Whisk on medium fast speed until soft peaks form.

Set aside 6 nice looking meringue cookies to use as garnish. Then lightly crush the other meringue cookies and fold in about 2/3 of the crushed meringue into the whipped cream.

(Note: I used strawberry flavored meringues in the photo, which is why they look pink. But plain meringues are just as good.)

Assemble the Eton Mess by layering the whipped cream, strawberry sauce, sliced strawberries and the rest of the crushed meringues bits together, repeating as necessary in a glass bowl or a double old-fashioned glass, creating layers of the whipped cream and the strawberries. Garnish each Eton Mess with the reserved meringue cookies and serve immediately.
Nutrition
Calories:
256
kcal
|
Carbohydrates:
29.8
g
|
Protein:
2.5
g
|
Fat:
15.1
g
|
Saturated Fat:
9.2
g
|
Cholesterol:
55
mg
|
Sodium:
27
mg
|
Potassium:
175
mg
|
Fiber:
1.5
g
|
Sugar:
26.5
g
|
Calcium:
39
mg
|
Iron:
-54
mg