Looking for an easy and quick way to peel peaches? Here's a simple tutorial with step-by-step instructions and photos on how to peel peaches.
Jump to Instructions
I'm a fairly lazy baker. But I realize there are some fruit that you just need to peel or prep to make the best baked good. Though the skin of a peach is totally edible, the fuzzy skin is tough and don't taste that great in a baked dishes like my Peach and Blueberry Coffee cake, Sugar Roasted Peach and Blueberry Bacon Buckle, or Peach and Blackberry Pie.
Do I need to peel peaches?
I eat my peaches raw with the skin on. But if you are baking with them, the peach skin is fairly tough so I recommend peeling them.
What fruit can I use to substitute for peaches if I really don't want to peel them?
If you don't want to peel peaches, I would recommend nectarines or apricots as a great replacement for peaches! Their skin is much softer and you don't need to peel them to use in baked desserts and dishes.
Can you freeze peaches once they are peeled?
Yes! I love freezing peach slices. Just toss all the peaches in some fresh lemon juice (about 1 tablespoon per pound of sliced, peeled peaches) to prevent them from browning. Then place the slices on a large sheet pan and place in the freezer. You want the slices set slightly apart, otherwise they will freeze into one giant mass.
Once the slices are frozen solid (4 hours to overnight), remove from the sheet pan and place in a large ziplock bag. The frozen peaches will be good for at least 6 months.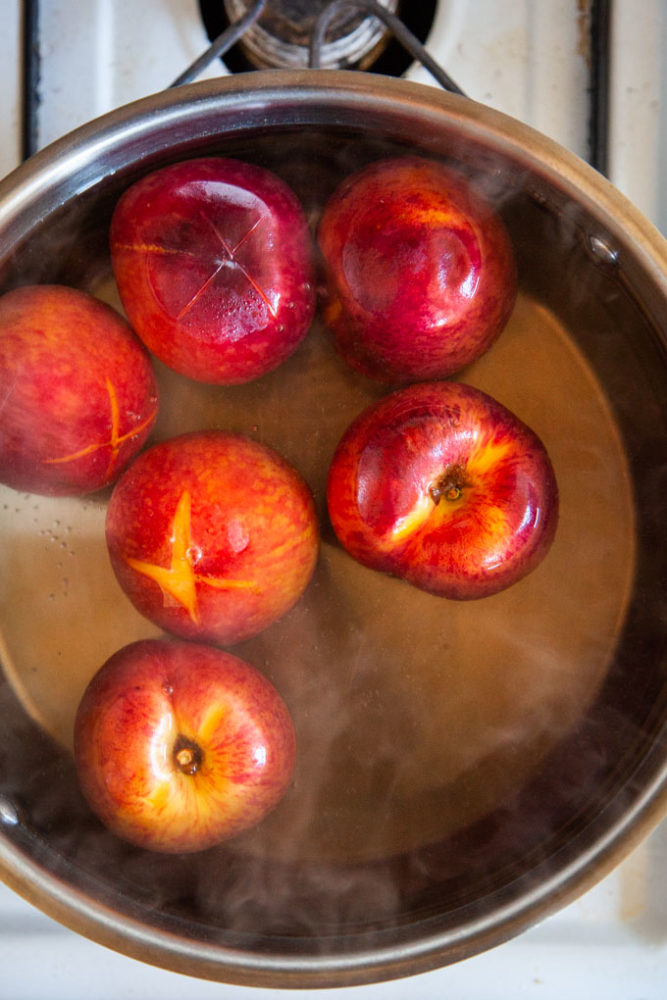 How long do you boil the peaches for peeling?
Peeling peaches requires you boiling some water then dunking the peaches into the hot water. You only need to boil them for 10 seconds to up to 30 seconds, so it's fast! The more ripe the peach, the less time you need to boil them. So if your peaches are ripe and juicy, just boil for 10 to 15 seconds.
Harder, more firm peaches need more time, 30 seconds, sometimes up to 60 seconds. Keep in mind if if your peaches are too firm, you probably want to let them ripen a bit longer before use.

All that said, don't wait for the water to come back to boiling. Just set your timer for 30 seconds right when you add the peaches to the water!
Can I use this method to peel other fruit?
This method is also the best way to peel tomatoes! Just repeat the exact same steps with tomatoes to get skinless tomatoes.
What prep do I need to do to peel a peach?
You need to do a little bit of prep first. Cut a cross on the bottom of the peach. Then dunk in the hot boiling water for 30 seconds. Then shock it in cold water and peel!
Looking for recipes to use the peeled peaches in? Try these:
How to Peel a Peach
Peeling peaches are easy if you just quickly boil and blanch them, then shock them in ice cold water! Here's how.
Instructions
Bring a large pot of water to a boil.

While the water is coming to a boil cut an X at the bottom of the peaches with a sharp knife.

Fill a large bowl with ice water.

Place the peaches in the boiling water and let them cook for 10 to 30 seconds, or until the skin of the peaches start to peel away slightly from the flesh where the X is. The more ripe the peach, the less time is necessary.

Move the peaches to the ice water to "shock" them cold.

Use your fingers to peel the skin off the peaches!