This easy rustic Autumn dessert is called an Apple Pandowdy with blackberries. Easier than a pie, simple as a cobbler, just as tasty as either!
I can't believe it's September already. The summer is clearly over, with the last of the heirloom tomatoes, peaches and plums starting to thin out. Berries are having their last hurrah at the market and the air is starting to warm up here in San Francisco just as it always does during the beginning of Fall, while it cools off everywhere else in the country. My partner AJ is back at work after his accident, hobbling around on his broken ankle and with his arm in a sling from his broken shoulder and I'm starting to see the dizzying array of apples and pears show up at the grocery store. The biggest sign of fall for me though, is my upcoming trip to Portland, Oregon where I'll be covering their spectacular Feast Portland event! With all that in mind, I made myself an Apple Pandowdy and threw in a few blackberries to celebrate and get me in the mood for Fall and Feast. (Jump directly to the recipe.)
If you have been reading my blog for awhile, you'll notice in the past few years I've had a chance to go up and experience Feast Portland, one of my favorite food festivals in the Pacific Northwest. As with the past two years, I'm flying back up there in a couple of weeks and will be sampling food from not only Pacific Northwest chefs but chefs from around the country. Last year I had a chance to meet some really great folks, including Ruth Reichl and I can't wait to see who I meet or what I get to eat this year!
If you happen to be in Portland or nearby, check out Feast Portland's schedule of events. Though a lot of the events are already sold out, there are still tickets available for a few of them. If you see me, feel free to say hi, or just follow along on my Instagram where I'll be sharing some of the eats and treats that I come across in PDX in real time. Of course I'll also be doing some recap posts here on Eat the Love of what I've experienced. In the meanwhile, enjoy this rustic desserts recipe for Apple Pandowdy with Blackberries. I may or may not have eaten it for breakfast for the past few days…
Apple Pandowdy with Blackberries
By Irvin Lin
A pandowdy is a rustic dessert that is basically a cross between a pie and a cobbler. It's super easy to make as well. As with all rustic desserts, the more homemade it looks, the more attractive it is. Plus it has a pretty cool name – "pandowdy" which just scream old school country right? Choose a mix of apples if you can (my go-to apples include Jonagold, Gala, Granny Smith and if I can find them Gravenstein) to get a nice blend of flavors. And if you can't find fresh blackberries, just use some frozen ones. No need to defrost them, just sprinkle them on the apple filling like the fresh blackberries before you add the crust on top.
Adapted from a Food & Wine recipe.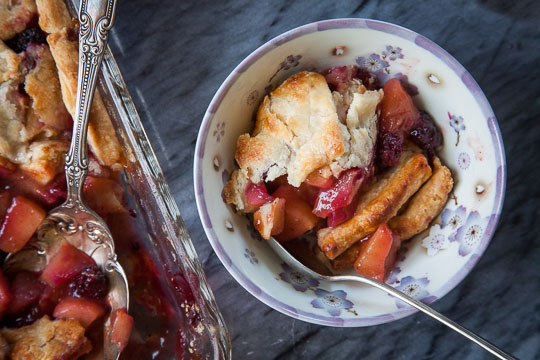 Ingredients
Pandowdy Crust
1 1/4 cups (175 g) all-purpose flour
1/4 teaspoon kosher salt
1/2 cup (115 g or 1 stick) unsalted butter
1/4 cup ice cold water
Filling
2 1/2 pounds (about 6 medium-sized blend of varieties) apples
zest and juice from 1 medium lemon
1/4 cup (35 g) all-purpose flour
1/4 cup (55 g) dark brown sugar
1/4 cup (85 g) honey
1 teaspoon vanilla extract
1 teaspoon ground cinnamon
1 teaspoon ground ginger
1/2 teaspoon ground nutmeg
1 1/2 cup (6 ounces or 170 g) fresh or frozen blackberries
To assemble
2 tablespoon milk
1 tablespoon granulated white sugar
Directions
1. Preheat the oven to 425˚F. Spray an 8 x 11-inch baking pan with cooking oil. Place on a rimmed baking sheet.
2. Make the pandowdy crust by combining the flour and salt in a medium-sized bowl. Cut the butter into 1/2-inch cubes and sprinkle over the dry ingredients. Using your fingers and hands, first toss the butter in the flour, then smash the butter into thin slivers, breaking them up as you go. Once they've broken and flatten into small bits the size of peas, drizzle the water over the butter and flour. Toss with a fork until the dough starts to come together. Massage the mass with your hands until it forms a cohesive dough. Flatten into a disk about 1-inch thick, wrap tightly with plastic wrap, and stick in the freezer while you make the filling.
2. Make the filling by peeling the apples, then coring, slicing and chopping the apple into 1-inch chunks. Place the apple chunks into a large bowl and add the zest and lemon juice. Add the flour, brown sugar, honey, vanilla and spices. Toss with a large spatula until the apple is evenly coated. Pour into the prepared baking pan, scraping any residual liquid in the bottom of the bowl into the pan. Sprinkle the blackberries over the apple filling.
3. Take the crust out from the freezer and place on a clean surface dusted with flour. Roll the dough out until it is about 1/4-inch thick. Cut the dough into rough 3 x 3-inch pieces (no need to be precise). Take half the dough squares and fold them over and tuck them all the way around the baking pan, forming an edge crust. Then "shingle' the remaining dough squares decoratively all over the apple and blackberry filling, making sure that there are plenty of empty spaces to allow for steam to escape.
4. Brush the top of the crust with the milk and then sprinkle the sugar over the crust. Bake in the oven for 30 minutes then take the pan out of the oven and push down on the crust so that some of the juices of the filling come up over the crust. Place back in the oven and reduce the heat to 375˚F and bake an additional 20 to 30 minutes or until the crust is golden brown and the filling is bubbling and thick. Let cool 15 to 20 minutes before serving.
Make enough for 6 to 8 servings.
If you like this apple pandowdy recipe, check out my other rustic desserts here on Eat the Love:
Apple and Pear Cobbler
Peach and Nectarine Cobbler with Flakey Sage Biscuits
Berry Tart with Crisp Corn Crust
Red Wine Poached Pear, Ginger and Golden Raisin Rustic Tart
And check out thes other rustic desserts from around the web:
Comfort of Cooking's Rustic Pear Galette
Sprinkle Bakes' Easiest Ever Rustic Apple Tart
Art and Lemon's Rustic Tomato Tart
Everybody Likes Sandwiches' Winter Fruit Pie with Walnut Crumb
Desserts for Breakfast's Morning Hazelnut Plum Tarts