This easy-to-make chili is the best chili recipe out there, with tips on customizing it to your taste, with suggestions of secret ingredients!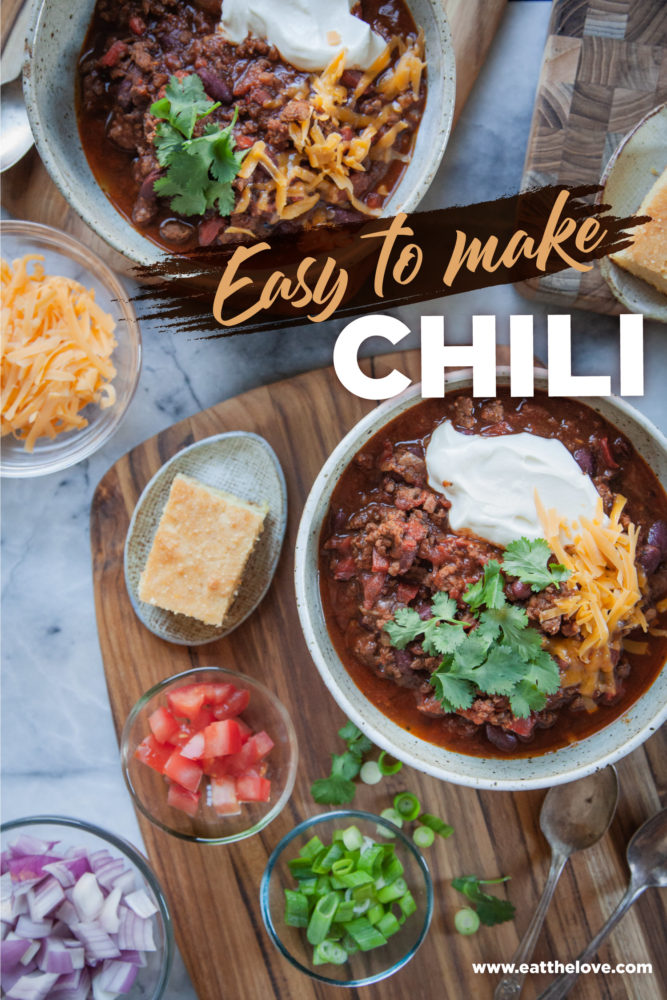 My partner and I used to serve chili a lot, back when we casually entertained. It was our go-to dish for large gatherings along with homemade olive pizza, fried mac and cheese bites, and Taiwanese popcorn chicken, because you can easily double the recipe, add some cornbread and tons of fixing to it and it's an automatic party! Even better, leftovers are better the next day! And strangely I realized I have never shared my chili recipe before here. After years of tinkering and playing around with it, this is my go-to recipe for the best and easiest chili, perfect for game day (if that's your thing) or just for a cold winter day.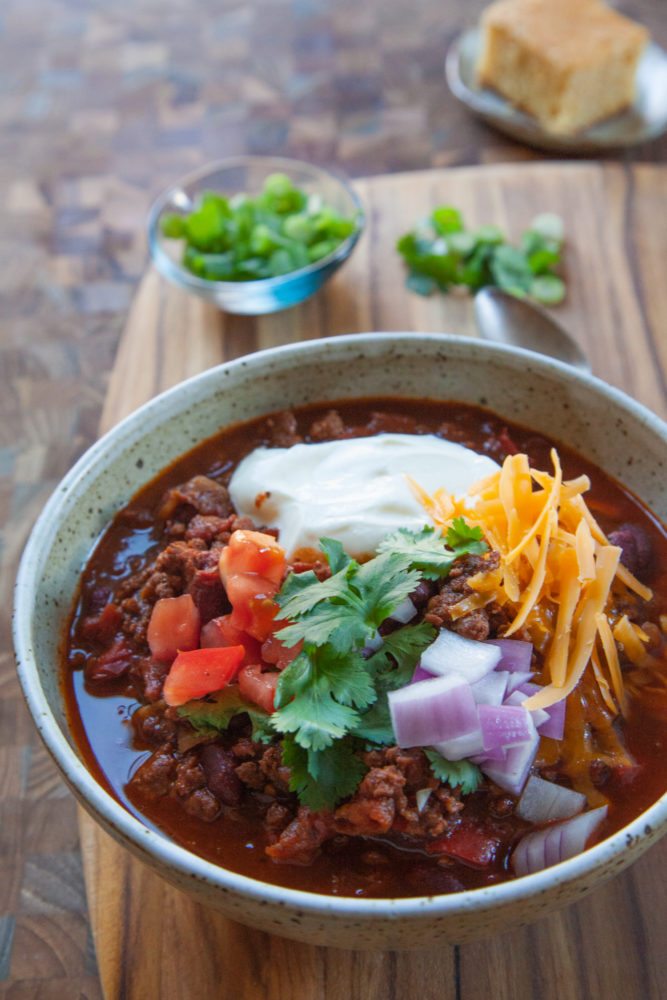 How do you make this chili?
This chili is super easy-to-make, because the prepping of the ingredients just includes chopping the onion, bell pepper and garlic. That's it! Once prepped, cook the vegetables until they start to soften and add the ground beef and Italian sausage and continue to cook until browned.

Then add the spices like chili powder, cumin, oregano, and red pepper flakes along with some chili paste. And like nearly all other chili recipes out there, I like to add some "secret" ingredients that make my chili specific to my taste. This includes a little bit of cinnamon, cloves and cocoa powder, but those are totally optional.
Cook until the spices are fragrant, then add crushed or diced canned tomatoes, and a bottle of beer. Let the chili simmer and then add kidney beans. Cook until the flavors marry and serve.
What to serve with this chili?
You can serve chili with a number of side dishes to make it a complete meal. Here's a few examples
Cornbread (this is my go-to side dish for chili)
Bread rolls, like my potato rolls, Parker House rolls, wooly bread, or garlic knots
Elbow Macaroni (my partner claims it's not chili if macaroni isn't mixed in)
Spaghetti noodles
Tortilla chips (make sheet pan nachos with it)
Stuffed baked potatoes or baked sweet potatoes
French Fries
Cold beer (this seems like a given but I feel like I need to mention it)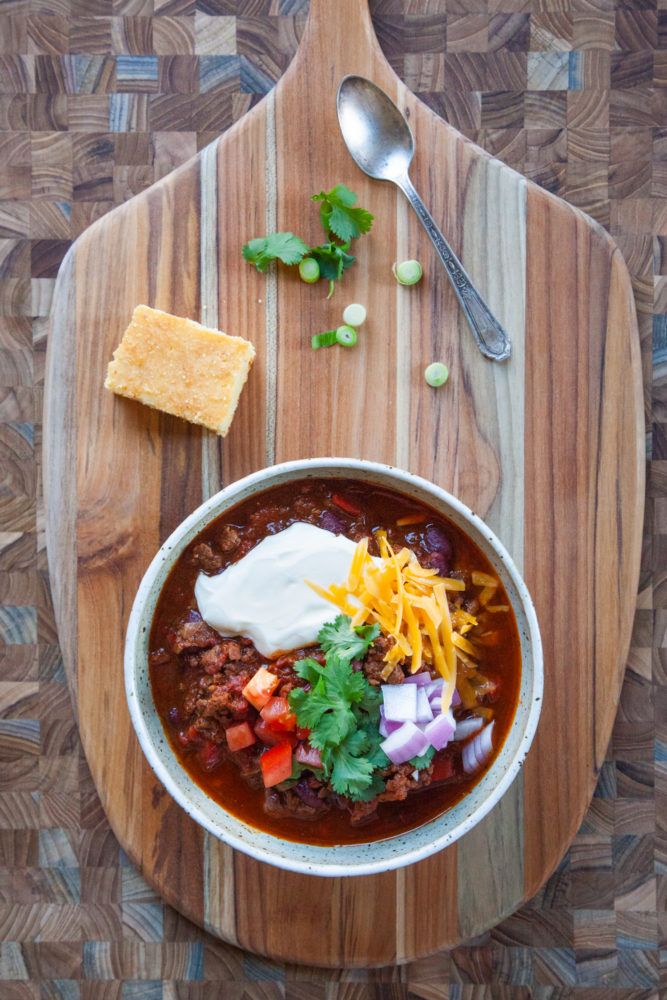 Secret Ingredients for Chili
The variety of chili recipes out there are near infinite. It's why there are "chili off" contests with hundreds of folks who come with their own secret ingredient which they claim makes their chili the best ever. The reality is, there is no BEST chili recipe out there, because everyone's tastes are different. There's only the best recipe for YOU. So my advice is always to experiment a bit!
Here's an (incomplete) list of various "secret ingredients" that you could try adding to your chili. I've categories the ingredients into what they mostly do with the chili, though keep in mind that often they do more than one thing. For instance, grated dark chocolate adds complexity as well as sweetness. Chopped mushrooms add texture as well as boosts umami.
Most of the ingredients, with the exception of the fresh chopped peppers (jalapeno, serrano, habanero, or other hot peppers), can be added at the very end of the recipe to taste. Add just a little bit, stir it in, then taste. Add more if you desire. If you want to increase the heat and complexity by adding fresh chopped peppers, add it with bell pepper, onions and garlic, to cook it a bit first.
Complexity
Liquid smoke (use 1/2 teaspoon first, as its strong)
Cumin
Coriander
Dried Oregano
Cocoa Powder
Ground cinnamon
Ground cloves
Ground allspice
Dark chocolate, grated or chopped small
Bottled enchilada sauce
Bottled BBQ sauce
Ketchup
Red Wine (use instead or partially in place of beer)
Beef Broth (use instead or partially in place of beer)
Chicken Stock (use instead or partially in place of beer)
Vegetable stock (use instead or partially in place of beer for vegetarian)
Acidity
Balsamic Vinegar
Red Wine Vinegar
White Wine
Sweetness
Brown Sugar
Coconut Sugar
Molasses
Honey
Agave Nectar
White Sugar
Texture
Ground turkey or chicken instead of ground beef or sausage
Rolled quick oats
Chopped Mushrooms
Cubed Winter Squash
Cornmeal
Chopped firm tofu
Frozen or canned corn
Cubed pork or steak
Shredded roasted chicken or turkey
Umami
Worcestershire Sauce
Soy Sauce
Asian Fish Sauce
Marmite or Vegemite
Heat
Chopped fresh peppers, like jalapeno, serrano, habanero (add and cook with vegetables)
Ground Chipotle Chili Powder
Ground whole dried peppers, like Chipotle, Chile de Arbol, Thai or Ghost
Cayenne powder
Ground red pepper flakes
Ground Sichuan peppers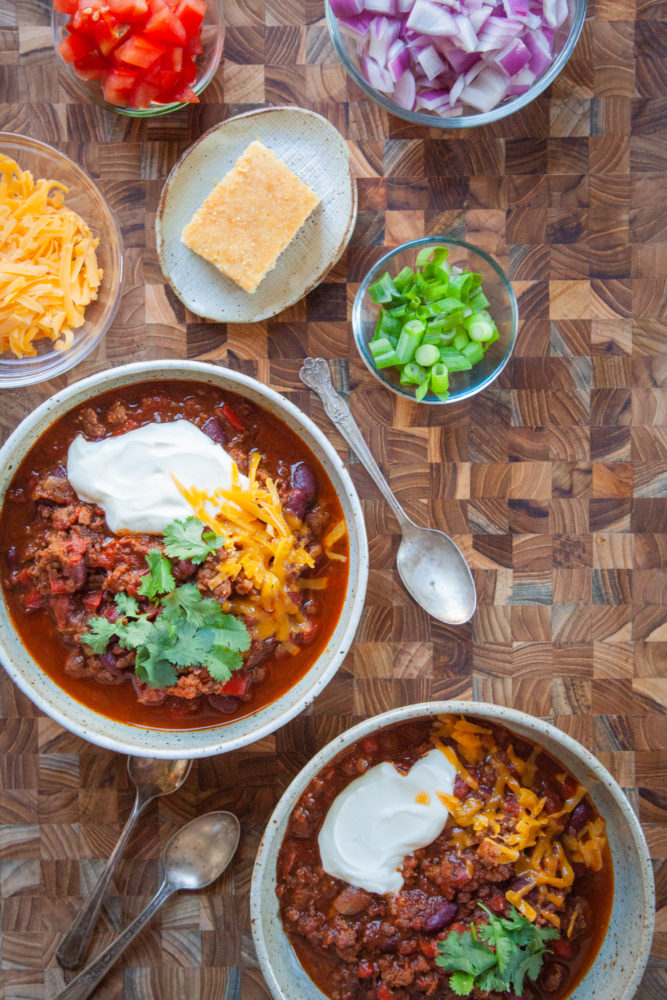 Toppings for Chili
I'm 100% a maximalist when it comes to my chili. The more toppings the better! But you may want to either streamline your topping offerings or just pick a few select toppings that you like. But if you are planning a chili party or make a chili bar for your gathering, here are a few suggestions and options for topping your chili. But if there is any other toppings that you love, you can leave a comment and I'll add it to this post!
Chopped red onions
Chopped white or yellow onions
Chopped Green onions
Chopped fresh tomatoes
Chopped avocado
Grated cheese like Cheddar, Monterey jack, or Pepper Jack
Ricotta or Cottage Cheese
Feta or Cotija Mexican cheese
Cilantro leaves (so polarizing, but if you love cilantro, it's amazing on chili)
Sour cream
Greek Yogurt
Golden raisins
Croutons
Crumbled tortilla chips or strips
Fritos
Saltine crackers or oyster crackers
Make ahead and storing chili
Chili stores easily and actually tastes better the next day. You can make this chili, as well as any toppings you enjoy, ahead of time. Just cook the entire batch and then cool it and refrigerate in an airtight container or in the pot with the lid on. When you're ready to eat, just heat it back up and serve.

To store leftovers, place in an airtight container and refrigerate for up to 3 days. You can also freeze the chili if you have lots of leftovers. I like to freeze chili in a quart-size freezer ziplock bag. Freeze is flat, then turn it on its side once frozen solid for easy storage. Defrost overnight in a bowl (to collect any condensation) in the fridge. Or microwave it briefly (30 seconds) in the ziplock bag to thaw it slightly if you are pulling it directly from the freezer. Then empty the content of the bag in a microwave safe bowl or into a pot and heat it up in the microwave or on the stovetop.
If you like this chili recipes, check out these other stew and soup recipes
And check out these other recipes that are great for a party or gathering
The Best Easy-to-Make Chili
This easy-to-make chili comes together fast but can be made a day ahead of time if you want. Just cool it and store it in the fridge overnight inside an airtight container or with the lid of the pot on it. Heat it up right before serving. In fact, the chili improves overnight, as the spices and ingredients have time to slowly marry together as it chills.
Ingredients
1

tablespoon

olive oil

1

large yellow onion

chopped

1

red bell pepper

chopped, can substitute another colored bell pepper

4

cloves

garlic

minced

1 1/2

pounds

ground beef

3/4

pound

Italian-style sausage

hot or mild

2

tablespoons

chili powder blend

look for one that has garlic and other spices blended in

1

tablespoon

ground cumin

1

teaspoon

red pepper flakes

more if you like your chili spicy

1/2

teaspoon

cayenne pepper

more if you like your chili spicy

2

tablespoons

tomato paste

28

ounces

crushed canned tomatoes

with liquid

12

ounces

beer

Mexican preferred

15

ounces

red kidney beans

drained from a can
Additional optional seasonings
Instructions
In a large Dutch pan or stock pot add the oil, onions and red bell pepper. Cook over medium heat until the bell pepper starts to soften, and the onion starts to turn translucent. Add the garlic and continue to cook until the garlic is fragrant and softened, about a minute more. Don't let the onions or garlic brown.

Add the ground beef and the Italian sausage. Continue to cook until the meat browned and is mostly cooked (don't worry if it's not fully cooked through just yet).

Add the chili powder, cumin, red pepper flakes, cayenne pepper, and tomato paste. Add the additional optional "secret ingredients" seasonings if you wish. Cook for about 30 seconds or until the spices smell fragrant.

Add canned tomatoes with liquid and beer. Bring to a boil, then reduce heat to a simmer. Cook uncovered for about 20 minutes or until the liquid has been reduced to about half the amount.

Add the drained kidney beans and cook for an additional 15 minutes uncovered. While the chili is simmering, chop and prepare the toppings for the chili.

Serve immediately with toppings of your choice.
Nutrition
Calories:
822
kcal
|
Carbohydrates:
91.2
g
|
Protein:
47.8
g
|
Fat:
32.1
g
|
Saturated Fat:
1.2
g
|
Cholesterol:
70
mg
|
Sodium:
1687
mg
|
Potassium:
2913
mg
|
Fiber:
22.2
g
|
Sugar:
5.2
g
|
Iron:
14
mg