This quick and easy beer bread recipe uses fresh rosemary, grated cheese and semolina flour, creating a dinner party worthy dish in less than an hour! (Jump directly to the recipe.)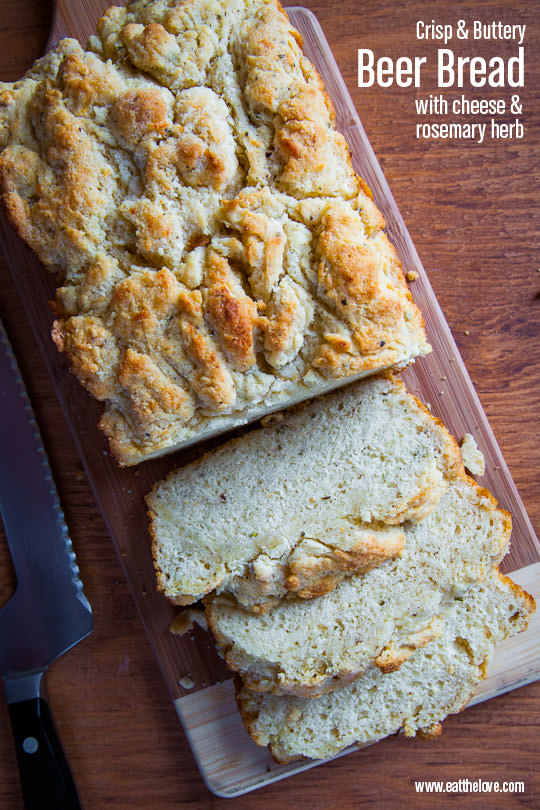 My sister once went shopping trying to find a gift for me. Each item she picked she pondered "tacky or Irvin" as she deliberated on what to buy me. It true that I have a habit of walking the border between good taste and bad taste but trust me when I tell you that this quick bread recipe I made with beer is better than it sounds. If I were to call it a beer bread recipe, it would probably do it injustice but the fact that I can make this bread in less than an hour and have in on the table with people raving about how great it is, is testament that the name itself shouldn't have you shunning it.
I do understand the lack of appeal in the naming of the recipe itself. The name "beer bread" is oddly reminiscent of recipes like tomato soup cake and pudding cookies. Quick and easy shortcut recipes using pantry items that yield…some what dubious end products. But the beer in the recipe is purposeful in nature. The yeastiness of the beer really makes sense in bread form. Think of the bread more as an Irish Soda bread, but with an almost yeasted kneaded bread scent to it. Are you sold yet?
Of course, the classic beer batter bread (which, I believe originated in Texas, or at least that's where I found my original version of the recipe) is super easy and pretty basic. I elevated it a bit, well, as much as you can elevate beer bread, by adding semolina flour and fresh rosemary and some cheese. It's a quick bread that I make for dinner parties and occasionally even finds itself on my holiday dining room table. Tacky or Irvin? Who cares, it's might tasty and that's all that matters.
Beer Bread Recipe with Semolina, Rosemary and Cheese
By Irvin Lin
Though is sounds odd, beer bread combines the flavor of a yeasted kneaded dough (the yeast coming from the bread) with quick batter bread like Irish Soda Bread. Once baked, you won't taste the beer. Most beer bread is made with all-purpose flour, but if you go to the extra effort to get some specialty flours, specifically bread flour and semolina flour, you'll be rewarded with a quick bread that is dinner party worthy. The bread flour gives the loaf of bread a nice dense chew not unlike a hearty homemade white sandwich bread while the semolina gives a slice crunch and helping to brown and crisp the crusty. You can find both flours at most grocery stores but if you can't, you can use all-purpose in place of the bread four and cornmeal in place of the semolina. It won't be exactly the same but it'll still be darn good.
Adapted from a recipe in New Tastes of Texas by Stephan Pyles
Ingredients
1/4 cup (57 g or 1/2 stick) unsalted butter, melted
2 1/2 cups (400 g) bread flour (see note above)
1/2 cup (90 g) semolina flour (see note above)
2 tablespoons (25 g) white sugar
1 tablespoon baking powder
1 teaspoon finely chopped fresh rosemary (don't used dried)
1 teaspoon fresh ground black pepper
1 teaspoon sea or kosher salt
1/4 cup (25 g) finely grated hard cheese (like Parmigiano or Dubliner)
12 oz (1 standard bottle) beer (American pale lager works, nothing too fancy, this is beer bread)
Directions
1. Preheat the oven to 375˚F. Take a standard 9 x 5 inch bread loaf pan and brush about half the melted butter all over the bottom and side of the pans.
2. Place the flours, sugar, baking powder, rosemary, pepper, salt and cheese in medium bowl. Using a balloon whisk, stir vigorously together until all the ingredients are evenly distributed. Open the beer up and slowly pour it down the side of the bowl, trying not to create too much foam. Using a spatula, fold the beer into the dry ingredients but don't overmix. You'll want some lumpy dry patches in the dough (the more you mix it, the denser and tough the bread will be).
4. Scrape the dough into the prepared bread loaf pan. Pour the remaining melted butter over the dough, and brush the butter to cover the top of the dough. Place in the oven and bake 35-40 minutes or until a toothpick inserted in the middle of the dough comes out clean. Remove from the oven, and let cool for 5 minutes. Then turn out into a wire rack and let cool completely before slicing and serving.
Makes 1 loaf of bread.
If you like this beer bread recipe, try these other recipes from around the web that use beer!
Leite's Culinaria's Beer Braised Chicken and Root Vegetables
The Slow Roasted Italian's Bacon Double Cheeseburger Beer Cheese Soup
Closet Cooking's Beer Mac and Cheese
Food Republic's Beer and Brown Sugar Ribeye Steak
101 Cookbook's Berry Beer Baked Beans
And while you're at it, check out my Irish Drunken Cake, which combines Guinness with chocolate for a super moist super rich cake!