This beer cheese dip recipe, has warm hint of mustard and a complex mix of spices that compliments pretzels and dipping veggies perfectly.
Jump to Recipe
Though I've talked about my obsession with pretzels here on my blog, I don't think I've mentioned how I also have an equal amount of love for thick cheese dip. Especially when it's in combination with soft pretzels or smeared on a soft pretzel bun. If I'm at a pub (which is fairly rare nowadays, but it still happens) and there is an option for soft pretzels with cheese dip, I will order it. It doesn't matter what else is available. We're getting the pretzels with cheese dip.
Making your own beer cheese dip at home is pretty easy. Unlike making pimiento cheese dip, which is made by throwing all the ingredients into a food processor, beer cheese dip is cooked over the stove and thickened and bound together with both a roux (a cooked flour and oil paste) as well as a touch of cream cheese. Though cooking is an extra step over the food processor method of pimento cheese, the resulting dip is smooth, warm and rich.
What should I serve with this dip
I serve this beer cheese dip with my homemade soft rye pretzels, which is the best combination ever! The slightly bitter beer, the warm hint of mustard and the complex mix of spices compliments soft pretzels perfectly.
But the dip is quite versatile. You can serve it with vegetables like celery, toasted baguette slices or hard pretzels, like the kind you get at the grocery store. If you make the sauce a little on the thick side, you can even use a smear of it on burgers and sandwiches!
How do you make beer cheese dip?
Making the cheese dip is pretty easy. You first make a roux, which is a fancy word for hot melted butter and flour paste. It's traditionally used in making gravy and thickening sauces like bechamel but it also functions as a binder in this dip, allow the cheese to melt smoothly, and the milk to incorporate into the sauce and not separate out.
Once the roux is made, you drizzle in the milk and beer, add the spices, then the cream cheese and shredded cheddar. Stir over a medium heat until you have a thick and creamy dip and you're done!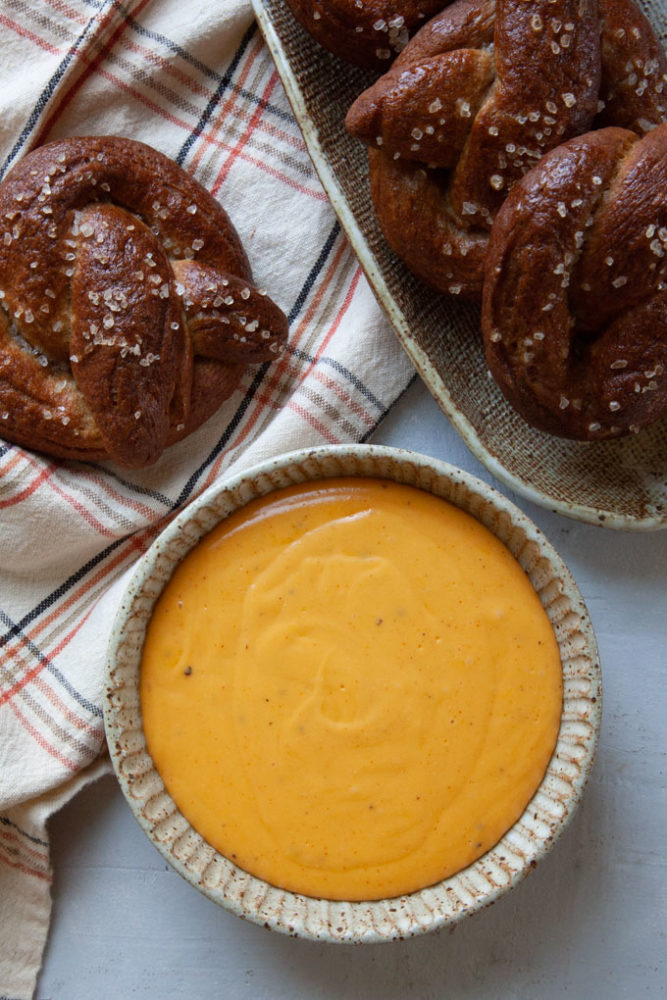 Why use cream cheese in cheese dip?
The cream cheese serves two functions. It melts easily into the dip, ensuring the dip is smooth and helps bind all the ingredients together like the roux. But also adds a subtle tangy creaminess that gives the dip an extra dimension. It may seem like a small amount to add in, but it's worth it.
What sort of beer should I use in beer and cheese dip?
Some recipes for beer cheese sauce have you reducing the beer first, then adding the other ingredients after. This can concentrate the beer flavor, making it overwhelming if you use a beer that is too hoppy or bitter. My recipe doesn't do that, so you can use whatever beer you have on hand and like to drink!
But if you opt to make a recipe that has you cooking down beer first, pick a beer that isn't as hoppy or bitter, like a stout or dark porter.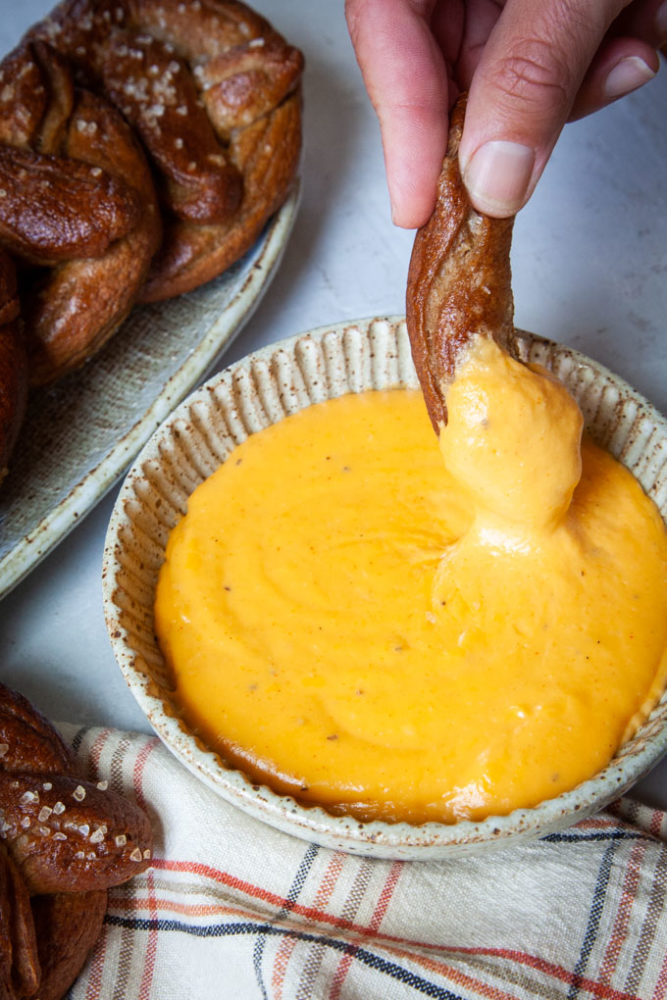 Can I make this dip without beer?
Well, it IS called beer cheese dip! So the beer is a key ingredient for flavor.
But if you're looking for a non-alcoholic version of this dip, you can either substitute the beer with non-alcoholic beer, omit the beer and increase with the same amount of milk to compensate, or use apple juice/cider for a sweeter kid-friendly version.
What sort of cheese should I use for beer cheese sauce?
I picked a sharp cheddar cheese because I feel like it's a classic when it comes to pub-style beer cheese dip. But you can substitute out different cheeses of your choice. Try to pick one (or a combination of cheese) that melts easily. Great melting cheese that work well for this dip include:
Swiss, slightly sweet and nutty.
Fontina, an earthy mushroom cheese; pick a young fontina which is commonly used in fondue and melts nicely.
Gouda, nutty and rich; the smoked version would give the dip a really nice dimension.
Taleggio, a rich, robust and almost meaty.
Provolone, buttery with a slight tang.
Mozzarella, milky and mild.
Gruyere, a complex savory cheese often associated with traditional French onion soup.
How do I store leftovers?
You can store leftover dip in the fridge for up to 3 days in an airtight container. The dip will be almost solid when it is cold.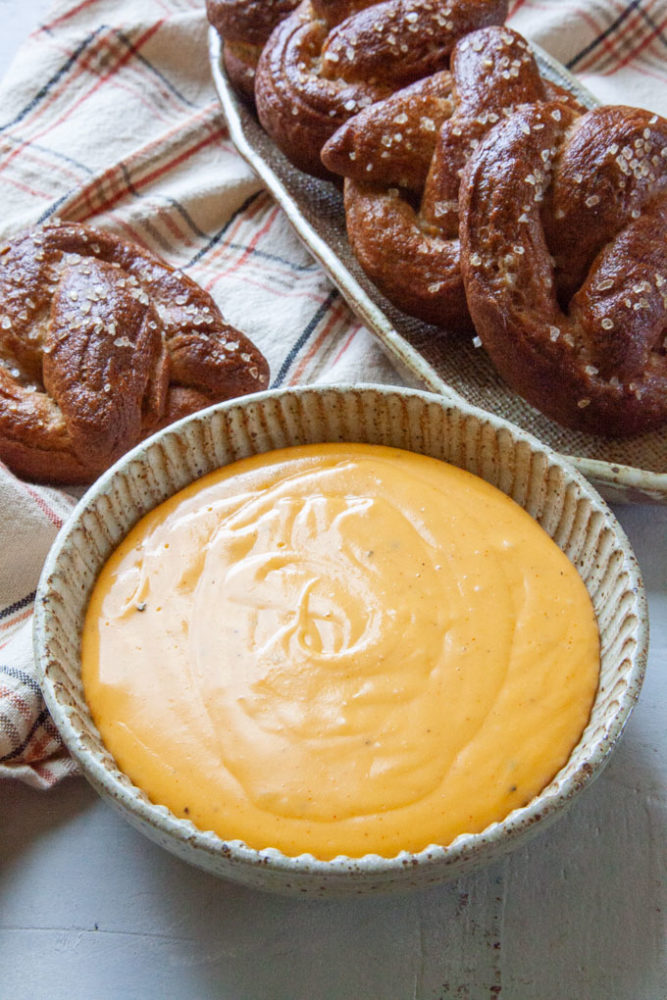 How do you reheat beer cheese dip?
You can reheat the dip either by using the microwave (stir every 30 seconds to make sure the dip evenly melts) or on the stovetop. When heating on the stovetop, use a low to medium heat, and don't bring the dip to a boil. Just heat it until it melty and smooth. Bringing it to a boil runs the risk of making the dip grainy.
Halfway through the warming up, add a splash milk or half and half to thin it out a bit to get the dip to the consistency you want.
If you like this easy beer cheese dip, try these other dips and sauces:
And if you're looking for recipes that feature beer, check out these other recipes:
Beer Cheese Dip
This warm cheddar beer dip is fantastic paired with soft or hard pretzels. It also goes great with vegetables like celery, cauliflower or broccoli florets as well as toasted baguette slices or crackers. If possible, use a brick of cheddar cheese and grate the cheese yourself. The cheese that is already pre-shredded is often coated with extra ingredients to prevents moisture from forming and to keep the shredded cheese from sticking together. These ingredients also prevent the cheese from melting smoothly in the dip so it's not ideal for this recipe.
Ingredients
2

tablespoon

butter

3

tablespoon

all-purpose flour

3/4 to 1

cup

milk

whole preferred but any will work

1/2

cup

beer

one you prefer to drink

2

teaspoon

Dijon mustard

1/2

teaspoon

garlic powder

1/2

teaspoon

onion powder

not dried minced onion

1/2

teaspoon

paprika

1/4

teaspoon

cayenne pepper

1/4

teaspoon

kosher salt

1

ounce

cream cheese

about 2 tablespoons

3

cups

shredded sharp cheddar cheese

about 12 ounces (preferred hand grated, not pre-shredded – see headnote above)
To serve
Pretzels, toasted baguette slices, crackers, or vegetables of your choice
Instructions
Place the butter and flour in a large saucepan. Heat the pan until the flour has dissolved into the butter and a paste has formed. Cook for an additional 20 to 30 seconds, stirring constantly with a whisk.

While the pan is on the stove, lower the heat to low, then drizzle a little bit of the milk (about 2 tablespoons but no need to measure it out preciselinto the pan, whisking the paste to loosen it and incorporate the milk. It will immediately be absorbed. Drizzle a little bit more into the pan and continue to whisk. Repeat until 3/4 cup of milk has been poured in.

Repeat with the beer, whisking as you add it. Add the cream cheese and stir until it is melted completely into the sauce.

Whisk in the mustard, garlic powder, onion powder, paprika, cayenne pepper and salt into the pan.

Add about 1/3 of the shredded cheese (about 1 cuto the pan and stir until it is melted completely. Repeat two more times with the remaining cheese, until all the cheese is added.

Add additional 1/4 cup of milk if the dip seems too thick for your preference. Keep in mind the dip will thicken as it cools.

Pour the cheese into a serving dish and serve with pretzels, toasted baguettes slices, or veggies of your choice. Or serve as a condiment for sandwiches and burgers!
Nutrition