This Taiwanese popcorn chicken recipe is a flavorful fried chicken marinated in garlic, ginger, 5-spice and white pepper before being deep fried. (Jump directly to the recipe.)
"I don't think I've ever had Taiwanese popcorn chicken before, but it sounds fantastic!" said AJ when I told him I was going to make Yansu Ji (literally translated to salted crispy chicken), otherwise known as Taiwanese popcorn chicken which is basically Taiwanese fried chicken. I haven't been back to Taiwan for about 15 years and it's been probably just as long since I've eaten Yansu Ji. But then I got an advanced review copy of The Food of Taiwan by Cathy Erway and it reminded me how much I missed the food from that tropical island where my parents were born and raised.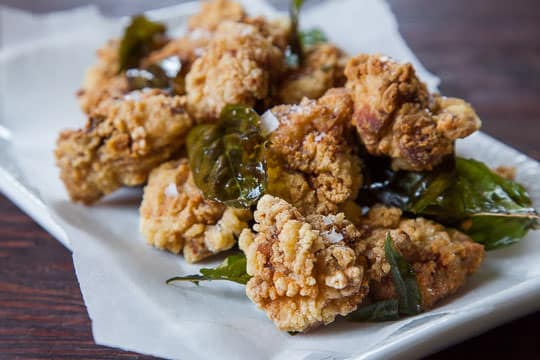 Though I was born here in the US, I have fond memories of Taiwan. I spent a very pivotal summer in college over 20 years ago, where I met a number of people who have become some of my best friends. And like all memories, whenever I have Taiwanese food, I'm completely transported back to my youth, much like the scene in Ratatouille when Anton Ego takes a bite of of his favorite childhood dish. Sadly there aren't a lot of cookbooks out there that feature the cuisine from Taiwan. But thankfully Cathy Erway filled that niche with her beautiful and accessible cookbook.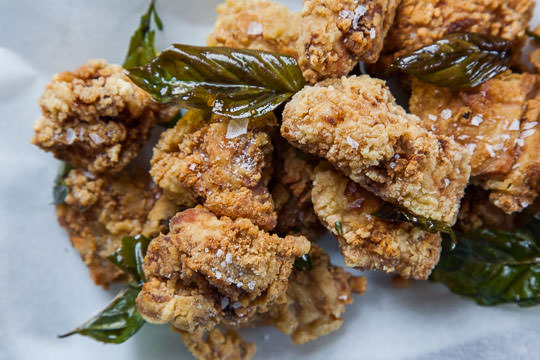 If you've never had Taiwanese popcorn chicken, it's a super flavorful fried chicken. Unlike it's American version of chicken nuggets or even the Japanese Karaage it's usually not served with any sort of dipping sauce. The spiced marinade recipe that the chicken sits in with garlic, ginger, soy sauce, five-spice and white pepper provide plenty of flavor. It's a typical street food (and trust me when I tell you the Taiwanese love their street food) and is often served with deep fried Thai basil leaves as a garnish. Once bite of it, and AJ admitted it was just as good as he expected it to be. And when I tasted it, I immediately thought to myself, this is what Taiwan taste like.
Special thanks to Houghton Mifflin Harcourt for sending me a review copy of The Food of Taiwan by Cathy Erway. Even though they sent me a complementary copy of the book, I was not monetarily compensated for this post and all opinions are my own.
Taiwanese Popcorn Chicken Recipe
By Irvin Lin
This flavorful fried chicken is made with boneless thigh meat for extra juiciness. You can certainly use boneless breast meat if you want but expect it to be a little less juicy. There are a few ingredients that might be hard to find if you don't have access to an Asian grocery store. The sweet potato starch (sometimes called yam starch or occasionally mislabeled sweet potato flour) is probably the hardest to find. Asian grocery stores as well as some Latin or Mexican grocery stores carry it. If you find a bag of sweet potato flour, take a look at the color of the powder beforehand. If it's white and has the texture and feel of cornstarch, it's probably the starch and that's what you want in this recipe – squeeze the bag if you can and if it squeaks, then it's starch. If it's more yellow or orange and feels more like regular all-purpose flour (no squeak, more soft and puffy in feel), than you actually have sweet potato flour, which will impart the sweet potato flavor and won't fry up as crisp. Avoid it for this recipe. If you can't find sweet potato starch, try substituting regular potato starch in its place. I wouldn't recommend cornstarch though, as it gets kind of dense when fried.
All the other ingredients like mirin (a sweet rice wine), 5-spice and Thai basil can be found at a typical Asian grocery store or a well-stocked grocery store. One last thing, you might be tempted to substitute regular black pepper for the white pepper in the recipe. White pepper has a sharper and slightly hotter spice notes that hit your tongue up front then diminishes faster than black pepper which is deeper and huskier heat and lingers a little longer on the palate. If you can, use the white pepper, but black pepper is an adequate substitute, it just won't give you that taste like what you get on the streets of Taiwan.
Gluten-Free Option: Use gluten-free tamari soy sauce in the marinade.
Paleo Option: Use Coconut Aminos in place of the soy sauce and use 1 tablespoon of white wine plus 1 teaspoon of coconut palm sugar or 1 teaspoon of honey for the mirin. Fry the chicken in cold pressed unrefined avocado oil, olive oil or coconut oil.
Loosely adapted from The Food of Taiwan by Cathy Erway
Ingredients
Chicken
1 1/2 lbs boneless skinless chicken thighs
Marinade
1 medium head of garlic
1/2-inch ginger
3 green onions, white and 1-inch of the green part, minced
2 tablespoon soy sauce
1 tablespoon mirin (see headnote above)
1 teaspoon sweet potato starch (see headnote above)
1/2 teaspoon 5-spice (see headnote above)
1/2 teaspoon ground white pepper
1/4 teaspoon cayenne pepper
Coating
1 eggs
1/2 cup cold water
2-3 cups sweet potato starch (see headnote above)
To fry
3-4 cups peanut, rice bran or avocado oil
To serve
Leaves from 1 bunch of fresh Thai basil (see headnote above)
salt and white pepper to taste
Directions
1. Cut the chicken into 1-inch chunks and place in large bowl. Make the marinade by mincing or forcing the garlic through a press into a small bowl. Add the minced green onions, soy sauce, Mirin, 5-spice, white pepper, sweet potato starch and cayenne pepper, stir to form a paste and then scrape into the bowl with the chicken. Mix to coat all the chicken and cover with plastic wrap. Refrigerate for at least 30 minutes or overnight.
2. Once the chicken is done marinating, place the eggs in medium sized bowl with the 1/2 cup of water. Beat together with a fork. Place the sweet potato starch in another medium sized bowl. Heat the frying oil in a sauté pan or wok until it reaches 350˚F. Using chopsticks or tongs, dip the chicken first in the watery egg mixture then in the starch and fry the chicken pieces without crowding them too much for 3-4 minutes or until golden brown. Try not to overcrowd the pan, I usually fry about 6-8 pieces at a time in the wok and 8 – 10 pieces in my 10" sauté pan.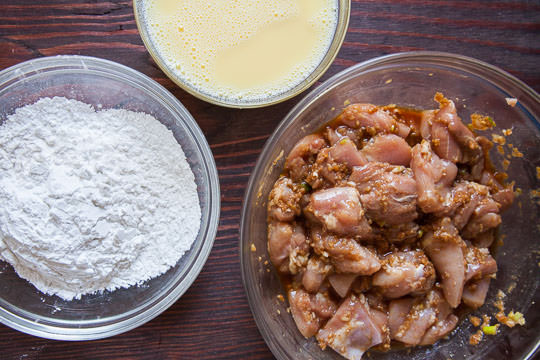 3. Once fried, place the chicken on a wire rack or a plate lined with paper towels to drain. Immediately toss with generous amounts of salt and white pepper to taste. Once you've fried all the chicken, fry the Thai basil leaves for 30 seconds or until they darken and then serve with the chicken.
Makes enough for 6 appetizers servings.
If you like this Taiwanese Popcorn Chicken recipe, check out some of these other Taiwanese cuisine recipes:
My Rosemary and Vanilla infused Taiwanese Pineapple Cakes
Use Real Butter's Taiwanese Beef Noodle Soup
Steamy Kitchen's Taiwanese Noodles with Meat Sauce Recipe
Tiny Urban Kitchen's Taiwanese "Meat Ball" (Bawan)
Rasa Malaysia's Taiwanese Three Cup Chicken