This Taiwanese popcorn chicken recipe is a flavorful fried chicken marinated in garlic, ginger, 5-spice and white pepper before being deep fried.
If you've never had Taiwanese popcorn chicken, known as Yansu Ji (literally translated to salted crispy chicken), it's a super flavorful fried chicken. Unlike American fried chicken where the flavoring mostly comes from the coating, or Korean fried chicken where the flavoring comes from the sauce, Taiwanese fried chicken starts with a umami rich soy sauce base marinade that permeates the meat of the chicken. In that way, it's similar to Japanese Karaage, though the Taiwanese version is not served with any sort of dipping sauce, but instead sprinkled with salt, white pepper and a touch of five-spice as well as garnished with fried Thai basil leaves.
It's a typical street food (and trust me when I tell you the Taiwanese love their street food) eaten by everyone in Taiwan. One bite of it and I immediately thought to myself, this is what Taiwan taste like.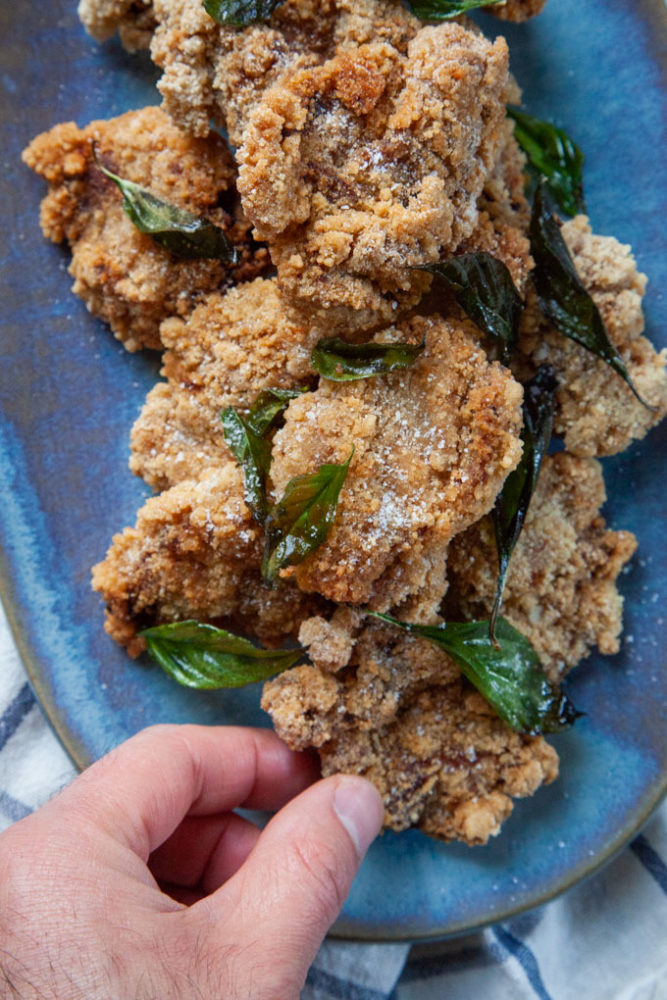 What is Taiwanese Popcorn Chicken?
Taiwanese Popcorn chicken is marinated and fried pieces of chicken, often found in cafes, boba shops or night markets in Taiwan. It's similar to Japanese karaage, as it is marinated before being dipped in an egg wash and a starch coating before frying.
Unlike karaage though, the Taiwanese-style fried chicken is pulled from the fryer, dusted with a seasoning, usually a mix of white pepper and five spice, and then served immediately, whereas Japanese karaage is often served with mayonnaise and a wedge of lemon.
How do you make Taiwanese Popcorn Chicken?
Making Taiwanese popcorn chicken is easier than it sounds. Prep the boneless skinless chicken thighs by cutting them into 2-inch pieces.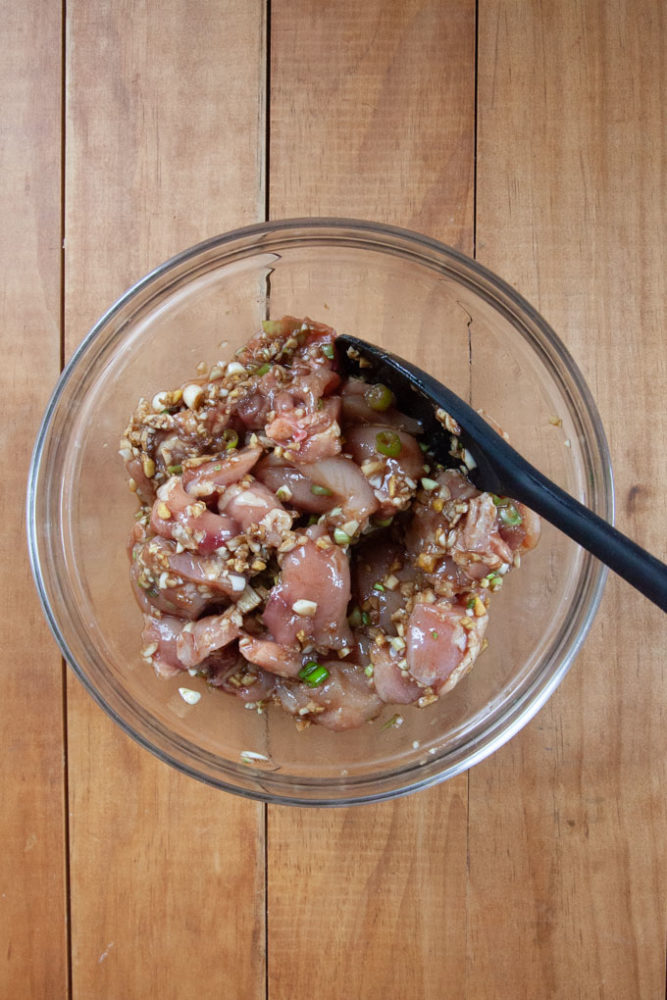 Then make a marinade, using a lot of garlic (a whole head!), ginger, green onions, mirin (a sweet rice wine), a little bit of sweet potato starch, five-spice, white pepper and cayenne pepper or Sichuan peppercorns. Combine and let the chicken marinade for 30 minutes or overnight.
Once the marinade has done it's magic, heat up some oil, dip the chicken in an egg and water mixture, then coat in sweet potato starch, and fry it up! Season with some salt, five-spice, and white pepper then garnish with a few fried Thai basil leaves and serve.
What is sweet potato starch
Traditional Taiwanese popcorn chicken is fried in sweet potato starch. This gives the chicken a crisp coating that is one of the signatures of the dish. Some recipes will have you using tapioca starch instead, but when I tested that out, I found the chicken to be less crisp. After testing recipes with tapioca starch, regular potato starch and cornstarch, I found the cornstarch to be the closest in texture and crunch to the traditional sweet potato starch.
So if you can't find sweet potato starch, available online (affiliate link) and in well-stocked Asian market, use the same amount of cornstarch. The chicken won't be quite as crisp as if you had used the sweet potato starch but it will still be pretty amazing.
What is Thai Basil
Taiwanese popcorn chicken is often served with fried Thai basil leaves as well. These fried basil leaves not only add a pop of green color to the dish but help perfume the popcorn slightly with a touch of anise.
Thai basil is a variety of basil that comes from Southeast Asia. It has thinner, pointy and stiffer leaves than traditional basil that you will find in most grocery stores. If you can't find Thai basil, you can swap out regular basil leaves, or just omit them from the recipe. Don't try to substitute dried basil in this recipe. You need fresh basil leaves to fry.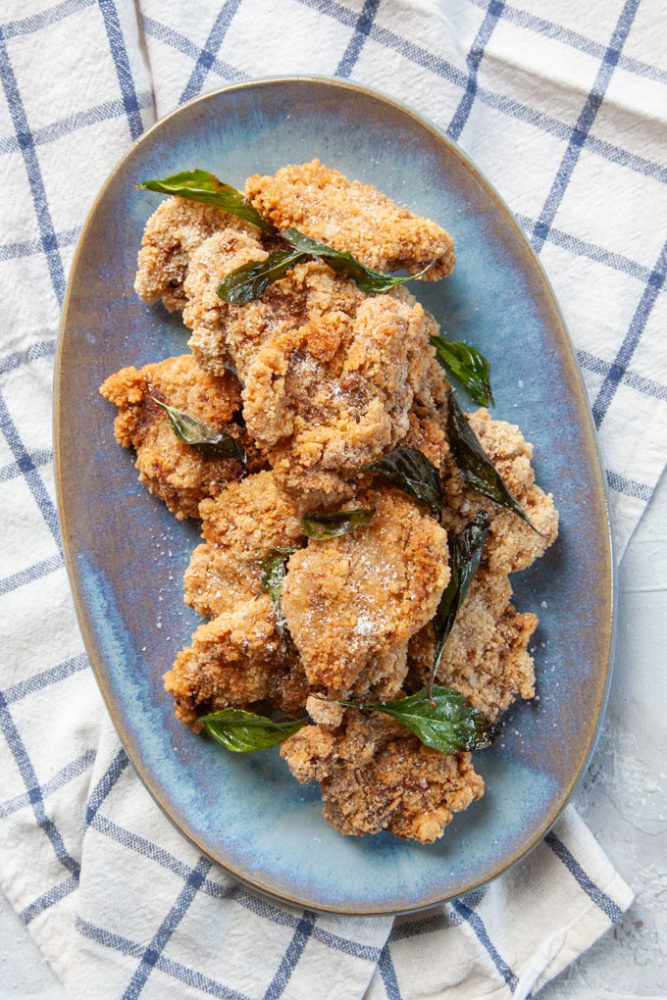 What is Five Spice?
Five Spice is a Chinese blend of spices that is often used in Taiwanese and Chinese dishes. It is made up of five (or more) different spices which often correspond to the five different Chinese elements, sweet, bitter, sour, salty, and umami/savoriness. The most common ingredients you'll find in five spice blends include star anise, cloves, cinnamon, sichuan pepper and fennel seeds. Other ingredients you can sometimes find in the blend contain ginger, turmeric, cardamom, orange peel or galangal.
You can find five-spice in almost any Asian grocery store as well as online (affiliate link). There are also homemade five-spice recipes online on how to make your own blend if you wish.
What is mirin?
Mirin is a sweet Japanese rice wine. You can find it online (affiliate link) and in Asian markets. But if you don't have mirin or don't feel like buying it, swap out the same amount of dry sherry or white wine and add ½ teaspoon of white sugar as well.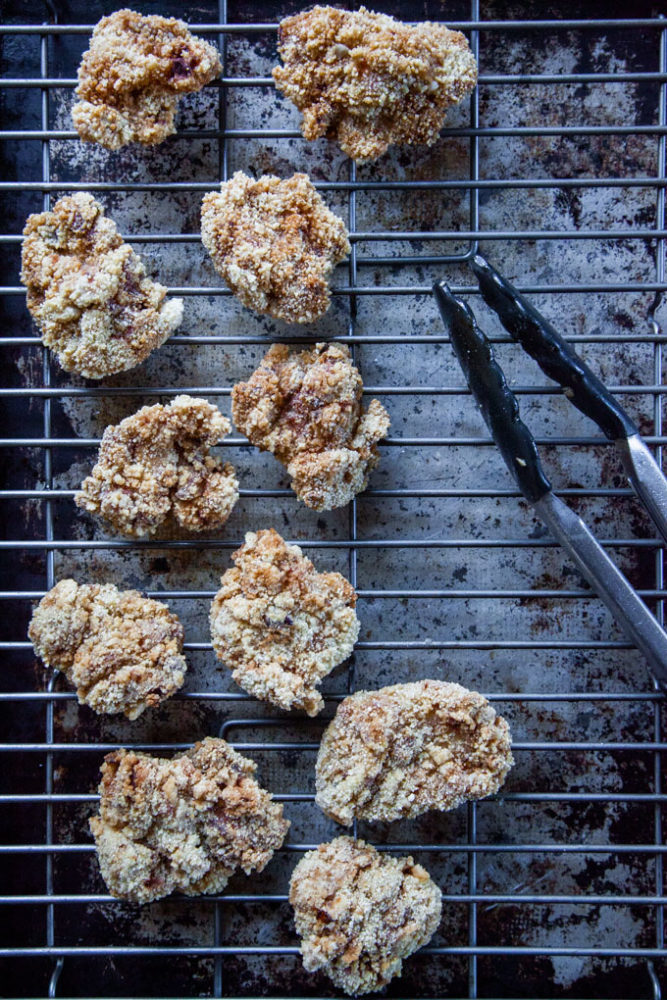 How do you store leftovers?
Like all fried chicken, Taiwanese popcorn chicken is best eaten the day it's made. But if you have leftovers, store the chicken in an airtight container for up to 3 days in the refrigerator.
To heat up leftovers, place the chicken on a baking sheet and heat in a 350°F oven or toaster oven for 10 minutes or until the chicken is heated through. I don't recommend using the microwave to heat up the chicken, as it will result in soggy and tough popcorn chicken.
If you like this Taiwanese Popcorn Chicken recipe, check out some of my other Asian recipes:
[Note: this recipe was original published on Feb 15, 2015, but has been updated with recipe and substitution notes, as well as new images on March 19, 2021]
Taiwanese Popcorn Chicken
This flavorful fried chicken is made with boneless thigh meat for extra juiciness. You can certainly use boneless breast meat if you want but expect it to be a little less juicy. This recipe does require a few specialty ingredients, most of them found at an Asian grocery store or a well-stocked grocery store. If you can't find them, I've made notes above this recipe on substitutions.
Ingredients
Chicken
1 1/2

lbs

boneless skinless chicken thighs
Marinade
1

medium head of garlic

1/2-

inch

ginger

peeled and minced

3

green onions

minced

2

tablespoon

soy sauce

1

tablespoon

mirin

see section above

1

teaspoon

sweet potato starch

or cornstarch, see section above

1/2

teaspoon

five-spice

see section above

1/2

teaspoon

ground white pepper

1/4

teaspoon

ground Sichuan peppercorns

or cayenne pepper
Coating
1

medium egg

1/2

cup

cold water

2-3

cups

sweet potato starch

or cornstarch, see section above
To fry
3-4

cups

peanut

rice bran or avocado oil
To serve
Leaves

from 1 bunch of fresh Thai basil

see section above

salt, white pepper and five-spice to taste
Instructions
Cut the chicken into 1-inch chunks and place in large bowl. Make the marinade by mincing or forcing the garlic through a press into a small bowl. Add the ginger, minced green onions, soy sauce, mirin, 5-spice, white pepper, sweet potato starch (or cornstarch) and cayenne pepper, stir together and then pour into the bowl with the chicken. Mix to coat all the chicken and cover with plastic wrap. Refrigerate for at least 30 minutes or overnight.

Once the chicken is done marinating, heat the frying oil in a sauté pan or wok until it reaches 350˚F. place the eggs in medium sized bowl with the 1/2 cup of water. Beat together with a fork. Place the sweet potato starch (or cornstarch) in another medium-sized bowl. Using chopsticks or tongs, dip the chicken first in the watery egg mixture then in the starch.

Fry the chicken pieces without crowding them too much for 3-4 minutes or until golden brown. Try not to overcrowd the pan, I usually fry about 6-8 pieces at a time.

Once fried, place the chicken on a wire rack or a plate lined with paper towels to drain. Repeat the process with the remaining chicken.

Once all the chicken is fried, sprinkle with generous amounts of salt and a little bit of five-spice and white pepper to taste. Fry the Thai basil leaves for 30 seconds or until they darken and then serve with the chicken.
Notes
This recipe is adapted from the book The Food of Taiwan by Cathy Erway.
[Note: this recipe was original published on Feb 15, 2015, but has been updated with recipe and substitution notes, as well as new images on March 19, 2021]
Nutrition
And check out some of these other Taiwanese cuisine recipes from around the web:
Use Real Butter's Taiwanese Beef Noodle Soup
Steamy Kitchen's Taiwanese Noodles with Meat Sauce Recipe
Tiny Urban Kitchen's Taiwanese "Meat Ball" (Bawan)
Rasa Malaysia's Taiwanese Three Cup Chicken