This easy and comforting Guinness beef stew recipe is perfect to warm you up in a cool brisk evening. (Jump directly to the recipe.)
As much as I am in denial about it, summer is gone and autumn is here. Having gone up to Oregon for the Feast Portland event made me realize it. Fall fruit like pears and apples were everywhere (though, to be fair, the USA Pear organization were a big sponsor of the event). The weather was exceedingly warm up in Portland but when I got back to San Francisco, the cool fog was there to welcome me. A quick check into Pinterest showed that pumpkin was trending, and all of sudden everyone seemed to be drinking pumpkin spice whatever the heck it is that people like to drink at the chain coffee shops (I'm too cheap to go to those coffee shops, so I make it at home). As I settled back into my home routine, I suddenly had a craving for something a little more down home after all the fine dining nibble bites from the weekend. I had a craving for Guinness beef stew, something to get me back into the swing of being home and getting back to work. It was just what the doctor ordered.
Though I play fancy pants here on my blog, the reality is I'm not fancy. I drink tap water, not artesian water imported from Iceland in pretty bottles. I'm not above buying a dozen donuts from the shop instead of making them at home. And I certainly love to make comfort food when I have a chance. The Guinness beef stew recipe is, of course, a classic fall comfort food, something I rarely remember to make, mostly because it seems like the sort of thing you make in a slow cooker, which I don't own. But a heavy Dutch oven is perfectly acceptable in making stew, and thankfully I have one of those around. If you don't have one of those, just make sure you have a large oven-proof pot and lid, and you'll be fine.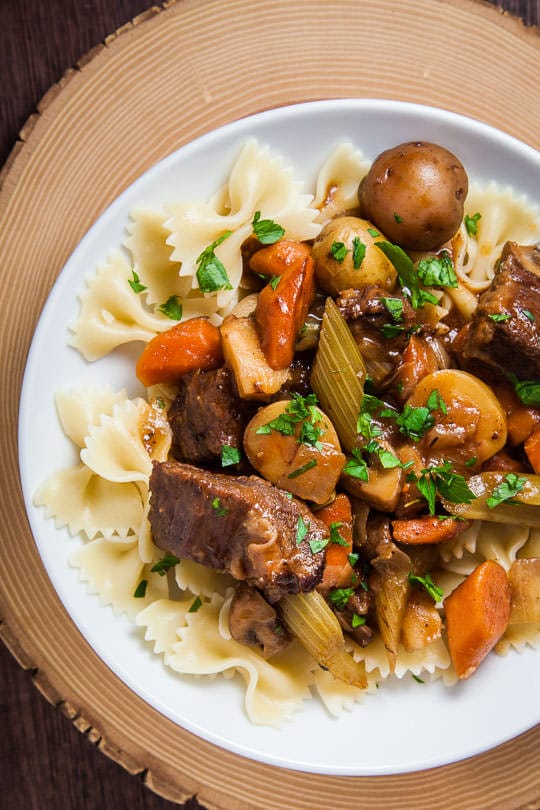 The basic ingredients in a Guinness beef stew recipe are fairly straightforward in most recipes, including beef chunks, celery, carrots and onions. It's the starch that people serve it on that seems to change the most. I've had had beef stew on polenta, cous cous and mashed potatoes (which seems a bit redundant as I put potatoes in my stew, but for some you can never have enough potatoes). Of course when I asked on Facebook what people served their beef stew on, I got a myriad of answers. My Asian friends were aghast that I didn't even think to serve it on rice. Some people mentioned serving it by itself with a side of cornbread or a roll. And a few people got all fancy and served it over quinoa or Farro grain. But for me, the classic beef stew is served over pasta, usually buttery egg noodles, though all I had was farfalle (bowtie) pasta. But whatever way you serve it, a hearty serving is all I need on a cool autumn night to make me feel at home.

Guinness Beef Stew Recipe
By Irvin Lin
Classic beef stew is easy to make but takes a bit of time, because you need to cook it at a low temperature for a longer time to let the meat tenderize. Luckily it's mostly walk away time, sticking the stew in a heavy Dutch oven and roasting it in the oven for a couple of hours. I like to buy beef chuck roast in a whole piece and cut it up myself instead of getting pre-cut beef stew meat because I can control the size of the beef pieces but feel free to use whatever your comfortable with. Once done, serve it over your choice of starch, like egg noodles, polenta, mashed potatoes or rice.
Ingredients
2 1/2 lbs beef chuck roast (see headnote above)
1/4 cup all-purpose flour
1 teaspoon kosher salt
1 teaspoon fresh ground black pepper
6 tablespoons olive oil
2 tablespoon unsalted butter
2 large onions, coarsely chopped
6 cloves of garlic, minced
3 stalks celery, cut into 1-inch chunks
4-5 large carrots (about 1 1/2 lbs), peeled and cut into 1-inch chunks
1 parsnip (optional) peeled and cut into 1-inch chunks
5 sprigs fresh thyme
2 5" stalks of rosemary
1 bay leaf
6 oz (1 small can) tomato paste
1 bottle or can (11-12 oz) Guinness or other dark stout beer
1 1/2 cup chicken stock or beef stock
1 lbs brown mushrooms, cut in half (or quarters if large)
1 lb fingerling or marble potatoes, cut in half (or quarters if large)
Extra salt and pepper to taste
Italian parsley for garnish
Choice of starch (noodles, polenta, mashed potatoes or rice) to serve with
Directions
1. Cut the beef chuck roast into bite size pieces. Place the flour, salt and pepper in a large bowl and stir with fork until mixed and uniform in color. In large heavy oven-proof Dutch oven or large pot heat 2 tablespoon of oil on medium heat. Place half the beef in the bowl of flour and once the oil is heated to where it starts to shimmer, add the flour-coated beef carefully. Cook in the oil until the bottom parts of the beef are brown and crusty and turn the beef, until all sides are crusty. Remove the beef from the pot and place into a bowl (don't worry if the inside is cooked or not, you just want to brown the outside). Add a 1/4 to 1/2 cup water to the pan and deglaze it by using a wooden spoon and scraping all the brown bits up until they are loose. Scrape the brown bits into a clean bowl, reserving it for later and add 2 more tablespoon of oil to the pot. Repeat with the remaining cuts of beef, including deglazing of the tasty brown bits with water.
2. Once the beef has been browned, preheat the oven to 325˚F. Add the final 2 tablespoon of oil and butter to the pot and add the onions, garlic, carrots, celery, parsnip, thyme, rosemary and bay leaf to the pot. Cook for about 10 minutes or until the onions have started to soften and turn golden colored. Add the tomato paste, beer, stock and the deglazed bits from when you cooked the beef. Stir together until paste and deglazed bits are mixed into the liquid. Add the mushrooms and potatoes and cover with lid. Place in the oven and cook for 2 hours.
3. While the beef stew is in the oven, prepare the starch you want to serve it with. Check once the 2 hours are done to make sure the beef is tender (you should be able to cut it with a spoon easily) and add salt and pepper to taste. Once done, serve over whatever you starch you want and sprinkle with the parsley.
Makes enough for 6 servings.
If you like this Guinness Beef Stew Recipe, check out these other awesome stew recipes from around the web:
Leite's Culinaria's Mafe, a Senegalese Lamb Stew
Gimme Some Oven's Tomato Basil Chicken Stew
Simply Recipe's Portugese Salt Cod Stew
Three Many Cook's Burmese Red Pork Stew
Cooking Canuck's Curry Red Lentil Stew with Tomatoes