This vegetarian Leek and Bean soup is light enough for an easy summer dish, but hearty enough to serve for a light lunch with a hearty hunk of bread. (Jump directly to the recipe.)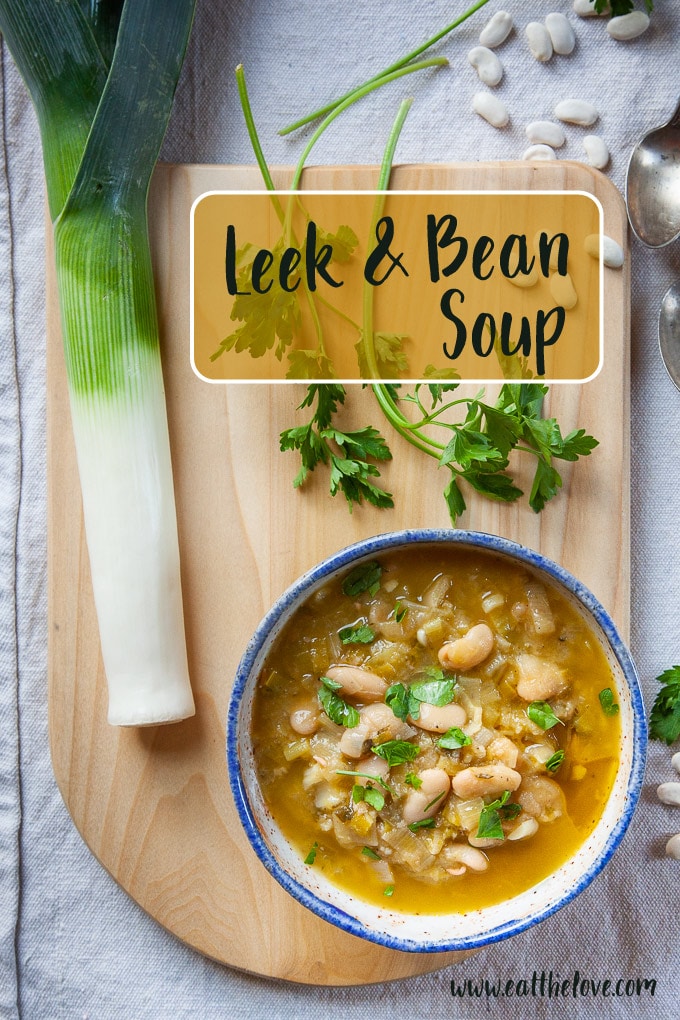 Lately I've found myself enjoying lighter meals and dishes. I'm not sure if it is age (I'm older than I look, thanks mom and dad for the good genes) or because of my environment (living in California, you start to appreciate more subtle flavors). But either way, my initial go-to in terms of flavor profiles tends to be BIG and BOLD. So, it's rather fascinating how I'm slowly mellowing to embrace subtle and slight when it comes to food.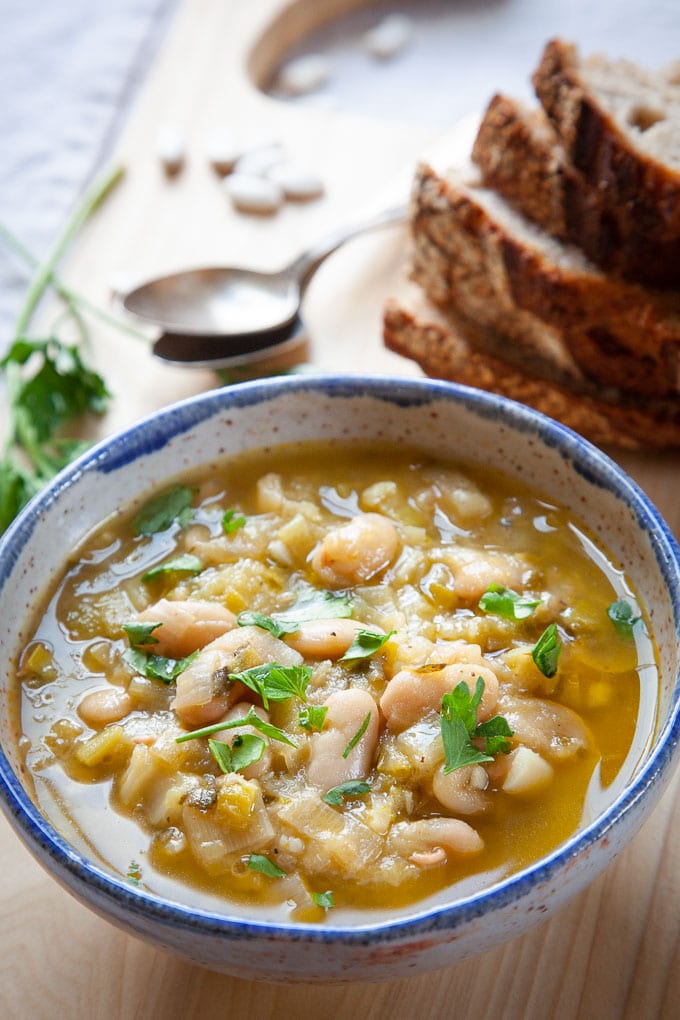 Take for instance a recent soup that I made for brunch. AJ and I had my mom over for brunch last month and she's a little obsessed with soup. I don't know if it's an "older person" thing or if she has recently just discovered soup, but every place we go out to eat, she looks at the soup menu. I don't make a lot of soup at home, but I knew if she was coming over, she'd want soup.
Most of my go-to soups border on "stoup", that fine line between hearty soup and thin stew. But as I've been diving more and more into my cookbooks, the River Cottage Veg book has become one of my cookbooks that I've earmarked and turned to time and again. Though AJ and I are both avid meat eaters (him more than me) I find myself trying to incorporate more and more plant-based dishes into my rotation. And it was in that book, that I found a simple cannellini bean and leek soup.
Most soups that I make are based with chicken stock. I make my own because homemade stock is always better, though I know most folks probably don't have the luxury of making stock at home. But after making this soup with homemade vegetable stock, I was sold on the virtues of it. Sometime animal stock is a little too rich and a little too heavy (even white chicken stock) to allow for the vegetables to shine through. And this soup is the perfect example. Sure you can use chicken stock as a substitute if that's all you have and the soup will be great. But if you have vegetable stock, or can make your own then try the soup that way. The leeks and aromatic herbs really shine through.
Leek and Bean Soup (vegetarian and vegan-friendly)
This leek and bean soup is delicately flavored but robust enough to serve as a light lunch with a hearty hunk of bread. You can substitute chicken stock if you aren't vegetarian but I do recommend a quality vegetable stock even if you eat meat. Vegetable stock allows the subtle flavors of the leek and fresh oregano to shine through. To make it vegan, just omit the butter and increase the olive oil by a tablespoons.
Ingredients
1

large leek

or 2 small leeks

1/2

medium onion

chopped

5

medium garlic cloves

minced

1

tablespoon

butter

omit if making vegan

1

tablespoon

olive oil

increase to 2 tablespoons if making vegan

3

sprigs of fresh thyme

1

bay leaf

fresh preferred

5

cups

vegetables stock

homemade preferred but quality store bought works

2 14-

ounce

cans drained cannellini or other white beans

about 1 cup dry beans that are cooked

3

sprigs fresh oregano leaves removed from stem

chopped

1/2

cup

chopped parsley leaves

Salt and pepper to taste
Instructions
Clean the leek(s) by cutting the leek in half lengthwise, and washing it well, making sure to remove all grit and sand between leaves. Slice the white and light green part of the leek thinly. Dispose or save the dark green part of the leek for another use.

Place the butter (if using), olive oil, sliced leeks, onions, garlic, thyme, and bay leaf in a large stockpot or Dutch oven. Turn the heat to medium and cook, stirring frequently, until the leeks are soft and the onions are transparent, about 10 minutes.

Add the stock, beans, oregano and half the parsley. Bring to a boil, then reduce heat to a simmer. Taste the soup (carefully) and season with salt and pepper. Let simmer for 20 minutes. Taste and add more salt and pepper if necessary. Remove bay leaf and thyme branches (the thyme leaves will have fallen off). Stir in the remaining parsley.

Serve with a drizzle of olive oil on top.
Nutrition