This is absolutely the best cornbread recipe you'll ever try. (Jump directly to the recipe.)
"This cookbook has the best cornbread recipe ever!" proclaimed my friend Brad as we hung out together late at night, manning the check out desk at the bookstore we were working at. I was right out of college and working my first post-graduation job at the coolest independent bookstore in St. Louis, Left Banks Books. Brad had moved to St. Louis from Utah, fleeing from some personal stuff that…well shall remain personal. And the book he held in his hand was not a baking book, but rather a soup cookbook by Crescent Dragonwagon. Somehow I held onto that memory and years later, after I moved to California, I came across the book at a swap meet. I bought the book and have been making a version of this homemade cornbread ever since.
Brad was a funny guy, slightly broken and damaged from his past but slowly healing from it all. His dirty blond hair was overgrown and he wore glasses and was perpetually unshaven. It was the late 90s so he most likely wore light colored jeans that were slightly baggy but I can't really remember those details. All I can remember was that he did have that slightly dishelved look that I found very endearing. I may or may not have had a crush on him at the time, but he didn't play on my team so it went unrequited. But that's OK as I was still figuring out my life and getting involved with someone like Brad probably wouldn't have been a good idea anyway. The baggage involved with someone like that would have been way too heavy. But we were friends and I slowly saw him heal, going from a man who was clearly going through the motions of life to actually gaining some semblance of emotion and balance.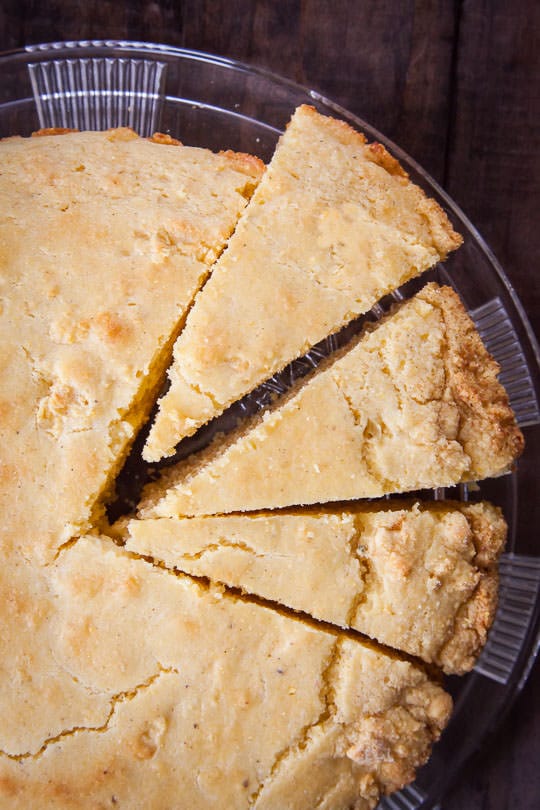 The folks at the bookstore fell into two groups, the longtime lifers who had been there for at least 10 years or more, and the folks who were clearly there as a temporary respite from real life and were in some sort of life transition. Turns out Brad and I fell in the later group. After a few years, I broke up with my college boyfriend and decided to move across the country to San Francisco. My boyfriend was one of the things that was holding me back from moving away from St. Louis and once we broke up, all I needed to do was save up money to move. Brad fell I love with Amy, another co-worker at the bookstore and they moved back to Utah.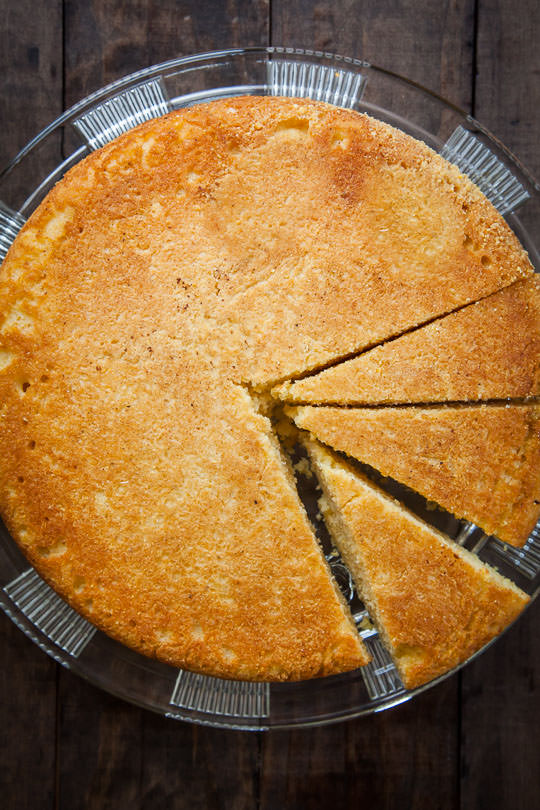 I rarely think of those days anymore. It was a lifetime ago, when I was completely different person. I have since lost touch with both Brad and Amy and I occasionally wonder what they are up to. Did they get married? Did their relationship last? Do they have kids? What happened when they moved to Utah? I've since forgotten Brad's last name and Amy had a pretty common one. It's the sort of last name that yields a million different people when you search for it (all of whom are definitely not Amy). Neither of them seem like the sort of person who would be on Facebook anyway. But I still occasionally think of them, especially when I make homemade cornbread. Because Brad was right, it's the best cornbread recipe ever.
Best Cornbread Recipe
By Irvin Lin
So here's the deal. The title "best cornbread recipe" is totally a fake title, designed to trick you into trying this recipe. It's not that this isn't an awesome cornbread recipe, because it is. But EVERYONE'S taste in cornbread is different. Some like it dense, some like it fluffy and light. Some like it sweet and some will scream like mad if you even think to put sugar in it. But this recipe, with a lot of tinkering from me, is the perfect middle ground of fluffy and dense, just sweet enough to make you think of fresh corn off the cob but not too sweet that your Arkansas friend will scream at you for doing it wrong. It also has an extra touch of corn flavor, because I use a little bit of corn flour (not corn starch, corn flour which is a gluten-free flour made from ground corn). But if the corn flour is totally weird for you or you don't want to buy it just to make this recipe, omit the bread flour and the corn flour and use a total of 1 cup (140 g) all-purpose flour in place. And Brad, if you're reading this, email me. I'd love to know how you're doing!
Tweaked, shifted and adapted from Dairy Hollow House Soup and Bread: A Country Inn Cookbook by Crescent Dragonwagon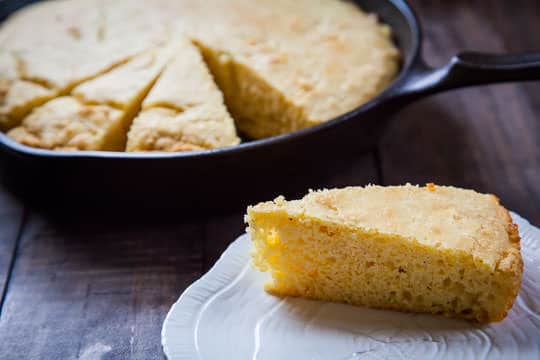 Ingredients
1 cup (165 g) stoneground yellow cornmeal
1/2 cup (80 g) bread flour (see headnotes above for substitutions)
1/2 cup (75 g) corn flour (not cornstarch, see headnotes above for substitutions)
2 tablespoons granulated white sugar
1 tablespoon baking powder
3/4 teaspoon kosher salt
1/4 teaspoon baking soda
1 cup sour cream (use full fat)
1/2 cup buttermilk
1 large egg
1/4 cup corn oil (or other vegetable oil)
2 tablespoon unsalted butter
Directions
1. Preheat an oven to 375ºF.
2. Place the cornmeal, bread flour, corn flour, sugar, baking powder, salt and baking soda in a large bowl. With a balloon whisk, stir the dry ingredients vigorously until uniform in color and well blended.
3. Place the sour cream, buttermilk, egg and corn oil in a small mixing bowl or large glass measuring cup. Stir with a fork until well blended. Pour the liquid into the dry ingredients and fold together until the batter is just moist. Don't overmix, a few dry patches is fine.
4. Place the butter a 10-inch cast iron skillet on the high heat and melt the butter, cooking it until it starts to bubble. Tilt the pan so the butter coats the bottom and up the sides of the pan (use a brush if you need to coat the sides of the pan and can't tilt the heavy hot pan properly). Scrape the cornbread batter into the pan (it will sizzle) and spread the batter evenly over the pan.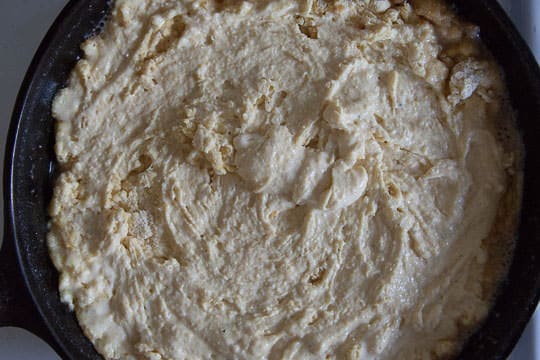 5. Move the pan to the oven and bake for 20 to 25 minutes or until a toothpick inserted in the middle of the cornbread comes out clean. Let cool in the pan for 10 minutes then invert the pan onto the serving plate. Serve immediately.
Serves 8 people.